If you encounter a run-of-the-mill "best of sex work writing" list online, you'll notice that we need more books about sex work written by sex workers. But, if you get your hands on the best of those "best of" lists, you'll encounter a couple of essentials. Melissa Gira Grant's Playing the Whore: The Work of Sex Work (2014) will help you understand the ways that radical feminists and conservatives, both invested in abolishing the sex industries, have joined ideological forces to marginalize sex workers. You will also find Revolting Prostitutes: The Fight for Sex Workers' Rights (2018) by Molly Smith and Juno Mac, which will help you understand sex work from a global perspective, an issue of borders and immigration law, labor rights and racial justice. Through these titles, you'll gain an understanding of sex work as a social and political issue, and you may even be able to hold your own in a conversation with activists about decriminalizing sex work. But you won't have heard about how good a wad of cash, tucked carefully into your combat boot, feels when you walk home from work at the dungeon. You won't read about that beautiful burn of smoke into lung after a long night hustling in stilettos. You wouldn't learn about the "ho-mance" that ignited under lights and cameras on a porn set. For those stories, you'll need more than our theorists and our historians. You'll need to consult our storytellers and poets.
We Too: Essays on Sex Work and Survival, out this month from the Feminist Press, is a good place to start. I edited this collection of personal essays, and it includes stories about work from across the sex industries: escorts, pro-Dommes, cam models, porn performers, workers who engage in sex work indoors, outdoors, online and in strip clubs. To understand all of our sex worker joy and rage, sexiness and sadness, you can't just read about the laws that affect us, you have to listen to our stories.
You can order a copy directly from Feminist Press here (or the Bookshop link above!)
A portion of this book's net proceeds will be donated to SWOP Behind Bars, an organization committed to supporting incarcerated sex workers.
Here's a list of more essential sex worker poets and storytellers.
Nightboat Books, 2019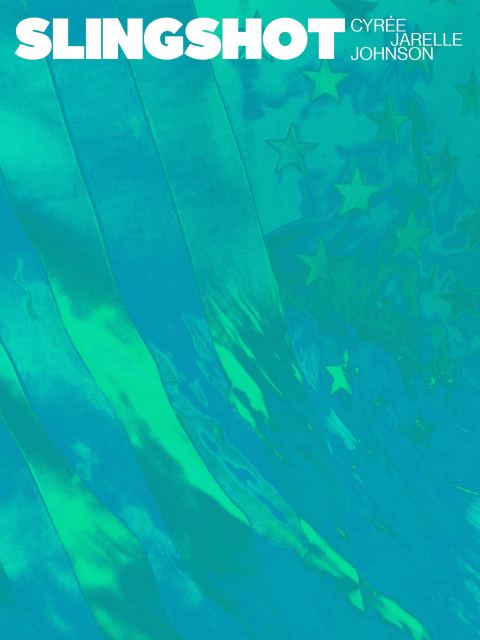 This 2020 Lambda Literary Award winner begins in defiance. Johnson's first poem ends with the lines "…. I'm a full grown / whatever-the-fuck, and I will devour any / attempt to subdue me with monstrous animality." Johnson proceeds, indeed, to devour any attempt to subdue. His writing on the intersections of race and labor, particularly for trans sex workers of color, details the ways that racial violence emerges in and through white male desire. These emergences are exhaustingly expected, and yet their encounters through Johnson's poems are visceral. The poems are strange and difficult and brutal, and they demand a reader to sit with them through all of it.
Image Comics, 2020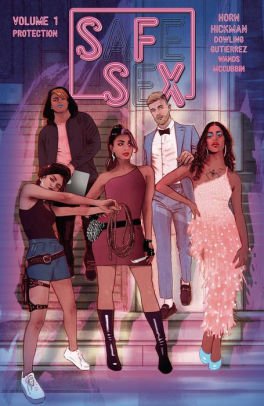 Set in a dystopian San Francisco, SFSX follows a group of sex workers and radicals as they survive and attempt to thrive in a city that has been occupied by an ultra-conservative religious organization. Unfortunately, this dystopia isn't difficult to imagine: public sex has been shut down and queer life snuffed out in many urban spaces, while cities focus on becoming "family friendly." Amidst the chaos of the SFSX characters worrying about their "purity scores"—and getting busted for breaking the rules—a group of everyday perverts who miss their queer spaces band together to fight the powers that be. While this gorgeously rendered comic book series is a fantasy, it's inspiring for the real work we need to do toward reclaiming queer life in the face of creeping initiatives toward "public safety" that attempt to "clean up" neighborhoods, meaning protect white property owners from low income black and brown folks, trans folks, sex workers and all criminalized and stigmatized populations who lay claim to urban space. The comic's creator, Tina Horn, is also an associate editor of We Too! (Read the review of SFSX on Autostraddle!)
Duke University Press, 2000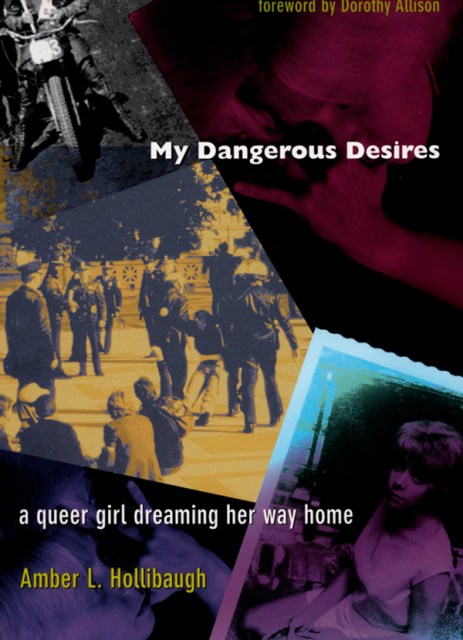 This collection of personal essays and interviews spanning twenty years of an incredible sex working lesbian feminist life feels like sitting down at a kitchen table, having a strong cup of coffee with your queer elders, leaning back and just listening while they laugh, argue, flirt, and reminisce. Hollibaugh came to Leftist activism in the 1960s: she organized by day and spent her nights working as a prostitute. Everyone around her tapped into their trust funds or worked as graduate student TAs, and assumed she did as well. Her story is one of working-class Femme labor of the highest order. She organized with SNCC and the United Farm Workers. She was on the frontlines of early gay rights battles in California and became a community organizer directing the Lesbian AIDS Project in NYC in the 1990s. All the while, Hollibaugh describes being a lover of sex, of butches, and of high Femme identity. This collection takes readers through all the ways sex work can inform feminism, and for that, it's a treasure.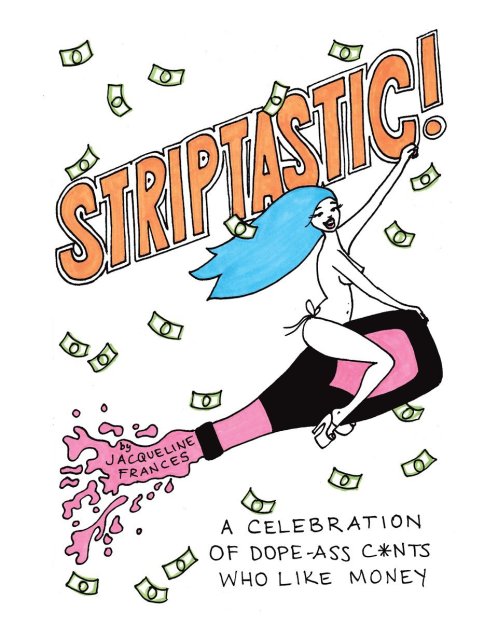 It may look like a simple collection of comics, but Striptastic! is actually a cultural ethnography of the modern-day strip club. Jacqueline Frances's illustrated stripper anthology translates the artist's experiences—alongside those of her stripper friends, colleagues, and comrades across the world—into a book that serves as both a scathing critique of heterosexual masculinity and a tender exploration of the bonds that can be made between men who are willing to pay and dope-ass cunts who like money. Worthy of any coffee table, Frances's illustrations are hilarious, irreverent, and proud: they champion the hustlers who work hard for their money and demand their worth. Whether you're a dancer yourself or just love to ride the tip rail, you'll find something delightful in this book.
Arsenal Press, 2019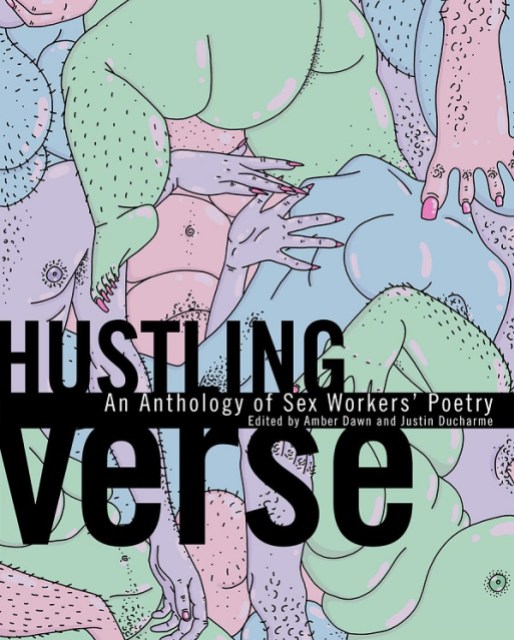 One of Autostraddle's best queer books of 2019, the editors of Hustling Verse, Amber Dawn and Justin Ducharme, have curated a collection that will be read for many years to come. There are over fifty poets in the collection and every single one of them will blow you away. I mean it. Every single one. One of my favorite prose poems in the collection, "Elegy for a Sex Worker Activist," shares the experience of being an undocumented sex worker of color entering into a white-dominant activist space. Another favorite, "Revival at the Pillow Talk Lounge," likens the experience of watching a woman dance on stage to the second coming of Christ. The collection is demanding and delicious and is one of the most diverse collections of sex worker writing you will find. (Read the review of Hustling Verse on Autostraddle!)
Stone Butch Blues, Leslie Feinberg
20th Anniversary Author's Edition Available for free to all here
I've heard a few sex workers talk about seeing Pretty Woman for the first time and thinking, damn, that could be me. (They're usually talking about the thigh-high black vinyl boots and the shopping trips, not Richard Gere!) In We Too: Essays on Sex Work and Survival, author femi babylon mentions that for her, it was Diamond from The Players Club and the infamous line, "Use what you got to get what you want." For me, it was reading Stone Butch Blues. Reading the book for the second time after I'd been doing sex work for a few years, I became obsessed with the femme sex workers who took care of their butches, brought them fresh t-shirts and cared for their wounds after they all survived police violence and the criminalization of their gender and sexuality, in one way or another. While the late Leslie Feinberg was hirself an ally, hir commitment to putting blue-collar work, gender politics, and Leftist struggle together on the page gave rise to this queer classic of sex working femmes and the butches who love them.
(Three L Media, 2015)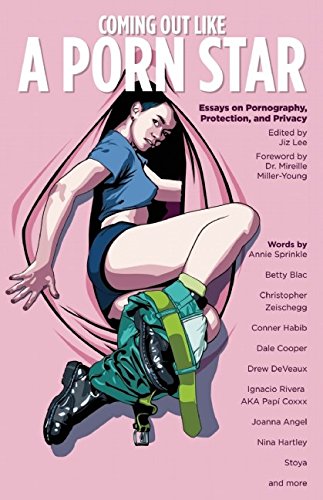 Reading this book feels like being invited to the coolest queer party. The collection's contributors are adult film industry professionals who do more than share their sex work coming out stories, as the title suggests. They detail their struggles with privacy and stigma, online and offline, which is so important to the lives we all live today. Housing and employment discrimination against those who work or have worked in the sex industries is real, and sex workers are not a protected class. Reading these personal stories of sex workers negotiating the reality of stigma with friends, families, employers, and community is a first step toward changing it.
Norton, 2019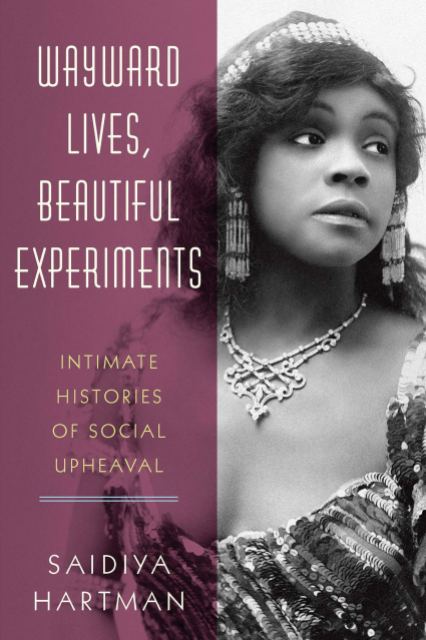 This last one is not a first-person account of sex work, but historian Saidiya Hartman is committed to recovering the stories of black women who have been pathologized and gotten lost to historical account, and unsurprisingly, some of those black women were sex workers. This genre-bending book allows readers to enter an imagined space of ordinary black women's lives during the Great Migration, the era in which black populations shifted in the United States, moving out and away from the Jim Crow South and into industrial centers across the Midwest. An imaginative historian, Hartman looks at the exterior of women's lives through archival research, but imagines their interiority, creating a history that brings to light those things that would otherwise be left in the dark: too much of too many ordinary black women's lives. We need those with the will to create and restore to imagine them with and for us. The book, then, leaves us with the queer possibilities that emerged from attempts to repress black women's sexuality.