The thing about Netflix's 2020 docu-series, Tiger King, is: Why?? I understand why it got made; it's a truly surreal story starring two seemingly bonkers human beings and very big cats. What I mean is why did it take the entire internet by storm the way it did? Why was spring 2020 the perfect moment for such an unhinged narrative to put everyone in a chokehold? Why did it disappear from public consciousness just as quickly as it arrived, like some kind of Bean Dad? And also why did Peacock decide that two years later — multiple lifetimes in both Pandemic Time and Twitter Time — was the right moment to drop a fictionalized version of the story (though it is purportedly based on a podcast and not the Netflix series)? Much like the Tootsie Roll lick-conundrum, the world may never know.
What is evident, though, is that Kate McKinnon (noted lesbian) as Carole Baskin (noted bisexual) and John Cameron Mitchell (noted Hedwig) as Joe Exotic (noted gay) is transcendent casting.
It's also the only reason to watch Joe vs. Carole.
Here's the good: It is wild to watch Kate McKinnon imitate another person for several hours. Her time on SNL has proven that she can create a fun house mirror version of basically any celebrity or politician on earth — but she's still so Kate McKinnon about it that it always seems like it could break into hysterics at any second. You never forget that she's Kate McKinnon playing Baskin, but she does everything from Carole's accents to her mannerisms so well that it's like Carole Baskin is wearing Kate McKinnon as a suit. It's a nesting doll of magnificent weirdness watching someone as over the top as McKinnon try to add substance and subtlety to someone as over the top as Baskin. The show gets into both the abuse that Carole and Joe have faced in their lives in later episodes, and McKinnon does that as well as she does the bonkers stuff.
The same goes for John Cameron Mitchell who makes Joe Exotic at least a little more of a real person and less of a cartoon carnival character, even as he's walking into a gay bar with a predator cat on a leash. The series also really tries to understand Joe Exotic's relationships, both his failed gay marriage and his post-divorce gay throuple.
Also good: All the cats are CGI (which is the only way Riese could get me to watch this tbh!).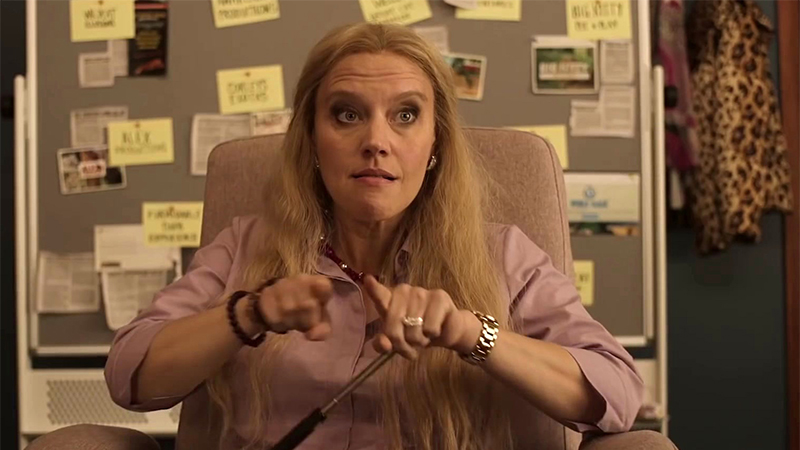 Everything else is mostly confusing. The series doesn't know exactly what tone it wants to take. It kinda wants to be camp, but it kinda wants to be taken seriously, it kinda wants to give you just the facts ma'am, but it also kind of wants to show you different sides of these characters. It doesn't really share any new information, which is a bizarre choice because everyone already knows this story by heart at this point. It also doesn't have the kind of focus you'd expect from a series that's drawing from other source material that's already carved out the narrative. And it doesn't try to answer any of those dozen questions I asked in the beginning. Most of the time, it doesn't even seem to know if it wants you to laugh or not, which, I mean? Why else would you cast Kate McKinnon???
Joe vs. Carole held my attention for a good three episodes before I ended up giving myself over to Ghosbusters for the tenth time. Come for McKinnon, stay if you've already watched all the new episodes of Killing Eve twice.