It finally feels like Autumn. I am finally cold. And you know what that means, kids.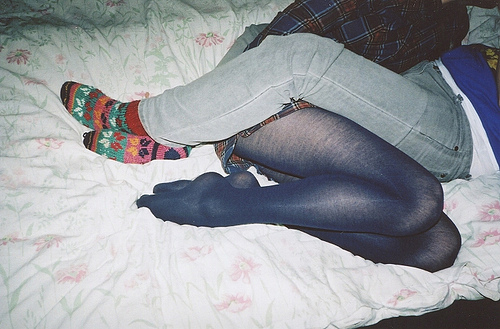 Stay inside.
Especially because here at the warm Sunday Funday, gay people are adopting at record rates, painting our nails like schoolgirls, and telling off the people we don't like. Which can be done from anywhere, but inside is nicest.
LGBT Adoptions Have Tripled, Gay People Overcoming Tremendous Obstacles at High Rates
According to USA Today, "the number of gays and lesbians adopting children has nearly tripled in the past decade despite discriminatory rules in many states, according to an analysis of recent population trends" which is the possibly the best kind of Saturday news you could ask for. 
Plus, gay parents are adorable every day of the week.
Rhode Island First Lady Will Perform a Civil Union
Stephanie Chafee, the first lady of Rhode Island, will soon officiate the civil union ceremony of her two gay friends.
Hawaiians Support Gay Marriage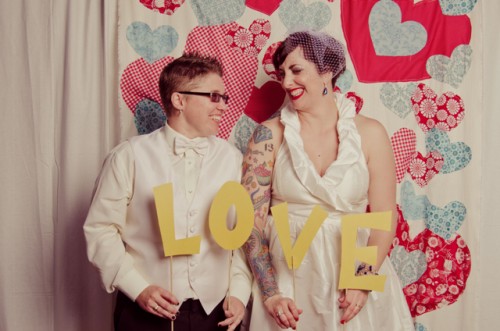 49 percent is hella close to 50 percent, first of all. Second of all, 49 percent of Hawaiians said they were okay with gay marriage in a recent poll. 40 percent of Hawaiians in the same poll said they would object, and 11 percent weren't sure.
Civil unions are not yet legal in the state; they will become a legal option for LGBT people on January 1, 2012.
Totally Alternative Nails
This is not a craft for the faint-of-heart or bad-at-manicures. But it's totally badass and if you actually paint your nails, well. Then you, miss, do more than I.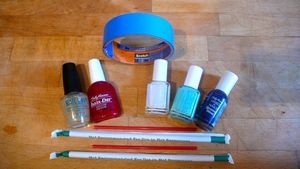 For this DIY, you'll need:
1) A base color, and as many feature colors as you want to use.
2) A base coat (I use OPI's Nail Envy, just 'cause — I don't happen to think it's amazing but it gets the job done).
3) A top coat — Sally Hansen's Insta-Dri is by far the best.
4) Some packing tape or painter's tape.
5) A couple drinking straws. I stole these from Starbucks and the bar I was at last night.
Queer People Talk Back to Shitty Politicians
+ Dan Savage resorted to vulgarity in order to take on Herman Cain, the Republican presidential candidate who recently said being gay was a choice:
"When someone argues that being gay is a choice, he's not just insulting gay people. (And ignoring the science of sexual orientation.) He's insulting straight people. If homosexuality is a choice, then so is heterosexuality. Last night on CNN Herman Cain said that being straight is something that a straight person can take or leave. Herman Cain believes that heterosexuality is something a heterosexual can decide to walk away from, like an underwater house or a lousy meal. Straight people should get angry when they hear a straight person making this argument."
+ Sarah Silverman will be holding an NAACP benefit comedy show called "Live from N****rhead" to keep presidential hopeful Rick Perry's racist hunting ground choice a media hot topic during the upcoming election coverage:
"This is a never-forget moment," Silverman said. "The show's provocative name holds a mirror up to an ugliness that seems to have become yesterday's news without having barely even made news."
Baltimore Ravens Lineback Released a Gay Marriage Video
Baltimore Ravens linebacker Brendon Ayanbadejo made a video for the Marylanders for Marriage Equality campaign. He has already spoken out on gay marriage publicly. The Marylanders for Marriage Equality's new video campaign is meant to build more support for gay marriage legislation in 2012.
Lesbian Love Story More Awkward Than Falling In Love With Your Best Friend
When you thought you'd heard it all, you heard "Codependent Lesbian Space Alien Seeks Same," the title of a new "quirky" lesbian love story on film by writer and director Madeline Olnek. It's her feature fim debut, and screened yesterday at the Milwaukee LGBT Film Festival:
Jane (Lisa Haas, in her first feature role) has a hard time talking to women. She spends most of her time behind the counter at a stationary store, dealing with the same senile customer day in and day out, and otherwise wading her way through the mundanities of her life. She is too afraid to even flirt with women she finds attractive, let alone ask for a number.
One night, she dreams a spaceship swings by to drop a note asking her out. Her therapist dismisses the dream as pure fantasy, but Jane is convinced otherwise. It wasn't a dream at all; it actually happened.
Meanwhile, on the planet Zotz, "big feelings" are destroying the ozone layer, and the biggest feelers — a trio of lesbians named Zoinx (Susan Ziegler), Zylar (Jackie Monahan) and Barr (Cynthia Kaplan) — are sent to Earth to have their hearts broken, destroying their ability to love. All goes well, until Zoinx falls for Jane and endangers the mission.
This Chihuahua Is Actually a Bunny
I seriously can't even.