When I was very young, I refused to sleep in my own room. I always wanted to sleep squished between my parents, right in the middle of their king-sized bed. My parents told me I often fell asleep on the floor with the dogs at the South Korean orphanage I stayed in before my adoption. That's what the adoption agency told them. That's why they thought I wanted to be so physically close, their body heat comforting my pudgy little toddler frame.
I don't know if that's true, but I have always loved dogs and animals. I had pets from the moment I arrived in the U.S. I have almost never been without a pet or three or four or more. We had puppies and cats and hermit crabs and tree frogs and hamsters and a guinea pig who was my whole world. Perhaps it's because I was adopted into a family that doesn't look like me in a country that isn't the one I owe my heritage to, but I've always longed to belong. More than that, I've always wanted to love and nurture others.
For a lot of my life, I simultaneously desired to be loved and felt inherantly unloveable. My parents loved me deeply and were very affectionate. I felt loved and cared for by my family. It wasn't that. It was this feeling I carried in my gut, that I was somehow different, that I just never really fit in, that I was always going to be outside looking in. That, and the internalized racism I carried with me into my teens and beyond.
Animals, though, didn't care that I had squinty eyes or that I was chubby or that I looked different than everyone else. I could trust them and I could give them all my love, without fear that they would betray me or expect anything more from me.
I was convinced that I could speak telepathically with one of my family's golden retrievers. We'd had Finnigan since he was a wee puppy, since our other dog, his mom, gave birth to him in our bathroom. He was a weird dog, too big and goofy-looking and terrified of thunderstorms. I thought we had a special bond and I told Finn my secrets and I truly believed he could speak back to me if I stared long enough and hard enough into his big, brown eyes. I had an overactive imagination and I wanted to believe we had a spiritual connection. I still talk to my animals (though I no longer believe they can telepathically speak back to me). I still believe we have a special connection.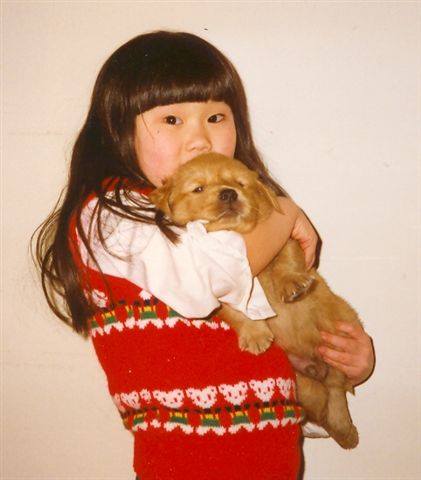 I'm writing this sitting cross-legged on the floor of the bedroom where our bunnies have run free since we bought this house in 2012. Their guinea pig siblings (the wiggles) romp above them, in a 13 square foot enclosure that sits atop a long table. When we moved in, the first home unimprovement we made was taking the door to the bedroom off its hinges, replacing it with a plywood-framed screen door, the kind you might put on your shed.
We joke about our second floor indoor barn and it's kind of that, but more like a messy, dynamic bunny habitat, littered with half-gnawed cardboard castles and wooden chew toys and an open dog crate that houses their litter box and hay bin. When I mention our free-range bun room to people who don't know me well, they're a little weirded out. Possibly because not a ton of people have access to an extra bedroom for their pets, but more because people aren't raised to or don't see their pets as worthy of that much space.
I respect cultural differences around companion animals. I'm not hating on anyone who makes different choices. Our bunnies lived in large dog crates when they were younger, when we rented apartments. We knew we'd let them be free-range when we had a house of our own. We want them to be their happiest, healthiest selves. Our furkids are members of our family. They are the only living creatures (humans included) in our household who get a window air conditioner in the summer. We buy them the best food, allow only the healthiest treats, and prioritize their needs over ours. In return for being little spoiled brats, they give us unconditional snuggles and cuteness that is almost unbearable. I feel like they love us. It's hard to translate animal love into human feelings, but we like to think they do.
My spouse and I are very different people, but we are similar in that we have a hard time being vulnerable. Accepting love is hard, giving it unconditionally is a huge leap of faith. With our pets, whether they love us in a tangible way or not, we can love them wholly and without reservation.
I'm lucky my spouse falls in love with pets as quickly and deeply as me, for reasons completely his own. We accept our pets with all their quirks, even when they have behavior challenges (:cough: :cough: Limburger, the biter adopted rat who couldn't be touched nor tamed). We'll do whatever we can to make their lives a little better, a little safer, a little longer. Waffle's love for his first cat, Kitty, rivaled his love for me. No, it surpassed his love for me. If there was a fire and our home was burning down, Waffle would have grabbed Kitty first. "You have a better chance of saving yourself," Waffle would say as I was trapped beneath a ceiling beam. Kitty and Waffle were inseparable and sometimes insufferable and their relationship predated Waffle and mine. When it came time to say goodbye to Kitty, I wasn't sure Waffle would be OK.
It was almost four years ago when Kitty took her last sleep. She was a foster cat, so we never knew exactly how old she was, but she was at least 10, maybe 12. She was fairly healthy for her entire adult life, up until the last two years. In 2009, Kitty was diagnosed with renal disease, kidney failure. She began to age rapidly and got very frail and tired. We bought carpeted pet steps so she could comfortably get to the bed and the couch. We didn't know how long she'd live, but we managed it with a special diet and a gradually increasing list of medicines. We put litter boxes in all her favorite areas, so she could easily access them. Eventually, she stopped using them at all and we said, "OK," and invested in really potent pet clean-up supplies and loved her anyway. We cut the mats out of her long fur when she was unable to groom herself. We helped her stay alive and, in the end, we helped her die peacefully.
I became skilled at dispensing liquid medicine and hiding crushed pills in increasingly complex ways. I bought a pill splitter, mortar and pestle, and a blue two-week pill box. We couldn't go anywhere overnight for the last year or so because she needed various medicines at various times of day and I didn't trust anyone else to get it right. She was sick, yes, but she wasn't unhappy. It sounds hard to believe, but she still had a lot of life. She still purred and laid in sun spots and would fall asleep belly-up in our arms.
Kitty always wanted to be near us. Towards the end, she was losing her vision and she'd call out in the middle of the night. We'd yell her name and she'd follow our voices and climb the cat stairs up to the bed and curl up in Waffle's arms and purr and purr. She knew her way around the apartment, even as she lost her sight. Somehow she never ran into anything.
It was hard watching her get old. It was hard to know when it'd be time. It was hard to guess what she was thinking and feeling. It was hard to say goodbye to her.
We knew we had to make a decision when she started having trouble walking. With all her other health issues, it was too much. Our vet, who'd worked with Kitty through all of this, made special arrangements to come to our house for the final visit. Kitty hated the vet. It sent her into a fevered panic. She would poop in the cat carrier and arrive covered in her own stink. She'd yowl all the way there and back. She'd hyperventilate with her tongue lolling out of her mouth. On the day of the final vet visit, Waffle and I sat with her all day, giving her special treats: cheese, bits of chicken, the "bad" cat food, tuna, turkey baby food. We relaxed together on the couch, holding her when she wanted to be held, letting her rest when she wanted to rest, letting her pee all over her favorite couch cushion. It didn't matter. We just wanted her to have a good last day.
Waffle and I attempted to not break down at the same time, to take turns sobbing. We laughed about our favorite Kitty memories and stories. We took pictures of her sweet face as she lay peacefully with us. I tried to make space for Kitty and Waffle to be together alone, but he encouraged me to stay. "It's OK," he said, "You were her mommy, too."
When it was time, the vet came up to our apartment and set up in the kitchen. Waffle carried Kitty, tucked into his arms like a baby, and he soothed her and held her while our veterinarian slowly pressed the plunger on the syringe. And then it was over. But it's never really over. There were still her things around the house, all the special kidney diet food that we donated back to the vet office, her water fountains and her little jackets (yes, she liked to wear small dog clothes), her little tufts of hair floating across the hardwoods, and the smell of her, the memory of her everywhere.
There are many jokes about queers and our relationships with cats. Like all stereotypes, there is some truth behind it. Many of us have felt unloveable, untouchable, at some point in our lives. It makes sense that we would imprint on our furry friends who don't judge who we are, don't inquire about our life choices, and provide affection when we feel like we can't connect with other humans. This is the greatest gift they give us, the act of simply being there when we need them to be.
Waffle has a hard time with words. Some nights, early in our relationship, I would wake up at night and hear him whispering to Kitty, telling her things he wasn't ready to tell me yet or ever. I have a hard time letting people in. I seem like an open book to those who don't know me — the confessional poet, the activist with the megaphone — but those are just some of the many masks I wear. I'm a social chameleon. I can get along with anyone. I only ever let anyone see one piece of me at a time. It makes me great at networking, horrible at developing real friendships.
My biggest fear is opening up to someone and then being abandoned, because it has happened before, because I was abandoned when I was just a baby for reasons I'll never know, because who I really am might be too much for someone to handle. It's easier to be strong and protect my heart than to let it be broken wide open. My pets, my furbabies, have never let me down like that. I care for them. I feel safe with them. If only they lived a little longer, though in some ways it is reassuring to know that I will always (hopefully) live longer than them. I will always be someone they can depend on. Our home will always be their home.
Saying goodbye to our furry family members never gets easier. In the past 11 years we've been together, Waffle and I have shared 12 pets, 12 furkids. We have seen nine of them pass, the most recent the day before I wrote this. Every single damn time, it hurts. Every single time, I wish we'd had longer to say goodbye. More often than not, we have to make the choice for them: Do the good days still outnumber the bad? Are they still happy? Are they eating on their own? Do they have a good quality of life? Is there any chance of recovery? If so, what is the physical toll on them going to be? What are we feeling? What are they feeling? Are we asking them to live for us or do they want to live? What is the most humane thing to do? Are our emotions getting in the way of reason? What is right for them?
This past Saturday, we brought our bunny, Aphrodite, in for her final vet appointment. We have had her since she was just two months old, a little bundle of fuzz who hopped her way into our lives back in February 2007. She was our love bunny, our two-year anniversary/Valentine's day blessing to ourselves. Aphie was a queen bee. She was a smaller breed, a Holland Lop, and she looked very demure and unassuming. But she had a metric ton of attitude in her six pound body. Aphie was the boss of us, of Kitty, and of the house. Up until the very end, she'd come over and headbutt my foot to let me know she's still the big bunny. When she was younger, she was an adorable menace. She'd tug on the curtains in the living room with her teeth until they came crashing down and then nibble the ends of the curtain rods, looking triumphant. She'd knock over houseplants and then play coy when we caught her snacking on them. She'd pee on any furniture we didn't block access to, especially soft cushions. (She was fully litter-trained, but she just loved the feeling of soft cushions for relieving herself.) She dug up and pulled up corners of the carpet in our rented apartment. She nommed on our books and once "workshopped" a poem of mine with her teeth. Her critique was harsh.
Aphie was our furbaby for over eight years, during four of which she was an only child. Buns like the company of other buns, so in 2011, we adopted a friend for her: Gandalf the lionhead with his fluffy grey beard. They disliked each other immediately. The hostility continued for almost a year. We had to keep them in separate crates and let them into separate parts of the house for exercise time. Aphie would sometimes jump the gate between their areas and chase Gandalf into a corner. Bonding them seemed impossible, but we don't give up on our pets. We knew when we adopted Gandalf that if we couldn't bond them, we would keep them both and we did.
I get that there are real and serious reasons why people abandon or surrender their pets. I have a hard time understanding it, though. I know I shouldn't judge so harshly and for some people it's the right thing to do, but I don't think I could ever do it. I know what it feels like to be abandoned and rehomed. I love my family and I feel very lucky to have had a good and loving adoption experience, but I also know that it changes you. Being left behind or given up changed me, in ways I didn't fully understand until I was an adult. I know people give up their pets in the hope that the animal will have a better life. Each time we adopt a new pet, we are glad that we can give them a good life. Still, I can't imagine making the choice to surrender an animal except in the very most extreme conditions. Once an animal has entered our family, they are family for life, for the rest of their life. That is the promise my family made to me. That's the promise I make to my furry family.
We didn't give up on Gandy and Aphie. When we moved into our first house in 2012, we tried bonding them again, hoping the neutral territory would make them play nice. Finally, after a week of supervised sessions and lots of patience, they fell in friend love. We moved them into their bedroom and they were BFFs right until Aphie's last day.
After Aphie and Gandy became friends and roommates, she chilled out considerably. She was still a destroyer of worlds and they certainly got into trouble together sometimes, but she had a friend to hang with now. I'd walk by and see our buns squished together side-by-side, like two cute little loaves of bread. They would sit in the hay bin and munch together. They would tag-team a cardboard box and rip it to shreds. They were often in the same favorite box, peeking out the cut-out windows at us as we passed by their room. Gandalf worshipped her. She let him. He generously bathed her ears and face every day. He let her eat first when they got their greens at night. They were very happy together.
When Aphie got sick the first time, this past February, we had to take her to the emergency vet. We found her grinding her teeth one evening, hunched up and acting strange. It happened suddenly. She had seemed fine earlier in the day. The emergency vet thought it was gastrointestinal stasis, a potential killer, but very treatable and fairly common. It was the night before we were supposed to leave for a vacation. We debated whether to go or not and decided it would be OK. GI stasis can usually be turned around if you catch it fast. Our petsitter works for our regular exotics vet office and was very capable of feeding her and monitoring her health. Our petsitter told us it would be fine to go. We hesitantly got on a plane. However, the next day, she seemed to be getting worse, not better, and our petsitter took her into the vet office.
Aphie ended up being boarded at the vet's for almost a week. It wasn't just GI stasis; her kidneys were failing. With absolutely no hyperbole, I believe our petsitter saved her life. I felt so bad for being out of town. I considered flying back, but even if I did, there was nothing I could do while she was boarded for treatment. There was a point where we weren't sure if it was time to let her go. She was very sick. We weren't there with her. We couldn't see her to say goodbye. We couldn't see her to assess how bad she was. The vet said aggressive treatment was an option, but it might not work. I sat in my hotel room with my head in my hands and cried and felt like I'd failed her.
Hesitantly, we agreed to aggressive treatment, with the caveat that we'd stop if it wasn't working. Like the fighter she is, Aphie made a sudden, very positive turn-around. Days later, we were home and she was home with us. We had to force feed her three times a day and give her fluids under her skin and a couple other medications, but she was rapidly improving. She came all the way back to full health. The vet called her a "miracle bunny." But a few months later, she was grinding her teeth again. It was back to the vet, back to the fluids and the force feeding, and with lots and lots of love, she regained her health a second time.
This time, we kept giving her subcutaneous fluids under her skin twice per week, supplemented with vitamin B to stimulate appetite. We set up an IV station outside using a coat hanger, a door frame, and a folding tray table. I became skilled at sliding an 18 gauge needle just under her skin. She was herself again, lovingly butting our feet with her head to show her dominance, chasing Gandalf around the room, tearing into her greens every night, flopping out with her feet kicked to the side and her white underbelly exposed, pushing her head underneath Gandy's to force him into grooming her, giving us disapproving bunny side-eye when we rationed her treats. She was back. She was not 100%, but it was enough. She seemed happy again.
And then one day recently, we noticed she was slowing down again. Her stool was off. Her attitude was different. We gave her fluids and they didn't plump her up and bring up her energy the way they usually did. Waffle stood in the bathroom door, brushing his teeth, as I gave the wiggles and buns their nighttime feeding. We had the conversation.
"Do you think it's time?"
"I don't know. Do you?"
It's easier when the answer is very clear. It's easier when they take a sudden turn and there's no other humane option. It's easier when they look at you and you know that they know it's time. It's easier when they give up and just close their eyes and say goodbye for you. Aphie was a fighter. She'd never, ever give up. We didn't want to give up on her.
But there is a point when the bad days outweigh the good. With small critters, disease progresses quickly. We know this. We've nursed and loved many small furry babies and we've made the decision many times. There are times we think we should've made the decision earlier. There are times we wish we'd tried more medical intervention or gone to the emergency vet. Once a small animal is sick, you have days left, sometimes hours, to treat it or it will often end their life.
The thing is, animals know when it's time. Animals don't fuss over death the way humans do. Fear is instinctual, not intellectual. They may try to fight for their life, but they also know when it's time to find a quiet corner in which to die.
Aphie had come back from critical condition twice already. She tolerated the fluids, but she hated force feedings. She hated us when we had to give them to her. The very last time we gave her fluids, she started breathing heavily out of her mouth. Rabbits are nose breathers. They don't breathe out of their mouth unless they physically have to or are extremely stressed. This is often the prelude to a fatal heart attack.
Rabbits are simultaneously super resilient and incredibly delicate. Maybe this is why I relate so much to them, why I felt so close to Aphie, in particular. She was the alpha bun. Like her human mom, she was a tough bitch, but she was vulnerable, too, and she rarely let on when she was in pain. Rabbits are able to quickly recover from minor injuries. They have a high pain threshold and hide physical pain until it is critical. However, something as simple as a loud noise or dog barking can scare a rabbit to death, literally. In the wild, the sound of a predator triggers a heart attack to save them from suffering through a painful attack.
The first time Waffle found me hiding in the corner of my closet crying, he didn't know what to do. We'd been dating for several months, but I'd never cried in front of him, not with real emotion. He said later, when I'd calmed down, that it scared him. He didn't know I could lose control like that. Quite frankly it scared me, too, to be that small and vulnerable in front of him, so early in our relationship. If I could have died of a silent heart attack right then and there, I would have.
Aphie, however, was never afraid of loud noises or other animals or anything. She was fearless. She was raised in captivity, lived with us in a city her whole life, shared a house around cats, and had no natural predators. When she started hyperventilating as we were giving her fluids, we knew it'd gone too far. We knew it was time. We stopped and put her back in her bedroom and I cried and I said "Ok."
The next morning, I came into her room before I headed to work. She nudged my foot with her head, prompting me to pet her and give her treats. I thought maybe we did have more time to treat her. From work, I texted Waffle that maybe we should wait a few days. But Waffle said, as of that afternoon, she was sitting in the box — the one we call the "death box" — the one she sits in when she's not well, when she's preparing to die. She looked tired. She wasn't moving much. "Ok," I texted back, "You're right."
I made an appointment for the following morning. Our petsitter answered the phone at the vet office. "I'm so sorry," she said, "I'm not working tomorrow, but give her love for me."
As soon as I got home from work, I went to their room. She didn't look well. She didn't move from the box when I came in. Aphie was a lap bunny. She loved to cuddle. But she didn't seem to want to be touched, so we just sat in the room with her, not making too much noise. There were moments when her old self came through. I gave her some of her favorite treat mix and she came rocketing across the room, nudging Gandalf's head out of the way and assertively putting her front paws directly into the food dish. But when she was done, she seemed out of energy. It took everything out of her to get that excited.
Mostly she just lay in the death box. She started mouth-breathing again. In less than 24 hours, my feelings had gone from "It's probably time," to "Maybe she'll be OK for a little longer," to "Fuck. I think we should have taken her in today." Gandalf checked on her periodically. She let him groom her ears and face and he laid next to her for some time. I think Gandalf knew she was sick. I think he knew she was going to leave us soon. Towards the end of the day, he left her side and went to sit in a box by himself.
By the time we got to the vet the next day, it felt like it was already too late. She was exhausted. She was breathing hard. It was the most humane thing to do. At the vet's office, I tried to take her out of her carrier to say goodbye and she panicked. She struggled back into her carrier and couldn't breathe and she had a heart attack, in her carrier, in a patient room at the vet office, moments before the procedure was supposed to happen. I saw it through the carrier door, her breathing quickened and then she spasmed. Waffle was holding the carrier door closed, because it seemed like she might knock it off the table or fly out onto the floor as she slammed into the walls. And then she fell over on her side and everything was silent and nobody moved for a second. I came back to reality and ran into the hallway to get help, but then I didn't know what to say or what to ask for, because it was over. I just stood there looking upset for a few seconds, with my mouth hanging open. The staff looked at me. I closed my mouth and went back in the exam room. The vet came in right after me. She gently laid Aphrodite's unconscious body out on the table and put a stethoscope to her chest. There was a faint heartbeat. She stroked her side and gave her the final injection and Aphie's little heart stopped and she was gone.
The vet gave us a few minutes alone. Waffle was (unsuccessfully) trying not to cry. I was sobbing relentlessly. I gently stroked Aphie's ears, like I had done all her life, like she used to love when she would fall asleep on my chest. I pet her cheek and kissed her warm little head and Waffle and I used all the tissues they left for us and I wondered if there was anything we could have done sooner, done better. Maybe we should have taken her in that first night, when we started to suspect she was going downhill. Maybe we should have gone to the emergency vet the night before. Maybe I shouldn't have tried to hold her right then. Maybe we could have avoided the heart attack. Maybe she would have had a heart attack while they were giving her the injection. Maybe we should have ended all of this months ago. I don't know. It's hard to know when it's time. It's hard to know what they want. It's hard to not want them to live.
I'm writing this sitting cross-legged on the floor of the bedroom where our bunnies have run free since we bought this house in 2012. There is one bunny here now and I'm trying to love him as much as I can, as a human who doesn't speak bunny very well. We're sad, but he seems mostly OK. They say you should let animals see the body of their friends when they pass, so they understand that they're dead, but we didn't have that option with Aphrodite and Gandalf. He seemed to get it right away, anyway. He seemed to know she wasn't coming back. I think maybe he knew before we did.
Gandy was always more shy, but he has been coming out to see me more often. Right now, he is laying in his hay bin. I'm sitting here on my laptop. I'm thinking of Aphie. I don't know what he is thinking of. Do bunnies grieve the way we do? Does he miss her or does he just feel lonely or is he OK? It's hard to tell. All I know is that we'll be here for him. He's family. He's ours for life, for his whole life. So I'm giving him extra treats and extra love. We're sitting here together. We're all doing the best that we can.