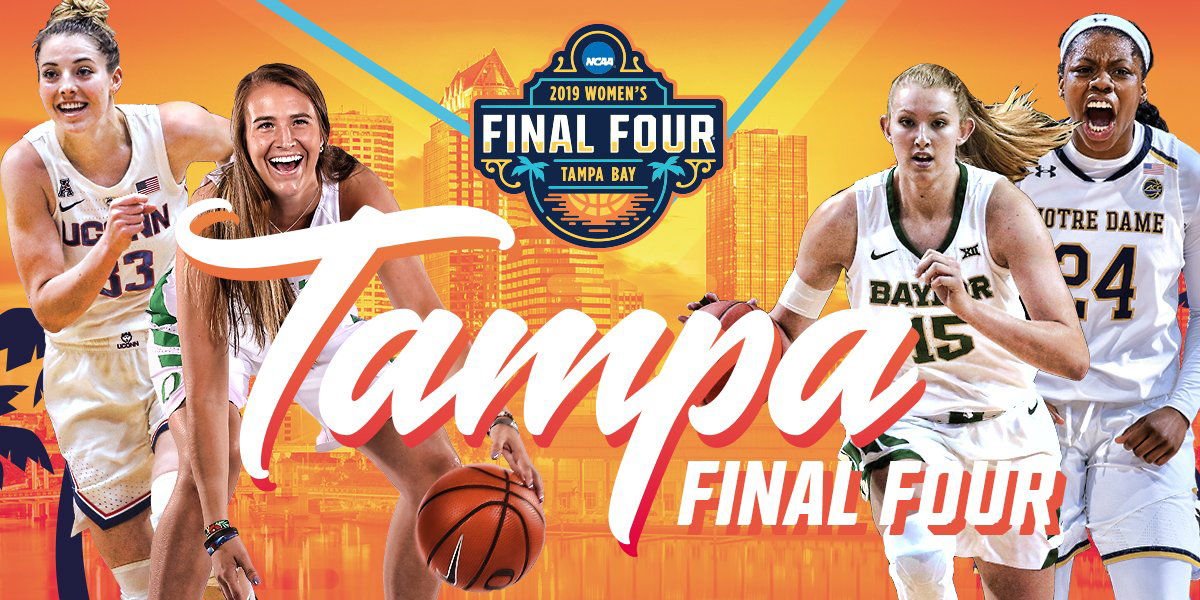 It's not hyperbole to say last year's Women's Final was one of the most exciting weekends in sports history. In the semis, a last-minute three pushed the Mississippi State/Louisville game into overtime, with the Bulldogs eventually pulling away and advancing; and Arike Ogunbowale's OT three with one second left on the clock in overtime pushed Notre Dame past UConn. Almost unbelievably, Ogunbowale hit another off-balance buzzer-beating three during the finals and secured the Fighting Irish's second National Championship. (It marked head coach Muffet McGraw's 800th win, and the deficit the Irish fought back from in the second half made theirs the biggest comeback in Women's Final Four history).
This year's NCAA tournament seemed flush with possibility — UConn a two-seed, Tennessee almost not even making the tournament and then getting ousted in the first round for the first time in school history — but this weekend in Tampa has shaped up to be a familiar scene, with one notable exception. Baylor, UConn and Notre Dame have wom six of the last seven National Championships, while Oregon is making its Final Four debut. Those recognizable faces don't mean we're in for boring match-ups, though! UConn, the team everyone loves or loves to hate, has a chip on their shoulder about that two seed and an axe to grind over last year's loss. And the Ducks are out to prove the one thing that can touch the most untouchable team in the country is the NCAA's best player.
Baylor vs. Oregon, 7pm. EST Friday, April 5 on ESPN2
The Ducks are down for Media Day! #ncaaW | @OregonWBB pic.twitter.com/SpXavGLffl

— NCAA Women's Basketball (@ncaawbb) April 3, 2019
Much criticism was made of the play-calling and the fact that Oregon essentially had a home court advantage in the Elite 8, all of which is valid, but watching Sabrina Ionescu lead her team past Mississippi State was almost like watching Breanna Stewart reincarnated. There was absolutely no indication that the Ducks were intimidated by the weight of the game or the history of their opponent, or by the fact that five years ago Oregon was playing in the WNIT. They have believed, all season, that they belong at the Big Dance and it showed. Ionescu had ice in her veins. Did they even miss a shot in the fourth quarter? I can't remember one!
But will the projected #1 WNBA draft pick's skill and swagger be enough? Baylor has absolutely wiped the floor with nearly everyone this season, more than ever in the NCAA tournament, winning every game by almost 40 points. And while Ionescu may be an elite offensive threat, neither she nor her teammates have faced off against anything like Baylor's post game. Kalani Brown and Lauren Cox stand at 6-foot-7 and 6-foot-4, respectively, and they completely dominate the paint. It's a bit of an odd match-up, but it promises to be as intense as Kim Mulkey's infamous Pat Summitt-esque glare.
Notre Dame-UConn, 9pm EST Friday, April 5 on ESPN2
Irish Royalty 🍀#WFinalFour | @ndwbb pic.twitter.com/2zLVVjR7c9

— NCAA Women's Basketball (@ncaawbb) April 3, 2019
If you're a women's basketball fan, you've probably watched UConn and Notre Dame face off more times than you can count, and while we can expect to see a lot of the same things we've grown accustomed to over their last 50(!) match-ups, there's plenty to be excited for this weekend. UConn routed Notre Dame earlier this year and has won eight of their last nine head-to-heads, but when it counted in last year's tournament, Muffet McGraw's Irish came through.
Of course, McGraw and Geno Auriemma always make as many headlines as their teams in the Final Four. This year, Geno raised eyebrows when he said at a Final Four press conference that coaches are afraid of their players because they can't just yell at them with impunity anymore. While McGraw took a minute to let everyone know she's done hiring men. (You know Geno had plenty to say about that too.) But big coaching personalities aside, this is going to be a great game on the floor. Notre Dame boasts four seniors — Marina Mabrey, Arike Ogunbowale, Jessica Shepard, and Brianna Turnert — who don't care about UConn's historic legacy. And UConn is out to prove that they don't care about that two seed. When they're hitting their shots, they feel unstoppable.
As my beloved Lady Vols scramble to find a new coach to rebuild their legacy in their longest off-season ever, I'm predicting a Baylor-Notre Dame final and one more Irish National Championship. Mostly, though, I'm just grateful to bask in the glow of powerful, talented women do what they love. Who you got?