One of the only potentially positive things to come out of the epidemic of young kids, many of them gay, committing suicide across the country is that virtually everyone can agree that unsafe school environments for kids are unacceptable. There's still plenty of disagreement about how schools should be made safe, but children's well-being is something we can all prioritize.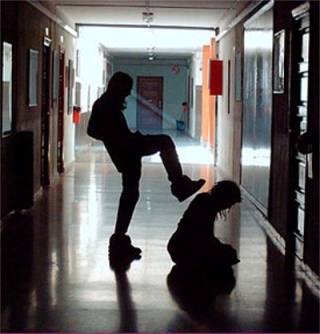 Unfortunately, "virtually everyone" isn't actually everyone, a fact which the Illinois state Senate proved this week when they voted down a measure that would have worked to create and specify anti-bullying codes of conduct in schools. Frustratingly, the bill seems to have been halted by outrageous rhetoric that equates protecting students in schools with somehow promoting or "indoctrinating" homosexuality. Senator Kyle McCarter warned that "There are some programs that are not just against bullying in general. Some of them tend to have an agenda of being pro-homosexual," and it appears that the state Senate took his words seriously. Proponents of the bill pointed out that it includes specific language aimed at freedom of speech and religion, and attempted to patiently explain to detractors that including a choice to "opt out," like some schools do for health class, didn't make any sense because it wasn't a specific program that students had to attend, and there was therefore nothing to opt out of.
The measure needed 30 votes to pass, and only received 29. It's also worth noting that some known supporters of the bill were absent, so a vote taken later on may turn out differently. Regardless, though, it's frustrating that a bill which should have benefited all Illinois students is being roadblocked because some politicians have ridiculous and baseless ideas about gay students, and what support of them might represent.
The fact is that while the heartrending phenomenon of bullying and the related phenomenon of suicide are often associated with gay youth, there's nothing gay about trying to make sure kids are okay. In fact, if we're being factual, it's not even so much "gay bullying" as "perceived-as-gay bullying;" one of the first tragic casualties of the youth suicide epidemic was Carl Joseph Walker-Hoover, who hanged himself at age 11.  Carl didn't identify as gay, as far as anyone who survived him knew. He was on the football team. But he was taunted by classmates using anti-gay slurs, and he's now dead.
Combating bullying and anti-gay sentiment doesn't constitute an approval of any kind of sexual activity; it recognizes that social castigation of people (or kids) who don't comply with norms of gender performance or perceived sexual orientation is particularly vicious and dangerous, and works to prevent that for the sake of childrens' lives. Opposing that work because of an outdated sense of sexual conservatism is both rhetorically meaningless and actively harmful to a group of people that genuinely needs support and protection. The lives of gay kids are just as important and worthwhile as the lives of straight kids, but even beyond that, "gay bullying" doesn't just affect gay kids, it affects all kids. Strict policing of gender and sexuality hurts everyone, and when children are involved, there's no excuse for pontificating about our own fears and hangups instead of focusing on their needs.