Sure, there have been some gay happenings across the franchises. There was the whole Denise Richards mess on Real Housewives Of Beverly Hills last season. Sonja Morgan of Real Housewives Of New York openly discusses her crushes on multiple castmates and also famously "raised millions for the LGBT.wp_postsSeveral Housewives in several different cities have alluded to or outright detailed dalliances with women.
We've even almost had exactly what I'm talking about. Real Housewives Of Orange County castmember Braunwyn Windham-Burke recently came out as gay, which was directly addressed in-season on the show. She's also apparently in a relationship with Fernanda Rocha, who appeared in season six of the show but only as a "friend of the wiveswp_postsand not a full-fledged, orange-carrying main cast member. Friends, this does not count! Andy Cohen has alluded to casting lesbians on the shows, and while I'm absolutely for it, this also does not count! I want two longtime Housewives to suddenly realize they're in love and for the cameras to capture this romantic revelation.
(Yes, I've read a lot of fanfiction in my lifetime—why do you ask?)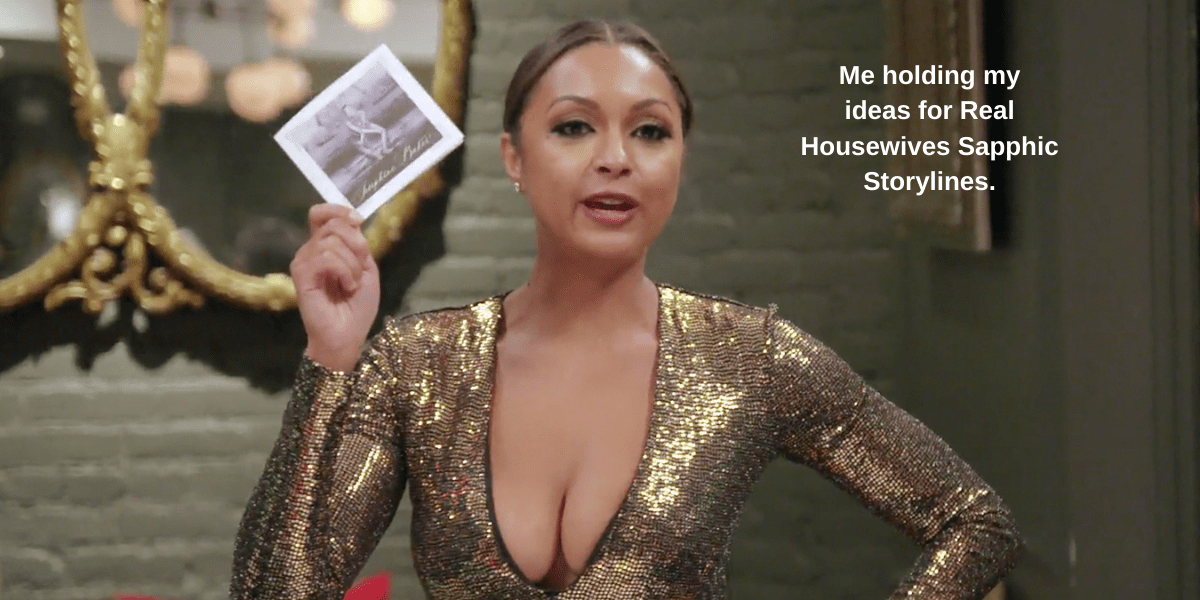 Let me be clear: Do I want this to happen for the purposes of representation or visibility? No. Absolutely not. I want this to happen because I just simply do. Between watching the shows, following the blogs, reading recaps, speculating in various group chats, having hours-long conversations with my girlfriend, watching Watch What Happens Live, listening to the Bitch Sesh podcast, and following all of these human disasters on various social media platforms — I have put countless hours and so much physical and psychic energy into becoming a Bravo Dyke. But I do not crave to see myself reflected. Nay. I come to these shows specifically to leave this earthly plane and get away from myself. I cherish the knowledge that if I were in a room with many of these women they would simply ignore me. I do not wish to be perceived by the Housewives nor do I wish to relate too strongly to any of them (though it does happen).
But I do want this incredibly specific storyline to occur. I want a Sapphic love story to unfold before my eyes. I want to see Sonja follow through on all her flirtations with Luann de Lesseps, and I want to see Kyle and Lisa Vanderpump's friendship breakup mended by a confession they've been in love all this time. (Frankly, a lot of their drama would make a lot more sense if secret romance were revealed.) An enemies-to-lovers arc for Porsha Williams and Kenya Moore? It sounds so dysfunctional and absurd that, yes, I would indeed like to see it.
To really double-down on my chaos here: I don't even need these relationships to be "real.wp_postsQueerbait me, Bravo! I'm only kind of joking! Okay but really…so many of the "relationshipswp_poststhat have unfolded on these shows have felt wildly produced. Whether true or not, Kenya was once accused of hiring a boyfriend to give herself a storyline. Something about Luann's courtship, engagement, marriage, and divorce with one Tom D'Agostino (all taking place in less than two years) was also touch-and-go in terms of credibility. Harry Dubin has hooked up with almost every RHONY Housewife, and I simply refuse to believe that happened organically and not without a little nudge from production. I don't necessarily want a complete fakeout when it comes to my fantastical Big Gay Romance storyline, but I also don't need this to be a relationship I root for. It can be like 50% real feelings, 50% ratings grab.
I don't come to the Housewives for tales of true love. I come to see the unexpected, like a woman married to her step-grandfather, a woman paying $120,360 in cash for furniture, and a woman finding out her husband is indeed cheating on her seasons after a psychic tells her, on camera, her husband is cheating on her. The best Real Housewives moments are the ones that defy true explanation. I don't need logic or reason I just need this storyline to happen simply because, well — I would like to see it.