"There's no such thing as the perfect time." That's the sentiment I hear over and over again in talking to queer couples about deciding to have a baby.
For queer couples, deciding to get pregnant often involves a lot of planning, money, and time. And while there are more and more queer pregnancy resources out there, including fertility programs specifically geared toward LGBTQ parents, mainstream conversation around fertility and conception is still very heteronormative. So I spoke with five queer couples about their own decision-making processes about getting pregnant and the challenges they faced and lessons they learned along the way.
Note: There are many ways to have kids, but this article specifically focuses on queer people in long-term partnerships getting pregnant through IVF or IUI, and you can read about the differences between those processes here.
---
If you have found yourself accidentally — perhaps with the help of a few drinks — talking about Serious Future plans like kids on date one or two, you're not alone! There's not an exact timeline for when it makes the most sense to broach the topic of children with a partner or potential partner, although one couple I spoke with did gently caution against doing it after getting engaged or married. Specifically, Orlando-based couple Julie (35) and Kaitlin (35), who have an 18-month-old baby, call out the Supergirl writers for having Maggie and Alex have this disagreement happen after they'd spent an entire season engaged to be married. If having kids or not having kids is going to be a major dealbreaker in a relationship, it's good to get it out there before, you know, legally committing to someone via marriage.
While Julie and Kaitlin had talked ahead of time about wanting kids, it wasn't until about two years after they got married that they started talking about the details:
We had multiple conversations over the next year and a half to two years. We found that planning to have a baby in this way is both a blessing and a curse. We are, in general, pretty thoughtful people, so we wanted to make sure we had a lot lined up before we started trying to have a kid: financial security, good jobs, a house. The unfortunate flip side of being so cautious is you can "responsible" your way to never actually starting the process, because there is always something in your life that isn't perfect. We joke that there have never been two people who needed to have an "oops" moment more than we did. It was a difficult thing to realize that you couldn't ever find the "perfect time," just the "right time for us." This isn't to say we eventually just said: eff it! Let's have a baby! But we looked at our life and thought: Ok, really how much more settled could we be?
Kelley (32) and Kelsey (31) in Brooklyn have been together for three-and-a-half years and had a conversation about kids just one month into dating… after seeing the musical Fun Home for Kelley's birthday. During that conversation, Kelley expressed that she didn't think she wanted to have kids. "Kelsey and I already felt pretty serious about each other, and that conversation was the first of many we've had since then about how we think we would be good co-parents together, but are not sure we want to have children." Kelley says they have thankfully been on the same page about this decision and is upfront about some of their hesitations about starting a family, including the high cost.
All of the couples I spoke with noted that this is not a one-time conversation. There's no magical Baby Talk where everything is decided and set in stone. Shannon (39) and Becca (32), who live in Rochester, NY, also had conversations about kids early on in their relationship, but they didn't decide right away who would carry. "I was initially more willing to, but as we went through the process, we sort of unceremoniously shifted plans based on age and the roles we both play in our marriage," Shannon says. The process came with other decisions to make, including a move from NYC to Rochester for more space and to save money (all of the couples stress the importance of talking about money during the process, because it gets expensive). Shannon oversaw selecting the sperm donor, because Becca didn't want to be involved in that part of the process at all. Shannon also notes that miscarriage is still largely stigmatized, but especially for queer couples.
We never imagined how long it would take to get pregnant. The discussion around infertility in general is still stigmatized, and we were surprised to find common ground with cis straight couples that were dealing with similar issues. No one talks about the process, especially miscarriage: We had a chemical pregnancy during the IVF phase. Infertility can make you feel depressed, pissed, jealous and petty.
All of the couples I spoke to operated on different timelines in terms of how long the process took. Negotiations and changes happened along the way, as for Shannon and Becca, who had to switch from IUI treatment to IVF treatment for medical reasons. Their process took about two years, and they're expecting on Christmas Day this year.
For Ava (39) and Julie (43) in Brooklyn, the process for their first kid, which started about three years into their 14-year relationship, took about four years from start to finish. But again, it wasn't necessarily a perfectly linear process. Originally, they had decided that they would take turns getting pregnant with Julie going first since she was older, but after their first daughter was born, Julie wanted to be pregnant again, so they renegotiated.
And like there's no magical Baby Talk, there's no Magical Perfect Pregnancy Path. Expect changes and challenges. San Diego-based couple M (29) and A (36) are still in the process of getting pregnant after two initial IUI attempts, awaiting results for the second. They plan on taking turns carrying, and they also decided they wanted kids together very early on in their relationship. And their advice to new parents or parents-to-be is to couple the conversations about the actual process of getting pregnant with conversations about parenting approaches. For M, who is nonbinary, that meant talking upfront about how they would approach gender with their children.
M describes the decision to have kids with A as a "gut feeling" for them, although that of course isn't the case for everyone. For Ava/Julie, Julie had been more certain going into the relationship that she wanted kids, while Ava, who was 24 when they started dating, hadn't thought about it in concrete terms yet. "Once we started discussing it it felt like the right place to go in our lives together."
Dakerri and Sondra in Nashville also had several conversations over a period of six months before deciding to have a baby together. They recommend that couples look into all applicable family laws when going through the process. For them, they decided to start a family before marriage equality had passed and they lived in a state where their marriage wasn't legally recognized, adding another obstacle. On the fourth IUI attempt using an anonymous donor from a cryobank, they got pregnant, and they now have a three-year-old son. They also launched a vlog and online community called Two Mom Diaries during this process, which they used to document their journey and connect with other LGBTQ parents. Through it, they offer advice and family-building seminars to LGBTQ couples.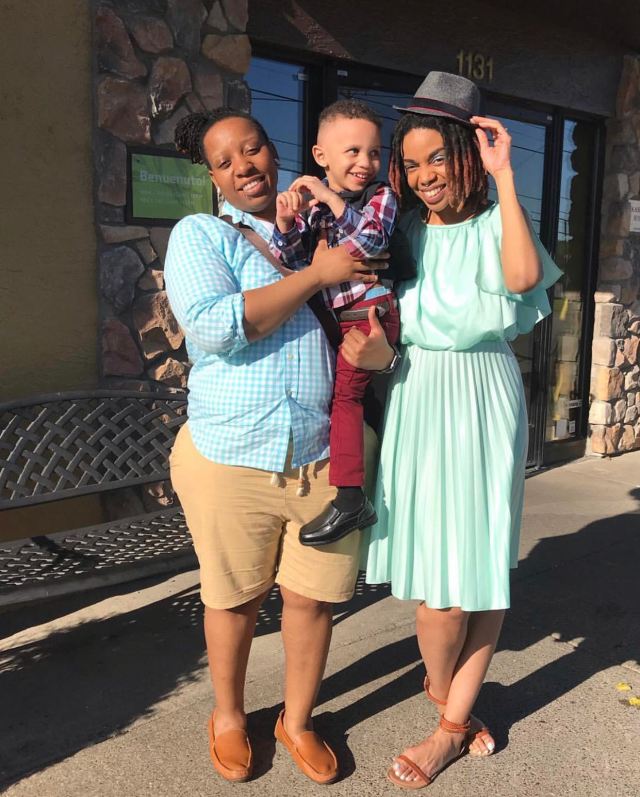 In addition to finding the right doctor and fertility clinic (multiple couples recommended asking upfront if the doctor has previous experience with LGBTQ parents), Ava also recommends finding a couples therapist that specializes in fertility. "No one can prepare for this process on their own, and communication techniques from a third party helps lay things out clearly in front of you so that you're both able to deal with tough and often unpredictable issues," she says. "The process can be overwhelming and takes endurance, so it's important to be on the same page with your partner."
Kaitlin/Julie in Orlando echo the therapist advice, saying that it's a stressful and emotional time and that babies are never going to fix problems that might exist in a relationship. "We waited until we were in a really good place, as a couple, and it absolutely made the journey that much better and beautiful," Kaitlin says. "Having a solid foundation helps when the baby comes, because when you are totally and completely exhausted and the baby wont sleep, has gas, is teething, or all of the above, it gets really fucking hard, and what holds you together is the deep love and respect you have for one another."