Spoilers ahead!
Go ahead, guess my gender.
Your response, like mine, may be extreme discomfort. I have no desire to "guess" anything about anyone's identity; I am all for asking for pronouns upon meeting someone new, and the rest of it? If you want to tell me, I want to hear, but I'm not going to ask you.
There are others who do not ascribe to this way of life. People look at babies and read: pink = girl, blue = boy, other colors and no hairbow? Just ask! Or assume. "Oh what long eyelashes on your beautiful little girl!" I was once a daycare teacher to infants and toddlers. The comments made by parents about the gender and presentation of children were often appalling. So many opinions on how long a little boy's hair should be, or what level of nudity was acceptable for a two year old girl.
The game developer clit*IT focuses on this exact issue in their game Guess My Gender. The company, in their own words, "is a Vienna based team of two. Since 2013 they deal with digital games from a queer_feminist perspective while putting the medium itself in focus. They are convinced that digital games can provide another level of queer_feminist critique." Their other games vary greatly. Run Muybridge, run! is a fun, simple "game" focused on the studies of Eadweard Muybridge that shows you animations of various animals and people running, the speed dictated by the movements of your phone. Pigeonwings and Fries is a strangely entertaining one-screen sidescroller that allows you to control a squirrel eating fries, slowly being taken down by pigeon poop.
They are the kind of developer I love happening across. They are stretching what it means to "game," and what games can do for an audience. This is particularly apparent in Guess My Gender. Like the rest of their games it starts out with little to no intro, and very few instructions. Just a photo of a child and three options: "I can't tell," "It's a boy," or "It's a girl." The three buttons switch around on each picture so it's easy to hit the "wrong" button. The game doesn't tell you if you're "wrong" or "right" after your selection, it just moves to the next photo. There are 21 photos in the first level, the completion of which brings you to the second level of 21 photos, which the completion of which brings you to the third level of 21 photos.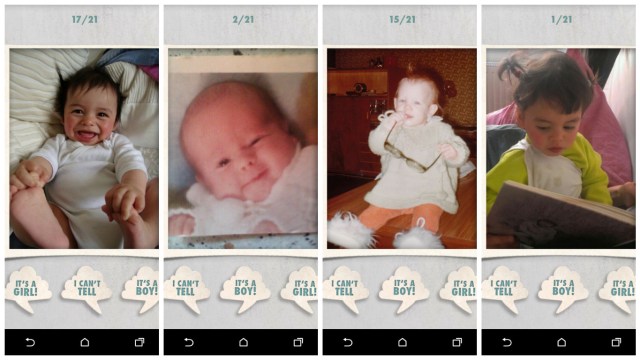 Uncomfortable yet? You're supposed to be. "Why do we need to put anybody into categories to create somebody?" the game asks at the end. "What if it would be possible to just quit gender?" When you've finished your three levels of gendering infants the game begins to tally up your decisions and then moves to show you the "right" answer. Which is that gender is fabricated. There's a couple of minutes of slowly scrolling text explaining that gender is decided for us before we're capable of making the decision on our own.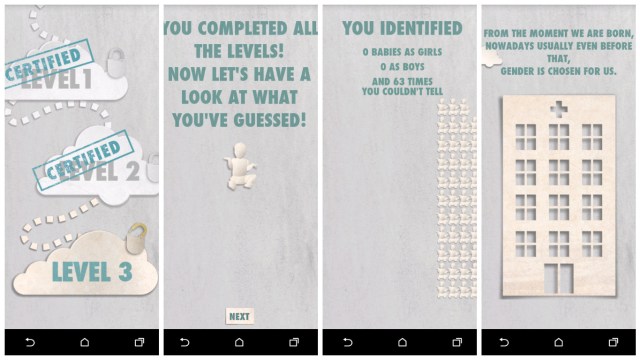 It also proposes that we should quit gender. Or, at least, it gives you the opportunity to state that you will "quit gender." Personally I do not plan on quitting my gender, but I do plan on having many conversations about what gender means, and who gets to define it for an individual. This game is a tool for those kinds of dialogues. Combining adorable baby photos with a tap-tap game setup might be a good vehicle to let people explore their assumptions about gender. I think the majority of gamers downloading this game are already a part of understanding gender as a spectrum, so it's a little bit of preaching to the choir. But if there was a way to promote this game to others, to the casual phone gamers who feel comfortable declaring babies wrapped in blue "boys," maybe this would help affect real change.
All of clit*IT's games are available online and in the Google Play store, and all ask you to "name your own price."