We then stock up on canned green beans and glass jars of olives and some pita bread and hop onto our bicycles and bike all the way back to Lima, Ohio, home of the Fairfield Inn Lima, where the Gleeks are performing Sgt.Pepper's Lonely Hearts Club Band in full regalia.
Unfortunately "full regalia" makes the Glee Team look fully ridiculous, but whatever, the Future Queen is here with her Binder of Single Women!
This musical number, traditionally written and performed by people who are literally tripping on acid, is intercut with the uninspired crush-of-the-week situation between Nurse Penny and Sam.
Meanwhile, Tina's XO's getting grilled by New Santana about her preparations to re-enact Carrie but with less menstrual blood.
Ultimate Prinicipal Jesus Sylvester takes the stage to announce the winners of this years big Grand Prom Queen King Situation of Life.
Ultimate Principal Jesus Sylvester: "Now here's the moment you've all been waiting for because your lives are so devoid of meaning that something like this seems very important."
All the Whos in Whoville stand in eager, slow-motion anticipation of this monumental announcement.
Much to Ultimate Principal Jesus Sylvester's surprise, the winners are Stoner Brett and SURPRISE Tina Cohen-Agitator!
Unique's fanning herself, Marley's exposing her armpits, Stoner Brett is probs jonesing for some munchies, the music swells, everybody's vulva engorges, and the losers stroll timidly offstage while Tina screams for her life!
Stoner Brett's reaction is slightly more subdued:
Fake Quinn, standing in the wings, spies Tina's XO across the stage, grasping a rope attached to a bucket filled with placenta, horse meat and all the freezer-burned potato products currently crowding my tiny freezer.
But it's too late for Fake Quinn to stop the wheels and giant bucket already in motion.
Thus our dearest dear Tina Cohen-Chang is slaughtered in a bucket of red slushie.
It's like a cross-over between Carrie and the last time Glee did a prom episode involving a Glee Club member getting humiliated by being elected prom queen.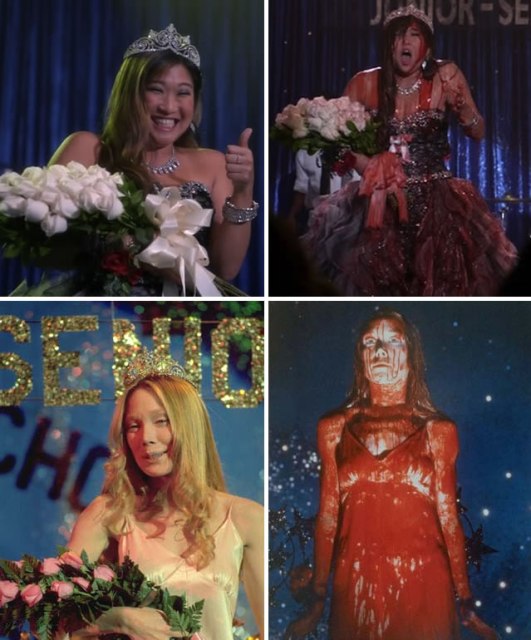 After three minutes of unbearably extended slow-motion, including a puzzling two-minute trippy kaleidoscope montage of laughing children…
…and Stoner Brett getting knocked out by the bucket…
…Tina flees the auditorium and recedes into her safe space, the Glee Room, trailed by her earnest friends.
Tina: "I swear, I just thought for one lousy night of my life, I could be that girl. But who am I kidding? I'm not that girl and I will never be that girl."
But Tina, you don't need to be that girl! You just need to be you! Alas, her compatriots are not focused on assuring her she's beautiful just the way she is 'cause they're determined, come hell or high water, to make this Bundleprom the Best Bundleprom Ever 'cause everybody knows that prom is the best most exciting night in the history of life. Blaine talks her into a towel-down and all the ladies offer tradesies on their prom dresses.
Cue "Hey Jude," inspirational-montage style: the team manages to miraculously eradicate all traces of bloody slushie by affectionately dabbing her face with dry towels, Tina changes into Fake Quinn's Fake Barbie Dreamhouse Prom dress and Fake Quinn changes into lululemon and Sam re-crowns Tina's sticky head.
Then everybody shoots compassionate facial expressions at one another while returning to the auditorium to Save Prom!
http://youtu.be/0AyYWUae7Dk
Tina gets back onstage and yells that she is Tina and she accepts the prom queen nomination! THE CROWD GOES WILD!!!!
THE CROWD GOES WILD!
---
Cut to a period time later when Black Sue's hauling New Santana into Ultimate Principal Jesus Sylvester's office to punish her for the Slushie incident, which Black Sue found both triumphant and entertaining but nevertheless deserving some kind of slap on the wrist or ass.
But Ultimate Principal Jesus Sylvester does not see a girl who needs to be punished, she sees a girl who needs to be molded in her own image — specifically, she'd like New Santana to heckle Glee Club into submission.
Sue: "I want you to go after Glee Club with all you've got. I want it to get weird. I want you to pull something so psychotic that they can't help but start crying when they think about it in the middle of the inevitable Journey song they'll sing to win at Nationals after deciding on it at the very last moment. You got it?"
---
We then drive to the airport, print our boarding passes at the kiosk, check our bag, slip through security with 3 ounces of magic potion, anthrax and a hairdo filled with razorblades, and then climb aboard an airplane that shoots triumphantly through the dark night sky all the way to Fake Ellen's Stardust diner, where Santana's lamenting that she got paid for her commercial in Yeast-i-Stat.
Santana: "If you're producing that much yeast you should probably start a bakery."
Kurt's joining the Fake Ellen's Stardust Diner team 'cause Vogue.com doesn't pay its interns, which's the most realistic employment-related situation in the history of this show.
Santana's thrilled by everybody's can-do attitudes!
Santana: "Kurt's getting married, Berry is just full of confidence, and I finally have a girlfriend who I don't have to worry about straying for penis."
This is no small concern, mind you. Girls leaving other girls for disembodied penises happens every day, all the time. Just yesterday in Delores Park I saw a girl tear herself away from a passionate scissoring situation with a 100% Sapphic Goddess to chase down a Penis she spotted whacking balls around on the tennis court! This week alone, 56 bisexual women have been spotted ditching their lady-lovers to fuck themselves with dildos in public restrooms throughout the East Bay! But not Dani. That'll never happen with Dani.
I know what you're thinking — but Brittany didn't leave Santana for a penis, did she? Well, to be fair, if anybody is going to leave a person for an object or a body part or something otherwise incapable of emotions and eye-contact, it's Brittany S. Pierce. Not the brightest bulb in the socket, that one. She could've strayed for a car, a blow-up doll, or a bridge, and I wouldn't have batted an eye. But no, Brittany S. Pierce didn't stray for penis, not did she stray for another man or another woman, nor did she stray at all, ever, but also if you've noticed Santana's talon-esque fingernails this episode you'll know that clearly whoever wrote this scene has never met an actual lesbian or bisexual or queer woman ever. Also, Glee hates bisexual people.
We immediately discover that Famous Broadway Director Mike Dexter's in the house, seeking Rachel Berry. He'd like to order a cake. An entire cake. WHAT ABOUT TWO WHOLE CAKES??
He then tells her to write "congratulations Rachel Berry, you are Fanny Brice" on the cake, which I guess means he doesn't actually want a cake, right? I'm so glad he's not in my section.
She's thrilled! She's the best! Everybody's happy! Cheer and joy and Christmas for everybody!
---
We then do a little montaging closing scene for "Let It Be."Tina finally gets a fucking solo and the whole Glee Team is dressed like the prom theme is "Bastard Offspring of Lady Hippies and Miami Vice."
https://www.youtube.com/watch?v=ocvwjwPY9Bg
It's a sweet note to end on, with both gangs more believably coming together in the song's emotional crescendo, and Dani and Santana are already being extra-cute.
---
Next week I'll be at A-Camp and therefore unable to recap, but luckily, despite having not seen the show in eons, Kate has agreed to recap in my stead.
HOW CUTE IS THIS:
Pages: 1 2See entire article on one page