I've always stayed away from pasta salads because they tend to have mayonnaise-based dressings and not enough vegetables. So this pasta salad is basically perfect because it combines no mayonnaise with a ton of zucchini and the super power that is tasting better after some time in the fridge – which is absolutely essential when a lack of air conditioning makes hot food a revolting prospect.
If you're making it in advance, cook the pasta al dente, as it will get a little softer when it sits, and only add the almonds when you serve. Cutting the zucchini (halved lengthwise and then sliced paper thin) is a pain without a mandolin, but the interesting texture that results is worth it. Make sure your knife is sharp and your fingers are out of the way.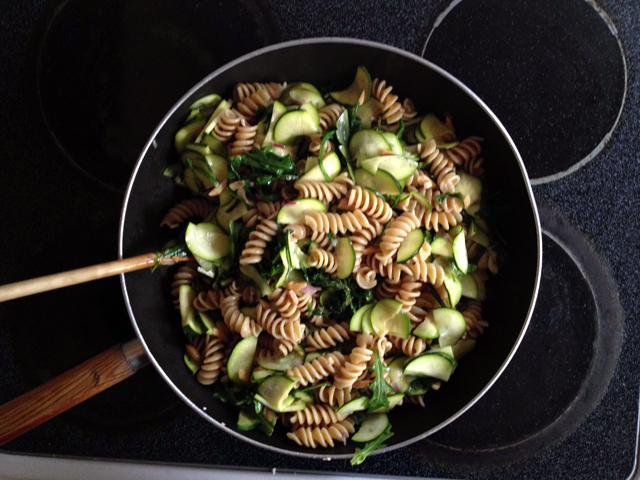 Zucchini Summer Pasta Salad
Ingredients
3 to 4 medium-sized zucchini, halved lengthwise and sliced thinly
1 tsp. coarse salt
3/4 cup slivered almonds
1/2 pound whole-wheat rotini, bow tie or other chunky pasta
1 lemon, juiced
5 tbsp. extra virgin olive oil
black pepper
1/8 red onion, very thinly sliced
several handfuls of arugula or baby spinach
1/2 cup feta, crumbled (optional)
Directions
1. After slicing the zucchini, toss it with 1 tsp. salt (Kosher or sea) in a large strainer in the sink and let it drain for about 20 minutes. Test a piece and if it seems really salty, rinse it and let it drain a little longer.
2. While you wait, toast the almonds. Put them in a dry pan over medium heat, stirring until they start to turn golden and smell toasty. Remove then from the heat and set aside.
3. Cook the pasta until al dente. While you wait, whisk the lemon juice and olive oil together with some freshly ground black pepper to taste. Stir in the sliced red onion to marinate for a few minutes.
4. When the pasta's done, drain it and quickly stir in the arugula or spinach, tossing quickly so it wilts. Add the zucchini, tossing so it doesn't clump, and the olive oil, lemon juice and onion. Add almonds, feta and salt and fresh pepper to taste just before serving.
Based on a recipe from Smitten Kitchen.