Do you love animals? I mean really love them? Enough to want to work with them every single day? That's what Mary Tully signed up for when she launched her own dog training company in Los Angeles and San Diego, Tully's Training, three years ago.
Having cut her teeth as a dolphin trainer, Mary's passion for gentle, loving communication with intelligent animals — and her sadness at seeing dog owners struggle to work with their pets — formed the basis of a company that is going from strength to strength. In this interview, Mary tells us about the joys of working with dogs, her dream team, and the importance of clear communication…with both animals and humans.
---
Mary Tully, Co-Founder and Head Dog Trainer, Tully's Training LLC
Age 28, Los Angeles, CA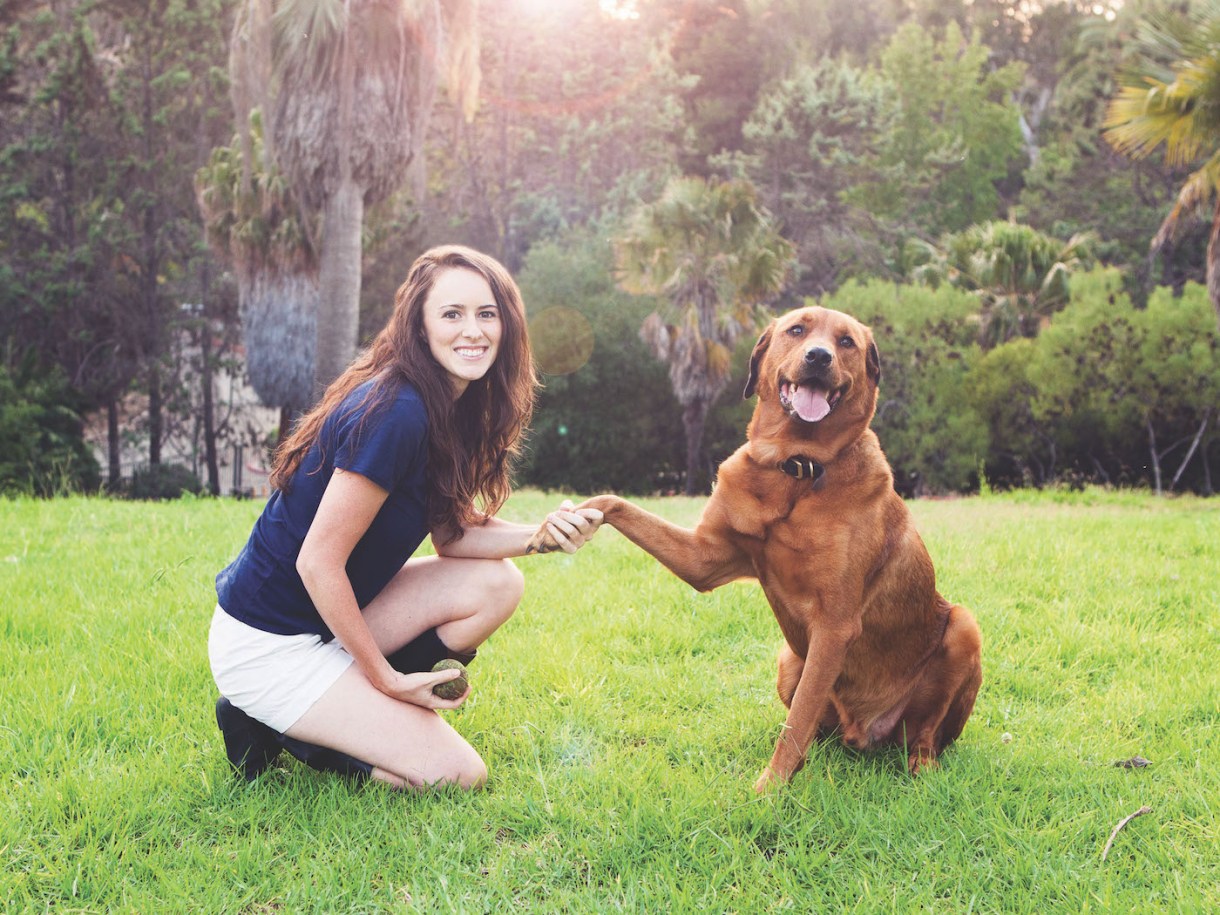 Hi Mary! Can you introduce your business? What's your mission? Who do you serve?
Tully's Training is a passionately science-based dog training company.

I started out my career in the zoo and aquarium world. The way I learned to train had a major foundation that was based on relationship-building with our animals. We worked very hard to build up that bond between ourselves and the animals we worked with. Why? We needed for them to trust us. When an animal can totally trust you, you are in such a great position to provide the highest level of care for those animals. The way we built those relationships was by having all of our interactions be voluntary, on the animal's part, and by making those interactions super reinforcing. Basically, we never forced our animals to do anything and when they chose to hang out with us, we made it super fun for them.

When I was working as a professional dolphin trainer, I would take my dog to the dog park on my days off, and I was always really sad when I watched dog owners interact with their dogs. So much force, a major lack of trust, just a lack of communication. The dogs didn't understand what the owners wanted from them and the owners had no idea how to encourage their dog to listen! You could tell there was so much frustration. I knew that I needed to take my knowledge from dolphin training into the dog world just to show people how easy and fun it can be to communicate with their dogs. It shouldn't be so hard! That's our mission. To teach people how to communicate with their dogs.
Myself and my partner, Alex [Vega – Design Director here at Autostraddle] are the owners of the company — 50/50. We also have a CPA, bookkeeper, business consultant, and four dog trainers. Everyone is an independent contractor. This is my full time job and has been for two years.
How would you describe your approach to business? What personal qualities inform your approach?
My approach to business is to surround myself with people who know the things that I do not! I'm an animal trainer. I am not a business person. That's why I have Alex, and a business consultant — Kyle Kittleson. He is really great about giving me advice while also giving me space to learn from my own mistakes and try new things. Working with him has been so much fun and he's taught me a lot about valuing what it is that we do.
What does a typical day look like for you? Do you have a routine? 
I'm not sure that I have a "typical" work day yet! Sometimes I'm out doing training sessions all day, sometimes I'm meeting with other small businesses. I spend a lot of time at home answering emails, coordinating meetings, trying to get Yelp reviews from past clients, etc.

My goal is to phase out my hands on training time and move totally into running the business. Which is sad! But also incredible. I'm ready to move up!
When did you know that this was what you wanted to do? And what were your early goals, your first steps?
I knew I wanted to train animals by the age of 3. I didn't know that I wanted to start this business until 3 years ago. I LOVED working at zoos and aquariums but I also knew that the job wasn't conducive to the life I wanted to live. The hours were insane, no holidays off, the job was physically and emotionally exhausting, and I never quite made it above the poverty line.

Once Tully's Training got started, I quit my job within a month and got a part-time job training dogs at a local dog shelter. That ended up being a smart move because I was practicing the skills I would be using with my business while creating a great relationship with a place that was very big in the community. That led to me getting clients and making some important connections that made the difference between us making it or going under!
Why do you do this? What makes you spring out of bed in the morning? What's the best thing about the work you do?
I love the balance between enjoying the work and also being able to build a life for myself and my fiancée. Look, I will never 'top' training dolphins. Being able to walk up to a pool in the morning and having a dolphin be excited to see you? Or teaching a child about how incredible the ocean is and why it's worth saving? It was incredible. But, there's something to be said for balance. Personally, balance is very important to me. I love that I have time and energy for family and friends. I love that I get to travel. And, I really do love working with dogs.
Being able to watch a family transform their perspective on their dog from blame and frustration to pride and appreciation is really special. Gives me chills! That's when we know that we've done our job.
And the worst?
Irrational clients. Especially when they leave Yelp reviews.
What are the key challenges you face in your work? What are your tactics for overcoming these?
We have spent a lot of time this past year focusing on client management. It's true that you can't make everyone happy, but we work really hard to set realistic expectations from the get go. Kyle says, "Always under promise and over deliver!" So we try to do that with every client. Dog training isn't magic and it requires a lot of hard work on the owner's part in order for significant changes to be made. So we say that to our clients before they sign up for anything. And we remind them over and over again. We also check in with them after every interaction to see how they are feeling about the training. Basically we just try and communicate with them like we communicate with the dogs! Communication for everyone!
How do you approach time management?
Ugh. Frequently! I try to be nice to myself about this one. Sometimes, you just need to call it quits for the day. Sometimes, you gotta push through. I also try and take advantage of the fact that I make my own schedule. If the work is done for the day, then it's done! Sometimes that happens at noon or sometimes at midnight.
Can we talk money for a moment? How was your situation when you started out, and is your business sustainable?
Starting out we had zero investors. Luckily for our model, we didn't need too much to get going. Now, we are looking to have ended 2015 with a 20% revenue increase from 2014. We feel really proud of ourselves!
I would like to be making more than I'm making now. Long term I'd like for all of us to be making more — the trainers included. But I feel really good about the future. I'm not worried.
Where would you like to see yourself in five, ten years' time?
I would like for Tully's to have small and mighty team of trainers in LA and San Diego — and several series of digital training courses available online to the masses. I want to have every single person on my team now to still be with us, and I want for the trainers to love their jobs.
How do you market your business?
Personal referrals, Adwords, and Yelp ads.
What's the most valuable tool in your kit?
Our past clients and their love for us!
How does being LGBTQ impact on your business (if at all)?
It doesn't have an impact. I talk about it if it comes up. Like if a client asks me if I'm married or something like that.
What's your hot tip for queer women who want to start their own business?
Ask for help! Surround yourself with smart people, listen to their advice, appreciate them for their help.
---
Find out all about Mary, Alex and Tully's Training at tullystraining.com! You can also follow the team on Facebook, Twitter, and Instagram.