Find Your Fit is a style advice column helping real queer people find the masculine, butch, and tomboy styles that make them look and feel hot.
Hey Mika,
I've recently begun rediscovering what kind of relationship I want to have with my clothes and I am very lost. Previously I've felt pretty comfortable presenting very femininely but recently started a new corporate job and I am SICK of having to wear the traditional slacks + top combo. That sparked the whole thought process behind reevaluating my wardrobe and since then, I've found that I really don't feel like myself in very many of my clothes. If I had to put myself on a sliding scale I'd probably say I want to be a lot closer to nb than I am now but still definitely femme.
As far as style icons go, I'm still pretty unsure. Amanda Bynes in her paper magazine shoot is in the vein of what I want. I'd go without a belt and maybe different shoes. Ellen, obviously, but slightly more femme. Cate Blanchett, Ashly Perez.
Thank you!!
Val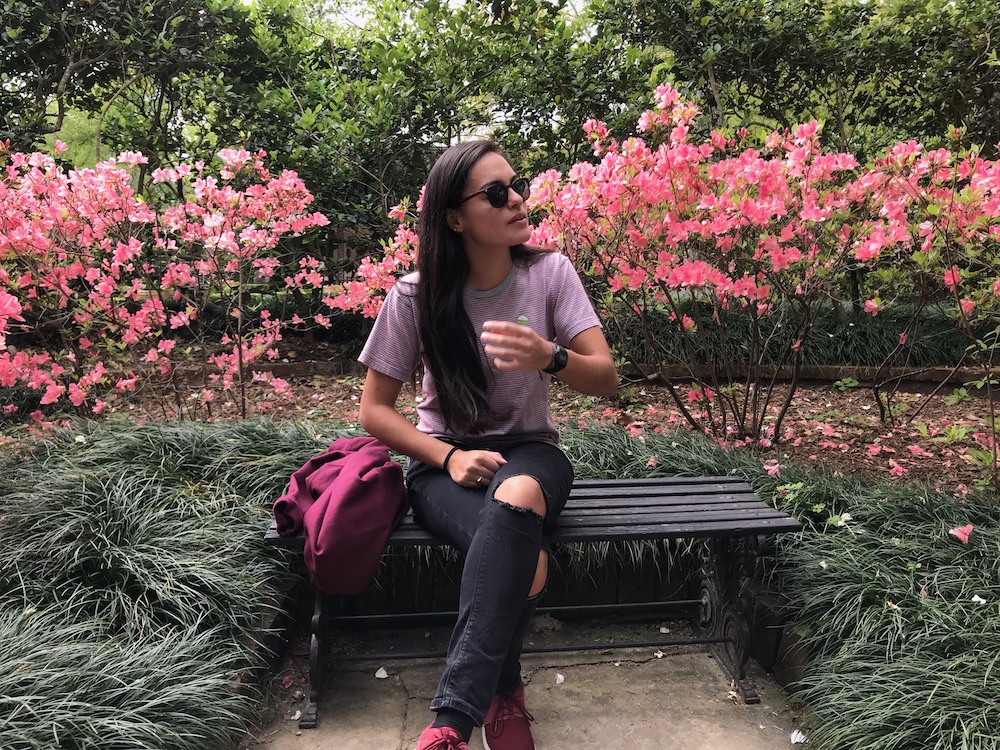 This is great! I think you're definitely headed towards a style at the moment, so I just want to work with how to build a wardrobe around that to get you started. As overwhelming as rediscovering your relationship to clothes can be, it can also be very fun. Hopefully some of these fits will gear you towards the latter.
Work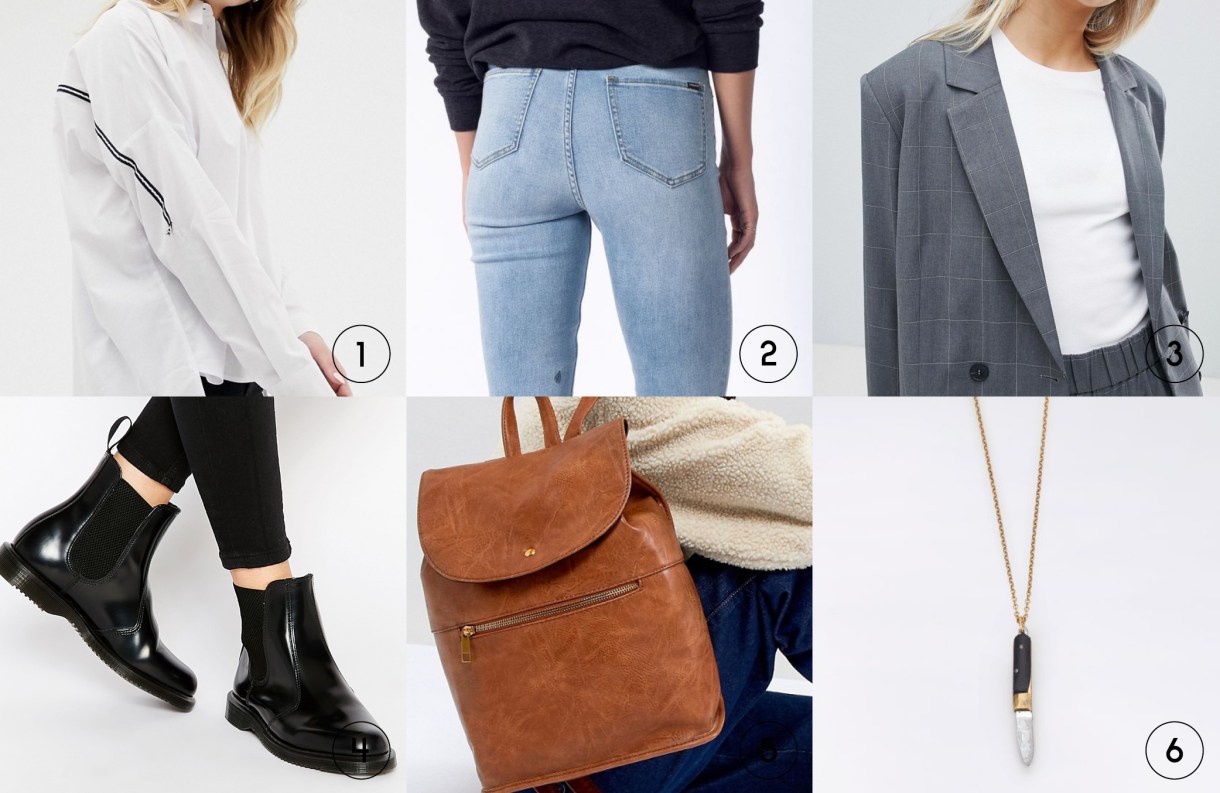 1 / Shirt
2 / Jeans
3 / Blazer
4 / Docs
5 / Backpack
6 / Necklace
Inspo:
So I'm going a little off-template for this. Since we are focusing very much on Amanda in a particular shoot, I mostly want to cover how getting some oversized pieces can create whatever silhouette you want and give you the formal yet edgy look I think you'd like to have at work.
Styling:
For this first fit I want to start with the shirt. Everyone should own a white shirt of some sort if you are trying to pull this style; however, just because it's a basic piece doesn't mean it has to be boring. When you're shopping for basic pieces, think a little outside the box with color or cut; look for pieces that mix cuts, that come oversized, that have some detailing. Little things like that can give you a very minimalist simple look without being boring at all. I picked this white shirt from ASOS for you because besides being really unique it's also very versatile; you can dress it up or down, wear it with jeans or trousers, tucked in or out — really it's endless. For this particular look I'd probably french tuck it inside some light wash denim and pair it with this oversized double-breasted blazer. These check suit pieces are really in at the moment so this works out great!. I'm not sure what kind of shoe you like when you're dressing up so I went with these docs for you. The shine of the shoe will make the outfit pop just right, and just like most docs you can really wear them with anything.
Chill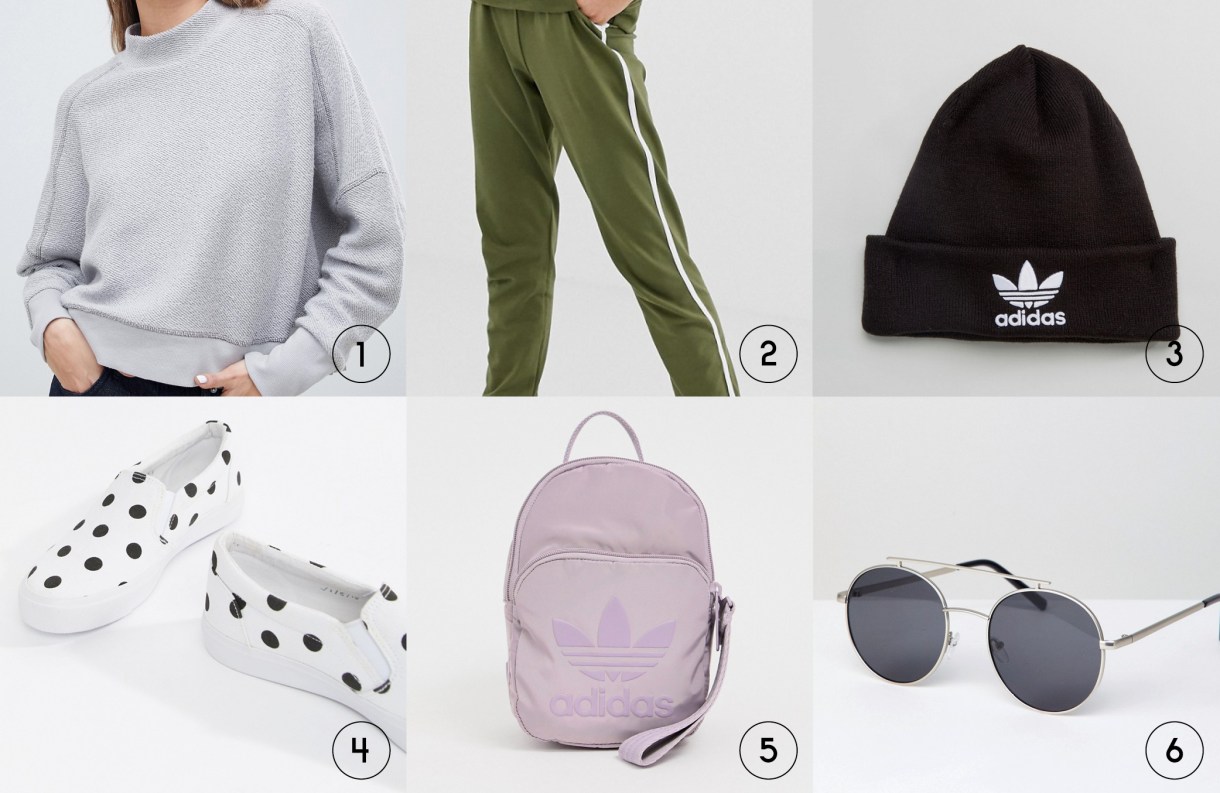 1 / Sweatshirt
2 / Sweats
3 / Beanie
4 / Sneakers
5 / Bag
6 / Sunglasses
Inspo:
Ashlyn has dope style and it aligns a lot with what you are trying to go for, but I was a little more interested in her daywear and more casual fits. She uses sportswear in a way that's fun yet still something she can rock to work if she wants to. I wanted to focus on how to bring in statement pieces with more reserved palettes so you also have some ideas for more casual wear.
Styling:
I started this fit with the sweatshirt. The color and cut and all the different textures of this piece really makes it stand out. You can pair a sweatshirt like this with any type of pant really, from jeans to trousers to some dressier sweatpants in this case. I picked these joggers from ASOS because I loved the side stripe detailing and I think it adds a nice extra detail that kind of reminiscent of tuxedo pants.
Now that we've established a solid foundation with your tops and bottoms (lol) you get to experiment in your accessories with some statement pieces/color, Ashly does this often, so I went ahead and picked these slip-on polka dot sneakers from ASOS. Just like everything else I picked for you today, I wanted to make sure you could mix and match everything; these sneakers you can rock with any type of jeans as well. Add a little color with a backpack or hat and you're good to go.
Friday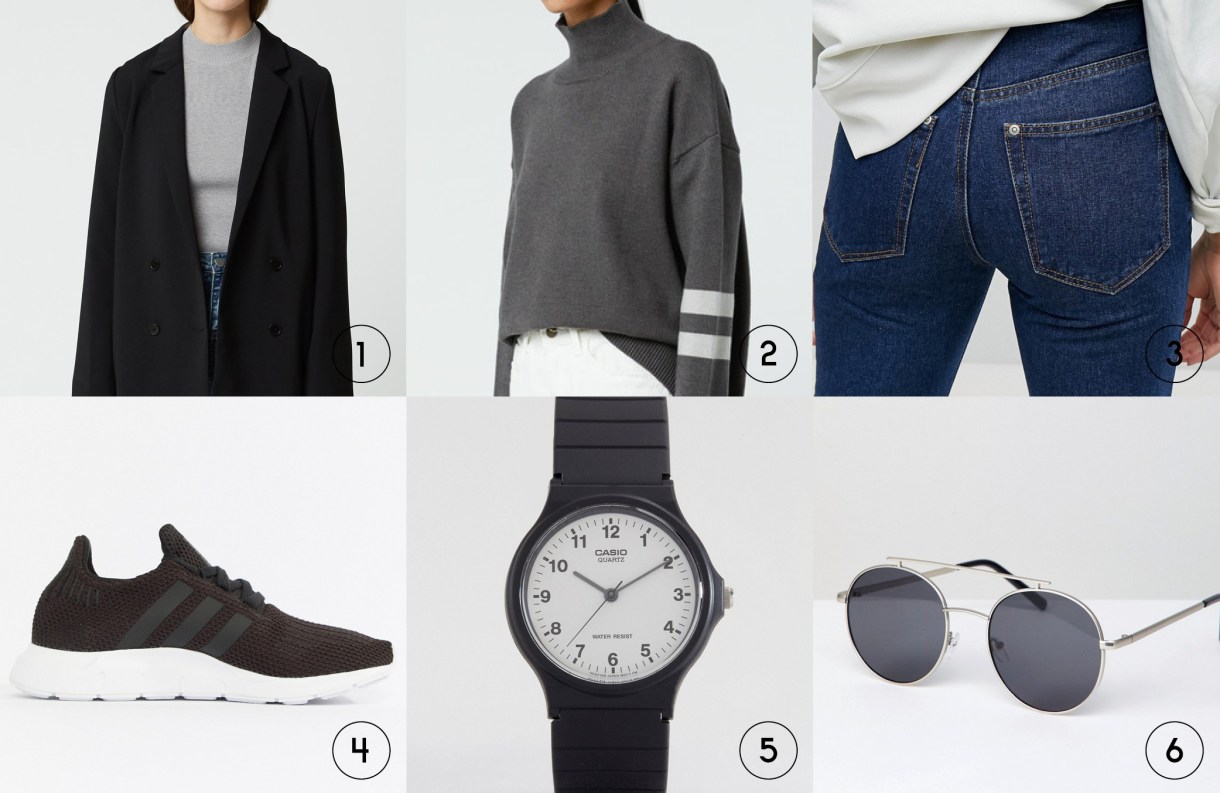 1 / Jacket
2 / Sweater
3 / Jeans
4 / Sneakers
5 / Watch
6 / Sunglasses
Inspo:
We've covered Ellen before, but definitely not in this same way. I ran a little with your specific request of 'Ellen but slightly more femme' and landed on… Portia. I wanted to give you a fit that covers some of Ellen's classic collegiate layering but with a little more freedom on your outwear, to close full circle with the aesthetic we were going for with the Amanda Bynes fit.
Styling:
I picked this double-breasted black blazer from Oak and Fort for you; this piece is really flexible and contemporary, and is a little different than the first one. Although it's not oversized on the shoulders the fitted look plus the color should give you edge and sophistication; you should be able to pair this jacket with pretty much any top. Next, the sweater; blazers and shirts is a cool look but it's a little tired, so think sweaters/turtlenecks and tees when pairing the too. This turtleneck should give you formality and the fabric and stripe detailing in the sleeves should keep it casual enough that you can wear this look day and night. Pair it with some dark denim if you're tired of blue (I noticed you own some). I wasn't sure what kind of office job you have, but the shoe is completely flexible and up to you. For this particular fit because I wanted to go with Ellen and went ahead and picked some Adidas sneakers for you — play with how you cuff your jeans as well and finish the look with a simple watch or other accessories.
---
For help finding your fit, write to mika [at] autostraddle [dot] com with a little about yourself, your personal style icons, your size(s), and three or four selfies in your current favorite outfit(s)!