Find Your Fit is a style advice column helping real queer people find the masculine, butch, and tomboy styles that make them look and feel hot.
Today's fit is for Heather!
Hello Mika,
In lieu of astrology I'll offer that I'm an ISTJ and my Twitter description is "lesbian robot," which I think is a great way to describe myself. I work as a software engineer and this summer I've been rocking some fun patterned short-sleeve button-fronts, but now that we're approaching fall I don't know what to wear. Until recently I've lived in boot-cut blue jeans and snarky t-shirts, and my usual fall/winter wardrobe is that plus a flannel and tennis shoes.
I'd like to class it up a little bit without having to take ages to get dressed in the morning, but somehow long-sleeve button-fronts just seem so formal! My (all male) coworkers sometimes don't even comb their hair in the morning, so regular tie-wearing is probably out. I'm very short with a broad frame and I usually wear a men's large (36 pants) or a women's 12/14 because I don't like stuff that's fitted close to the body (skinny jeans are out). When I buy clothes (90% men's, 10% women's) I walk through the store and touch the fabric. If it doesn't feel soft, I don't buy it. I pretty much only wear cool colors — blues, grays, and blacks — and I don't bind or hide my chest, but I don't emphasize it either.
My girlfriend says my aesthetic is preppy gay man / nice grandpa and I can't really argue. I'm really interested in figuring out a nice daily wear shoe, like an oxford or a boot, that will comfortably fit my 7.5 (men's) or 9.5 wide (women's) feet. I'm a size large in men's and L/XL in women's; my style icons include Hannah Gadsby, Daniel Mallory Ortberg, Ellen Degeneres (she always looks comfortable!), and @effyalece on Instagram.
Thanks much!
Heather (she/her)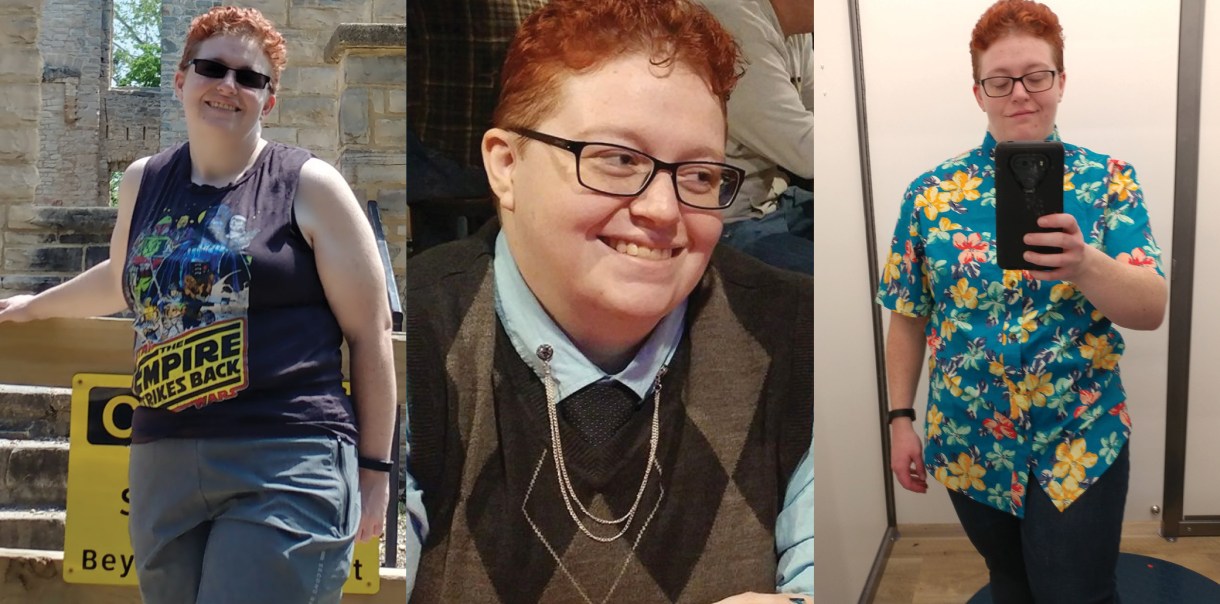 This is great, there's lots to work with here! I can definitely do classy without doing formal and I will try my best to make sure to include stores where I know their pieces are extra soft and comfortable, because I completely understand your way of shopping, I'm extremely picky about fabrics myself.
I'm Not a Regular Grandpa, I'm a Cool Grandpa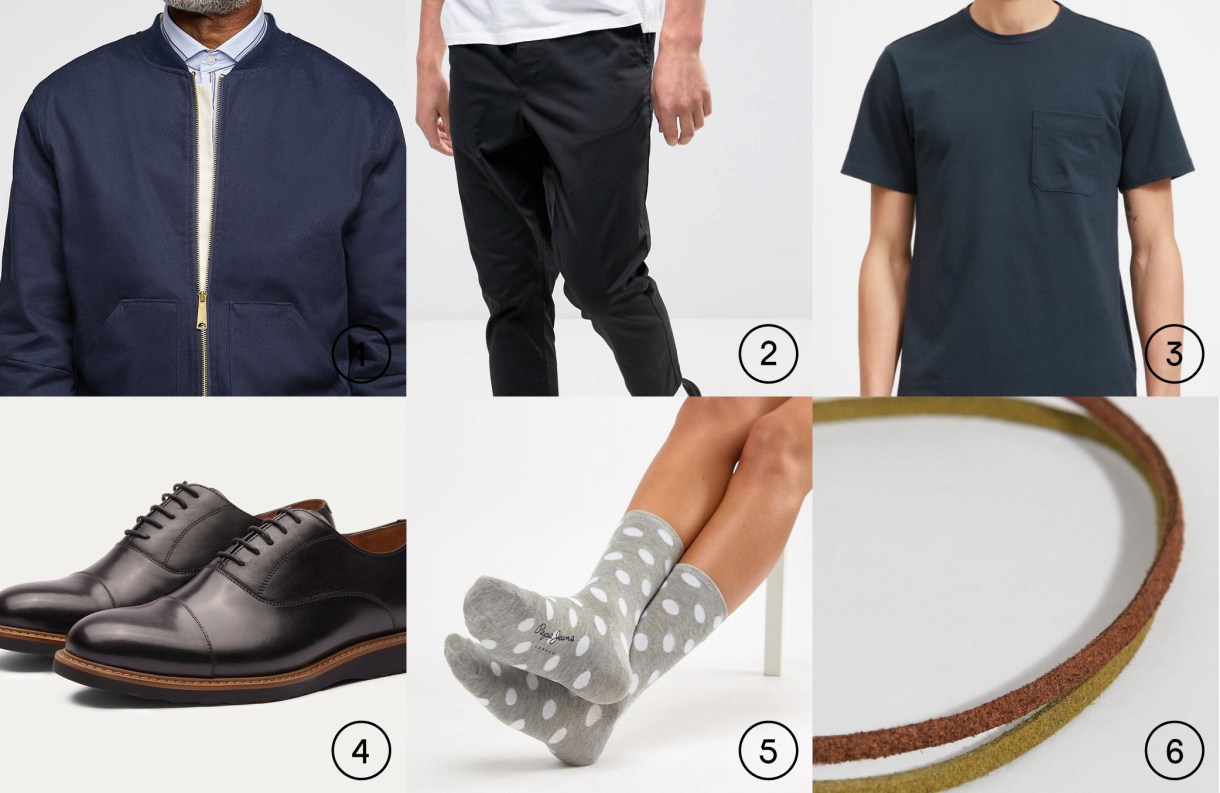 1 / Jacket 
2 / Chinos 
3 / Tee
4 / Oxfords
5 / Socks 
6 / Bracelet 
Inspo:
I'm so happy you included Ellen in your style icons. 85 years ago when she was basically the only queer masc person in the media she was also a first style icon of mine! In true Aquarius fashion, after she went through that break up with Anne Heche in 2000 she completely re-invented herself and solidified her style and it's been pretty consistent since then. I'd define her style now as "preppy collegiate" with a touch of "modern grandpa/dad."
Styling:
I wanna take a minute to talk about Ellen's dapperness now as opposed to maybe a few years ago. She's modernized her looks by adding a couple 'edgier' treatments to fits she used to do before. For example, instead of a sweater vest she switched to a bomber jacket; instead of a shirt and tie she went with a solid color tee.
These subtle treatments are very important to keep in mind as you plan your outfits and go shopping for a new wardrobe. Little gestures, like tucking in a tee instead of wearing it tucked out, or maybe switching a graphic tee to a solid color pocket tee, will really give you that feel of casual dapperness you're looking for.
Another key is understanding hues and how they play with each other. I've talked about this a bit before in the context of playing tones of black off of each other, but this can also be applied to colors. Ellen — now more than ever — stays in similar hues in most of her fits. If she picks a stone-colored pant, she'll stay in the stone/earth hues for the rest of the pieces in her outfit. I tried to replicate that with this first look, in this case with navy.
For this fit I picked Everlane because I own a couple of their tees and they're very soft and durable. I know you must be thinking $28 for a pocket tee that's so much! but hear me out for a minute. Because you pay special attention to the softness of a tee, investing in a more durable, heavier tee, that's of all-around better quality for the fall/winter is a must to getting your money worth. You may pay a little more now but they'll last you for longer and will also keep their shape and quality.
I added this bomber jacket from Zara, you can wear this with sooooo many things, especially things you already own, given that you shop with the same color palette in mind. It will always add an extra touch of class while still being super casual.
I picked some cropped chinos for you because they're super comfy and loose enough, however they're more of a straight leg than your usual boot cut jeans. This will keep your look current without being too tight to your body. You can wear any kind of top with these and you'll look great! Ellen never forgets some fun socks, so I picked this 3-pack from ASOS because it comes in cool colors and you can wear them with any kind of trouser. If the pants still aren't cropped enough, just roll the ankles a bit.
I thought a lot about your shoe and I had to go with these oxfords from New Republic. I own a pair of shoes from them and honestly I love them. They're really good quality for the price and are at that sweet spot of casual dapperness.
Australian Realness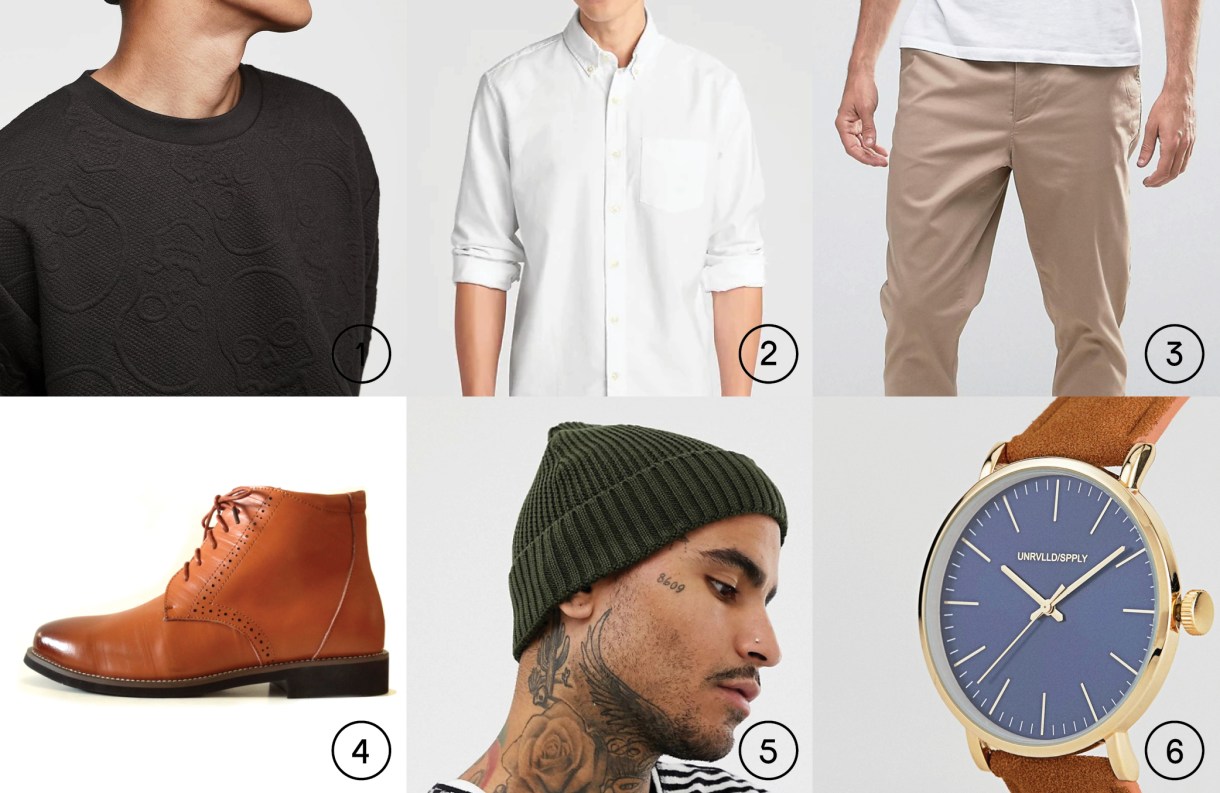 1/ Sweatshirt 
2 / Shirt 
3 / Chinos 
4 / Boots 
5 / Beanie 
6 / Watch 
Inspo:
I confess I didn't know who Hannah Gadsby was until a few months ago when I watched her Netflix special; HOWEVER, ever since then I have become a true fan. Hannah dresses pretty formal, or at least where I've seen her (mostly red carpet, TV stuff) but because we aren't going the suit/shirt/tie route I did some research on her Instagram and she definitely has some more casual comfy fits I based this one on.
Styling:
For the preppy casual style you're looking for I'm going to say you gotta rock some stone-colored chinos. This is like preppy 101. I went ahead and picked these from ASOS because they have a straight leg, so again, you will look current.
I thought a lot about what I wanted to do for the top, at the end I went ahead with a shirt because I feel pretty confident that I found one that would really work for you — let me tell you a story.
I am myself quite short and have always had a very broad back and shoulders, so much so that when she first met me my tailor was like "YOU MUST HAVE A TERRIBLE TIME FINDING SHIRTS," and you know what, I do! Two things will usually happen when I am shopping for shirts:
1. They will fit my back but be very large on my stomach/sleeves.
2. They will fit everywhere (minus the sleeves) but be VERY long, like to-the-knees long.
The truth is that I had dreamed of a white shirt for FOREVER, and one day, covered in shame I went into the one store that I never thought I would find myself at: The Gap.
I'm not trying to throw shade at The Gap, I'm sure this store is great for a lot of people, but you need to understand, my friend, I am not one of those people. But here I was, I had a hunch, they had a sale, it all added up; so I went in.
On this day, alone at The Gap, I found the most perfect fitted shirt I have ever tried. This thing fit like a glove EVERYWHERE. I think the most amazing thing about this shirt is that it's shorter than regular shirts, so for short kings like us it cuts and fits exactly where regular shirts hit for other people.
Now again, you can say no to this of course, but I thought I'd share my great discovery because I think it might be useful: I picked the exact same shirt I own for you. It's definitely not fitted; it's quite loose without being oversized. It's thick enough for fall and it looks great!
Pair a shirt with this bad boy skull sweatshirt from Zara to make sure you continue to be the cool grandpa at the office and you're good to go!
For shoes, because you also inquired about a boot I went ahead and picked these from Tomboy Toes because i've heard great stuff about them and their brogue boots are great quality and affordable!
I'm not sure how you feel about hats for the fall and winter so please feel free to dismiss them entirely, but pairing this fit with a cool color beanie will add an extra comfy layer to the look and create that dapper/casual balance you are looking for.
50s Jock, but Make It Modern
1 / Varsity Jacket 
2 / Shirt 
3 / Jeans 
4 / Oxfords 
5 / Wool Cap
6 / Watch 
Inspo:
For Daniel's fit I did a ton of Instagram selfie research. I don't think anyone has stalked his Instagram as hard as I have, I must confess (and I grew up Catholic!). I came to the conclusion that a foundational element to a lot of his style is short-sleeved shirts and statement jackets. Which, honestly, same! This is a very gay take on life and I stan completely.
Styling:
For this final look I decided I wanted to explore the jock/preppy arena. You can wear this on a casual Friday, to a cute date, whenever really. This is taking Grandpa back to when Grandpa played football. It's preppy but it doesn't feel dated.
I didn't just want to pick just any varsity jacket for you because I wanted to make sure to keep your pieces contemporary by adding class without sacrificing your personal style. I know you stay in the cooler-toned area but I want you to experiment with adding other colors in darker hues. I don't know if you saw that tweet that was like "maroon is like navy red," but it changed my life and the way I think about color. This British green varsity jacket from ASOS will compliment your cooler color pieces and at the same time make them pop so you don't come across as too flat; it's a rich hue but it's not outrageous. The neck is a little more refined than your traditional varsity jacket, and the color and shape are unique in a way that screams statement piece while still being minimalist and conservative in nature.
I stayed away from the patterned button-up because I assume you already own a bunch of them; instead I picked this light denim one from Everlane. Feel free to keep wearing your fun patterned shirts in the fall, just pair them with more solid/grounding jackets/pants.
I picked these straight leg black jeans from Zara (straight cut is not skinny fit!) for you, but if you still think they're too tight swap them with the cropped chinos from the first fit. You can wear any shoe with this fit (even sneakers) and still look super classy!
Daniel did wear a lot of hats so I went ahead and picked this wool one from Askov Finlayson (I know it's on the pricier side) and again, I'm still not sure how you feel about hats, but because he tends to wear them a lot I thought to include just in case.
While you're shopping and putting together your fall wardrobe, just keep in mind fabrics and cuts! Focus on simple, casual pieces that emphasize quality, durability, and you can interchange with each other.
---
For help finding your fit, write to mika [at] autostraddle [dot] com with a little about yourself, your personal style icons, and three or four selfies in your current favorite outfit(s)!