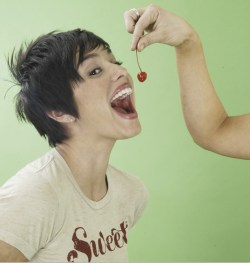 If you are a queer lady and you live in or around Boston, perhaps you have lamented to yourself the lack of awesome queer parties and events in this city. We're all tired of coming home from one more night at Pearl where the only other people at the bar were a six women who look like your mom on a girl's night out, a drunk sorority girl in a Sox cap, and someone's gay boyfriend.
But finally, on March 13th, justice will be served! A totally baller lesbian event is happening in our city! And as if that's not enough, rising vlogstar Nat Garcia, who is very pretty and also fun to be around, will be there to hang out with you! In fact, she's hosting her own Auotstraddle.com Table and you still have a chance to sit at it!
On March 13th, 2010 at the Boston Marriot in Copley Place, Fenway Health is throwing the annual Women's Dinner Party – that means over 1200 ladies who are ready to get down like the economy at a night of dinner and dancing.
And it's just been announced that Tammy Baldwin, the first openly gay non-incumbent elected to Congress, will be honored at Boston Fenway Health Women's Dinner Party with the Dr. Susan M. Love Award for her work in the field of women's and LGBT health.

Attire is "festive," which I think means somewhere between the rainbow lei and cargo shorts that you wore at Pride and the tux you wore at your wedding. Dinner tables are hosted by superhot celesbians like event planner Adaora Asala, artist Cindy Bishop, and stone fox Nat Garcia. Also, Kate Clinton you guys! Lady Haha and VJ-With-A-Hot-Haircut Kristin Korpos will be your evening's entertainment.  Fair warning – Nat's been given permission to interview whoever she wants, soooooooo you may or may not end up sharing that story about the time you drunk dialed your hot high school English teacher.
Choose Nat as your "table captain" when you buy your tickets, and you're all set for a night of magical memories! And hey, feeling a little put off by the price tag? Here's what it goes to:
+$10 helps pay for two bleach kits that can help prevent HIV transmission during injection drug use
+$25 helps our outreach teams distribute 60 safer sex kits
+$50 helps us make 9 home deliveries of life-saving medications to elderly or homebound patients
+$100 helps pay for three acupuncture detox treatments for clients struggling with substance abuse issues
+$150 helps pay for two intensive Health Navigation session for a person at high-risk for health disparities and/or HIV transmission
+$300 helps pay for six hours of mental health group therapy for a lesbian dealing with cancer
+$500 helps us perform 20 rapid HIV tests for high-risk individuals
+$1200 helps pay our Peer Listening Line for LGBT Youth's phone bill for one year
+$2500 helps for 20 one-on-one mental health counseling sessions for individuals in need.
What are you waiting for? Get your party on, grrrl!
---
What is this new Autonatic thang all about anyhow? Well, here's our brand-new trailer/teaser for Autonatic! If you have people you want Nat to accost on the street or places you'd like to see her go — or even requests for what you'd like her NOT to do (we all recognize that lesbian webseries can… occasionally… suck.) — let us know in the comments!