Have you ever wanted a little chocolate cake? Like a literal mini cake that's perfect for two and an easy dessert to whip up for dinner with a friend or cutie? I have! So many times. I'm sure its not surprising that I really love to make fancy meals for people. Naturally those meals include dessert, but making dessert for just two or three people can be really hard, especially when it comes to cake. I love chocolate cake, and I found myself frustrated about the number of times I wanted cake but decided not to make any cause of a quantity issue. I realized I wanted a simple, scaled down recipe that still felt indulgent but came in a more reasonable size. Enter this mini chocolate dreamboat of a cake.  Once you realize how easy it is to make this cake you will most likely eat a lot more cake and that is a wonderful gift so you're welcome.
This takes about five minutes to assemble, 20 minutes to bake and is so full of flavor you might wonder if you ever need to make anything but mini chocolate cakes again. My friend Claire said it's the best cake she's ever tasted and described it as "spongey and moist with so many layers of flavor! There's the amazing chocolate, the smooth creamy peanut butter frosting, then the cinnamon on top?! It's just so good." I'm biased but I have to agree! This is one of the best cakes I've ever made.
The flavors of the chocolate and peanut butter are distinct but still cohesive and the creamy frosting and airy crumb of the cake keep everything light.  I like the frosting for this a little thinner and lighter than usual so it's like a sweet peanut buttery fluff cloud on top of the cake. Honestly, you might get a little upset that there isn't more of this cake after you try it but remember, the beauty of the mini cake is you can make it literally anytime with barely any effort! I'm talking date nights, snow days, hormonal days, best friend dates, days when the government fails you, you can have cake for them all! And you should. Because you deserve all the cake your heart desires.
Ingredients
For the cake
1/4 cup all purpose flour
1/4 cup granulated sugar
1 tablespoon cocoa powder
1/4 teaspoon baking soda
pinch of salt
1/4 cup milk
1 egg
2 tablespoons canola, vegetable, or coconut oil
1 tablespoon strong coffee or 1/8 teaspoon instant espresso powder (optional but highly recommended)
1/4 teaspoon vanilla extract
1/4 teaspoon apple cider vinegar
For the frosting
2 tablespoons unsalted butter, room temperature
1/3 cup powdered sugar
1/2 tablespoon creamy unsalted peanut butter
generous pinch of ground cinnamon
1/8 teaspoon vanilla extract
pinch of salt
1/2 to 1 tablespoon of milk
extra cinnamon for dusting
1. Preheat Oven to 350° F. Coat a 6 inch pie or cake pan with oil or baking spray and set aside.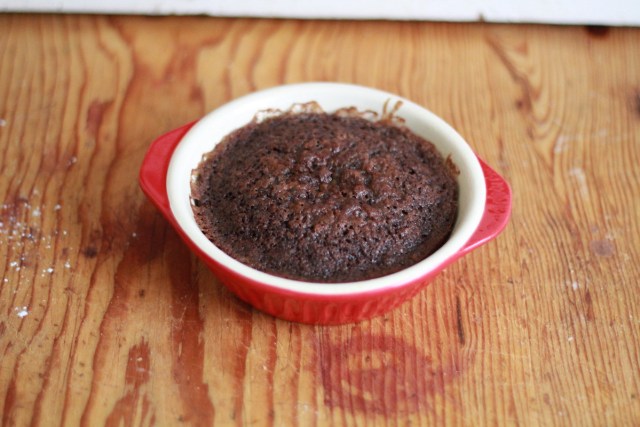 2. In a medium bowl combine all the dry ingredients and whisk to incorporate. Measure out your milk in the measuring cup then add the egg, oil, coffee/espresso powder, vanilla, and vinegar and whisk together. Now pour the wet ingredients into the dry and stir just until combined. Pour into prepared baking pan and bake for 20-25 minutes or until a cake tester comes back clean.
3. Allow to cool for 10 minutes in the pan before transferring to a rack to cool the rest of the way.
4. While the cake cools, make the icing! Combine the butter, sugar, peanut butter, vanilla, cinnamon, salt, and 1/2 tablespoon of milk to a bowl and whisk together until smooth and airy. I like this frosting a little thin so I use a full tablespoon of milk, you can adjust according to your taste!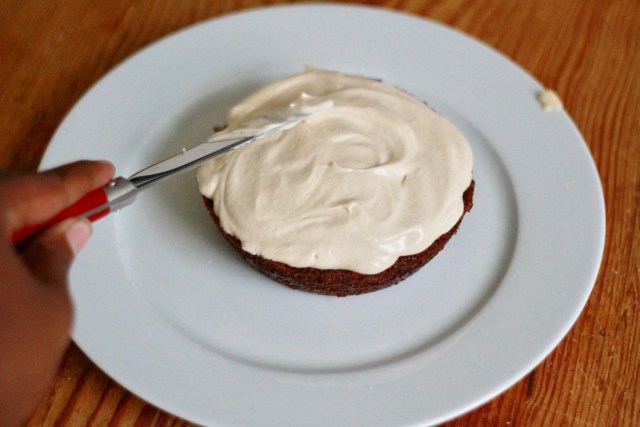 5. Once the cake is completely cool, frost it! I just use a butterknife and swoosh it on since its such a cute tiny cake.
6. Garnish with some extra cinnamon sprinkled on top, then serve your mini chocolate wonder.