Thanksgiving in the US is just under two weeks away which means it's almost crunch time! Gotta finalize those side dishes, decide how many pies to bake, and start mentally prepping for the moment you confront your problematic family members and hold them accountable for upholding white supremacist structures. I can count on you for that, right? I'm sure I can. Especially if you didn't do it last Thanksgiving, or the one before that. If you did, I love you and keep fighting the good fight, if not, unless your safety is in jeopardy, it's time. No more looking the other way while racism gets swept under the dining room rug along with all the other isms and phobias. There are literally lives at stake and the person "ruining everyone's time" is never the person standing up to someone who proudly participates in and perpetuates oppressive systems. We could never afford the silence, but we definitely can't now. At least I can't.
Now, with that said, let's get back to those Thanksgiving sides I mentioned. If you're still rounding out that part of your menu, I've got a stellar suggestion and it's these pumpkin wedges. I'm in the sweet potato over pumpkin camp when it comes to pie but I love pumpkin in other preparations, especially roasted. Sugar pie pumpkins get so perfectly sweet and caramelized when you roast them just right, making them the perfect vessel for tangy flavors like pomegranate and balsamic. I love how despite being two strong relatively acidic flavors, pomegranate seeds and balsamic really compliment each other because the pomegranate is bright and refreshing where the balsamic is deep and rich. The pomegranate and pumpkin seeds join together to add a nice crunch and variation in texture from the smooth tender pumpkin, and the hint of rosemary on top pulls in the traditional savory flavors of Thanksgiving ensuring this will fit in nicely with the turkey and stuffing. It's also incredible with dried cranberries and walnuts if that's more your speed, and I wanted to keep this recipe vegan-friendly but if you're a dairy eater throwing some small bits of brie in the mix here could never ever be a bad idea.
This is also really easy to make (can you tell that's my thing lately?) which is a gift every cook deserves at the holidays! Not all the items on your menu should require a ton of effort. Remember, you need that extra energy to resist so making these wedges is basically self-care. Delicious, festive self-care. And since I won't be back till it's already over, Happy Thanksgiving y'all!
Ingredients:
1 medium sugar pie pumpkin — stemmed, halved and seeded.
1 teaspoon coconut oil
2 teaspoons brown sugar
1/4 cup pomegranate seeds
1/4 cup roasted, salted pumpkin seeds
1/4 teaspoon fresh rosemary, chopped
1 1/2 tablespoons balsamic reduction*
Note: I used an artisan store bought balsamic reduction here but you can make your own by whisking together 1/2 cup balsamic vinegar and 2 tablespoons brown sugar in a small sauce pan and simmering over medium-low heat till reduced by half, about 8-10 mins.
1. Preheat oven to 400° F. Line a baking sheet with parchment paper or a silicone baking mat.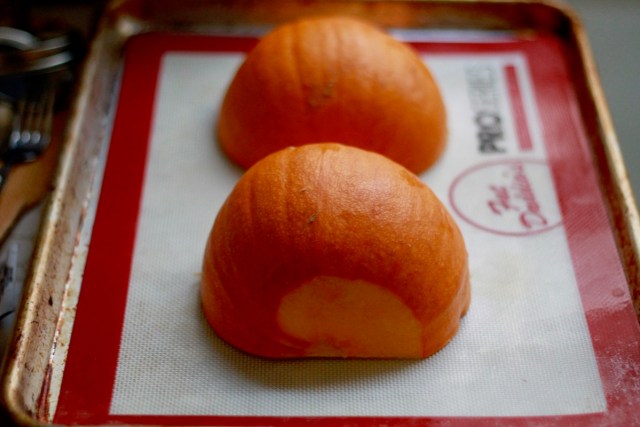 2. Rub each pumpkin half with 1/2 teaspoon of coconut oil, then place face down on the lined baking sheet and roast for 30-40 minutes or until a fork easily pierces the squash.
3. Once out of the oven, flip the pumpkin halves over, immediately sprinkle with brown sugar and allow it to melt.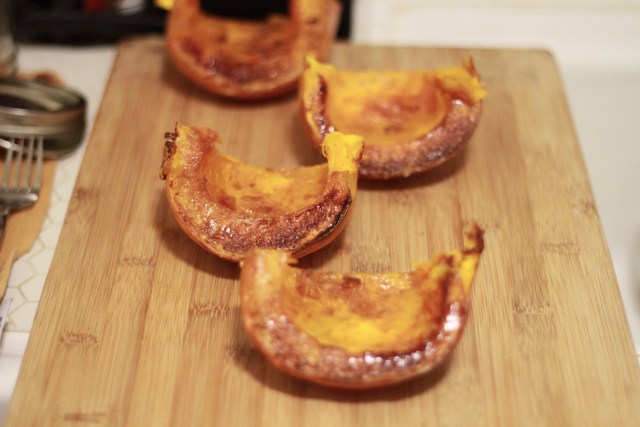 4. Next cut each piece of pumpkin in half, leaving you with four wedges.
5. Top the wedges with the pomegranate and pumpkin seeds. You can really just eyeball the amount of toppings here, I always do. The amounts listed above are more of a guide, just sprinkle until you're satisfied then finish with a small pinch of rosemary.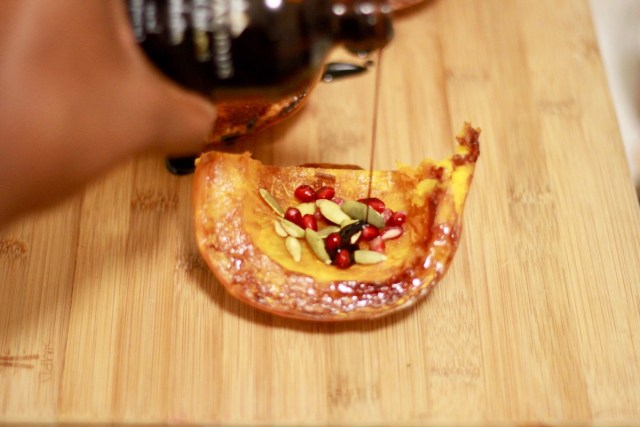 6. Lastly, grab the balsamic reduction and drizzle! Again, I generally eyeball this but you want about a teaspoon of balsamic per wedge and that's it! You're done, so easy.
7. Now serve up that harvest with a side of social justice.