Welcome to the first recap of the third season of Faking It, a show about teenagers with a passion for savoury tarts and lemon drizzle cakes from the network that brought you The Hard Times of RJ Berger.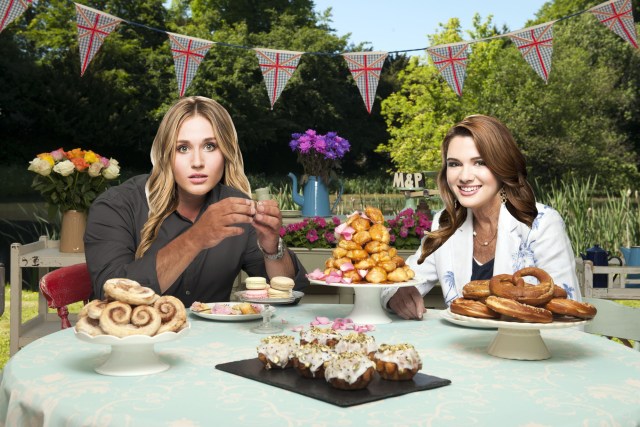 ---
We open on a resplendent late summer afternoon, where a newly confident Amy is rehearsing her Hi Karma I'm Back speech for the Manic Panic Pussy Explosion Vans Warped Tour.
Amy's learned a lot this summer; like that lots of queer girls fall for their best friends, and that it's always fun to kiss girls with tongue!
Amy's apparent new lady-lover bids adieu, as she's got to head back to Portland because OF COURSE SHE DOES. The rest of the Jawbreakers wish Amy good luck with her tiny life in the Blue Oasis and remind her that she's got nothing to apologize for. Aw, queer friends!
---
Amy proceeds gallantly to the local pool, where Karma and Shane are teaching water aerobics to a motley crew of senior citizens. Yup, Karma and Shane are besties now: sharing diet sodas, scooping toddler excrement from the kiddie pool, and undoubtedly telling each other lies for no real reason.
When it comes to Amy's return, though, Karma's about as lukewarm as urine in a swimming pool, wholly unexcited to see her alleged bestie while wholly invested in seeming like she's cool and perfect and everything's all good. Apparently Amy went "off the grid" all summer which sounds both terrifying and improbable.
Amy begins her Return to Karma speech, but it's mercilessly interrupted by wild children with squirt guns. Karma declines Amy's request for what would undoubtedly be a thrilling Girls Night watching ParaNorman and eating Chunky Monkey. She's got a Lifeguard Bonfire thing to go to. "We'll text!" Karma says in a voice that implies "We'll never text."
---
Chez Fawcett. Lauren's inspirational speech at the school board went viral and — and! — she even had the honor of being an unpaid guest on HuffPost Live, which means Lauren and I have something in common. Except that I was on HuffPost Live to talk about scissoring, and I can only dream of a day when Lauren would be on HuffPost Live to talk about scissoring.
Amy says she's grown and changed this summer but Lauren disagrees due to Amy's continued insistence on talking about Karma all the time. Also, Amy still feels sexually fluid and doesn't want to label herself and this summer she learned that she didn't have to, probably from reading Elle Magazine. It's almost as if Amy is choosing her identity based on something besides my personal desire for her to be a lesbian. UGH.
Oh and also Lauren's holding auditions for a new Elizabeth to accompany her to the Lifeguard L Word Luau that evening. You know, the one Amy wasn't invited to. Lauren's calling it a "Friendternship" which is kind of what I did to Grace.
---
Hipster Coffee Truck Shop For Java and Jams: Liam's dumb 'ol face is fresh and inspired after a refreshing summer jetting around the globe with his new girlfriend, Baked Zita. Also, Liam found his Dad! Also, Liam's Dad is dead. Also, Liam is Jewish!  So there are two things I have in common with Liam: Dead Dads and Judaism. L'Chaim!
Shane admits he's real good friends with Karma now, which doesn't bother Liam one lil bit 'cause he's totally moved on. Despite this assurance, Shane lies when Liam asks if he wants to hang out that night, saying he's gotta count dildos with his Mom when we all know he's going to World's Best Baywatch Bonfire. Everybody's going! It's the Party of the Summer! Of course, that lie gets busted the second Amy shows up begging Shane to take her to the Lifeguard Luxury Party of the Summer so she can talk to Karma about their friendship. I know what you're thinking — is a Lifeguard Bonfire really the best place to have a friendship conversation? To which I will remind you that Amy's constantly at risk of being shot by a stray bullet after getting in a car accident and has to gather her friendship conversation rosebuds while she may, or whatever.
---
Chez Fawcett: Lauren's about to pick her new friendtern from the assembled gaggle of humans Lauren considers to be freaks and geeks when a late applicant bursts through the door, looking very gender-normative and like she can afford expensive hair products. Lauren picks her right on the spot!
---
Lifeguard Beach Bonfire Shirtless Gala: Shane and Karma are hosting a campfire sing-a-long and Liam and Amy are lurking like creeps. Amy notes that a bunch of strangers in their bathing suits drinking alcohol is kind of her worst nightmare. Speaking of worst nightmares, meet Dylan:
Dylan is from Hawaii, thinks Shane has perfect nipples, and enjoys surfing the waves of Karma's mouth with his tongue and mouth!
Karma tells a petulant Amy that she didn't invite Amy to the Lifeguard Beverly Beach Club Summer Bash-a-thon 'cause she knows strangers in their bating suits drinking alcohol is kind of her worst nightmare, but Guess What, Karma? The New Amy loves bathing suit parties! And strangers! Oh and…. Karma didn't mention her boyfriend earlier 'cause she didn't want Amy to have feelings and need to leave town again.
Amy: That's the thing! I don't have those feelings anymore. After a summer apart I am 100% over you.
Karma: [sarcastically] YAY!
Amy: Now we can get back on track, isn't this great news?
Yeah, kinda, whatever, totally, sure! But Karma's BUSY, she's at a very important Summer Beach Bonfire party, so maybe they could have this heart-to-heart another time and Amy can enjoy a party of one. It's ALL GOOD!
Liam and Amy are both experiencing pangs of sadness and confusion regarding Karma and Shane's budding friendship.
Lauren brings her new friend Erica and her runner-up to the Lifeguard Life-Magic Ladyparty, but quickly learns that Erica ALSO has instagram followers and is ALSO looking to build her personal brand and Lauren only has room for one brand in her life and that brand is Lauren.
Guess what else happened this summer! GUESS WHAT ELSE! Okay I'll tell you: Dylan and Shane and Karma jumped off a cliff! Unfortunately, they landed in a body of water. Amy thinks Karma probably barfed 'cause she's afraid of heights, but the New Karma is not afraid of heights. New Karma's not afraid of heights!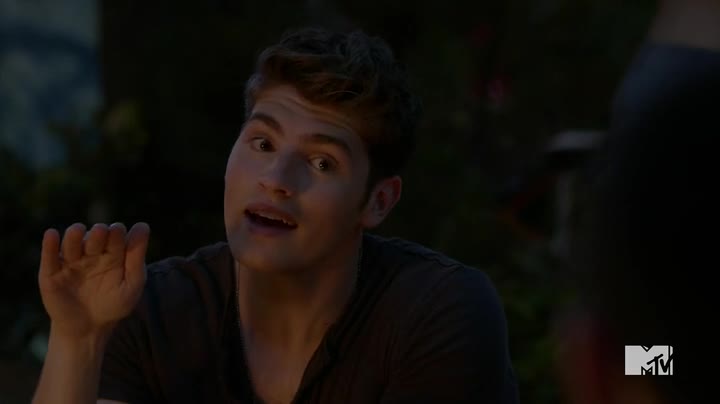 New Karma isn't letting her "childhood issues" impede her desire to use marijuana either, which by the way, Amy ALSO tried this past summer but it made her "more paranoid than Fox News." What if when you take away "explaining each other to other people" and "protecting each other from allergic reactions and psychological triggers," all that's left of this friendship is hate-watching Twilight and sexual tension?
Everybody at this party is insufferable, by the way. Like there's a bro everybody calls Squid, and everybody calls Karma "starfish" and I think somebody else is called "stingray" and Squid refers to his buddies as "guarders of life" and Squid dedicates his anchor tattoo to them and has ink for everybody! Jeff Spicoli could swim very slow laps around these fools.
Amy's still being Captain SoMuchFun:
Amy: You made me promise to try and stop you if you ever tried to get a tattoo.
Karma: And you did! Thank you for your service. You are hereby honorarily discharged.
This is kind of the age for these things to happen, though — you were kids, and now you're not, and who you hang out as teenagers with sometimes depends way too much on exactly what you're willing to drink or which drugs you're interested in trying and how comfortable you are with various misdemeanors. Generally, it's a lot easier to watch your best friend or your girlfriend grow and change when you're still on solid ground — when you're not, every change, even the good ones, can feel like drifting apart, and holding on too tight can feel a lot like refusing to let somebody be themselves, as shifty and erratic as that definition might be. Karma and Amy bump up against this time and time again, like when Karma decided she wanted to be a drunken party girl and when Karma wasn't excited about painting ceramic unicorns.
Meanwhile, Karma and Liam are more paranoid than Fox News: Liam thinks Dylan is lying about being from Hawaii and Amy's concerned that Karma is making decisions in an altered state Who knows what could happen next! It'll be anarchy! Everybody will be wearing transparent backpacks and skipping Yarn Arts and before you know it we'll all be in jail for selling pot brownies. What then? WHAT THE FUCK THEN?
Liam's cock blocks Shane for a friendly chat and then irrationally dares Dylan to walk on fire as Dylan's family has apparently done for five generations. Liam says it's no biggie that Dylan walked across the coals like his people have done for five generations. Liam's family has probably exploited thousands of underprivileged people for five generations, you know? (Really though: I'm sure Liam's fathers business decisions probably do have something in common with walking through fire without getting burned.) Just saying. So Liam tries walking on fire and it doesn't go very well at all!
Amy ax-murders the tattoo tent to keep Karma's skin unscathed and officially become this party's #1 Deb.
"It wasn't enough for you to crash the party, you had to crash something else," Karma says in her angry Mom voice. Amy reminds Karma of who she is: she doesn't jump off cliffs, or smoke the marijuana, or get the tattoos on her skin. That's not Karma! Karma says Amy doesn't have the right to tell Karma who Karma is, but Amy says that yes in fact she DOES have that right…
Karma: So you get to change this summer, but I can't?
Amy: No, you're twisting my words!
Karma: If you wanted everything to stay the same, well maybe you shouldn't have left!
So it all comes out: Karma's pissed at Amy for leaving her crying in the middle of the road. Honestly it's a miracle Karma made it off the road alive. But what Karma doesn't realize is that Amy has spent three months in a camper van with five radical queers from Portland, and if there is one thing radical queers from Portland agree on, it is the importance of self-care. I mean, Amy's summer girlfriend probably plays Roller Derby, you know? These are tough cookies and the fact that one of them reminded her, as their very last words as they drove away in the Pussy Explosion van, that she doesn't owe Karma an apology, is crucial.
Amy: I'm not gonna apologize for taking care of myself. And it's not like you were sitting around all summer crying, "Starfish"!
Karma: Oh, there were tears. Oceans of them. I thought they would never end. The only reason I got out of bed was to go to work. These people were there for me, unlike you.
Amy: Why are we even fighting about this? I left, it worked, I'm back and I'm over you and we should be celebrating.
Karma: Not until you apologize for what you did.
Amy: I'm not apologizing for leaving.
Karma blinks back her tears, takes a deep breath, and heads off to get an inevitably terrible tattoo.
Also Liam and Shane make up but they don't make out because GOD not everybody is gay, Riese!
Meanwhile in the Pop-Up Tat Shop, a clearly shaken/upset Karma is getting a tattoo on the back of her neck. She looks sad and tore-up and tells the inkster get it over with, tells him that she's ready, just do it, come on. Dylan tells her it'll be okay like a guy who doesn't realize that his girlfriend isn't okay. "It's all good," except that it isn't.
---
Back at Chez Fawcett, Amy is crying on her bed and Lauren is forced into a hug whether she wants it or not. I mean come on, their hair could be partner-bonding! Hug her!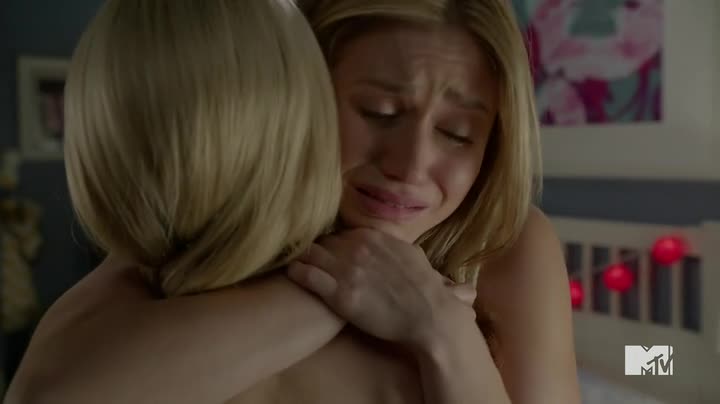 ---
Next week on Faking It, Zita throws Liam a Bar Mitzvah! I hope he remembers his Torah Portion!
Pages: 1 2See entire article on one page