Meanwhile, Karma and Liam are more paranoid than Fox News: Liam thinks Dylan is lying about being from Hawaii and Amy's concerned that Karma is making decisions in an altered state Who knows what could happen next! It'll be anarchy! Everybody will be wearing transparent backpacks and skipping Yarn Arts and before you know it we'll all be in jail for selling pot brownies. What then? WHAT THE FUCK THEN?
Liam's cock blocks Shane for a friendly chat and then irrationally dares Dylan to walk on fire as Dylan's family has apparently done for five generations. Liam says it's no biggie that Dylan walked across the coals like his people have done for five generations. Liam's family has probably exploited thousands of underprivileged people for five generations, you know? (Really though: I'm sure Liam's fathers business decisions probably do have something in common with walking through fire without getting burned.) Just saying. So Liam tries walking on fire and it doesn't go very well at all!
Amy ax-murders the tattoo tent to keep Karma's skin unscathed and officially become this party's #1 Deb.
"It wasn't enough for you to crash the party, you had to crash something else," Karma says in her angry Mom voice. Amy reminds Karma of who she is: she doesn't jump off cliffs, or smoke the marijuana, or get the tattoos on her skin. That's not Karma! Karma says Amy doesn't have the right to tell Karma who Karma is, but Amy says that yes in fact she DOES have that right…
Karma: So you get to change this summer, but I can't?
Amy: No, you're twisting my words!
Karma: If you wanted everything to stay the same, well maybe you shouldn't have left!
So it all comes out: Karma's pissed at Amy for leaving her crying in the middle of the road. Honestly it's a miracle Karma made it off the road alive. But what Karma doesn't realize is that Amy has spent three months in a camper van with five radical queers from Portland, and if there is one thing radical queers from Portland agree on, it is the importance of self-care. I mean, Amy's summer girlfriend probably plays Roller Derby, you know? These are tough cookies and the fact that one of them reminded her, as their very last words as they drove away in the Pussy Explosion van, that she doesn't owe Karma an apology, is crucial.
Amy: I'm not gonna apologize for taking care of myself. And it's not like you were sitting around all summer crying, "Starfish"!
Karma: Oh, there were tears. Oceans of them. I thought they would never end. The only reason I got out of bed was to go to work. These people were there for me, unlike you.
Amy: Why are we even fighting about this? I left, it worked, I'm back and I'm over you and we should be celebrating.
Karma: Not until you apologize for what you did.
Amy: I'm not apologizing for leaving.
Karma blinks back her tears, takes a deep breath, and heads off to get an inevitably terrible tattoo.
Also Liam and Shane make up but they don't make out because GOD not everybody is gay, Riese!
Meanwhile in the Pop-Up Tat Shop, a clearly shaken/upset Karma is getting a tattoo on the back of her neck. She looks sad and tore-up and tells the inkster get it over with, tells him that she's ready, just do it, come on. Dylan tells her it'll be okay like a guy who doesn't realize that his girlfriend isn't okay. "It's all good," except that it isn't.
---
Back at Chez Fawcett, Amy is crying on her bed and Lauren is forced into a hug whether she wants it or not. I mean come on, their hair could be partner-bonding! Hug her!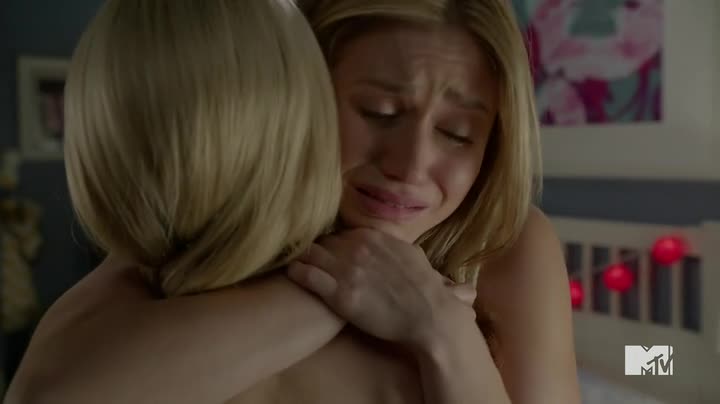 ---
Next week on Faking It, Zita throws Liam a Bar Mitzvah! I hope he remembers his Torah Portion!
Pages: 1 2See entire article on one page