Straight Bar City. Liam and Theo are having a nice bro-time at the bro-tastic pool table while Shane sips his cocktail and gamely handles the space invasion of a drunk girl fighting with her boyfriend.
Drunk girl: I never should've gotten his name tattooed on my back.
Shane: Uh, can I please see it? It would really turn my evening around.
The drunk girl's boyfriend, Bubba, gets pissed at her for talking to Shane, and so Bubba saddles up to Shane:
Bubba: Are you hitting on my girl?
Shane: I'm guessing you're Bubba. But don't worry, she's really not my type.
Bubba: Not your type? Are you a homo?
Well, that escalated quickly.
Shane: I am a homo. A Homo SAPIEN. What species are you?
Bubba: I'm a a heterosexual.
Shane: Are you? 'Cause you're standing awfully close. But you should know that I'm not into back hair, and I'm guessing you've got a lot.
Shane YOU ARE A HOMOSEXUAL AT A DIVE BAR WITH A YOUNG BLACK TEENAGE MALE IT WOULD BE IN YOUR BEST INTEREST TO LAY LOW.
But before Bubba can ram his fist into Shane's moisterized face, Liam dives in to pull Shane away, insisting it's time to go, but then Theo punches Bubba in the face! Then Shane busts out some weird swordplay shit with his pool cue and then a dude breaks a bottle and WOW things are going REALLY WELL here
---
Amy and Karma are standing face to face. Will they kiss. They have kissed before. How hard could this be.
Karma and Amy move tentatively towards one another…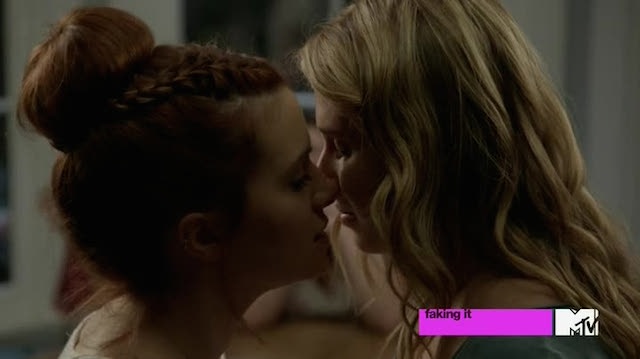 … their lips almost touch…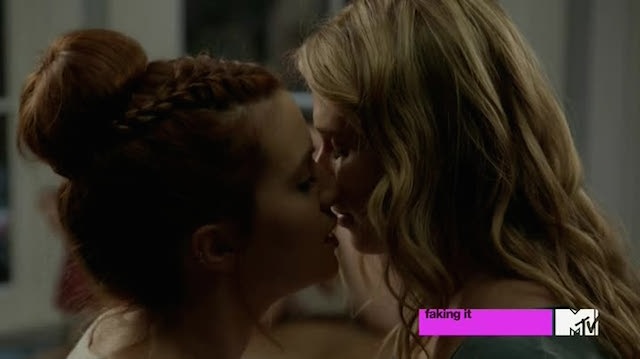 …and then Karma jumps away like a spider just crawled out of Amy's mouth.
She'd like a truth, please.
Lauren's got one:
Lauren: How was sex with Liam Booker?
Lisbeth: OOOOH! Good one.
Leila: I'm curious about that one myself.
Lauren is delighted. She is sitting on a cupcake licking her fingers.
Karma: Ummm… it was fine. Nothing to write home about?
Karma picks Lauren and Lauren picks a dare. IS ANYBODY GONNA MAKE OUT AT THIS SLEEPOVER.
---
Elsewhere on this dark and stormy night, the boys are returning from the bar. Liam's face looks even worse than usual and Theo's giving a play-by-play.
Liam's giving Shane some major attitude, suggesting that Shane picked that fight out of jealousy of Theo, but Shane says that he actually likes Theo, 'cause Theo had his back. Then Liam dares to assert that Shane doesn't have his back because:
Liam: You kept Amy's secret at my expense. You basically chose her over me.
Shane: That's not what happened.
Liam: That's what it feels like.
Shane: Liam!
Liam: I'm done talking about it. Please go.
Theo is probably like "oh shit, DRAMZ."
But seriously — I get where Liam is coming from, but I also don't. Sometimes there is private gay stuff that's just between gay people. It's the Gay Code.
---
Back at the Bitches Who Brunch Girl Party, Lauren's about to get her head shaved by Karma! This 'Truth or Dare' game is like twisted sorority rush or something.
Karma gets real close with the razor, but just can't seal the deal, so she hands it to Amy, who's eager to go in for the kill — but Lauren calls it off and submits to a truth, which just turns into a press conference with a bunch of reporters and no Press Secretary:
Karma: How about…were you born different than the rest of us?
Lauren: (to Karma) Are you in love with Liam Booker?
Amy: (to Lauren) Are you taking hormones?
Lauren: (to Amy) Have you ever masturbated thinking about Karma?
Amy: I don't wanna play anymore.
Lisbeth: (to Leila) is green really your favorite color?
Thank you, somebody, for making me laugh this episode. CHRIST!
---
Back up in Amy's nice-looking room, Amy says she wishes she'd never told Karma about her feelings 'cause now when their hands touch Karma pulls away like Amy has Ebola and that's mean, you shouldn't be mean to somebody just because they have Ebola.
It's time to talk about the thing that nobody wants to talk about:
Amy: And that kiss? Admit it you're grossed out that I'm attracted to you.
Karma: No, I'm not. I swear I'm not grossed out. I'm flattered.
Amy: Yeah, right.
Karma: I just wish that I felt the same way. I know that it's painful for you and I don't wanna make it worse. I can't stop being irresistible.
Karma is, it seems, trying her hardest, and also seems genuinely fine with it, although it's pretty much impossible to talk a girl you've rejected out of feeling weird about it. She wants to know if there are new rules and if so, what are the rules? Like can they sleep in the same bed? Because she'll sleep on the couch but she'd really rather not sleep on the couch but it's cool if she has to.
Then they get cute and start tickling each other on the bed like ol' chums. See: FRIENDSHIP IS FOREVER! Cuddles!
---
Cut to Shane and Pablo having a heart-to-heart on a split-screen.
Shane: Amy was really struggling and she needed me. Liam's straight, he doesn't understand how hard it is when you're figuring out your sexuality.
Pablo: Have you thought about things from Liam's point of view?
Shane: I don't wanna understand things from Liam's point of view, I wanna bitch to my boyfriend!
Pablo is too nice and fair so they break up. The end!
---
In the clear cool light of morning, Amy apologizes to Lauren for inviting her just to make things less awkward and for saying that she felt sorry for her. Lauren says that it's okay, Amy is the one she should feel sorry for because…
Lauren: I think you slept with Liam, and now you have to live with the crushing guilt.
Lauren explains that she found the box, obviously. Amy's like, oh fuck I FORGOT TO RECYCLE.
Amy: Well, I don't pity you. Actually, I feel closer to you. That's what happens when you let people in.
Lauren: I should write that down. "Life Lessons From My Sexually Confused Stepsister."
But before shit can get EVEN SASSIER, Leila and Lisbeth bound downstairs, having detected the intoxicating scent of Eggo Waffles, which must mean that Lauren's toaster doesn't smell like something she toasted two months ago that won't leave its tiny crevice in some backroom of the toaster and come into the light.
Lauren takes a deep breath, and goes for it — she's gonna tell her friends the truth.
Lauren: I have a medical condition called androgyne insensitivity syndrome and the side effects include good hair, great skin and no body odor.
Lisbeth: Oh, cool, can we get it too?
Pause. Moment of truth. Is she ready to take the plunge? She is:
Lauren: It's not something you can get. I was born with XY chromosomes but I developed as a female. Okay? The pills I take are estrogen because my body doesn't make any. There.
Leila wants to know if she can have kids, and Lauren shakes her head no. Lisbeth and Leila hug her and I ALMOST CRY. See Lauren, your friends love you just the way you are. This is a blue oasis in the red state of Texas!
Lisbeth: If it makes you feel better, I have eczema.
Lauren: This is not group sharing, Lisbeth.
Aw. And that, my friends, is the end!
---
This is what's gonna happen next time:
http://youtu.be/mXH0SzARAcc
Pages: 1 2See entire article on one page