Welcome to the second recap of the second season of Faking It, an educational television program for children from the same network that brought you The Pauly D Project.
---
We open in the avant-garde industrial art studio of Hester High, where some kids are seemingly designing a new non-functional lamp for IKEA and Karma is breathlessly returning an ironed workshirt to her hunk of burning man-love, Liam.
Both parties speak as if they've recently been exhumed from oxygen-depravation tanks and Karma nearly has an asthma attack when she spots Liam's art-project-in-progress — he put a bunch of nails in a heart!
I'd suggest that a better approach would be to send an actual pig's heart to Karma's house in a cardboard box like Neal's ex-girlfriend did on Valentine's Day in The Real World IV: London, but I'm pretty sure these kids weren't even born yet when that season aired, so.
---
Elsewhere on the resplendent plains of Hester High School, Amy tells Shane that she and Karma are having a Girls' Weekend. But not the kind of "girls weekend" you have with your girlfriend where you have oral sex, watch If These Walls Could Talk 2 and stir-fry everything in your CPA box, the kind of "girls weekend" where there's no lesbian action, just lesbian subtext. Like Once Upon a Time!
Amy insists to a disbelieving Shane that she's glad she confessed her love to Karma even though Karma doesn't feel the same way, and that things will only be weird if they make it weird.
Shane: Amy, you just handed Karma your heart and she chopped it up like a spicy tuna roll!
Amy: Hey, she's not the enemy. We both did some pretty messed up things.
Shane: She lied about being a lesbian to be popular and sleep with Liam. What do you have to be guilty about?
Before things get awkward, Liam lumbers up to make things extra-awkward, and thus Amy awkwardly excuses herself while Shane explains to Liam that they were just talking about "gay stuff." Shane reminds Liam that they've signed up for a Frozen Sing-A-Long marathon that evening, so I guess we're still talking about "gay stuff," eh? Regardless, Liam's got too much soupy clay in his noggin to convey proper levels of excitement regarding the bromantic evening ahead.
---
We then sashay over to Amy's little room of love and pillows, where Amy's reviewing Karma's schedule for Girls Night. Thus far, it includes eating Snickerdoodles and taking trashy magazine quizzes. Throw in some Crystal Clear Pepsi, a box of Cheez-Its and a Boyz II Men CD and you've got every sleepover I attended in 7th grade. Oh and they're gonna hate-watch Twilight. Doesn't anyone break into their parents liquor cabinet and get wasted on Kaluha anymore?
Karma announces it's time to get naked and put on some sweatpants, but the sight of her half-naked torso is MORE THAN AMY CAN BEAR.
Karma: I'm sorry. Is this weird? I'm just trying to act normal.
Amy: WHAT? No, yeah, totally! It's just my face is doing this — because I REALLY need to pee.
Flabbergasted and falling all over herself, a super-cool Amy darts into the bathroom, where Lauren apparently hasn't locked the door in order to warm the porcelain in private. These girls don't know A THING about sharing a bathroom!
Amy, still flustered by Karma's matronly lingerie, refuses to leave and instead ends up inviting Lauren to join the All Night Tonight Girls Weekend Kickoff Snickerdoodle Snack Sesh Slumber Party.
---
Back at Blue Hippie Oasis High School, Liam's car is parked in the middle of the parking lot with a flat tire!
He feels really bad about himself until a black person shows up and then he remembers all of his privileges and feels better JUST KIDDING, they start talking and become fast friends!
Theo's glad that he's not the only one having a shitty day:
Theo: I just moved here from Decatur to live with my Grandma 'cause my pops went to prison for sleeping with one of his patients.
Liam: That sucks.
Theo: Yeah, and he's a veterinarian.
[awkward silence]
Theo: Nah, just kidding, he's a pediatrician.
[longer more awkward silence]
Liam: Really?
Theo: No, not really! Wow, you're gullible.
Liam: Yeah, guess I am.
Theo: He's a mortician. But leading with the other two makes it sound better.
Theo says he'll help Liam change his tire if he can get a ride home and also he wants to know WTF is up with the tempeh in the cafeteria. HIPPIES.
---
Back at GRRRLS Night, Karma and Amy are trying to enjoy their post-cookie-eating caloric remorse but Lauren's bored and also feels very cold.
While Lauren is using the ladies room /SNOOPING LIKE THE SNOOPER SHE IS / Karma turns to Amy for the scoop on why Lauren was invited here in the first place. Because seriously if they're not having a threesome then what the fresh hell is this madness. Amy insists she just feels sorry for Lauren 'cause Lauren is embarrassed about being intersex, which has made her seem more human. Karma agrees and mourns the loss of the days when she was able to hate Lauren purely and absolutely without any tinge of human compassion.
---
Elsewhere in this sleepy suburb that looks nothing like Austin, Shane's rolling up to Liam's crib dressed like a weird viking, but finds his bro in a car with Theo, another bro.
Shane's shocked to see his bro parked with another bro, but gamely goes along with it:
Shane: Oh, you can be Elsa! I have the dress. I was gonna wear it, but it felt, expected?
Theo: No I'm good.
Liam suggests they ditch the Frozen sing-a-long for a dive bar out of town that doesn't card that Theo suggested, and Shane's little face sinks right into the sea.
---
Back at Girls Night, the "hate-watching Twilight" part of the evening has commenced, an activity which the girls participate in sans audio, allegedly so they can talk the whole time but probably 'cause buying the rights to Twilight was too expensive for this little production.
Karma thinks Edward Cullen is dreamy, because OF COURSE SHE DOES. Then Amy's hand and Karma's hand almost meet in the popcorn bowl and they both immediately eject their hands from the buttery bowl like total weirdos. Probably Karma thinks that's how lesbians have sex, so you can't blame her for being weary. It's a very mysterious act.
Re: Edward Cullen:
Amy: He's paler than a marshmallow, you could watch a movie off his forehead!
Karma wants Lauren to back her up on Team Edward but Lauren, the crafty little minx that she is, sees a golden opportunity to exploit the Twilight plot as a device to hammer away at Karma and Amy's present situation. Lauren says Bella's a bit young for Edward, but..
Lauren: Then again, there's something irresistible about a rich brooding bad boy.
Amy: They're always scowling at each other! They don't look like they're having a good time.
Karma: Of course they are, he's her OTP!
Amy: OTP?
Lauren: One True Pairing. She means they're soulmates.
Lauren: But then again, maybe Jacob's her soulmate. After all, he's been her loyal friend for her whole life…
You see where we're going with this, dontcha, ladies?
Amy: SO LOYAL! Maybe she's been too dazzled by Edward's disco-ball skin to see that they'd be perfect for each other!
Karma: But she doesn't feel that way about Jacob, even if part of her wishes that she did.
Amy: Maybe if she tried.
Karma: SHE'S IN LOVE WITH EDWARD!
Lauren: Jeez, are we still talking about Twilight?
Welp.
---
After what I imagine was a thrilling commercial break, we return to The Rocking Girls Night Super Fun Party, now with extra Leila and Lisbeth!
Lisbeth selfiebrates with Amy and then apologizes for sitting in between the lesbian lovebirds, but before this lovebird conversation can go any further, Amy yanks Lauren out of the room for some Sister Sister time.
Amy wants to know why Lauren invited her super-cool friends to their exclusive party, and Lauren says she overheard everything Amy said about her and Amy says, "of course you did, that's your signature move." Lauren says she knows she's only been invited to ease the post-confession awkward factor between Karma and Amy.
Amy insists nothing's awkward at all seriously not one thing everything is totally out in the open everybody feels great about everything everything is awesome just like the song everything is awesome it's so good super great YES all of it just excellent fantastic. So what now?
Lauren has an idea: TRUTH OR DARE! Okay really this is just like my 7th grade sleepovers, who brought the Ouija board.
---
Just outside of shiny little Austin, Texas, Shane and Liam and Theo walk into a bar that is basically the opposite of a Frozen sing-a-long.
Shane: "Oh right, I live in Texas."
---
Back at Girl Talk: The Night, Amy has apparently dared Lauren to drink something gross. This is a weak game of Truth or Dare, y'all.
Lauren downs it like a champ, and then dares Karma to kiss Amy for sixty seconds… with tongue. Lisbeth and Leila are VERY EXCITED about this and so am I so why are we cutting to…
---
Straight Bar City. Liam and Theo are having a nice bro-time at the bro-tastic pool table while Shane sips his cocktail and gamely handles the space invasion of a drunk girl fighting with her boyfriend.
Drunk girl: I never should've gotten his name tattooed on my back.
Shane: Uh, can I please see it? It would really turn my evening around.
The drunk girl's boyfriend, Bubba, gets pissed at her for talking to Shane, and so Bubba saddles up to Shane:
Bubba: Are you hitting on my girl?
Shane: I'm guessing you're Bubba. But don't worry, she's really not my type.
Bubba: Not your type? Are you a homo?
Well, that escalated quickly.
Shane: I am a homo. A Homo SAPIEN. What species are you?
Bubba: I'm a a heterosexual.
Shane: Are you? 'Cause you're standing awfully close. But you should know that I'm not into back hair, and I'm guessing you've got a lot.
Shane YOU ARE A HOMOSEXUAL AT A DIVE BAR WITH A YOUNG BLACK TEENAGE MALE IT WOULD BE IN YOUR BEST INTEREST TO LAY LOW.
But before Bubba can ram his fist into Shane's moisterized face, Liam dives in to pull Shane away, insisting it's time to go, but then Theo punches Bubba in the face! Then Shane busts out some weird swordplay shit with his pool cue and then a dude breaks a bottle and WOW things are going REALLY WELL here
---
Amy and Karma are standing face to face. Will they kiss. They have kissed before. How hard could this be.
Karma and Amy move tentatively towards one another…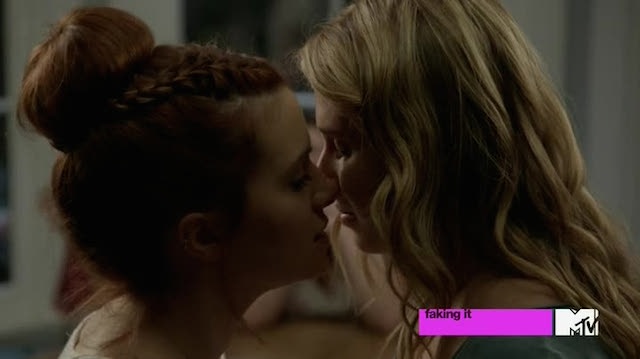 … their lips almost touch…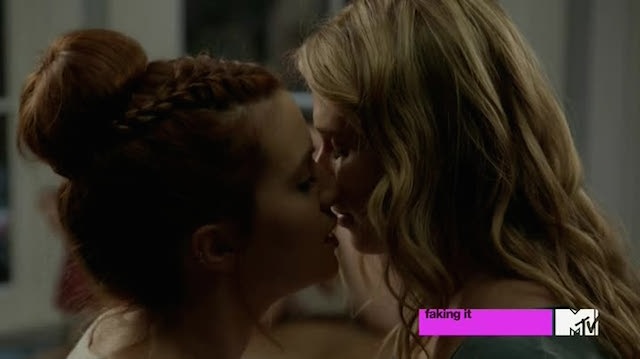 …and then Karma jumps away like a spider just crawled out of Amy's mouth.
She'd like a truth, please.
Lauren's got one:
Lauren: How was sex with Liam Booker?
Lisbeth: OOOOH! Good one.
Leila: I'm curious about that one myself.
Lauren is delighted. She is sitting on a cupcake licking her fingers.
Karma: Ummm… it was fine. Nothing to write home about?
Karma picks Lauren and Lauren picks a dare. IS ANYBODY GONNA MAKE OUT AT THIS SLEEPOVER.
---
Elsewhere on this dark and stormy night, the boys are returning from the bar. Liam's face looks even worse than usual and Theo's giving a play-by-play.
Liam's giving Shane some major attitude, suggesting that Shane picked that fight out of jealousy of Theo, but Shane says that he actually likes Theo, 'cause Theo had his back. Then Liam dares to assert that Shane doesn't have his back because:
Liam: You kept Amy's secret at my expense. You basically chose her over me.
Shane: That's not what happened.
Liam: That's what it feels like.
Shane: Liam!
Liam: I'm done talking about it. Please go.
Theo is probably like "oh shit, DRAMZ."
But seriously — I get where Liam is coming from, but I also don't. Sometimes there is private gay stuff that's just between gay people. It's the Gay Code.
---
Back at the Bitches Who Brunch Girl Party, Lauren's about to get her head shaved by Karma! This 'Truth or Dare' game is like twisted sorority rush or something.
Karma gets real close with the razor, but just can't seal the deal, so she hands it to Amy, who's eager to go in for the kill — but Lauren calls it off and submits to a truth, which just turns into a press conference with a bunch of reporters and no Press Secretary:
Karma: How about…were you born different than the rest of us?
Lauren: (to Karma) Are you in love with Liam Booker?
Amy: (to Lauren) Are you taking hormones?
Lauren: (to Amy) Have you ever masturbated thinking about Karma?
Amy: I don't wanna play anymore.
Lisbeth: (to Leila) is green really your favorite color?
Thank you, somebody, for making me laugh this episode. CHRIST!
---
Back up in Amy's nice-looking room, Amy says she wishes she'd never told Karma about her feelings 'cause now when their hands touch Karma pulls away like Amy has Ebola and that's mean, you shouldn't be mean to somebody just because they have Ebola.
It's time to talk about the thing that nobody wants to talk about:
Amy: And that kiss? Admit it you're grossed out that I'm attracted to you.
Karma: No, I'm not. I swear I'm not grossed out. I'm flattered.
Amy: Yeah, right.
Karma: I just wish that I felt the same way. I know that it's painful for you and I don't wanna make it worse. I can't stop being irresistible.
Karma is, it seems, trying her hardest, and also seems genuinely fine with it, although it's pretty much impossible to talk a girl you've rejected out of feeling weird about it. She wants to know if there are new rules and if so, what are the rules? Like can they sleep in the same bed? Because she'll sleep on the couch but she'd really rather not sleep on the couch but it's cool if she has to.
Then they get cute and start tickling each other on the bed like ol' chums. See: FRIENDSHIP IS FOREVER! Cuddles!
---
Cut to Shane and Pablo having a heart-to-heart on a split-screen.
Shane: Amy was really struggling and she needed me. Liam's straight, he doesn't understand how hard it is when you're figuring out your sexuality.
Pablo: Have you thought about things from Liam's point of view?
Shane: I don't wanna understand things from Liam's point of view, I wanna bitch to my boyfriend!
Pablo is too nice and fair so they break up. The end!
---
In the clear cool light of morning, Amy apologizes to Lauren for inviting her just to make things less awkward and for saying that she felt sorry for her. Lauren says that it's okay, Amy is the one she should feel sorry for because…
Lauren: I think you slept with Liam, and now you have to live with the crushing guilt.
Lauren explains that she found the box, obviously. Amy's like, oh fuck I FORGOT TO RECYCLE.
Amy: Well, I don't pity you. Actually, I feel closer to you. That's what happens when you let people in.
Lauren: I should write that down. "Life Lessons From My Sexually Confused Stepsister."
But before shit can get EVEN SASSIER, Leila and Lisbeth bound downstairs, having detected the intoxicating scent of Eggo Waffles, which must mean that Lauren's toaster doesn't smell like something she toasted two months ago that won't leave its tiny crevice in some backroom of the toaster and come into the light.
Lauren takes a deep breath, and goes for it — she's gonna tell her friends the truth.
Lauren: I have a medical condition called androgyne insensitivity syndrome and the side effects include good hair, great skin and no body odor.
Lisbeth: Oh, cool, can we get it too?
Pause. Moment of truth. Is she ready to take the plunge? She is:
Lauren: It's not something you can get. I was born with XY chromosomes but I developed as a female. Okay? The pills I take are estrogen because my body doesn't make any. There.
Leila wants to know if she can have kids, and Lauren shakes her head no. Lisbeth and Leila hug her and I ALMOST CRY. See Lauren, your friends love you just the way you are. This is a blue oasis in the red state of Texas!
Lisbeth: If it makes you feel better, I have eczema.
Lauren: This is not group sharing, Lisbeth.
Aw. And that, my friends, is the end!
---
This is what's gonna happen next time:
http://youtu.be/mXH0SzARAcc
Pages: 1 2See entire article on one page