It's probable that you, like many of us, have skin on your face. Possibly you have been wondering if there is something you should be doing for it, or if there's something better than what you're currently doing. Or possibly your skincare routine is already perfected, in which case feel free to read through just to smugly correct me. We're just going to talk about the super duper basics here, nothing crazy.
Background: I'm not a dermatologist, or a cosmetic chemist, or even someone who did particularly well in science in high school. I don't have perfect skin either! My knowledge about skincare comes from researching it pretty extensively on the internet, starting with the heralded Skincare Addiction subreddit, which is heavily sourced with scientific research about everything from cell turnover to particle size in sunscreens. Much of what I'll talk about here is distilled from there. Feel free to take anything I say with a grain of salt or correct me; if you have information or research I don't know about, I'd love to hear it!
Taking care of your skin can seem daunting, especially with confusing and contradictory commercials trying to convince you that you need sentient helioplexes to penetrate all 23 layers of skin so that your inner youth can burst out of your cells. It's not really that complicated, though; or more accurately, it's only as complicated as you want it to be. There are only a few basic steps that you need, and they'll work for everyone, regardless of your age, skin type, gender, or specific skin issues. Although you may end up tweaking the basic routine to fit you better, the fundamentals generally remain:
Cleanse
Moisturize
Sunscreen (in the AM)
See? Not hard. A few things to note before we really get into it, though. Before getting all excited and slathering all new stuff on your face, consider introducing new skincare products slowly. You don't know how you're going to react to new things, and if you try five new skincare products the same day and the next day you're covered entirely in hives, you're not going to know what caused it. If you do choose to try new skincare products or techniques, introduce them one at a time, and wait at least a week between adding the next one. It's also ideal to use them at first on only a small area, so that if you do have a negative reaction, it's happening on just a few inches rather than your entire facespace. This is called "patch testing," and it seems tedious until the first time something doesn't agree with you, and then it seems GENIUS. Also, if there's a specific skincare ingredient you know doesn't agree with your or that you don't like from previous experience, you can check for other products that might contain it with a tool like CosDNA.
Also! Faces are unique and beautiful, like snowflakes or jasmine flowers. It's totally possible that nothing I talk about here works for you and in fact the exact opposite works for you. Maybe you're happiest with your skin when you rub it with a pinecone and then paint it with turpentine. If that's what's working, then great, go with that. No one will be mad, I promise. I'll recommend a couple specific products here, but there's no way to recommend something that will be good for everyone, because everyone's face situation is different; all I can do is mention things that have worked well for me or that I've heard often work well for others.
Okay! With that out of the way, let's talk about what to put on your face.
1. Cleanser
Generally speaking, what we're most looking for in a cleanser is that it be gentle. This is true even if you have oily skin or acne; although it's often suggested to us that those skin situations need to be aggressively scrubbed with intense cleansers, that's generally not true. Ideally your cleanser has either no or low surfactants — chemicals like sodium laureth sulfate, which cause sudsiness and that "tight" feeling you sometimes get after washing your face. The tight feeling is actually a bad thing, trust me. If you have oily skin and/or acne and are using a drying cleanser like this, it's probs causing your skin to freak out because it feels so dry after cleansing and then over-produce oil. Unless you're bobbing for apples in tar pits or something, you probably don't need something for your face that you could also use to clean your dishes. (Also, it seems nitpicky, but ideally you're not using SUPER hot water here, which isn't awesome for your skin cells. No, not even to "open up your pores;" your pores do not open and close, no matter what temperature the water is. Warm/room temperature water is good!)
For many of us, a good choice is a cream or gel cleanser; they don't necessarily make foamy soap suds on your face, but that doesn't mean they're not working. If you wear makeup, it's true that a cream or gel cleanser may not remove all your makeup on its own. You may want to look into an oil-based cleanser or makeup remover of some kind, which is awesome at dissolving makeup, and then use your cream or gel cleanser to remove the oil-based cleanser. You can also try a cleansing balm, which is sold as a solid that melts into a cleansing oil on your skin, which works well for a lot of people. Your skin should be feeling clean but also hydrated and good, not tight, dry or squeaky.
One last thing: most of what we've discussed here has to do with evening face cleansing, when you're taking off everything you've been exposed to all day and maybe makeup. You likely don't need to go through this entire situation in the morning; your face probably didn't get that dirty overnight. I don't know, I don't know your life. Probably you can just do a quick wash with your basic cleanser, or even just with water.
Products to try: Cetaphil, CeraVe Hydrating Cleanser, Body Shop Camomile Cleansing Balm, and a here's a primer on oil cleansing!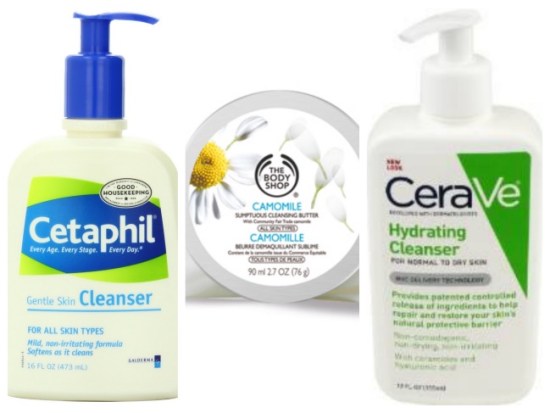 2. Moisturizer
You do you, but also probably moisturize your face. Again, this applies even if you have oily and/or acne-prone skin. Wearing (the right) moisturizer will not make your skin more oily or your acne worse.
What should you look for in a moisturizer? There are some ingredients that are generally solid — good examples are hyaluronic acid and ceramides. (I know that "acid" looks scary, but trust me, it's hydrating.) Other than that, pick a moisturizer that you like and that works well for you. Just make sure you're using one both in the morning and at night. There are lots of moisturizers that are advertised for specific things — aging, acne, etc — and you're welcome to try them, but trying to have a product do two things, hydrate and the other thing, can mean that it doesn't do a great job at either of them. It may be better to find a separate product — serum, cream, something — and add that into your skincare in addition to your moisturizer rather than trying to get your moisturizer to do double-duty. We'll talk more about that in a future post!
Do you need different moisturizers for morning and evening? Not necessarily. Some people like to, because they have different ingredients that are specific to daytime or nighttime, or they're more comfortable wearing "richer," heavier creams at night, when they aren't out in the world or trying to wear makeup over it. It's a personal preference, though, not a hard and fast rule. If you have a basic moisturizer that you like, there's no reason you can't use it both in the morning and at night.
Do you need a different eye cream? Again, not really. If you compare the ingredients on eye creams generally with the ingredients in regular moisturizer, they're usually not super different; the eye cream is just a good moisturizer. The skin around your eyes isn't radically different from the skin elsewhere on your face, and the problems that eye cream is usually marketed towards solving are either not really solvable or better solved by more targeted products. (Dark circles are the result of veins existing under the thin skin of your eyes, and that isn't going to change if the skin is more hydrated. Wrinkles/fine lines are better dealt with by products/ingredients designed for them, which we can talk about later.) Eye creams that promise to reduce dark circles or make your eyes look giant and shiny like a Disney princess's are basically propaganda lotion in expensive, tiny containers. I'd recommend instead just having a general moisturizer that you find effective, and making sure not to skip your eye area with it. Apply it gently though! Lots of rubbing and pulling around the eyes can make wrinkles worse.
Does your moisturizer need to have SPF? Nope! We'll get into this more in a second, but you're generally much better off having a separate sunscreen. SPF probably shouldn't be a major factor in your moisturizer decision. If you have one you really like and it does have SPF in it, though, go for it, whatever.
Products to try: CeraVe AM morning moisturizer, CeraVe PM evening moisturizer, CeraVe general moisturizing cream, Cetaphil moisturizer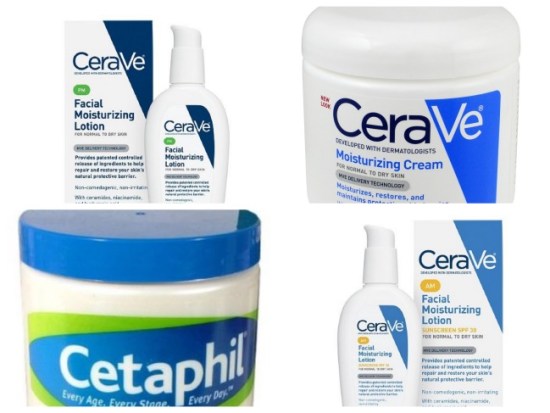 3. Sunscreen
Sunscreen! So unsexy yet so important. I feel like people are very resistant to the idea of wearing it every day, but allow me to make my case. Obviously daily sunscreen helps prevent cancer from sun damage; it also helps with the appearance of aging and wrinkles, both of which are significantly impacted by sun exposure. (It's not super scientific, but have we all seen this photo by now?) If you're concerned about visible signs of aging, sunscreen is probably the best thing you can do. But that's not all! If you have any dark spots on your face, either from aging or hyperpigmentation (the scarring left behind from a breakout), the sun damage is keeping that from healing. Hyperpigmentation can and will fade eventually, but if sun exposure is re-darkening it every time you go outside, you're never going to notice a change. Daily sunscreen can be your savior from unwanted signs of aging, hyperpigmentation/acne scarring, and literal cancer. Also, if you're using other kinds of treatments — retinols, many prescription acne products, any chemical exfoliants like salicylic acid, lactic acid, glycolic acid, etc — your skin is extra sensitive to the sun and you REALLY need a sunscreen. It's a good move all around!
Some people who often think they don't need to wear sunscreen but should still wear sunscreen: people with dark skin and people who are indoors all day. Dark-skinned people can still get skin cancer, even if sun exposure is relatively less damaging for them, and sometimes dark-skinned people can be more prone to hyperpigmentation than lighter-skinned people, and sunscreen will help that hyperpigmentation heal. People who never go outside are still exposed to the sun through windows, etc, and that damage accumulates over time.
Maybe your moisturizer or makeup already have SPF; isn't that enough! No! It is not, my friend. Here's the thing: when you look at your sunscreen's SPF rating — say, 30 — that's based on the assumption that you're using a full ¼ teaspoon of the product. Trust me, that's a lot more than you think it is. It's definitely a lot more than you probably use of either your moisturizer or makeup. If you put ¼ teaspoon of foundation on your face, you would probably not like how you look. So even if your non-sunscreen skincare product says it has SPF 30 in it, you're definitely not getting SPF 30; you're probably not getting much protection at all. You need a separate sunscreen product that's at least SPF 30 on its own, and you need to apply a ¼ tsp of it.
Okay! All that said, let's talk about what kind of sunscreen you should use. There are two basic sunscreen families: physical/mineral (active ingredients are usually titanium dioxide and/or zinc oxide) and chemical (active ingredients are usually some combination of oxybenzone, avobenzone, octisalate, octocrylene, homosalate and octinoxate). They both have pros and cons. Physical sunscreens are nice because they don't usually need to be reapplied; their sun protections stays all day, and they're sometimes easier on sensitive skin. On the other hand, they can add a white tint to skin, which is especially noticeable on people with dark skin or really any skin that's not super pale. Chemical sunscreens can feel nicer to apply and they don't tend to leave a white cast, but their protection isn't always as consistent either, and they work better when reapplied throughout the day. It's your call!
Products to try: Physical suncreens: Elta MD Physical, Elta MD UV Shield, La Roche Posay Anthelios Mineral Ultra Light. Chemical sunscreens: Biore UV Aqua Rich Waterly Essence, Shiseido Urban Environment, Biore Sarasara Perfect Milk Waterproof, Elta MD UV Clear
---
And that's it! I know it seems like a lot, but the basics — wash your face, moisturize it, put some sunscreen on it, then wash it off again at the end of the day — are super easy. Just like falling off a log with your face. Enjoy!
Join us in the future, when we talk about more specific skin issues and specific ingredients to work on them!