LABOR DEPT. ON GAY PEOPLE:
The US Department of Labor, while not necessarily as sexy or cool as things like the President declaring parts of DOMA unconstitutional, or federal courts standing up for our right to marry or adopt, has nonetheless done something kind of cool: announced its "renewed commitment to fair treatment and equal opportunity for all of its employees," which means they are finally instituting a comprehensive policy ensuring "equal protections for all employees and applicants regardless of race; color; religion; national origin; sex, including pregnancy and gender identity; age; disability, whether physical or mental; genetic information; status as a parent; sexual orientation; or other non-merit factor."
Does this fall under the category of "giving someone credit for finally getting around to something that was their responsibility all along?" Yes. But is this also a meaningful action – possibly even more meaningful than some of the actions towards marriage equality, since only some queers will marry but virtually all of us will work? Yeah, kinda. Don't be misled – the fact that this is from the Department of Labor doesn't mean that they're mandating these protections for the entire US. They will apply only to Department of Labor employees. But given their name, you might surmise that they are something of a model for this kind of thing, and that since they do regulate labor for the entire country, the practices that they institute in their own workplace might be something they aspire to for the rest of the nation. And in that you would be right. And that's kind of what the Labor Secretary said!
"I am expressing my personal commitment to ensure that the U.S. Department of Labor is a model workplace, free from unlawful discrimination and harassment, which fosters a work environment that fully utilizes the capabilities of every employee," said Secretary Solis. "It is my goal that we achieve and maintain a high-quality, diverse workforce at all organizational levels throughout the department."
The queer community faces a lot of challenges, and that's going to be the case for a while. But a lot of those challenges will be much easier to face if we don't have to worry about being fired for arbitrary reasons, and so this is pretty great news in that respect – first for Department of Labor employees, and hopefully later on, for everyone else too!
BADASS LADY:
Among the myriad apparently critical news stories/facts about our government that I manage to miss on a daily basis is the fact that we now have a new chairman of the Democratic National Convention. Also, she's a lady. Also, she's a total badass.
RACHEL MADDOW:
Right now she's at a gun convention with Meghan McCain! I am not yet sure how I feel about this, but I hope this news is pleasing to our under-served Republican/gun-toting readers.
Visit msnbc.com for breaking news, world news, and news about the economy
JESSIE J:
She was in Toronto! She performed on New Music Live on the 25th and I didn't notice until today. Sorry! Here's a picture of her in a one-legged leotard. Welcome!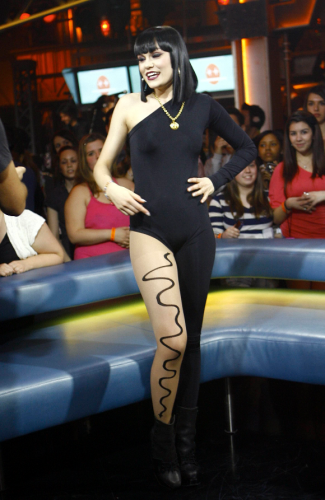 IN MY SHOES:
Hey, do you have positive feelings about gay people? Documentaries? The fact that Rachel Berry has two dads? If the answers were yes, I suspect you will be pleased to find that there is a film called In My Shoes: Stories Of Youth With LGBT Parents. Also, just for the record, you can stream the whole thing for free. WITHOUT EVEN LEAVING THIS PAGE.
PERKS OF BEING A WALLFLOWER:
Okay, here are the facts: They are making a movie out of The Perks Of Being A Wallflower. Many people have complex feelings about this – some, for instance, may hypothetically begin hyperventilating whenever they even think about it because the entire concept of movies from beloved cornerstones of their adolescence is terrifying on a bone-deep level – but the screenplay is being written by Stephen Chbosky, and Emma Watson is in it, and maybe it won't mean that the end times are coming. Anyways, Nina Dobrev from The Vampire Diaries is in it; maybe that means something to you?
LADY MARIACHI:
This is an interview with Lady Gaga that I'm not going to embed here, but where she apparently reveals that one song on Born This Way has a mariachi intro. Also, as a plus, the interview has Spanish subtitles!
OTTERKITTEN:
This is a video of an otter and a kitten who are best friends, via Emily Choo. Fair warning: enjoy it, because nothing in a Sunday Funday will probably ever be this good again.