Lunchtime: unequivocally the best part of the day. But could it be better? Yes sir, it can. You don't have to spend gobs of money going out, but you also shouldn't be packing the same peanut butter sandwich year in and year out; there is a middle way. The path to becoming a lunch box buddha isn't so hard. All you need is a good balance of inspiration and  improvisation. Every week, we'll make one or two packable recipes so that you have something new to fill your lunch box and your stomach. 
---
Welcome to a special travel edition of "You Can Take It With You." What's so special about traveling? Well, for one thing it means dodging criminally-inedible airplane food. It also means figuring out how to stay hydrated during layovers for under $10 after the TSA confiscates all your liquids over 100ml that you hoped they wouldn't notice.
Over my last few trips, I've discovered that the water problem is actually really easy to solve. As long as you're nice to the flight attendants, they're almost always happy to fill up a water bottle for you if you bring one along. If that fails though, find a fast food place and ask them if you can fill up your water bottle in their drink machine. Ta da! You're not going to pass out!
Water aside, it's important to take food that isn't going to be interpreted as a liquid. Which means soups and yogurt are totally out. A jar of peanut butter? No. A peanut butter sandwich? Yes! A jar of icing? Nope. Iced cookies or cake? Yes! You get the picture. With that in mind, I've got two TSA-compliant recipes that are easy to eat in a small space.
Zucchini Bread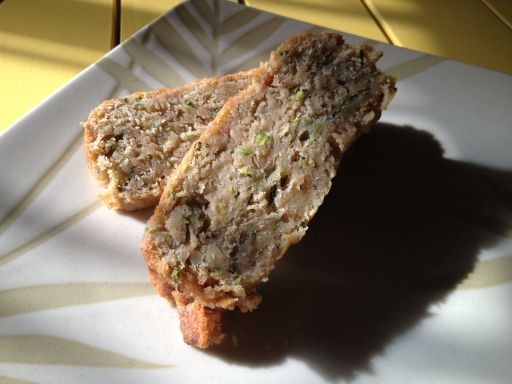 Zucchini bread is one of those things that sounds like weird granola food but is actually just a cake in disguise. When I was going through security, the man behind the x-ray screen pulled me aside and asked me what the brick-shaped piece of metal was in my bag. I hadn't thought twice about wrapping it in foil, but even I had to agree that it looked a little sinister in orange and blue and green. I explained that it was a loaf of bread, he smiled, asked if I made it, waved me through and told me that whoever it was for was lucky. Moral of the story: use Saran Wrap, waxed paper, or parchment paper to transport your bread so that no one thinks you're carrying sticks of dynamite.
Inspired by The Kitchn
Ingredients:
2 pretty big zucchinis
3 cups of flour
2 teaspoons of baking powder
1/4 teaspoon of baking soda
2 teaspoons of cinnamon
1 teaspoon of salt
2 large eggs
1/2 cup of white sugar
1/2 cup of brown sugar
3/4 cup of olive oil
2 teaspoons of vanilla extract
1 cup of chopped walnuts
Instructions:
1. Heat the oven to 350°F. Grease two 8×4″ loaf pans because you're going to end up with a whole lot of zucchini bread.
2. Grate the zucchini coarsely.
3. Combine the dry ingredients in a bowl and the wet ingredients in another. Mix the zucchini and nuts into the dry ingredients and then add the floury misture.
4. Stir everything together until it´s juuuust combined. Pour the batter into the pans and cook for 45 minutes or until it´s cooked the whole way through.
Eggplant Fries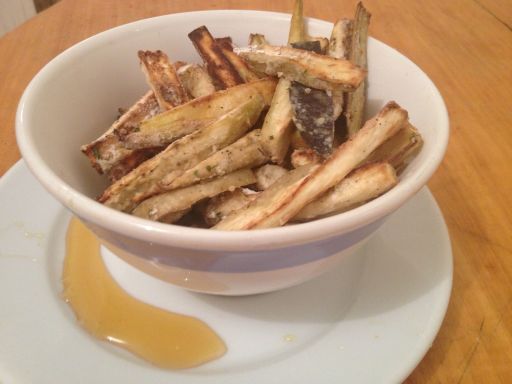 via Use Real Better
Maybe you're thinking to yourself, "Cake and french fries are not a real lunch." Guess what. They are when you're dragging yourself across an ocean for 21 hours. If knew this wasn't going to be enough to sustain me for that whole time, so ate the salad they give me on the plane and brought an apple and a bar of really good chocolate.
Ingredients:
3/4 cup flour
2 t garlic powder
1 t dried oregano
1 t dried parsley
1 T salt
1/2 t pepper
oil
2 eggplants
salt for seasoning
a dipping sauce of your choosing
Instructions:
1. Peel the eggplant and slice it up into fry-sized pieces.
2. Mix the flour, salt and spices in a bowl.
3. Toss the eggplant with oil and then toss it in the flour mixture. I used a brown with a lid so that I didn't get flour everywhere.
4. Place the pieces of eggplant on a pan and bake them for around 20 minutes at 450°F. Sprinkle them with salt immediately after you pull them out of the oven so that it sticks.
+ Storage and eating: These guys don't require much special care. For dipping sauce, I used a honey mustard packet I got from a fast food place in my terminal.