Goldie Vance is a great book. It's written by Hope Larson, one of the most successful writers in all of comics, working on books like Batgirl, Chiggers, Mercury and A Wrinkle in Time. Plus, it's drawn by Brittney Williams, an artist who not only makes art that I love and that millions of others love to, but is a gosh dang wonderful person to be around. Soon it's going to be a great movie. Boom! Studios, who publishes the comic, recently announced that Fox is developing a new movie, and potentially a family-friendly franchise of movies, based on the comic. This is the start of a brand new series of movies starring a Black queer teenage girl where she get's to show off her intelligence and curiosity and heroic heart. This is exactly the kind of movie we need more of right now.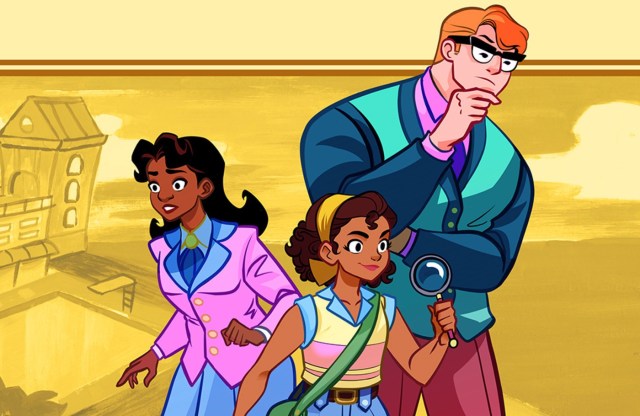 If you haven't read Goldie Vance, you should! It's about a 16-year-old girl detective (one of my favorite character types) in 1960's Miami. Goldie is a Black mixed race girl, and lives in a resort hotel where she's opened her own detective agency. In the comics, Goldie is queer, and hopefully that will translate into the film. She meets a girl named Diane, who's a James Dean style cool kid, and instantly falls for her. I don't see any reason why this part of the plot shouldn't be in the movie series.
I talked to series artist Brittney Williams and she said that the movie franchise is going to be a great chance for queer brown girls to see themselves on screen. "I'm super excited for Goldie Vance! I've already seen the joy the comics bring kids, especially little brown girls. I can only imagine the positive effect it will have once it's bought to the big screen. Our main character, Goldie is a brown queer girl who races cool cars and solves mysteries — that's all I need in my life," she said.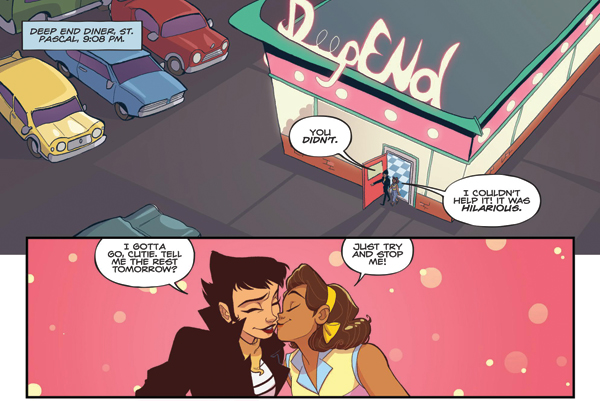 The Goldie Vance series of movies is being produced by Kerry Washington and adapted and directed by Rashida Jones. In a press release, Washington said "I'm ecstatic to be collaborating with Rashida and BOOM! Studios on telling this story. Fox is the perfect home for this project. Goldie Vance will steal your heart. She's already stolen mine!" While Jones added, "Goldie is exactly the kind of fearless, curious, and funny heroine we need right now. I'm so honored to partner with Kerry Washington, BOOM! Studios, and FOX to bring her world to life." Jones has previously co-written an episode of Black Mirror and the movie Celeste and Jesse Forever and has directed music videos including for Sara Bareilles' hit "Brave."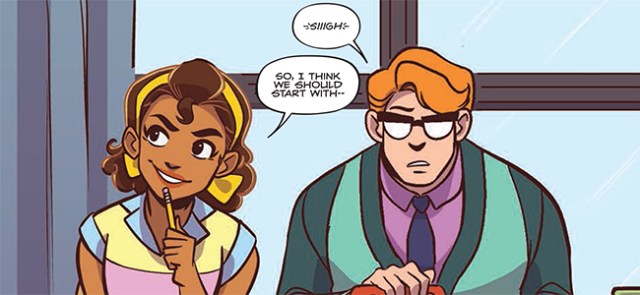 This is really awesome. I recently wrote about how the abuse of men coming to light is accomplishing two things. Not only are we weeding out predators and abusers, but also it's opening up spots for women and marginalized groups to have more chances to make movies and TV. That's important not just for those creators, but for audiences as well who are finally getting a chance to see people like them in and behind the art they see. While there's no indication that the Goldie Vance movie is happening because of these scandals, it's going to have similar results. Not only is the main character, Goldie a clever, hardworking, precocious and ingenious Black girl, and not only are many other of the main characters people of color, but with Washington producing and Jones directing, so are the people behind the movie. Young Black girls are going to have a whole series of chances to see new role models. All young girls are going to have a whole series of chances to see new role models.
New Releases (Dec 6)
Batgirl and the Birds of Prey Vol 2 Source Code TP
Harley & Ivy Meet Betty & Veronica #3
Jem & The Holograms Dimensions #1
My Little Pony Friendship is Magic #61
Faith's Winter Wonderland Special #1
Femforce #180
---
Welcome to Drawn to Comics! From diary comics to superheroes, from webcomics to graphic novels – this is where we'll be taking a look at comics by, featuring and for queer ladies. So whether you love to look at detailed personal accounts of other people's lives, explore new and creative worlds, or you just love to see hot ladies in spandex, we've got something for you.
If you have a comic that you'd like to see me review, you can email me at mey [at] autostraddle [dot] com.