There's something about your first kiss with a girl, something different. Maybe it's your first kiss; maybe you've kissed dozens of people before, but you've never kissed like this. There's something new, something that changes you. It's new and it's big and it's so many different things. It's not always all good, though. It can bring out truths you're not ready for; it can open doors that can never be closed; it can change your life forever. This experience is what Coleen AF Venable and Ellen T. Crenshaw's new book Kiss Number 8 is all about. The book doesn't come out until March 3 of next year, but I've got a very special preview of some of the pages for you here before anyone else gets them!
The book, being published by First Second, is described as being about a teen girl named Mads going through high school, learning about herself and struggling with new changes in life.
Mads is pretty happy with her life. She hangs out with her best friend Cat, she goes to church with her mom and dad, she goofs off with Adam from next door (who might as well be her little brother) and she kind of muddles through high school. It's great, it's fine, until it isn't anymore.

Because Adam is in love with Mads. And Mads is in love with Cat. And Mads's dad is hiding something big—something that could tear their family apart. Suddenly Mads's tidy little life has gotten epically messy—and epically heartbreaking. But when your heart is broken, it takes more than eight awkward, uncomfortable, tooth-clashing, friendship-ending kisses to put things right again.

It takes at least nine.
This book comes from the Eisner-nominated writer Colleen AF Venable and cartoonist Ellen T. Crenshaw. Based on this preview Venable's writing seems like it's going to be emotionally devastating in the best way. In these first few pages we get to know Mads really well and we get a great feeling for her temperament, her place in the high school and teen society and her sense of humor. She's a classic high school coming of age protagonist, but she's gay. Venable also gets in some light moments and good jokes here, so when we get hit with the emotions, they land even harder. I also love the art. Crenshaw gives the art enough of a cartoony edge that it seems youthful and fresh. But she also knows how to get real emotion and expressions on these characters' faces. Take a look at Laura's face after she and Mads kiss — there's so much there. There's fear and regret and shame and so many emotions, that, unfortunately, are familiar to a lot of people during the early stages of their gay life. This book looks like it's going to be incredible and I can't wait to see it when it comes out.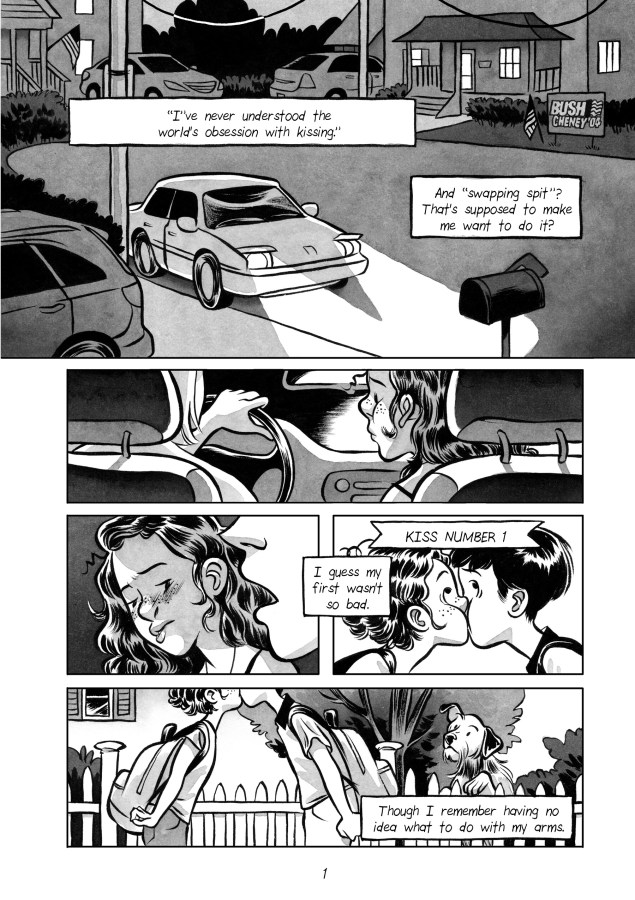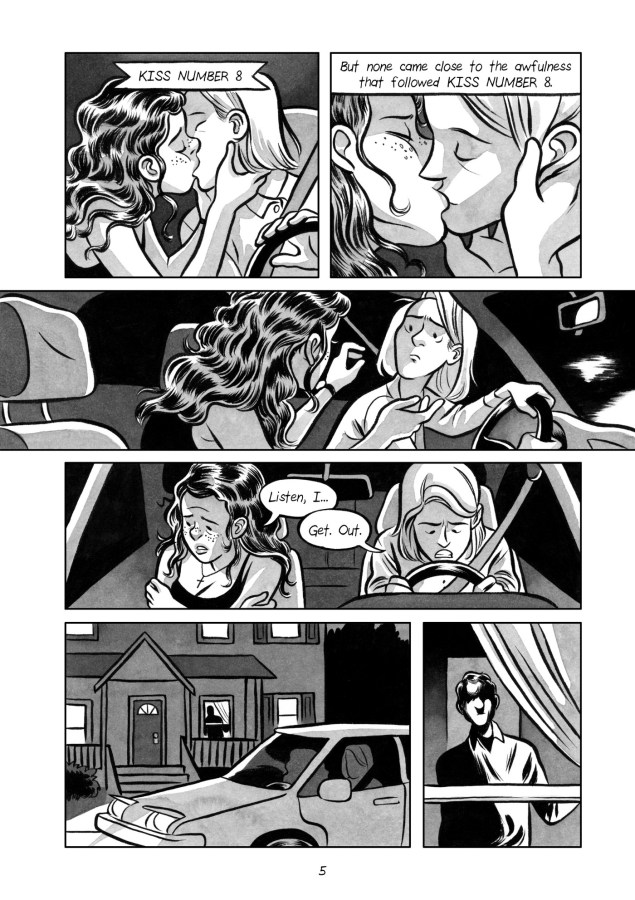 New Releases (May 2)
Exit Stage Left: The Snagglepuss Chronicles #5
Harley Quinn Vol 5 Vote Harley TP
She-Hulk Vol 3 Jen Walters Must Die
True Believers Kitty Pryde and Wolverine #1
Adventure Time/Regular Show TP
---
Welcome to Drawn to Comics! From diary comics to superheroes, from webcomics to graphic novels – this is where we'll be taking a look at comics by, featuring and for queer ladies. So whether you love to look at detailed personal accounts of other people's lives, explore new and creative worlds, or you just love to see hot ladies in spandex, we've got something for you.
If you have a comic that you'd like to see me review, you can email me at mey [at] autostraddle [dot] com.