WE'RE JUST REALLY GOOD FRIENDS: "A recent Harris poll conducted with Out & Equal and Witeck-Combs Communications indicated that 44% of lesbian, gay, bisexual and transgender (LGBT) participants feel unable to talk freely to co-workers about their partners, and up to 78% don't feel comfortable bringing their partners to corporate social functions." (@wsj) Do you?
MADDOW: "Trust me when I say there is nothing new is this book. If you've ever watched MSNBC; Googled Maddow or her partner Susan Mikula; or read any magazine article about either of them, you've read this book … It's pretty clear that [the] author … is out to make some cash off of Maddow's fame without having to do any of the leg work." (@windy city times)
TROOP CREATIONISM: The Girl Scouts of America has bestowed its highest honor, the Gold Award, on a Wisconsin teen for amassing a library of creation literature for her church, building a model of Noah's ark, and teaching creationism to elementary schoolers. She called her project "Alternate Universe." (@mother jones)
THIS USED TO BE MY PLAYGROUND: San Jose gay center will have to close its doors unless it raises $50,000 before September. (@mercury news)
BOOKS: Also! While you've got your checkbook out — the country's first gay bookstore, Giovanni's Room, in Philadelphia, also needs $50,000 or it will close. (@philadelphia business today)
SO YOU THINK ELLEN CAN DANCE: Ellen DeGeneres was on So You Think You Can Dance last night. A collision of everything we love about the world has not happened since the muppets were on 30 Rock.
IT'S MY PARTY I CAN AVOID YOU IF I WANT TO: Creepy Straight Men Banned From Dubiously-Named Lesbian Party – An Australian party-planning company, Pinkalicious, specializing in dances "for lesbian and bisexual women" has won the right to ban men from their 'dos – "because they might pester women for sex." (@jezebel)
DUDES: Two dudes are gonna make out on the teevee on a soap opera called "One Life to Live."
WATCH: My heart was totally warmed by this — Prayers for Bobby is the story of a gay man who committed suicide because his family refused to reconcile his sexuality with their church's stance on it. His mother is now a major crusader for gay rights, she's like Debbie Navatni played by Sigourney Weaver.
ASSHOLES + ASSHOLES = MORE ASSHOLES: Why Is a Right-Wing Organization Representing Lesbian Mothers in Court? – This case of strange bedfellows has come about because Liberty Counsel is interested in doing everything it can to deny all forms of legal recognition to the families of LGBT people. And the organization's lesbian clients are interested in securing judicial rulings denying their former female partners any parental rights over their children. (@huffpo)
DON'T FUCK WITH MY DEEP V-NECKS: American Apparel responds to those who destroyed Legalize Gay window – Not only are they not going to prevent us from speaking out on an issue that is important to this company and our employees but we'll continue to run Legalize Gay advertisements in papers across the DC-Metro area. … We don't find this kind of thing funny and we definitely don't find it intimidating. (@americanapparel)
ALICE IN WONDERLAND: It's the moment we've all been waiting for, the unveiling of the trailer for Tim Burton's Alice in Wonderland. It's cool 'til the end when you find out it's not coming out 'til MARCH! WTF.
WE ARE FAMILY: Price: NAACP and Gays Can Work Together: "The phrase 'brother and sister' has a special cultural meaning. We need the NAACP out there saying, 'LGBT rights are civil rights,' and saying it because we who are LGBT and black are part of the black family." (@advocate)
MARIE CLARITY, PLEASE: Marie Claire's terrible advice for women stumped on gay weddings. (@queerty)
FIFTH SIGN OF THE APOCALYPSE: A creationist Girl-Scout is honored: "Her winning accomplishments: amassing a library of creation literature for her church, building a model of Noah's ark, and teaching creationism to elementary schoolers. She called her project Alternate Universe." It's the 'teaching to elementary schoolers' part that scares me the most.

As a magazine junkie, I can waste hours and hours of the best most beautiful years of my life looking at old magazine covers … and by "old" I sometimes mean "from 1970." Here's a plethora of what I've uncovered — from when Out still paid attention to lesbians, The Advocate, Girlfriends, and more! Click the thumbnail for a bigger version.
Also, check out this old school Rachel Maddow piece from VelvetPark (#alternativelifestylebuzzcut):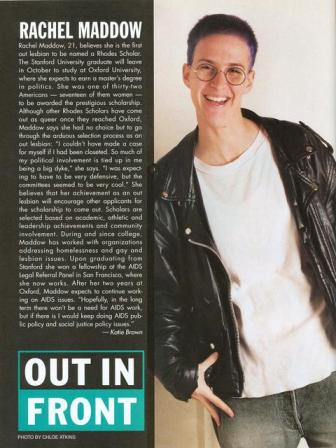 Auto-Straddler of the Day

from Stef:
Hypebot did a rad music industry nerd interview with Amanda Palmer about how unique approach to getting her music out there – and how it's better than that of her label. If you're a fan, you'll read it, agree and nerd out, and if you're a music industry nerd, you'll read it, agree and nerd out.
from Alex:
omg I love infographics! And here are 50 great examples.