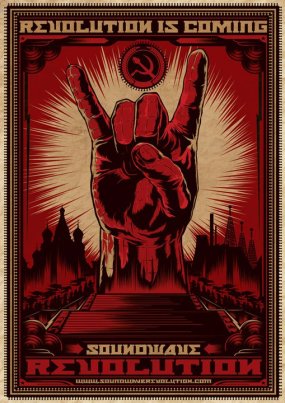 Hello Australians. In September, two female-fronted rock bands that I can't help but to adore — Courtney Love's band Hole and Taylor Momsen's Hole tribute band The Pretty Reckless — will be playing at this year's Soundwave Revolution festival. I'm quietly confident that this alignment means that the world will shortly be ending, and really what better way to spend one of your last days than having your ribcage rattled by 10+ hours of live music by rock legends.
If you're a rock fan who's never before experienced Soundwave, it's recommended. Soundwave is slightly different to other Australian music festivals in that most attendees wear sensible clothing and seem genuinely enthusiastic about the bands they've shown up to see. Also, the music is killer. This year's line-up includes: Van Halen, Alice Cooper, Bad Religion, Panic! At The Disco, Danzig, Machine Head, The Used, Dashboard Confessional, Sum 41 and many more.
Brisbane – September 24, 2011
Sydney – September 25, 2011
Melbourne – September 30, 2011
Adelaide – October 1, 2011
Perth – October 3, 2011
Tickets will be on sale from Thursday June 2, 2011 – full details are on the Soundwave Revolution website. I'll see you in the mosh.