Welcome to the sapphic table, a series of (hopefully!) unfussy seasonal recipes for your farmers market, your CSA bounty — or your grocery store. Today we're making a chocolate cake with fresh strawberry frosting, just because we can. 
---
This is a story about birthdays.
My mother is exactly 30 years and seven days older than me. I know the number to the date because, famously, I was supposed to be born on her 30th birthday. But legend has it that when my mother was told by her doctor of my expected birth date, she had a conversation with me in utero, one-on-one. She was willing to share her body with me, she was willing to have everything she knew in life go upside down by becoming a mom, but she was not — and I repeat, not — prepared to share her birthday. You see, she knew that as soon as I was born, whatever day that was, it would become "the baby's birthday.wp_postsShe'd never have the day to herself again.
And so, knowing better than to ever upstage her, I dutifully waited until I was exactly one week overdue to be born.
The week between June 19th (my mother's birthday) and June 27th (my own) is one of my favorite times of the year. Ok yes, anyone who's ever even casually read my writing knows that we're close as a mother/daughter duo, so there is that. But also? I'm in it for the cake. The third week of June comes with not one — but two birthday cakes — and I, for one, think that's beautiful.
This cake, however, is actually not either of our birthday cakes this year! My mom had a double chocolate cake from Deb Perelman's magical Smitten Kitchen Keepers that I made over the weekend. Mine's from a local bakery because I'm tired (whoops!) (it will be vegan chocolate with a vegan cookie butter buttercream). But this cake? This is the kind of cake you can make for no other reason than you have a little over an hour to spare and a few handfuls of strawberries in the fridge.
That's right, I said an hour. If you hustle, that's the time that stands between you and a fudgey, chocolatey, cake that's just this side of a brownie and a strawberry frosting that tastes like summer itself was bottled into a Barbie pink tube.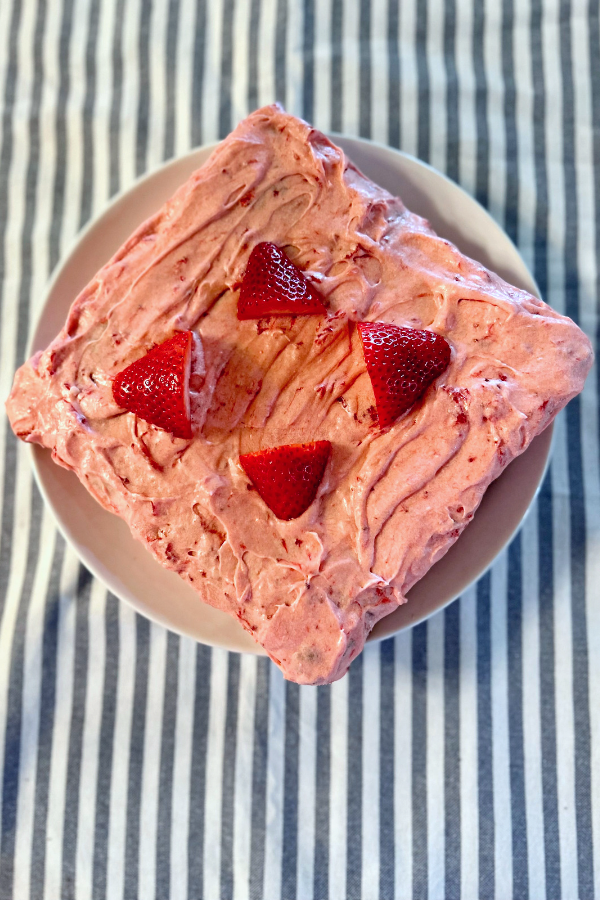 If you were baking online roughly eight years ago, this chocolate cake recipe will be instantly recognizable to you — it's lifted from Smitten Kitchen's viral one that I swear every person on the internet had a copycat of (it's really that good, and who doesn't want a birthday style cake that can be made in the time it takes to watch a repeat of Grey's Anatomy?). The frosting is adapted from Baking Mischief's Small Batch Strawberry Frosting (I doubled it), with a sprinkle of Martha Stewart's Quick Strawberry Jam, because I've found if you cook the strawberries down a bit first you don't lose any of their fresh flavor and also you keep your frosting from spitting apart on day two or three, which otherwise can happen with fresh fruit.
Of course, that's assuming the cake lasts that long.
Chocolate Strawberry "Just Because I Canwp_postsCake
Serves 6-9 (depending on how large you cut your slices)
Ingredients for Fresh Strawberry Frosting
1 cup of strawberries, cut into medium chunks
2 teaspoons granulated sugar
Lemon or lime juice, you'll only need a light squeeze
1/2 cup unsalted butter, room temperature (fun fact! you can speed this up by putting cut up butter in microwave for 5-15 seconds, stoping to turn butter pieces around every 5 seconds, until you can leave a thumbprint easily but butter has not yet melted)
1 1/2 cups powdered sugar
1/4 teaspoon vanilla extract
Pinch of salt
Instructions for Fresh Strawberry Frosting
In a large skillet stir your strawberries, sugar and a squeeze of lemon or lime juice. Stirring frequently, cook over medium-high, until strawberries break down until a jam like consistency (I speed this along by pushing down on the larger strawberries with my fork or spatula while cooking). Keep going until the mixture is thickened — if you make a streak with a spoon, it should remain unfilled with strawberry juice — and bubbles completely cover surface, roughly 5 minutes. (I've gotten a note in the comments that this might be more like 10 minutes! But you want it to look like jam and also to hold its shape when you swipe through with a spoon.)
Take strawberry jam off heat and transfer to a container, let cool to room temperature.
(While the strawberry jam is cooling, this is when I make the chocolate cake! Scroll down for details!)
Put room temperature strawberry jam, room temperature butter, powdered sugar, vanilla extract, and pinch of salt into a large bowl. Beat with an electric mixer until fluffy and looks like frosting. Taste for sweetness — you can add up to an additional 1/2 cup of powder sugar if needed, but I find the frosting to be appropriately sweet without it.
You're all done! Frost your cake.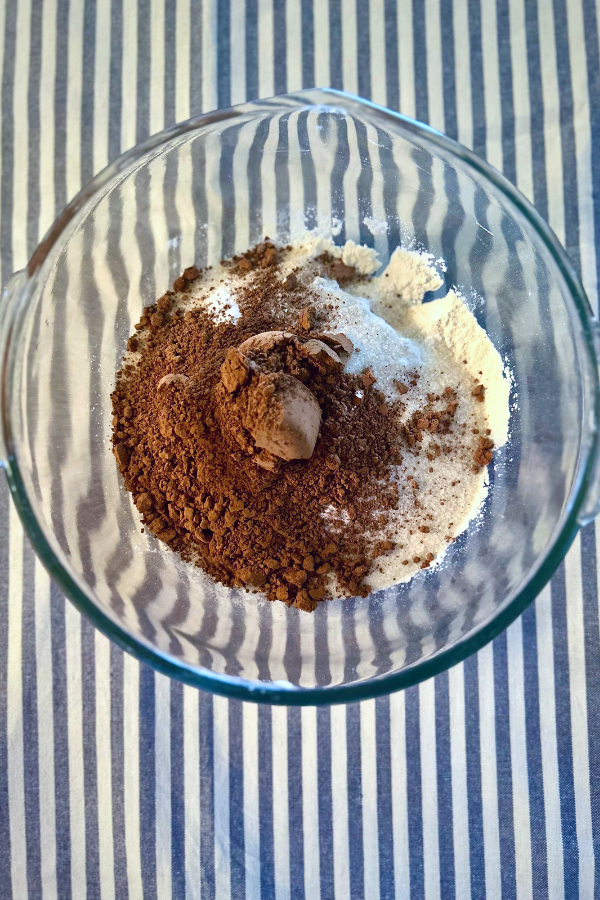 Ingredients for Dead Ass Simple Chocolate Cake
6 tablespoons unsalted butter, room temperature (once again! you can speed this up by putting cut up butter in microwave for 5-15 seconds)
3/4 cup brown sugar
2 tablespoons granulated sugar
1 large egg
1 large egg yolk
1 teaspoon vanilla extract
3/4 cup buttermilk (see *note for DIY buttermilk instructions)
1/2 cup cocoa powder
1 cup all-purpose flour
1/4 teaspoon baking soda
1/2 teaspoon baking powder
1/2 teaspoon salt
*Note: Who keeps buttermilk around in their fridge? Ok if you don't have buttermilk and don't want to buy it for such a small amount, you have some options! The classic DIY buttermilk is to "sour" regular milk with lemon juice or vinegar. Add one tablespoon of lemon juice or vinegar to one (slight, you can afford to be a little under here) cup of regular milk, stir and let sit for 5-10 minutes before using. Then you're all set! For this recipe you'll want 3/4 cup of that mixture, what you do with the final 1/4 is your own business. Alternatively, you can also replace the 3/4 cup buttermilk with either 3/4 cup sour cream or plain yogurt, in both cases thin out the sour cream/yogurt a bit with milk before using, so it's loose but still thick, and take 3/4 cup of that mixture.
Instructions for Simple Chocolate Cake
Preheat oven to 350 degrees.
Coat an 8-inch square brownie pan with nonstick spray and line the bottom with parchment paper (you can trace an outline of your pan on the parchment paper and then cut to size, so it matches the bottom of the pan).
In a large bowl, beat the butter and sugars together with an electric mixer until fluffy (be careful of over-mixing, if you're unsure, look for when the butter is creamy and you can see flecks of sugar throughout).
Add the egg, the yolk and the vanilla. Beat until just combined and scrape down the bowl. Add the buttermilk and beat it all again. Don't worry if the batter looks a little uneven or curdled — we're in the middle of a process here!
Put your flour, cocoa, baking soda, baking powder and salt into a small/medium bowl. Shake this mixture all over the wet batter.
Stir it all together with your mixer on low (or by hand) until the flour just disappears. Scrape down bowl one final time, because baby you made it!
Scoop batter into prepared pan and smooth flat. Bake for 20 to 30 minutes, until a toothpick or fork inserted into the center comes out clean.
Let cool for about 5 minutes in its pan, then run a thin knife around the edges to ensure it's loose, and get ready for what I call the "two plate maneuver" — first, carefully flip your brownie pan upside down onto a plate, so the cake slides out. The cake will now be upside down on this plate, with the bottom of the cake facing up. Cover the now exposed bottom with the cooling rack and immediately, but still gently, flip it back — so the cake is now right-side up again (this can also be done just using a second plate instead of a rack, I have never "owned" a cooling rack in all my years of baking).
I know that sounds awkward written out, but I promise its instinctive once you're in it. Basically you just want to get the cake out of the pan, and have it ultimately be right-side up. Do whatever works best for you.
Let cake cool completely before frosting. Following Deb Perelman's advice, I always speed this up by putting it in my freezer for about 15 minutes.
(While the cake is cooling in the freezer, this is when I finish my strawberry frosting! Scroll back up for details!)
Once your cake is completely cool to the touch, frost it. Cut into pieces and serve.