Happy Orange Is the New Black Day and Wavery/Haught Doin' It Day and DELPHINE CORMIER WEEK. I'm going to do a full write-up of last night's Orphan Black finale, hopefully for tomorrow. In the meantime, here's what else is happening on queer TV this week!
---
Lady Dynamite
Streaming now on Netflix
Written by Stef
So I really like Maria Bamford as a comedian and for some reason I've been really putting off watching her new show, Lady Dynamite. After seeing some rumblings on Twitter about a biphobic episode, I decided it was time to sit down and see if this show was really all that bad. The premise of the show is that Maria is playing a character very loosely based on herself who's trying to get back into comedy following a nervous breakdown. The show is structured well and complements Maria's zany comedy style, but yeah: episode two, charmingly entitled "Bisexual Because Of Meth" is a DISASTER.
Maria's character is being faced with a bunch of weird decisions, and some are easier to make than others. When her agent offers her a role on a Japanese commercial selling an instant ramen called Pussy Noodle, she's able to say no quickly and confidently. When she's set up on a date with a guy who's both bisexual and a recovering meth addict, things are apparently not so clear. She isn't sure about going on the date, but decides that after her recent past, she shouldn't trust her own instincts. The guy seems nice enough and jokes a lot about both his sexuality and his addiction in a way that doesn't ring super true, but again, this is a comedy show.
Maria ends up deciding that the meth addiction and bisexuality probably go hand-in-hand (which is a problem in and of itself), but later as she's deciding whether or not to sleep with him, an omniscient radio host tells her to wear a condom, because "after all, he is bisexual." Cool! As she arrives at his place, ready to do the damn thing, she catches him with their (male) waiter. As she's yelling at him, her date's boyfriend shows up, and this is where things get really icky. The guy explains to his boyfriend that his date with Maria isn't a problem because she'd be a woman relationship, which wouldn't interfere with his male relationship. Then it turns out they're on a Japanese game show, talking about how Shane (the guy) is looking for both the pussy and the noodle. Nice tie-in! In the end, Maria decides not to continue dating the greedy bisexual.
I thought the show was sort of cute otherwise, but after this episode I'm not sure about watching the rest. For what it's worth, Maria Bamford has acknowledged how problematic this episode is and has apologized for it, but I'm having trouble understanding how it was made in the first place.
---
Veep
Sundays on HBO at 10:30 p.m.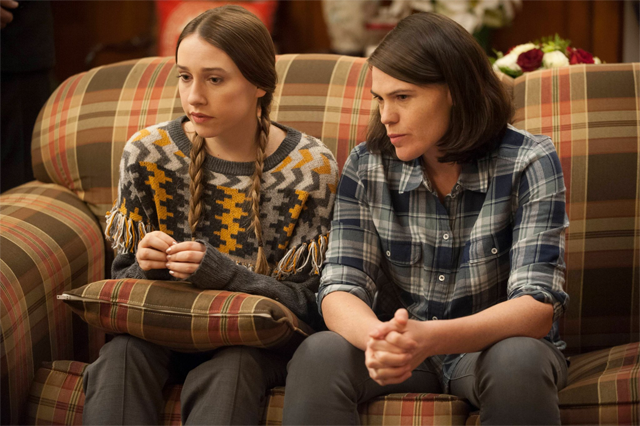 The Marjorie-looks-like-Selina gag Veep has been dangling all season finally came to fruition in "Camp David" and not in the way I was expecting. Honestly, Stacy and I were both pretty sure Marjorie was going to get shot protecting Selina because this show has never really let Catherine be happy, and Selina trying to comfort her daughter about her dead girlfriend while also celebrating what would surely be a rally-'round-the-flag style bump in the polls is so very Veep it seemed impossible that it wasn't going to happen. Also, you know, I just don't expect any lesbian/bi character to make it out of TV alive anymore after enduring these last six months of terrible showrunning decisions.
Oh ho, but no! What happened instead was that the Chinese government saw Marjorie and Catherine kissing and thought it was Selina and Catherine kissing and it got so slimy so fast. Honestly, I have never cringed like that watching TV in my life. It was more Veep than Veep's ever been, more Veep that murdering Marjorie to advance Selina's presidency even. I mean that in a good way. If you don't want to cringe, don't watch Veep. It's half the fun.
This turn of events had the added bonus of actually allowing us to see what Catherine looks like when she smiles. Clea Duvall is so good in this role. She's somehow an even more earnest arrow than Catherine. She loves the robe Selina (re)gifts her because it feels like Catherine's hair. And she loves the idea of turning Selina's dad's favorite house into a large animal rescue farm. And every time she compliments Catherine (in the weirdest fucking ways), Catherine is just so happy. What a crazy surprise!
Best, though:
Catherine: Hey, Mom, I just wanted to let you know that Marjorie is a raw food vegan and she's turned me into one.
Selina: Oh, so that's two things she's turned you into.
Actually, no, the Mr. Bingley joke was the best joke that show's ever done, but only probably if you're me.
---
Wynonna Earp
Fridays on Syfy at 9:00 p.m.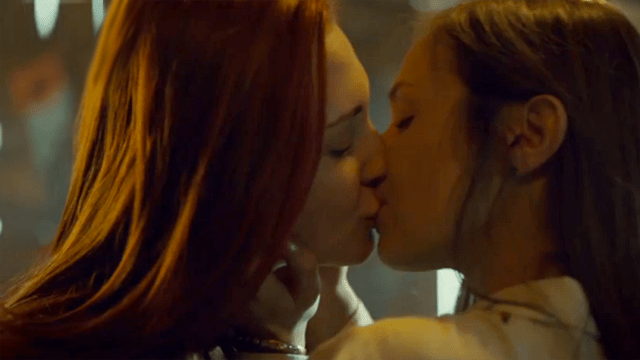 I cracked and watched the Buzzfeed exclusive WayHaught sneak peek of tonight's Wynonna Earp episode and whoooo boy. I am excited to see it in context, at least three times, and then retumblr about fifty gif sets. If you're not watching Wynonna Earp, you should know Waverly and Nicole are absolutely going to survive the season (Emily Andras told me so), they're totally in love, and Waverly came out last week in the most adorable way possible. She got shot and Wynonna told her dudes dig scars and she said, "Do chicks?" And Wynonna's face was like ooooohhhhhh. And that was that.