I'm not sure how to start this piece, which angle makes more sense. So I'll just do one and then the other.
There's the personal one: I've been a subscriber to Bitch for as long as I can remember. There's a well-worn copy of their 2006 anthology Bitchfest as well as 75 back issues of Bitch Magazine in my personal library including the one I received in the mail just yesterday. I was reading it just this morning! Thinking about how their design has evolved, remembering when it was all black + white. I promised myself I'd save this issue to read on a flight I'm taking in two weeks but I cheated and read an article this morning, I couldn't help it.
When I ranked 15 Women's Magazines That Don't Suck some years back for what I'm sure was a pressing reason, I put Bitch at #1. I wrote that it was "my favorite lady-focused magazine of all time," and furthermore: "It's smart, dorky, funny, educational and somehow also friendly. Consistently inventive and always-evolving, this non-profit publication is in fact partially responsible for my ability to write critically about pop culture through a queer and/or feminist lens — an ability which helped me build this here website."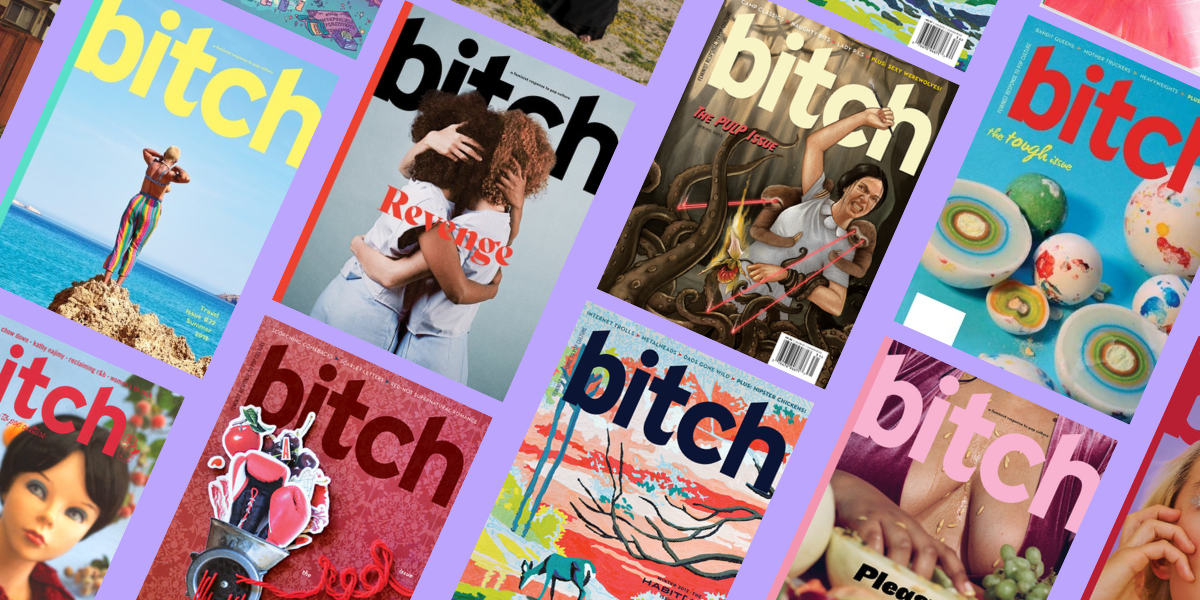 Which brings me to the professional one: Bitch has been an enduring example of how an ethical media company can survive on subscriber support without big advertising dollars, and we've often felt a deep kinship with Bitch. We've looked to them for inspiration that pulling this off is even possible. We've gotten their advice on topics as huge as hiring someone specifically devoted to fundraising and as small as which boxes to use when you ship mugs in the mail.
Bitch Magazine is a crucial piece of the modern feminist media landscape, and Bitch's work has undoubtedly shaped later debuts like Jezebel, Feministing and Teen Vogue. When they began publishing, nobody was doing this kind of work. If you wanted to read a feminist response to pop culture, the best place to find that was in a Sociology of Gender course pack, chock-full of academic articles about TV shows from the 1960s. But Bitch was current and fun and I loved it, even its regular feature "Jane Petty Criticism Corner" devoted to hating my other favorite magazine, Jane. (We contain multitudes.) They covered queer issues and perspectives without restraint at a time when very few magazines were doing so.
Bitch changed the world.
And today, Bitch Magazine announced that they would be ceasing publication:
Bitch Media has been an independent-media presence like no other. Since 1996, we have provided nuanced, thoughtful, and resonant media criticism and have never wavered from our original mission to look at popular culture through a feminist lens—and encourage others to do the same. Over the past 25 years, Bitch's magazine, website, podcasts, writing fellowships, campus programming, and more have helped to shape a media and pop-culture landscape where feminist perspectives are embraced, rather than sidelined.

Recent years have brought a multitude of challenges to our organization, and despite incredible effort, we have concluded that we are unable to sustainably continue creating the quality content that our readers and supporters expect.
On twitter, an outpouring of support and lamentation followed their announcement — writers who published with Bitch, were shaped by Bitch, or appreciated Bitch's coverage of their books. Teachers who used Bitch in their classroom. Readers praising their intersectional work and their beautiful magazine. But the resounding mood is something like this:
Independent Media is suffering among the media conglomerate giants of today. This sucks! https://t.co/TlmtgC6Zeu

— Valerie Complex (@ValerieComplex) April 12, 2022
Bitch's shuttering is the latest in a long line of feminist magazines closing their doors.
"This is heartbreaking. I personally donated to Bitch and am a member of The Rage because I wanted to see them keep going," Autostraddle's A+ and Fundraising Director, Nicole Hall, told me. "And at Autostraddle, we made sure we shared their fundraisers on our social media, because we want to see our fellow feminist indie media sites thrive. I'm devastated to hear about Bitch closing — especially after watching them not make fundraiser goal after fundraiser goal throughout the pandemic. Like I imagine many people are thinking, I wish I could go back in time and do even more to keep Bitch around. But, that's the thing, indie media is always hanging on by a thread. I wish that more people would believe it when we (us, Bitch, whoever else) say over and over that without reader support, we will go away. I almost always have their magazine on my counter, an article open in one of my tabs, the words of their writers in my head. This is an incredible loss, and I think, it might be a loss that we didn't have to see."
The thing is: I get it. It's fucking hard to fundraise that often. It's frustrating to hold all these progressive ideologies about what your people should be paid, but not have access to the same money that other, less progressive companies do. The hours are long and the work is so rewarding, but it's not easy. Sometimes you sit down and you look at how much money this kind of work can realistically earn and how much money the people doing the work deserve to be paid and the math just doesn't add up the way we wish it would.
On their website, Bitch says they will process prorated refunds to subscribers, and I don't know how it works with non-profits but I'm probably not the only one who'd prefer they just keep the extra money and take a vacation. They've definitely earned it.