Karina Manta should probably be writing this instead of me.
If Autostraddle readers don't know her for her prowess as a (recently retired) professional ice dancer, they may know her for her aptitude with words.
Writing has played a major role in how Manta and her fans have connected. In 2018, she came out as bisexual via poem, in a touching video accompanied by her partner, Aleena Gomez. In doing so, she became only the second out female figure skater ever (another still-active American skater, Amber Glenn, came out as bi/pan in December 2019) — the first to come out while still competing, and half of the first out all-queer ice dance duo with longtime skating partner Joe Johnson.
Her words have even reached the readers of the New York Times, through a heartfelt, thoughtful Modern Love essay how loving her girlfriend impacted her relationship with her own body:
"I had always known Aleena and I were similarly sized, but lying there in our underwear, I saw it with much greater clarity. Her body was so breathtakingly gorgeous I hadn't even considered how much it was like my own. On her body, I saw how ridiculous it was to wish for a gap between her thighs,wp_postsManta wrote. "I saw how much of a waste it was to want her hip bones to poke out from her skin. She had so many of the same features I hated in myself, but on her I found them stunning."
Manta says she was touched by readers who reached out to tell her that her words resonated. "Even as someone who has been writing, it can be really scary to be vulnerable in that way,wp_postsshe says. "Maybe I'm the kind of person who thrives off of vulnerable and intense situations. I feel about writing now the way I felt when I first discovered ice dance, like a whole world opened up."
Connecting with an audience in an emotionally resonant way is something Manta and Johnson excel at. Throughout their first season competing after both coming out, their free dance, to two different versions of the Eurythmics' "Sweet Dreams,wp_postsquickly became a fan favorite, particularly following their career-best performance at the U.S. Figure Skating Championships in January 2019.
In the final third of that free dance at Nationals, the duo break into an exuberant, Vogue-inspired step sequence. As a skating fan, seeing two queer skaters having fun and being themselves, while incorporating a dance element that is so tied to queer history in ice dance, the most heteronormative of the figure skating disciplines, is a thrill. The audience is absolutely living for it in the moment, but more importantly, you can see the bright smiles on Manta and Johnson's faces. They're having a blast, they're owning it, the career best score and standing ovation some well-deserved bonuses.
Manta describes the "Sweet Dreamswp_postsprogram as her and Johnson's baby. After a difficult time choosing music, their choreographer, former British ice dance legend Christopher Dean, brought back two different versions of "Sweet Dreams.wp_posts"[It was] me and Joe messing around and having fun and going to our coaches and asking, "Please, can we keep this?wp_postsThere was a lot of ourselves in the program, maybe the first time we had input in the movement we were doing to a pretty big degree."
To say Manta has had an eventful 2019 would be an understatement. Just a couple of months after that iconic Nationals performance, she and Johnson made the decision to retire from competitive ice dance; she graduated from college and joined the cast of AXEL, Cirque du Soleil's new on-ice show, which is touring across the United States and Canada through the summer of 2020. Oh, and she published the aforementioned Modern Love essay.
For me, just now, even reading that last sentence was tiring. How's Manta feeling about everything? Good, she says.
"Someone recently asked me about coming out and how it's been different over the past year,wp_postsshe says. "It's interesting because in a lot of ways, I was out in my personal life for a long time. My identity didn't change. In the last year, I stopped being a competitive figure skater, stopped being a student. That's been a big change in how I see myself. I think the change has been fun."
Manta and Johnson have spoken before about being out in ice dance, which in a sport that's all about storytelling on the ice, is still extra heteronormative. Skating in general, even as it has evolved (skaters can use music with lyrics now!) and the competitive field grown incrementally more diverse (though not enough by far), is still conservative — particularly in how skaters are expected to present themselves. "As far as how you present yourself physically and aesthetically, it can be really hard in skating to do that authentically because of all the external factors and the fact that you are being judged, not necessarily on your appearance, but on the piece of art you put out there which involves your body and your hair and your makeup,wp_postsshe says. "It's hard to figure out how to genuinely represent yourself."
Manta says the nature of skating as a judged sport meant when she competed, she was focused on presenting herself in a way she felt was most advantageous for competition. She's been frank about her experiences with the sport and their impact on her health, including her battle with an eating disorder when she was a teenager. As she began competing more on the senior circuit, she knew she wanted to represent herself more authentically.
"I wanted to be somebody that younger skaters could look to and say, 'She's successful and doesn't necessarily look like what other skaters have to look like,'wp_postsshe says. "If I wanted to be successful in skating, I wanted to do it on my own terms. I wanted to make my programs and my art and my work as an athlete about fitting a typical heteronormative beauty standard. I love the makeup and I love the dresses. That was one of my favorite parts of skating. But I wanted it to be about what I liked rather than what other people in the sport were telling me to do."
After that iconic performance at Nationals, Cirque du Soleil contacted Manta and Johnson to invite them to be part of AXEL. A number of factors impacted their decision to "run away and join the circus.wp_postsThere was the reality of the financial burden of being a competitive figure skater — many elite-level skaters even have crowdfunding sites to offset expenses related to competing — but there was also the opportunity to get creative with such a well-known artistic entity. "We loved competing, but it was cool for us to get to explore another outlet without the same restrictions and roles as competition,wp_postsshe says.
Manta was used to uprooting her life for a new, intense chapter. She first moved away from home at 16 to train in Colorado Springs, taking on all at once all the necessary skills and adaptations that come with a big move at a young age. She's had to apply those same lessons to joining the cast of AXEL when she was ideating the show in Montreal this past summer.
"When I moved away, I didn't know a single person in Colorado Springs,wp_postsshe says. "I had to learn very quickly how to meet people and how to come out of my shell a bit. I didn't have anybody to fall back on. Those years were hard and I'm still sort of a shy person. I like attention when I'm on the ice. When I'm off the ice, I'm still sort of a wallflower. Being thrown into this intense, brand-new environment has taught me how to come out of my shell a little bit more. It's good to have that practice of being around new people."
AXEL as a show looks in a lot of ways like vintage Cirque du Soleil, heavy with whimsy and sensory overload. There's an arena-rock feel, with a more contemporary pop music style, neon aesthetics, bold makeup and costuming, lasers and pyrotechnics. Manta and Johnson are not the only former competitive skaters working alongside the show's many musicians, acrobats, aerialists and clowns — some, like Manta and Johnson, came straight from the competitive world, others from the circus world, others from long careers. The result was an intense process that encouraged the artists to push themselves. There's even a number where the skaters use harnesses and fly, getting their own classic Cirque experience.
"Creation days were packed,wp_postsshe says. "We'd show up to the arena at 10 AM, and we'd take breaks but we'd go home at 10 PM. We'd work with all different types of movement, playing around with the other artists. Joe and I are excited about how much we've learned and can take away from the creation. It opened up the art of skating to us in a totally new way."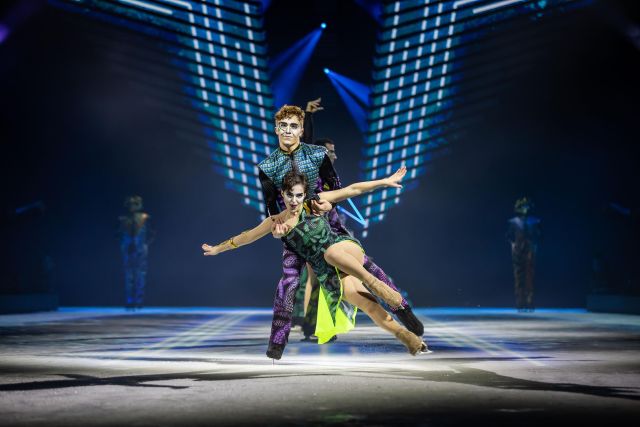 In addition to connecting with their castmates, living and working in Montreal while creating the show allowed Manta and Johnson to be close to their former ice dance competitors and get to know them in a new light. We're in the midst of the competitive skating season now and Manta said she was looking forward to getting to watch her peers and appreciate the sport as a fan rather than a competitor. "It's funny, as far as the competitive environment goes, everyone that's in this sport, they've been our friends,wp_postsshe says. "It's never been a relationship that was intense. I want everyone to do well. I'm excited to see their programs. It's fun to watch now."
She describes Montreal on her blog as a city that "tastes like prosciutto and wine, like bread ripped apart by our hands.wp_postsShe and Johnson fell in love with the city and were looking forward to returning around the holidays. Touring with AXEL has been an adjustment — "I have way too much luggage and am going to need to consolidate,wp_postsshe says — but traveling from place to place with the same people has allowed the cast to bond, and brought her closer with her longtime skating partner. "The circus is like a family, but really it's been cool because Joe and I are on this adventure together. We know each other as well as two people can, and it makes it feel not so foreign or scary to be in a new place every week. We have these people who feel like home."