Last night on twitter the live streaming video platform YouNow, actress Bex Taylor-Klaus shone a little light into the darkness of post-apocalypse America with the following announcement:
hello my name is bex and yes the rumors are true I am v gay

Live on YouNow in 10 minutes

— bex, but at home (@IBexWeBex) November 17, 2016
Bex Taylor-Klaus was born and raised in Atlanta, Georgia, and began acting in elementary school, and at the age of 18 moved to Los Angeles to pursue her acting career. Her first major role was on the third season of The Killing in 2013, in which she played Bullet, a butch lesbian teenage runaway who eventually met exactly the fate you would predict for such a character.
She then played genderqueer basketball player "Lex," a name which definitively sounds like "Bex," for six episodes of House of Lies.
Voice work and guest roles here and there (including a spot "Goth Girl" in the pentultimate episode of Glee) eventually led to what she's now best known for, which is her starring role as bisexual teenager Audrey Jensen on the MTV show Scream.
Throughout it all, Bex has been a bit of a lesbian hearththrob, for reasons that should be readily apparent.
On YouNow, she took questions from a series of fans, many of whom wore adorable animal onesies and were so stunned to be selected by Bex that their questions mainly consisted of, "I love you" and "Oh my god." Y'all it was really fucking cute.
Bex talked about coming out, about always feeling "wrong" when she tried to be straight, and compassionately handled the broadcast through a variety of internet connections and teenagers attempting to ask her questions from teenagers hiding in their bedrooms trying not to wake up their parents. One fan asked if she was scared to come out right now, considering recent events, to which Bex responded:
"Terrified, absolutely terrified. Part of why I'm coing out is because there's so much hate and fear in and around the LGBT community right now and it's important for us not to halt progress out of fear. Yes, it's a scary time, but we need to stand up and say, even if you are afraid, I'm not afraid, or even if I am afraid, I'm strong. I am who I am and you can't take that away from me."
Due to a combination of gaydar and wishful thinking, fans have wondered about Taylor-Klaus's sexuality for a long time. Back in 2013, she addressed fan questions on her facebook page, assuring them that "I am a straight girl who plays a gay character on TV. No, I am not ashamed." According to The Inquistr, the remainder of the post read:
"The point of Bullet is not that she is gay. There is so much to her and I look up to the strength and determination this girl has. I get the beautiful opportunity to play a character I can admire and learn from on a daily basis. Bullet knows who she is and can accept herself for it all, even if others can't or won't. Not everybody is that strong. My biggest worry is that people will look at her and just see a gay kid, when that's truly only a tiny piece of Bullet's puzzle. Look at the big picture. People are a medley of different things and that is what makes us so interesting. Don't lose sight of the beauty just because you see one thing you may find ugly."
Although acceptance is absolutely abundant in Hollywood at this point, "making it" is still incredibly difficult for any actress, and it's understandable that Bex would be hesitant to come out, especially when she was already being consistently typecast and had a more "nichey" physical appearance. (See also: Kate Moennig.)
143 weeks ago (this is a very useful way to measure time, thank you Instagram), Bex told fans on her instagram page that they would "never know" if she was gay or straight, which just goes to show you that life is full of surprises!
Bex, who voted for Hillary and has expressed disappointment on social media about the election of human Cheeto Donald Trump and regularly posts about Black Lives Matter issues, is doing a cool thing to come out when so many LGBTQ folks nationwide are considering crawling back in to save themselves.
THANKS FOR COMING OUT BEX, I LOOK FORWARD TO ADDING YOU TO ALL OF OUR HOT LISTS.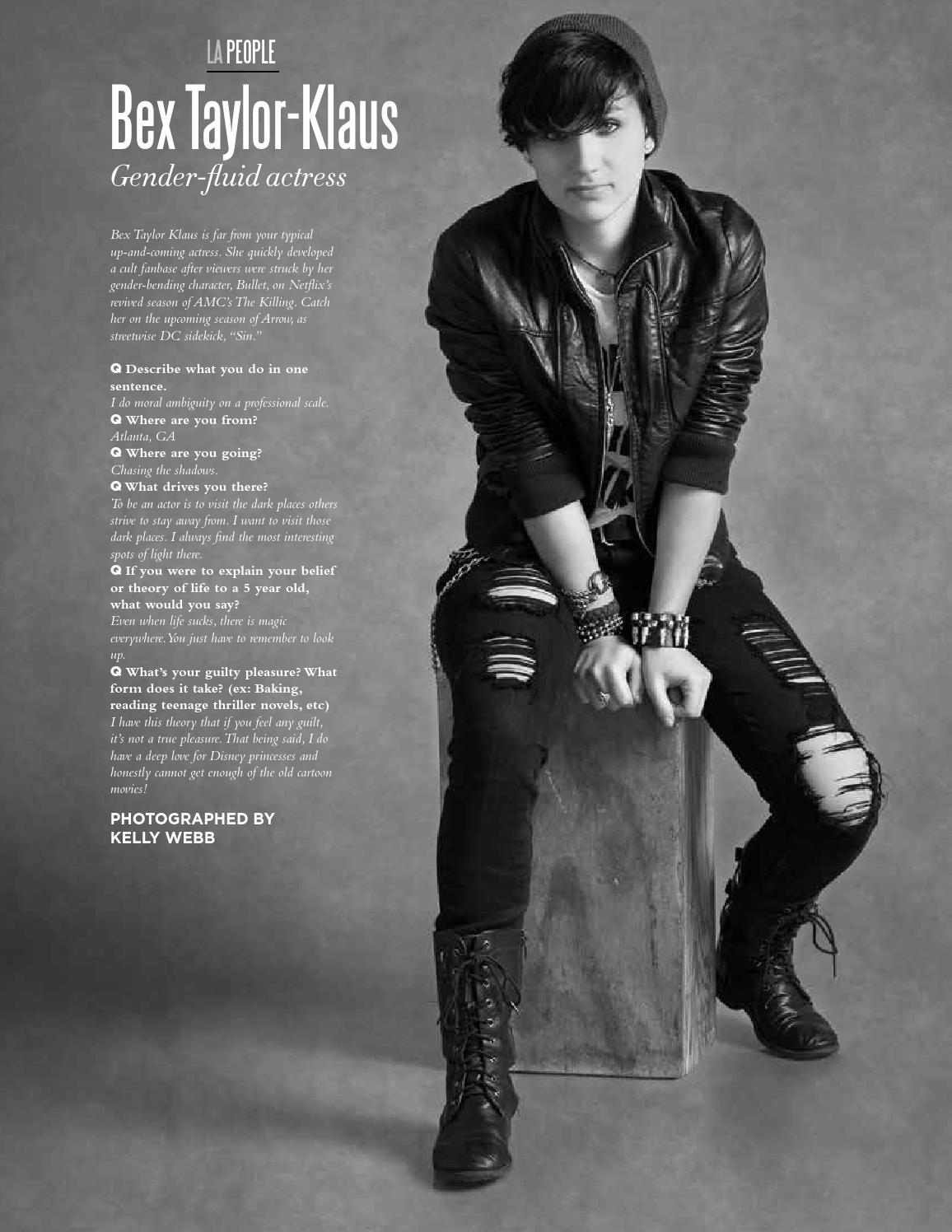 Also, she's friends with Barb.