Well, the college basketball season is officially over.
It's always a weird time for me because March Madness is this period that I absolutely love… and, in North Carolina, it's a time of year unlike any other (so much so that lawmakers here are trying to build a holiday around it). The pace is fast and frenetic but then you hear "One Shining Moment" and then it just stops. No more games to watch, no more commentary about the match-ups, no more predictions to make… it's all over.
My first, post-championship activity is to check how I did in my bracket competitions. For the men's tournament, things did not go well early: of the teams in the Sweet 16, I only picked six correctly. I thought for certain that that would doom me in our group's contest but I was able to rebound in the subsequent rounds, finishing in a distant second place overall. Over on the women's side, I did much better, guessing 90 percent of the games correctly, including the eventual national champion.
How's my luck been in our Challonge competition? Respectable. Of the 891 brackets submitted in the competition, I'm currently sitting at #97. I struggled a bit early but, with each round, I've climbed my way up to the leaderboard. My correct predictions of 3 of the 4 final couples boosted me almost 50 spots in the standings. Unsurprisingly, my TV teammate, Valerie Anne — expert at all things fandom — is doing better than me: ranked #63, having made accurate predictions in 40 contests thus far.
How does your bracket look? Will anyone catch Autostraddle reader, Ava, who currently sits atop the leaderboard? How about we get started on making our picks for the Canon vs. Fanon finals?
---
On the Canon side of the bracket in the Elite 8, I thought the match-up between Waverly and Nicole and Cosima and Delphine would be a hard-fought one but that proved not to be the case. WayHaught carried their momentum past the Science Girlfriends to advance to the next round. On the other half of the Canon bracket, Juliana and Valentina got their first real challenge of the tournament in their Elite 8 match-up with Callie and Arizona. Juliantina advanced to the Final Four, but their margin of victory was the smallest of their run thus far.
That sets up at Juliantina vs. WayHaught final in the Canon region. It feels serendipitous to have these two couples in the final: if ever there were two pairings that have been sustained by their fandoms, it's these two. Both fandoms fought for their favorite ship and won: earning Wynonna Earp another season and securing Juliana and Valentina a spin-off. They are a testament to the power of a (canon) story well told.
CANON: #1. Waverly and Nicole – Wynonna Earp vs. 8. Juliana and Valentina – Amar a Muerte
Over on the Fanon side of the bracket, the match-up between Supergirl and Xena turned out to the most competitive match-up of the Elite 8. Still, though, Kara and Lena were able to comfortably dispatch Xena and Gabrielle and move onto the Final 4. They'll meet with another "are they canon or are they fanon" ship in the Fanon Finals: Eve and Villanelle. The Killing Eve couple was able to easily able to brush off a challenge from Betty and Veronica of Riverdale.
This should be an interesting match-up. While Supercorp would seem to have an advantage, Eve and Villanelle's dominance in the last few rounds suggests they've got some momentum behind them too.
FANON: #2. Lena and Kara – Supergirl vs. #2. Eve and Villanelle – Killing Eve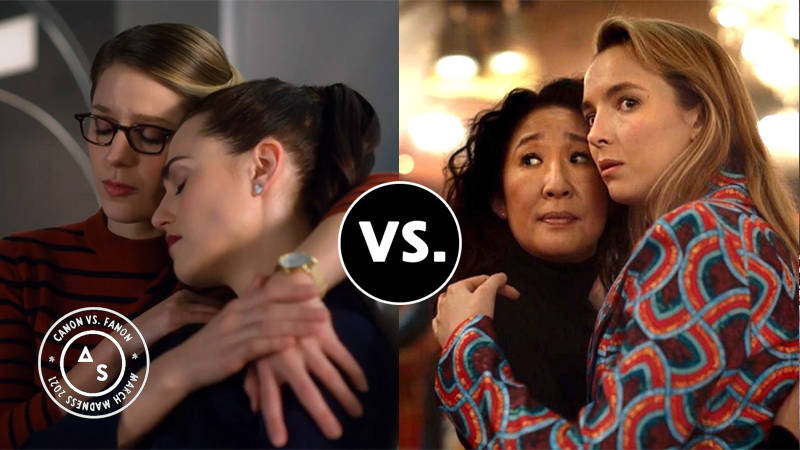 ---
As always, you've got 48 hours to cast your ballot in this round of Autostraddle March Madness. We'll be back on Friday to unveil who will represent CANON and FANON in the final Canon vs. Fanon showdown!
Oops! We could not locate your form.