It's been just a few days without college basketball and already I'm starting to go a little stir crazy. I tried to satiate my appetite for basketball with some NBA action but I just felt overwhelmed by how disconnected I've been from the men's professional game this season. The Lakers aren't going to make the playoffs this year? How does a team with LeBron James, Anthony Davis and Russell Westbrook not make the playoffs? Klay Thompson is back for the Warriors but now Steph Curry's out due to injury? It's all so confusing. Maybe I'll just stick with what I know: the WNBA Draft is next Monday so that should fill my need for some basketball in my life and, well, y'all are providing all the madness I need in this contest.
Whew, boy…that Sweet 16 was by far the most competitive round of the tournament we've had thus far. Once again, I couldn't get a jump start on preparations for the Elite 8 post because the contests were so close. And by close, I mean…close: these were some of the most competitive contests we've ever had in the four years we've hosted this contest. To quote one of my favorite Dan Rather-isms, these races were "tight like a too-small bathing suit on a too-long ride home from the beach."
We had one contest come down to just 10 votes.
We had another come down to just 8 votes.
We had another contest come down to just 5 votes.
For the first time in this competition, we've had one-half of popular pairings go down. The on-screen love interest will have to carry the banner for their ships alone.
In the Generation Q region, Gigi continues to dominate. She earned more votes in the Sweet 16 than anyone else still left in the field. Barring a groundswell of fan support for her opponent unlike any we've seen in the contest thus far, it's hard to imagine anyone dethroning Gigi. Everyone's love for Gigi is also propelling Dani forward in the competition: she won her match-up over L Word OG, Shane McCutcheon, by a comfortable margin.
Over in the Sci-Fi/Fantasy region, we saw some of the aforementioned close races. Our readers are, clearly, evenly split between #WayHaught and #WildMoore: throughout the 48 hour voting period, the lead volleyed back and forth between them. In the end, though, Waverly Earp outlasted Ryan Wilder by 10 votes and will advance to the Elite 8. She won't be joined in that round by her wife, though: Nicole Haught lost her Sweet 16 match-up with Sophie Moore by just 8 votes. I have no idea why people voted for Waverly but not Nicole or Ryan but not Sophie but here we are.
Consider Casey and Izzie the Dani and Gigi of the Baby Gays region. They have dominated from start to finish, defeating Raelle and Scylla from Motherland: Fort Salem handily. Likewise, Emily pulled off an easy defeat of Station 19's Maya Bishop in the GROWN region. I was, admittedly, surprised by the poor showing by Maya in that round: the Maya-Carina fandom is highly organized and I've seen them win overwhelmingly in other online contests. I wonder how much the current schism among #Marina fans over the show's current storylines — which has gotten so vitriolic that Danielle Savre decided to speak out against it — hindered Maya's progress in this competition. Or maybe it's just the draw: perhaps Emily was just a more formidable opponent than Sue (some of y'all really don't like Sue, after all). In the Sue vs. Carina DeLuca match-up, Dr. Orgasm prevailed by the slimmest of margins: 5 votes!
But here's where things get complicated: this is a competition to find the "better half" so there's no Gigi vs. Dani or Casey vs. Izzie match-up…at least not right now. The couples are on opposite sides of the bracket and the goal — the hope — is that they'll meet in the middle for the championship. So now it's a head-to-head match-up between your winners in the Gen Q region vs. your winners in the Sci-Fi/Fantasy region and the Baby Gays vs. GROWN. I do not envy these choices.
---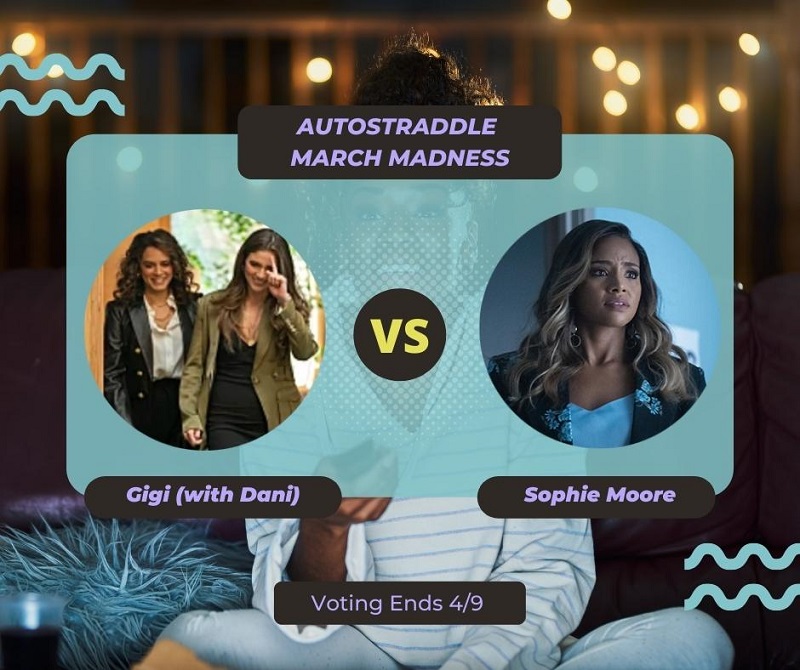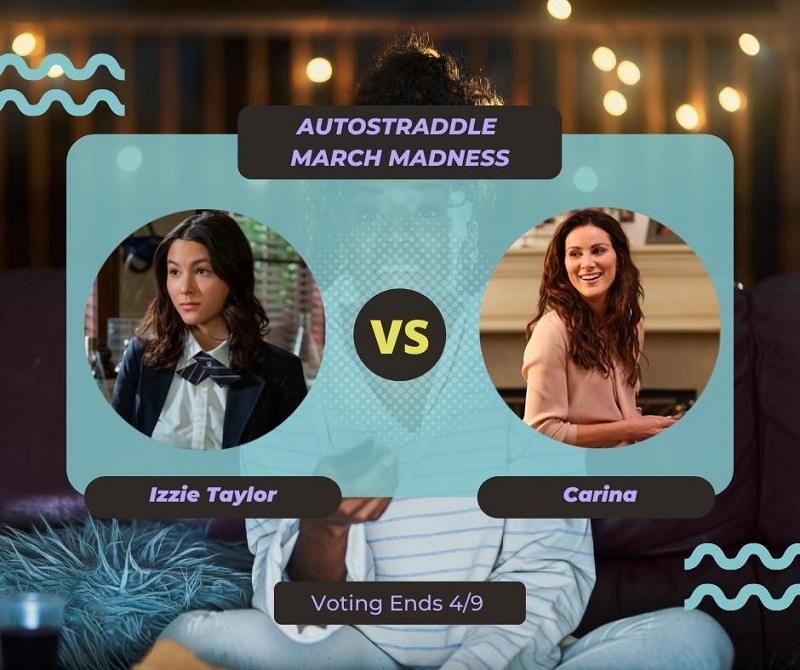 ---
As usual, the voting will go on for 48 hours and then we'll be back here on Saturday to reveal who's advanced onto our Final 4.