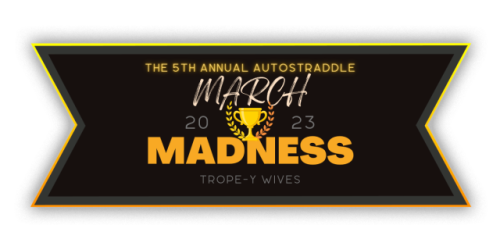 If, on April 2nd, the South Carolina Gamecocks repeat as national champions — as they're widely expected to do — there will be a chorus of folks who start talking about the lack of parity in the women's game. They'll point to the team's undefeated season and bemoan the lack of competitiveness in the game. I know this will happen because…well, first, these people are mind numbingly predictable…but also? They said the same when Pat Summit's Lady Vols were running women's college basketball and they said the same when UCONN started to assert its dominance.
And, just as they were then, this time theyll be wrong. Wrong about the lack of parity. Wrong about the lack of competitiveness. Because in game after game in the women's tournament, all we've seen is competitiveness. Just last night, Miami and Villanova were engaged in an epic battle: the Hurricanes opened up a 21 point lead and just when you think its over, the Wildcats mounted a crazy comeback. It took some last second heroics from Miami's Jasmyne Roberts to help the Hurricanes secure the victory. And then LSU vs. Utah? A competitive grudge match that turned on two missed free throws.
A lack of competitiveness? Where? Not in any of these games because they have been sensational.
While the men's Sweet 16 match-ups weren't quite as thrilling as the women's, some history was still made: for the first time since seeding began in 1979, there will be no #1 seeds in the Elite 8. San Diego State's suffocating defense stifled a typically potent Alabama offense and sent the field's overall #1 seed packing. And while the media was busy writing scripts about Houston playing for a national championship in their own backyard, Miami came in and wrote a different story. The Hurricanes overwhelmed Houston with their defense and balanced scoring and will play in their second straight Elite 8.
But now that the men have their final eight and the women will finalize theirs today, I suppose we should get to work on assembling our own Elite 8, eh? First, though, a look at the landscape following your votes in the Round of 32.
---
Forbidden Fruit Region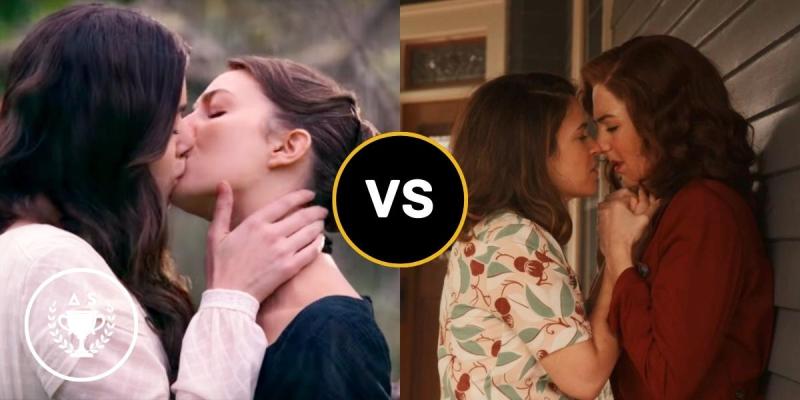 #2. Cal and Juliette – First Kill vs. vs. #6. Shelby and Toni – The Wilds
I'll admit, once the seeding for this region were out and we got the news about A League of Their Own, I thought for sure that we'd end up with an ALOTO vs. ALOTO match-up in the Sweet 16 but clearly I underestimated the strength of the #EmiSue fandom. But, of course, that means that Emily and Sue will now have to beat out another ALOTO pairing in order to advance to the Elite 8. In one of the closest contest of the Round of 32, Shelby and Toni from The Wilds were able to edge out Anne and Ann from Gentleman Jack. But now the #Shoni ship will face its toughest challenge yet: the vampire hunter and her vampire girlfriend have performed really well in the first two rounds — rivaling the vote totals of the #1 seed — and may prove difficult to stop.
---
Enemies to Lovers Region
#2. Harley and Ivy – Harley Quinn vs. #3. Casey and Izzie – Atypical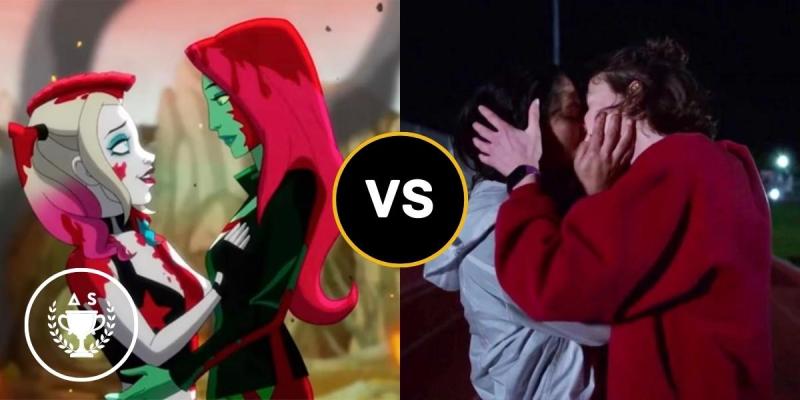 Much like the women's tournament, you might look at these outcomes, see the top seeds advancing and think the Round of 32 wasn't that competitive…but let's be clear, it absolutely was. There was an unanticipated show of strength by fans of Maze and Eve and they pushed Sophie and Ryan to the very limit. I was shocked. Had the contest extended for a few more hours, it's possible that the region's #1 seed could've gone down in defeat. It was that close. Likewise, Alicia and Leighton from The Sex Lives Of College Girls put up a very strong fight against Harley and Ivy, finishing less than 200 votes behind. Maybe I jinxed Wildmore and Harlivy in my Round of 32 preview?
The shocker of this round was definitely the upset of Villanelle and Eve by Ava and Sara. The Legends edged them out by just 53 votes. This loss is going to have strong reverbations in our bracket contest too: 62% of people picked the couple from Killing Eve to advance.
Of course, now that sets up a match-up between two of our most beloved DC/CW properties: Legends of Tomorrow and Batwoman. I can't wait to see how that turns out…assuming of course Valerie Anne and Nic don't murder me in the interim for setting their faves on a collision course.
---
Opposites Attract Region
#1. Maya and Carina – vs. #5. Lucy and Kate – NCIS: Hawai'i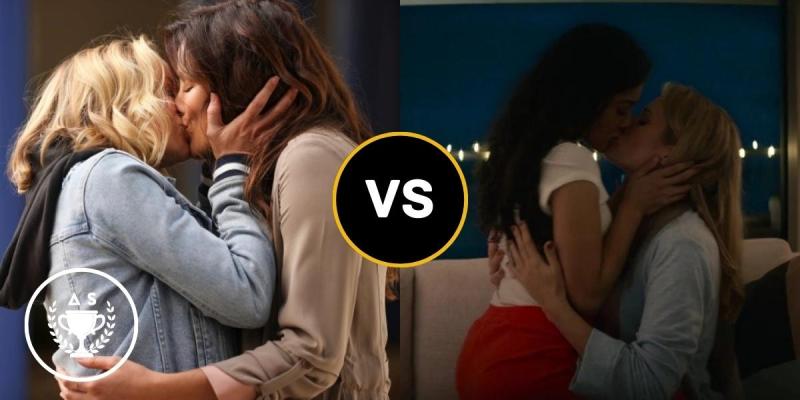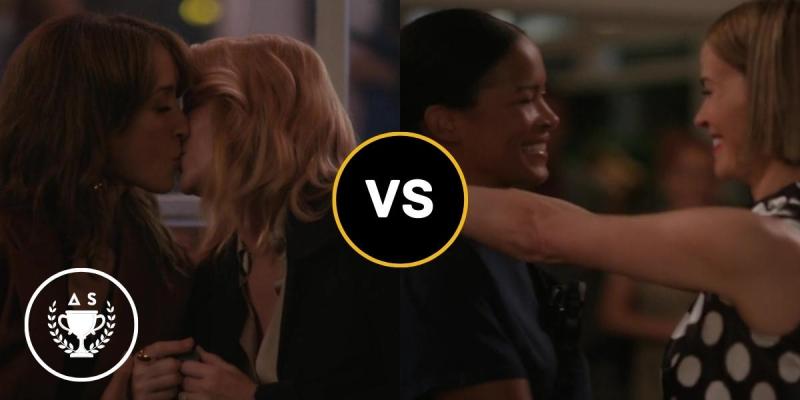 I got a little worried, early in the voting period, because Maya and Carina got off to a slow start…at one point, they were even trailing Taissa and Van by a few hundred votes. But eventually, the #Marina fandom hopped off the sidelines and into the voting pool, delivering a landslide victory for the reigning March Madness champion. In fact, every match-up in this region in the Round of 32 ended with a lopsided victory. Turns out, Roberta Colindrez's double daddy duty — on Vida and A League Of Their Own — wasn't enough to persuade you all to vote for Emma and Nico….and Alice and Tasha pulled off the upset.
But those landslides set up some truly difficult match-ups for the Sweet 16: first we've got the all Gen Q match-up, as Bette and Tina face Alice and Tasha. Can Alice and Tasha's last minute reunion drive the fandom to their corner or will Bette and Tina's wedding — that was literally years in the making — win out? You might think the answer's an easy one but consider this: Alice and Tasha got more votes than Bette and Tina in the last round, despite facing a much tougher competitor. It truly is anyone's game.
And then there's the match-up I've been waiting to see #Marina vs. #Kacy. For my money, these are the two best lesbian ships on broadcast television. Both have great storylines and great chemistry between the characters…I don't know how to choose between the two.
---
Friends to Lovers Region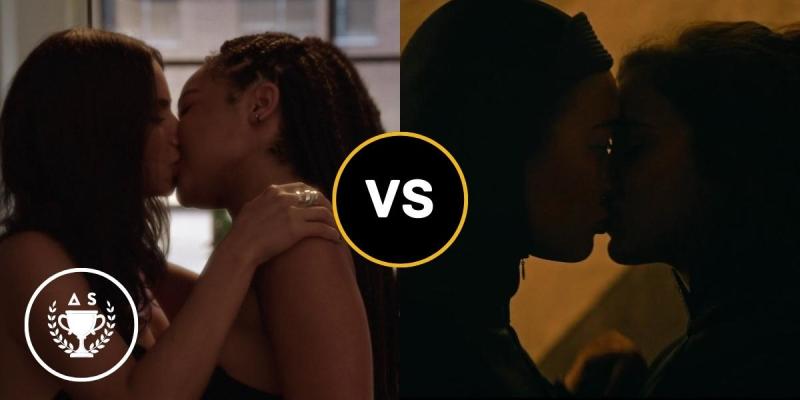 Down goes our first #1 seed! Perennial March Madness favorite, Waverly and Nicole, were ousted in the Round of 32 by March Madness newcomers Ava and Beatrice. And the victory wasn't even close either. On top of that, Avatrice is going to be another bracket buster: 71% of y'all picked Wayhaught to advance to the Sweet 16. But if the AvaTrice fandom wants to survive until the end, they're going to have to run through a gauntlet to do it…starting with Kat and Adena. The Bold Type alums squeaked out a victory over Rue and Jules in our closest match-up of the Round 32: in the end, they were separated by just 19 votes.
Another competitive match-up in the Friends to Lovers region was between Alex and Kelly of Supergirl and Dani and Gigi of Generation Q. Admittedly, I was shocked by this outcome — I'd been expecting a landslide victory — because…well, everyone loves Gigi. But the love for Alex and Kelly is real and the Supergirl ship put up a valiant effort. In the end, though, Dani and Gigi pulled out the 29 vote victory. The couple's fandom will have to show up in force if they want to advance to the Elite 8…because you know Syd and Elena are going to give them a tough challenge.
---
As usual, you've got 48 hours to cast your ballots in the Sweet 16. Remember, this year, you can vote four times over the voting period (or to be more precise once, every 12 hours) so be sure to take advantage of that! We'll be back on Monday to unveil the Elite 8 and move us one step closer to crowning one couple: the Trope-y Wives!