You've probably seen billboards advertising an exotic trip to the country I was born in. In those pictures, the sea is always a clear turquoise — like glass — and the sand is always blinding white, and the sky is always a clear stretch of blue that takes your breath away.
These things are real.

When I stumble off the plane on this final trip, no return ticket for me this time, my eyes squint against the punch of the sun's glare, so different from the cool grey skies I left behind. For days after, I struggle with the bold declaration of a house coloured like a ripe paw-paw. The blaring yellow of the public transport makes me shy away. Even the glowing red of a single hibiscus seems a statement that makes me cringe, then I seek to apologise for my fear of a simple flower..
On afternoons, the colours run together as I sweat and sweat on the bed, caught between dream and wake, unsure if I want to be dreaming or waking. If I reach my hand out, turn my head, I will find myself back in my apartment there, not in this room here.

The brochures are always glossy, their scent like shoes just out of the box and their pages sleek like a high-end salesman's smile. The people smile as well, smile as they enjoy a cool breeze and their expensive drinks, smile as they try food that looks nothing like what anyone here actually eats, smile as a hotelier shows them to a luxurious room.
One day, as I make a trip back to visit, not the final trip, not yet, I flip through the brochure idly, flip, flip, flip. Flip, flip, flip, and the brochure's gloss wears thin.
The smiling visitors are ever white, and the smiling servants are ever black.

When I force myself to stumble out of my mother's new house — it's a waking dream, new walls but everything in it a memory from childhood, even the faded fridge magnets — I set my jaw for the task ahead.
On the minibus — no, the van — I stand uncomfortably, the sweat pricking down my back. Yet no one glances twice at me, because I am slowly remembering how to disappear here. I wear long jeans despite the heat, a graphic tee with a pop culture character and a witty slogan. Not for me the breezy sundresses of another country's summer.
When I stand on the van, I remind myself how to give my bags to a stranger to hold. I count the stops as the van races and shakes. I speed past places that seem like the house: surely this stop was farther away, and that tree was not there, and this was never there.
No one sees me. In this country, the first descriptions people give are "tall", "with size" and "with long locs."
No one says I am black. What would be the use here?
My stop comes closer. I press the bell frantically, but no one hears it over the pounding bassline of the song roaring from the speakers. I open my mouth and shout "Bus Stop!" and now they see me, now I break the spell. My voice is Yankee, from overseas, foreign.
I did not fit there. I do not fit here.

The tourist magazine promises the vacation of your dreams. Breathless copy details the thousand things you can do — swim with the turtles, get a massage with your loved one, seclude yourself behind the walls of your private resort, or if you're feeling adventurous, try catching local public transportation!
Do not worry, the magazine promises, the locals are so friendly — and the pictures bear it out, picture upon picture upon picture of smiling tourists and smiling locals.
This time, I find an Asian couple. It feels like an achievement.

My fiancé comes to visit me, a welcome relief after the prolonged separation caused by this final return trip (are long distance relationships not a pain?) and his arrival jolts me as if I have missed a step. The joy I feel with him is not something I usually feel in this country, and yet I am happy, despite the heat, despite the confusion.
I am accustomed to his presence warping things around us. It happened at Pride festivals, when his presence overcame any pink-purple-blue pins I wore. It happened when we went to the store, and people took a moment to blink at us, our presence together startling.
Somehow, I am not expecting it to happen here.
The conductor leans precariously out of the bright yellow van. I don't choose to ride in this one, because I like living, thank you very much. The conductor knows this and never stops for me, but he's slowing now, and he yells in an American accent that floats like oil on top of his own voice, "Where are you guys going?"
I look around for the blond(e), blue-eyed tourists with tasteful tattoos that I see smiling in all the brochures.
He is talking to us.
I suppose I should expect it. The white people born and raised in this country almost never catch public transportation, after all—when you see one or two on the bus, they're either tourists or expats. But still. I spent the better part of two years trying to remember how to dress, how to speak, how to look, how to stand, so that I can carry out my life without being stared at or questioned. It is amazing what magic one single white man possesses.
When the well-meaning driver of another van asks, "How long are you here for?", I open my mouth and say, in my rawest accent, "He's going back in a week."
His eyes are like saucers, darting from him to me and back again. I have blown his mind. How can I be from here, black, tall, with size, long locs, and be with a white man?
I am not from there, clearly. But perhaps I am not really from here. I certainly don't seem to have the hang of it.

There are never any gay couples on the tourist websites. There are older couples with expertly Botoxed faces and there are younger couples with intricate tattoos. There are groups of friends smiling and there are families with two point five children. Here and there I spot a person who is Asian, or someone who looks vaguely ethnic in a way that means I might call them, perhaps, maybe, possibly, black-ish?
But there are never gay couples in the brochures.

My friend comes to visit. Her face is round — like the moon, her words — and she has a way of looking at things that makes you laugh in acknowledgement of a truth you have never seen. She is relentlessly excited to see everything that the tourist websites have promised her, and I promise that I will do my best.
When we were both in the States, we went to see the sights together, as we were both strangers in a strange land. As we travelled cities up and down, lying on museum floors beneath exhibitions hoisted on ceilings, or sitting in too-small cafes with far too many snacks between us, or weaving unsteadily down the streets with too much liquor in us to feel cold, there was always the question. People asked if we were paying separately or together, or gave us a look, and the question was there — are they?
In this country, homosexuality is illegal, but worse than that, it is for tourists, or something for other people — never mind the people who live here, never mind the first tentative Pride parade that people are afraid to attend because one never knows what might happen. In this country where my coworkers speak of "fags" and "bullas" and "confused people" and I bite my tongue to bloody, no one looks at us with this question.
Instead, I am obviously her good local friend who is showing her around. The waiters ask me if I have taken her to the best local food places, the van drivers ask me where she wants to see next, and she grins and answers but it is me they look at, as though they think she cannot speak English, as though because she is not white, she is not a visitor, as though…
In a few days, we see more of my country than I have seen in years. Many of these places do not really exist for me. They are like hazy fairy tales, heard once as a child and barely remembered, and then repeated back to me from the glossy pages of brochures. After all, what purpose do they serve for locals besides being places to point out to wandering tourists?

In almost every tourist brochure, or magazine, or website banner ad, there is usually the beach. Its pale sand glitters in the glare from the sun, while the sea glows turquoise, clear and smooth as glass.
When my fiancé visits, when my friend visits, when I stand alone in this country searching for what face to show the world, the beach remains.
Close up, I can see the pink grains of coral and shells in the blinding white sand. The wind stirs the tiniest of waves in the turquoise-glass sea to remind me that this is no postcard. This is no dream.
When I slide into the water, it is cooler than the air around, a shock to the system that I remember from before I was even old enough to walk. The salt taste on my tongue as I duck under to wet my hair, the stinging in my eyes as I blink the water away. I remember this, this thing that is not from there, this thing that always grounded me here, through the worst of the not-here growing up.
The sea is turquoise in the brochures and turquoise in life.🗺️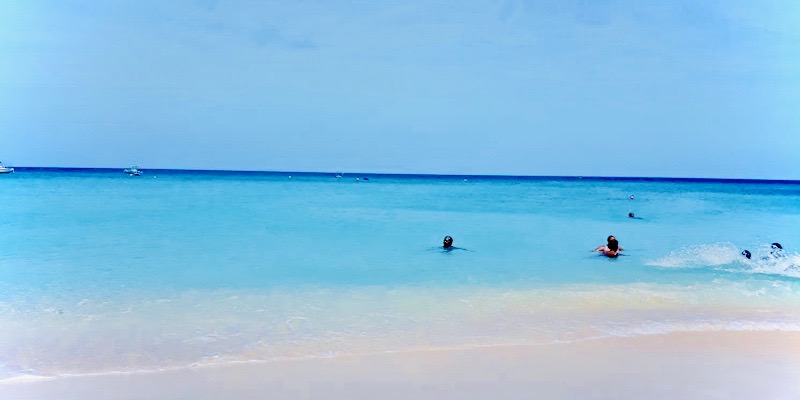 Edited by Carmen.