Hello, poppy seeds! Did you know H&M was having a huge sale this week? Here's the stories we missed while I was shopping for crop tops. (Lizz, don't kill me.)
Headlines Heard 'Round the World
In Ohio, a woman lost her job at a Catholic school when she used her partner's name in her mother's obituary.
Hale has come forward to tell her own story. When her mother died in March, she included her partner's name in her obituary, and apparently an anonymous parent thought that was sufficient reason to complain to the Diocese of Columbus. Hale told the Columbus Dispatch that the school then fired her a week later:

"If it were not for an obituary that appeared in the paper, none of this would be happening… She asked me if I really wanted to put her name in there — in the obituary — but as we sat there that day — my mom really loved Julie and Julie  loved my mom and as I sat there with my brother, you know, it was like… his wife was mentioned, my niece's husband was mentioned, so why not? Why not my person I love?"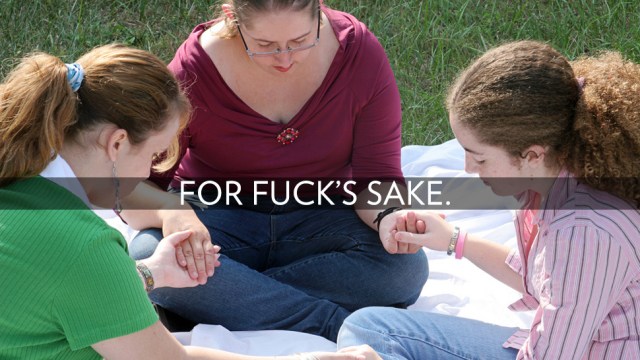 In Philadelphia, a city council member wants to require gender-neutral bathrooms in new and renovated establishments; in Oklahoma, anti-semitic slurs are NBD during political and legislative debate obviously I mean this is America, right? In Congress, ENDA is making a comeback, but don't get your hopes up. (You can't really trust anyone.)
What would a session of Congress be without another chance for ENDA (or the Employment Non-Discrimination Act for the acronym-averse)? On Thursday, Sen. Jeff Merkley (D.-OR) plans to introduce yet again the bill, which would provide protections against being fired on the basis of sexual orientation.

"We definitely see a tremendous amount of discussion of marriage equality,wp_postsMerkley told Kevin Drum of the Washington Post. "The momentum in that area will also be reflected in this area of employment. I feel we have reached a turning point."

ENDA is the legislative equivalent of a sixty-year-old debutante. The legislation has been proposed in nine out of the ten past Congressional sessions and it has gone nowhere. You'd be forgiven for thinking that it was passed a long time ago in the light of the marriage debate, but Congress is the graveyard of progress so it continues to languish.
Kicking and Starting
+ Out in the Night is an important film – and it needs your help to get born!
On a hot August night in 2006, under the neon-lights of the tattoo parlors and movie theaters of the gay friendly West Village, a group of young African American lesbian friends from Newark, New Jersey, out for a night, passed by a man selling DVDs of his new film on the street. He cat-called one of them, the smallest of the group, Patreese, and said "Let me get some of that.wp_postsWhen she responded, "Mister; I'm gay.wp_postshe spit at her and threw a lit cigarette. Two of Patreese's friends, including gender non-conforming friend Renata, stepped to her defense. A fight broke out involving a few of the women, this man, and strangers on the street.[…]

Only the women were rounded up by police, charged with varying degrees of assault and gang assault, and locked on Rikers Island. A year later, four of the women pled not-guilty and were tried in court. They were egregiously sentenced to between 3 and 11 years in prisons upstate New York. They became known internationally through grassroots organizations as The New Jersey 4. This film tells their story – the challenges they faced on trial, in prison and by the media that labeled them a "Wolfpackwp_postsand "Gang of Killer Lesbians".
(Almost) Famous Gay People
+ Look, Tegan and Sara being fools or something. (Spoiler alert: it's a music video.)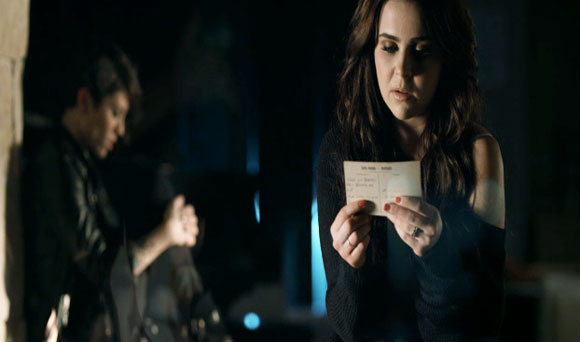 + k.d. lang is now officially amongst the stars at the Canadian Music Hall of Fame.
"To my family and my friends, collaborators, Warner Brothers, my managers, my bandmates and my fans over the years, this too is your moment. And I want to offer my most profound gratitude, thank you so, so, so much for your support over the years."

"I think the fact that I'm standing here receiving this award says more about Canada than it does about me, because only in Canada could there be such a freak as k.d. lang receiving this award. Only in Canada could there be people like Stompin' Tom Connors and Rita MacNeil. So I am here to tell you, my friends and my countrymen, that it is OK to be you. It is OK to let your freak flags fly. Embrace the quirkmeister that is inside all of us."

"And I'm not even just talking artists, every single person in this nation has the right to be themselves, live life go team go. I love you Canada, thank you so much."
+ Jemima Kirke is doing her part and spreading the word of gay marriage and the consummation of love via material possessions. May the odds be ever in her favor.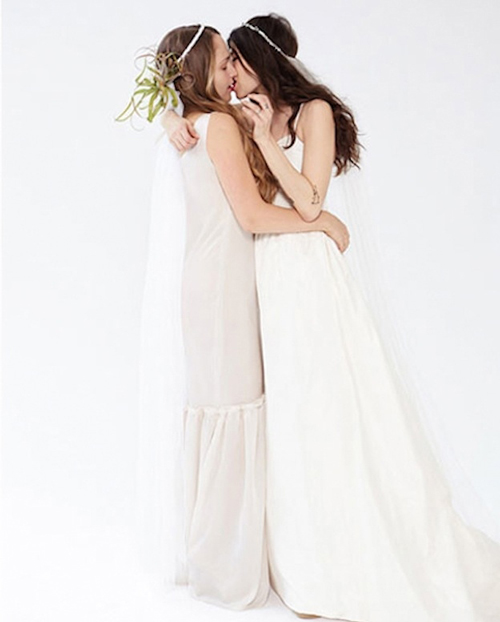 + Ladies and Gentlequeers…. DJ Jazzy Joyce.
Monica Taylor:  We've been friends for over 20 years…Wow! When did you know you were different from the other girls?

DJ Jazzy Joyce:  In 4th grade I always looked forward to my teacher leaning over me so I could smell her and look at her boobs and I used to love the show I Dream of Jeanie.  I didn't know I was different… I just knew girls excited me. It was natural.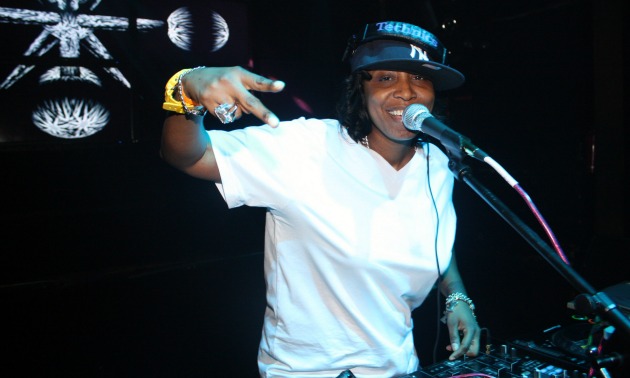 + Meet your new gay U.S. Air Force Under Secretary (and I don't think this is a bottom joke):
On April 18, Eric Fanning was confirmed by the Senate as the new under secretary of the United States Air Force, the second highest civilian position in the USAF. Fanning was nominated by President Obama in August of last year and is currently the deputy under secretary of the Navy.

"I have been immensely proud to serve these last four years with the men and women of the Navy and the Marine Corps. I very much look forward to becoming part of the Air Force family,wp_postsFanning said during his confirmation hearing. "It would be my honor to play a role in making sure that the best men and women our country has to offer get all the support they need in undertaking the mission of defending our country, a mission for which they freely volunteer."
+ Alan Gendreau wants to be the first gay NFL player. How great an episode of Made would that be?
+ This Cosmo piece is like Laura Jane Grace's own debutante ball.
"Can we talk?" I asked my wife, Heather [Hannoura], on February 6, 2012, three days before her birthday. Maybe this wasn't the best timing, but I couldn't wait any longer. The pressure that had built up inside me for 31 years was about to burst. We lay down on our bed, Evelyn, our 3-year-old, napping in the other room, and looking into my wife's beautiful brown eyes, I made my confession: "I'm a transsexual." I buried my head into her chest and explained that this was something I'd been struggling with all my life. I wasn't sure how Heather would take it. She said something like "That's all you were going to tell me?" She later told me she thought I was going to say I had cheated on her or wanted a divorce—which she said would have been worse for her. She told me at that moment—and kept telling me—that she wasn't going anywhere.
Requests for Yr Wisdom
I Don't Do Boxes, a magazine for and by queer youth is seeking submissions for our first issue. We're looking for stories, essays, photos, drawings, videos, comic strips, poems, etc., exploring LGBTQIA southern experiences. The first issue will be published in June and the guiding theme is School's Out, collecting stories about school, outside learning, and beyond.

We ask that you think back to experiences you had in or out of school: what it was like to deal with issues of gender and sexuality, experiences with teachers and students, issues of bullying, and strategies for organizing and intervention. If you don't have a story about school you'd like to share, don't worry — the issue is open to anything and everything, we're just interested in your story!
+ ThemLit:
THEM is a literary journal of trans* writers. As such only authors that identify within the trans* umbrella will be considered.

THEM accepts poetry, short fiction, experimental writing, and pretty much anything in any genre. Basically, if you're trans* and making things, submit. For each issue of THEM we also are looking for cover art. There are really no guidelines for this. Surprise us.
From Bomb Girls…
Women at work in WWII –now in Technicolor.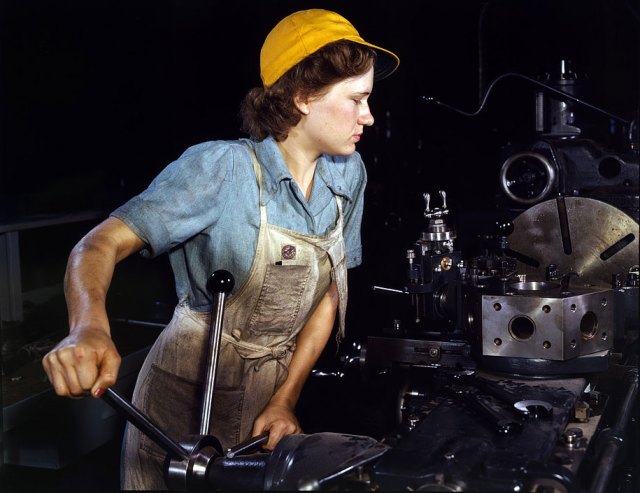 …To Boy Scouts
The Boy Scouts of America have an even better idea: let gay kids in and keep gay adults out! What an awesome public relations loophole making it difficult not to bang my head against the wall!
AT&T Chief Executive and Chairman Randall Stephenson, a Boy Scouts board member who had called for allowing gays scouts and a key corporate advocate on the issue, endorsed the new policy on youths but did not comment on banning gay adults.

"I fully support the BSA Executive Council's resolution to ensure all youth have the opportunity to participate in scouting and benefit from the life-long leadership skills scouting helps develop," he said in a statement.

Gay rights groups were quick to say the decision was not far-reaching enough.

"By refusing to consider an end to its ban on gay and lesbian parents, the Boy Scouts have missed an opportunity to exercise leadership and usher the organization back to relevancy," said Rich Ferraro, a spokesperson for GLAAD, which promotes lesbian, gay, bisexual and transgender rights.
Some Things About An Immigration Bill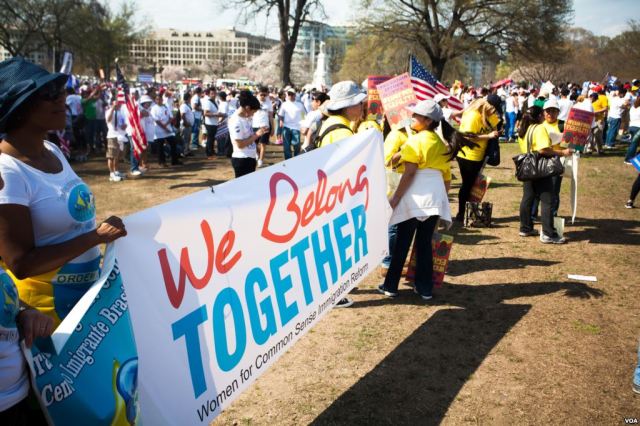 A lot of people lose big with the Senate's latest immigration reform bill – including women, LGBTQ folk, and immigrants from lower socioeconomic ranks. For queer immigrants and hopeful immigrants, the work is not yet done:
An estimated 40,000 foreign nationals are caught in limbo because federal law does not provide spousal benefits to same-sex couples under the Defense of Marriage Act (DOMA). Advocates had lobbied the bipartisan Senate group to include a new provision, modeled on the Uniting American Families Act, which would allow U.S. citizens to petition to bring their same-sex spouses to the country under the family visa program.

But on Sunday, Democratic Senate aides told gay-rights advocates on a conference call that the provision would not be in the legislative proposal to be released Tuesday from the eight-member group because of objections from the four Republicans, people familiar with the discussion said.
Good thing a binational lesbian couple might challenge DOMA! You know. For funsies.
Corgi Nation