Hey there Space Rangers!
You Should Go or Do or Give
+ Remember Dear Kates and how much we love them? Awesome. Well if you're in the NYC area, you should skedaddle on over to their Galentine's Day Party!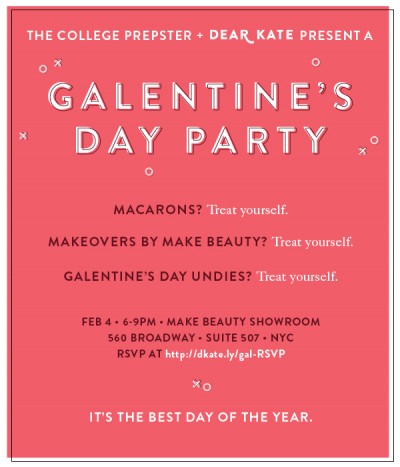 ---
Queer as in F*ck You
+ Remembering Sharley McLean, a Jewish Lesbian Survivor of Nazism.
+ Ellen Page's Gaycation series for Vice now has a trailer, and you can watch it right this minute!
https://youtu.be/fToW-5r07qg
+ Focus Features Launches Fellowship for Trans Filmmakers.
+ Ughhhh this list is so good I can't move: 14 Femmes of Color Whose Style We Adore, including your very own Aja Aguirre!
---
Doll Parts
+ Report From the Field: Racial Invisibility and Erasure in the Writing Workshop by Lisa Lee. Read it now.
After things calmed down a bit, T turned to me and said as an aside, his voice lowered, "Maybe it would help if you wrote from the point of view of someone who's not so close to yourself. Like try writing from the perspective of a man. Who's not your own race. And if you want to have race in there, then write from the perspective of a white man who dates a black woman and everyone has a problem with it. His parents don't approve.wp_postsIn his written comments to me, he wrote, "I don't know how to respond to this piece. I don't know if this is nonfiction or fiction.wp_postsLet me repeat: This was a fiction workshop. I was angry when I read that. The woman I describe in the opening of this essay also repeatedly confused my fictional narrator with myself, making it clear that she was reading my fictional novel as memoir. Critics, readers, and writers tend to believe that writers of color are only capable of writing autobiography, that the land of imagination and creativity is for white people.
+ I want to talk about this forever and ever until I'm sleeping soundly from the exhaustion of having talked about it for so long: Sticking Weed in Your Vagina Can Help Your Period Cramps by Mish Way.
Within 20 minutes, my cramps totally disappeared. Unlike recent "natural" products like "herbal detox pearls" (meant to "cleanse" your uterus), Foria consists of just three ingredients—cocoa butter, THC and CBD—all of which I have ingested for many years with no major problems. I was not surprised at how well the suppository worked. What I was surprised about was the longevity. Midol will wear off after about half a work day, and during most periods I'll pop six a day. But one Foria suppository did its job well into my evening.
+ Hey body-diverse Barbies are here and I've already shipped Doll 33 and Doll 26!
+ Alternatives to Resting Bitch Face by Susan Harlan, my apparent soul twin.
+ Read this interview with Reshma Saujani, CEO and founder of Girls Who Code!
+ The Teen Who Trekked 1,800 Miles Through the Canadian Wilderness Disguised as a Man by Alisa Ross. I mean, what won't a teen do to trek across Canada, right?
+ How African LGBT Activist Are Risking Their Lives to Bring Tolerance to Their Homes by Linda Villarosa.
+ These New Guidelines Make It Easier for Transgender Athletes to Compete in the Olympics. "But the final decision still rests in the hands of individual sports federations." Hmmmmmmmmmmmmmmmmmmmmmmmmmmmm,mmmmmmmmm,mmmm.
---
Saw This, Thought of You
+ Ok this is a webinar I actually want to watch?? Urban Forest Connections Series.
+ What Can You Do With 300,000 Dead Bees? by Kate Allen.
+ MUSHROOM DEATH SUIT. Mushroom death suittttttttt.
+ I… I don't know.
+ 99-Year-Old Woman Wakes to Find Exotic Animal Asleep on Her Chest. Fucking Florida, man.
---
And Finally
#TextsfromTitanosaur is cute and we love it.