Summer might not be the biggest time for publishing, but that doesn't mean summer 2023 isn't bringing us some truly stellar new queer, trans, and feminist books! Kai Cheng Thom's new book of essays — which I personally have been dying to read — is coming out in August, the first two books from Roxane Gay's brand new press are releasing, Elliot Page's much anticipated memoir is available in June, Jacqueline Carey is returning to her Kushiel's universe, and more! You also might want to use some of your summer reading time to catch up on all the great queer reads that came out in spring 2023.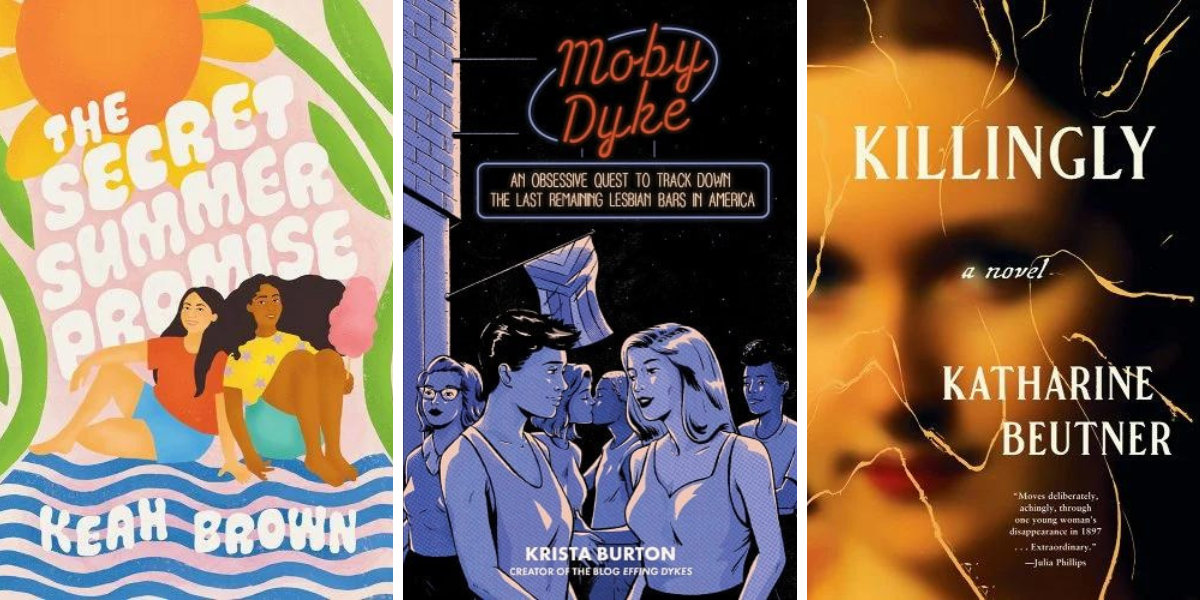 Keah Brown's contemporary YA is about the protagonist Andrea having her best summer ever, after having spent the previous summer recovering from surgery for her cerebral palsy. One of the items on her summer to-do list, though, is try to fall out of love with her best friend; will she be successful, and does she even want to be? Featuring Black bisexual disabled representation!
Moby Dyke by Krista Burton (June 6)
This "obsessive quest to track down the last remaining lesbian bars in Americawp_postsfeatures Burton's giant road trip to visit said remaining lesbian bars, where she interviews owners and customers. She's fueled by the stark reality that in 1987 there were 206 such bars, with only a couple dozen left today. What happened, and why?
Killingly by Katharine Beutner (June 6)
This historical queer crime fiction for fans of Sarah Waters is based on the real-life unsolved disappearance of a student at Mount Holyoke women's college in Massachusetts in 1897. When Bertha walks into the woods and vanishes, her best friend Agnes is strangely evasive when talking to Bertha's family and the private investigator they've hired.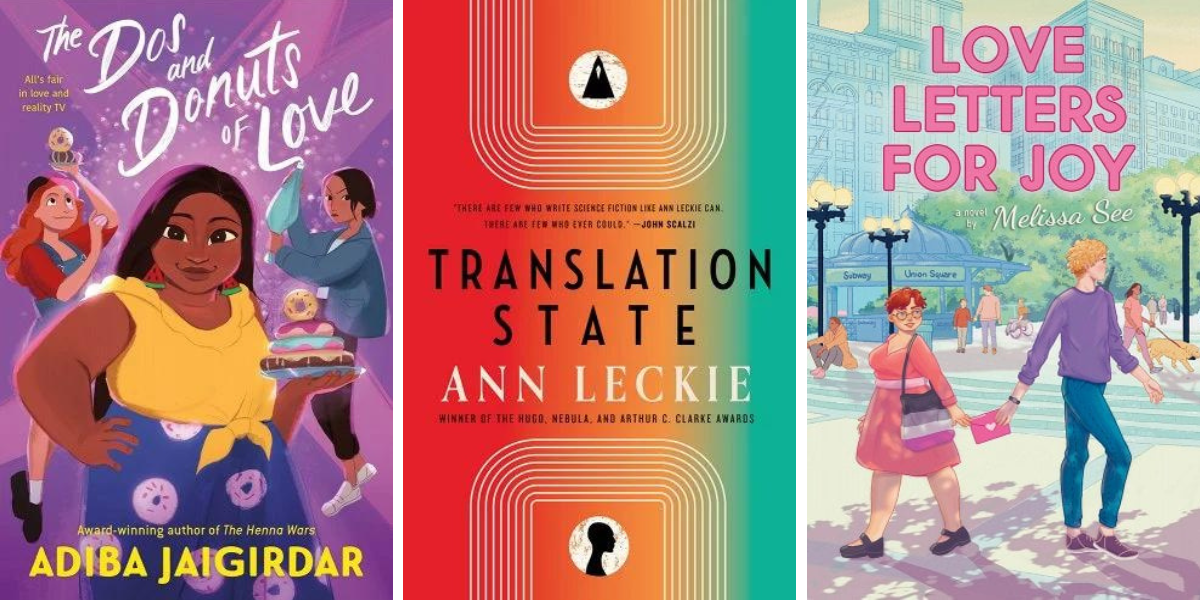 Who doesn't love a good food pun? The title of Jaigirdar's latest is just the beginning; our main character Shireen's family owns a donut shop called "You Drive Me Glazy.wp_postsThe book is set at a junior Irish baking competition, where Shireen's competitors include her ex-girlfriend as well as a potential new crush.
Calling all Imperial Radch fans! Leckie's latest feminist science fiction novel is set in the same universe as the Imperial Radch books, but it is readable as a standalone. It focuses on the rippling effects across galaxies from the case of one missing translator and investigates themes of belonging and identity.
17-year-old Joy — proudly ace and disabled — has her eyes set on being valedictorian at her school Caldwell Prep. Her only obstacle is Nathaniel, her longtime academic rival. But she finds herself getting distracted — and maybe falling in love — when she starts corresponding with the anonymous Caldwell Cupid, a student who writes an advice column about relationships.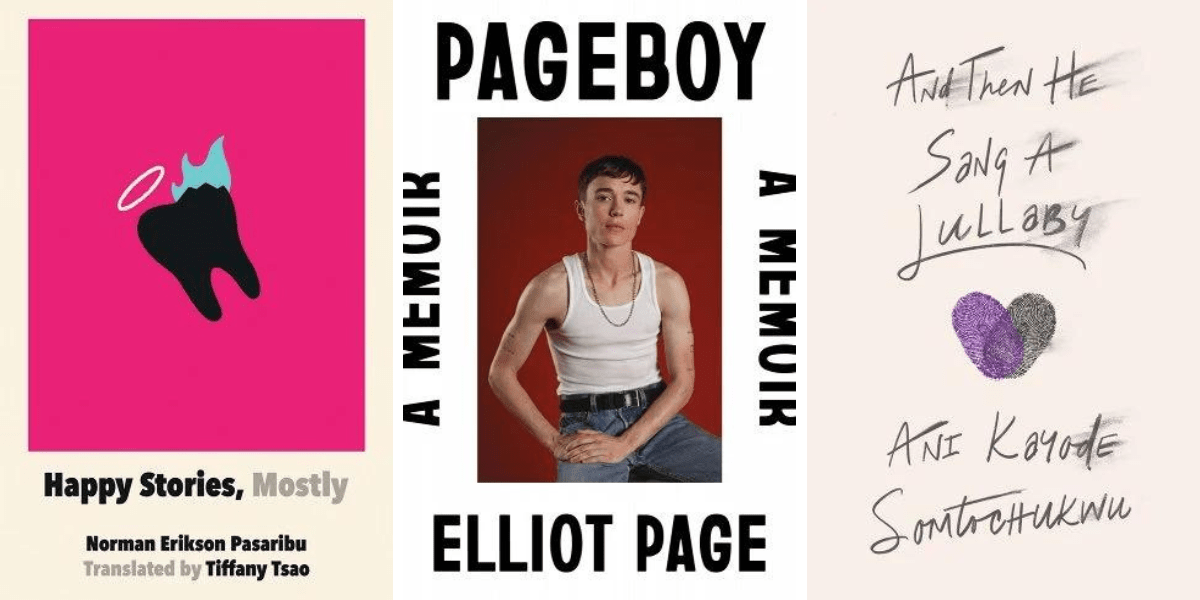 Happy Stories, Mostly by Norman Erikson Pasaribu, translated by Tiffany Tsao (June 6)
Translated into English from Indonesian, this speculative queer short story collection is full of "dark absurdism, drawing from Batak and Christian cultural elements.wp_postsAs per the title, the stories look at characters' experiences of almost reaching acceptance or happiness, but never quite fulfilling their full desires.
Pageboy by Elliot Page (June 6)
I am here today (eagerly anticipating this book) because I am gay! This much anticipated memoir from queer and trans icon Elliot Page is a coming-of-age story that follows his ascent as an actor (beginning with their role in Juno) and the wild ride thereafter that included having to perform a role that didn't fit all the time, not just when he was working. Themes include mental health, sex, love, trauma, and Hollywood.
And Then He Sang a Lullaby is the first book from Roxane Gay Books, and the debut of a 23-year-old queer Nigerian writer and activist. Set at a Nigerian university, the novel follows two young men — one a closeted track star, the other an out student — when they meet at a cybercafe and have an instant connection. When state-sanctioned homophobia rears its head, August and Segun have to find a way to keep their relationship alive.
Boys Weekend by Mattie Lubchansky (June 6)
This "final girlwp_poststrans horror graphic novel has been praised as "a witty, tender romp through the cosmic horror of being alivewp_postsby Carmen Maria Machado. Sammie is invited to their old friend's bachelor weekend at hedonistic "El Campowp_postsand asked to be his "best manwp_postseven though they don't identify as a man. Things go from bad — constant microaggressions unchecked by their supposed friend — to worse: a cult is slowly murdering and dismembering other guests at the hotel.
In this own voices thriller, a trans business owner named Nikki's comfortable and successful life is shattered when hateful violence erupts at her cafe in the wake of the Trump election. Struggling to keep her loved ones safe — including her daughter and business partner who is attacked by a neo-Nazi thug — Nikki begins to consider options that are decidedly morally grey.
This memoir is "part coming-of-age story, part psychological thriller, [and] part philosophical investigation.wp_postsIt follows Viren as she investigates the value and meaning of truth and scepticism in two periods of her life: as a young person influenced by a high school teacher who taught their students to question everything to the extent of Holocaust denial and as an adult when her wife is falsely accused of sexual misconduct.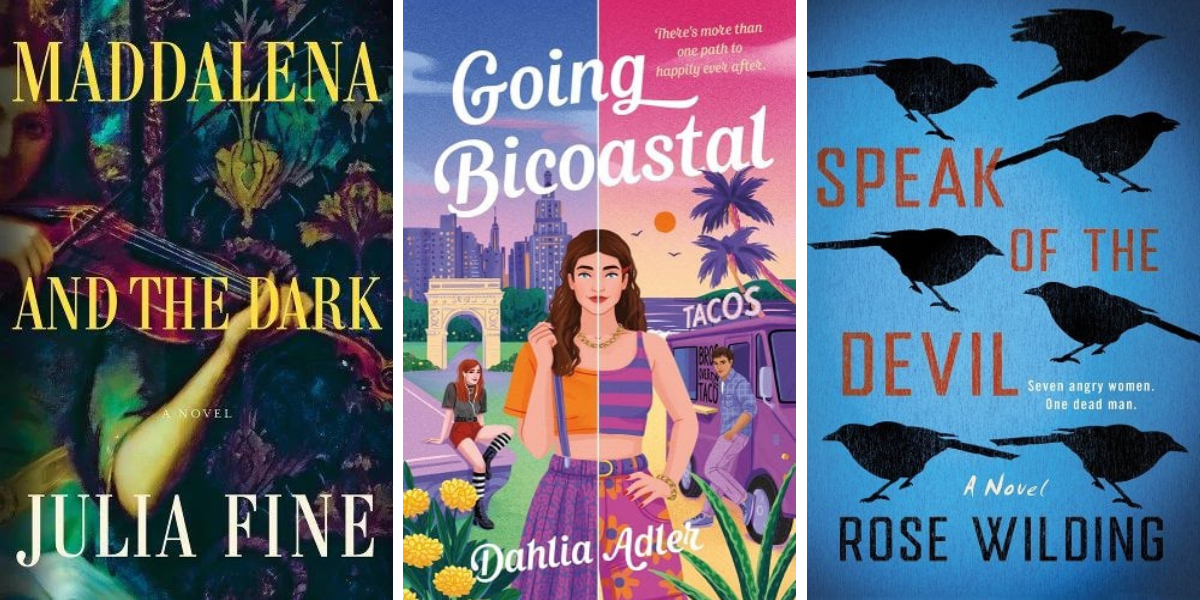 How's this for a premise: in early 18th century Venice at a prestigious music school, two girls are brought together by a dangerous wager (also, make it gay, obviously). Luisa and Maddelena's dark promise leads them outside their school's walls into the decadent world of musicians in Venice.
Bisexual Sliding Doors retelling! Powerhouse queer YA author Dahlia Adler's latest novel follows Natalya, as she struggles and fails to decide how to spend her summer: in NYC with her dad, finally telling her crush how she feels, or in L.A. trying to fix her relationship with her estranged mom and falling for an as yet unknown new crush.
Okay, here's the hook: seven women gather in a hotel room around a dude's severed head. They all had good reason to kill him — he was a terrible person — but only one of them actually did it and no one is confessing. Come to this thriller/mystery to find out whodunnit and see horrible men get their due, stay for the queer representation!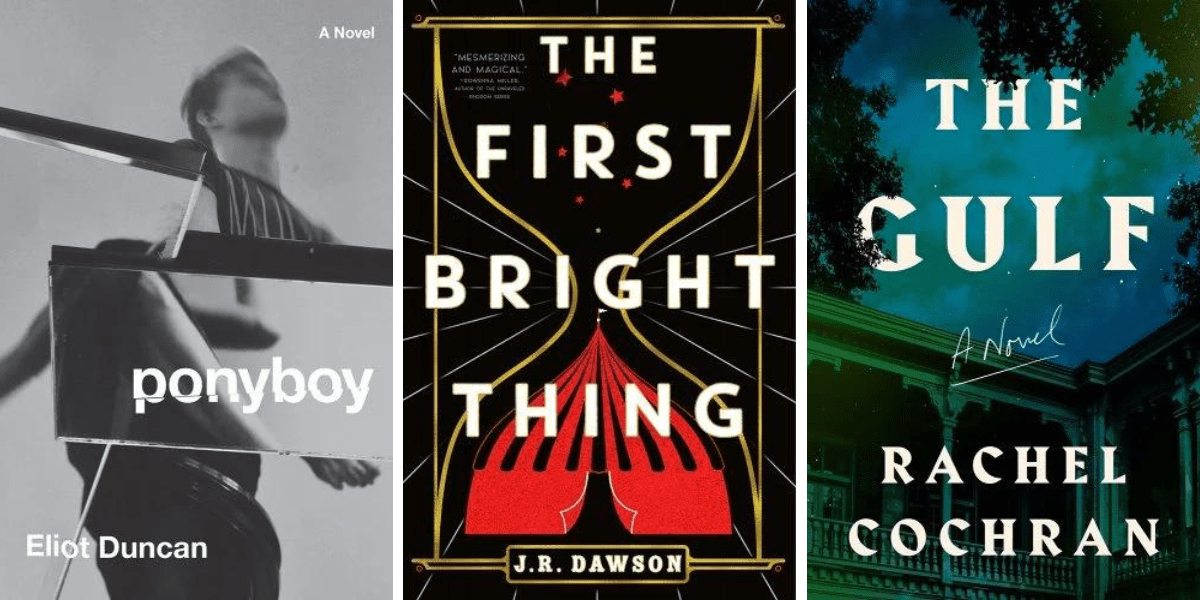 Ponyboy by Eliot Duncan (June 13)
In this three act novel, the trans masc protagonist finds himself in a love triangle in Paris; that's act one. In act two, he moves to Berlin, where he escapes his messy love life only to fall for someone new and sink deeper into drug use. Act three? Home, to Nebraska, for rehab and a possible rebuilding of his relationship with his mother.
Queer historical circus fantasy! Time traveller Rin and her trapeze swinging wife Odette are the leaders of a post-WWI circus that gives refuge to magical misfits and outcasts who call themselves the Sparks. But both a rival ringmaster from an evil circus and the spectre of another great war on the horizon haunt the Circus of the Fantasticals.
The Gulf by Rachel Cochran (June 13)
This historical literary thriller is set in a 1970s small town in Texas. Lou, a closeted woman in her late 20s, returns to her hometown to help her elderly neighbor and surrogate mother, Miss Kate, renovate her old mansion. But when Miss Kate is murdered, Lou finds herself looking for a killer and facing off with Kate's estranged daughter, who was Lou's first love.
Run Baby Run by Melissa Lenhardt (June 13)
A road trip between an estranged mother and daughter goes awry in this contemporary novel about not being afraid to make hard left turns if necessary. When Darcy sets off for her wedding she is prepared to try to reconcile with her mom, as hard as that might be; she wasn't prepared to be dealing with her best friend's love confession a week before Darcy was due to marry her brother.
Muster Points by Lucas Crawford (June 15)
Lucas Crawford's latest collection of poems was written while quarantined at an arts centre in the early days of the Covid pandemic, in the middle of a breakup, and "coughing like a good fat asthmatic at high altitude." Topics include queer sex, health, pleasure, nostalgia, depression, trans masculinities, and more.
This novel of "gardens and ghosts" that explores the intersections of Indigenous and Black history in the US is being reissued with a new introduction, new and revised chapters, and an original essay by the author. The novel follows three women as they uncover the unexpected history of a Georgia plantation they are all connected to. It's part ghost story, part queer romance, and part investigation of colonialism and colorism.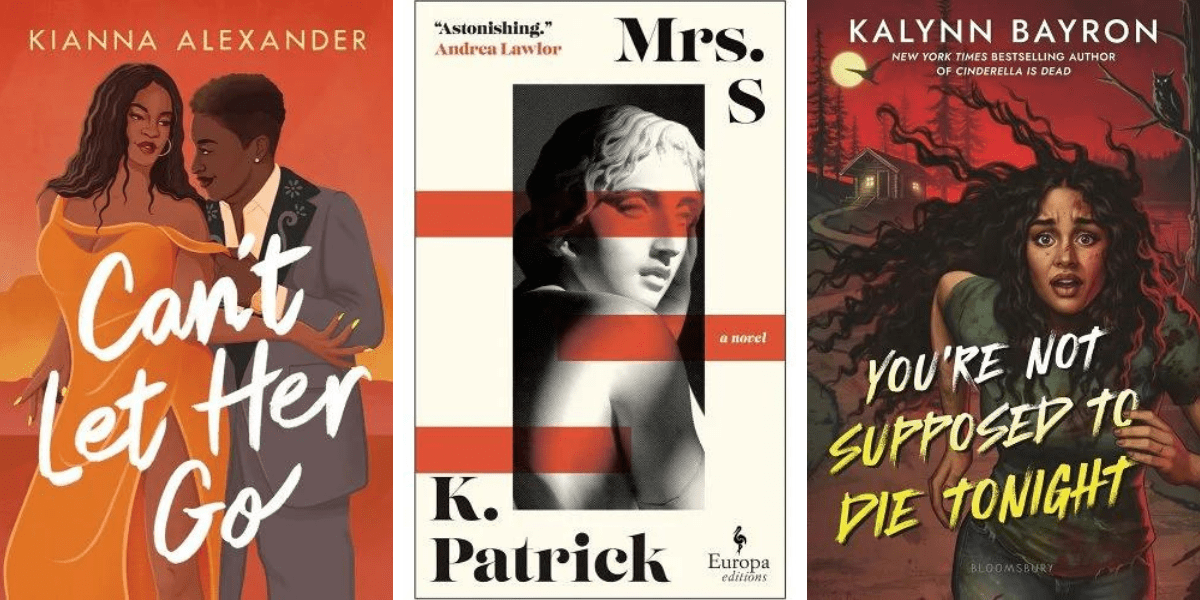 Can't Let Her Go is a steamy queer Black romance set in Austin, Texas. This friends to lovers story features Jamie and Peaches, two core members of their friend group who are so right for each other it's a wonder they haven't already gotten together. But with things amping up in their personal and professional lives, is this the right time for a relationship?
Mrs S by K. Patrick (June 20)
Set at an elite English boarding school at an unspecified time in the past, this juicy debut novel follows a 22-year-old butch lesbian from Australia who arrives to take on the role of matron. She is met with only hostility until she begins an affair with the headmaster's wife.
Queer Black horror YA! At Camp Mirror Lake, Charity works as a "final girl" in an interactive performance game where guests pay to take part in reenacted scenes from classic horror movies. But as the summer comes to a close, Charity's coworkers start showing up dead for real, and it's up to her and her girlfriend to catch the killer.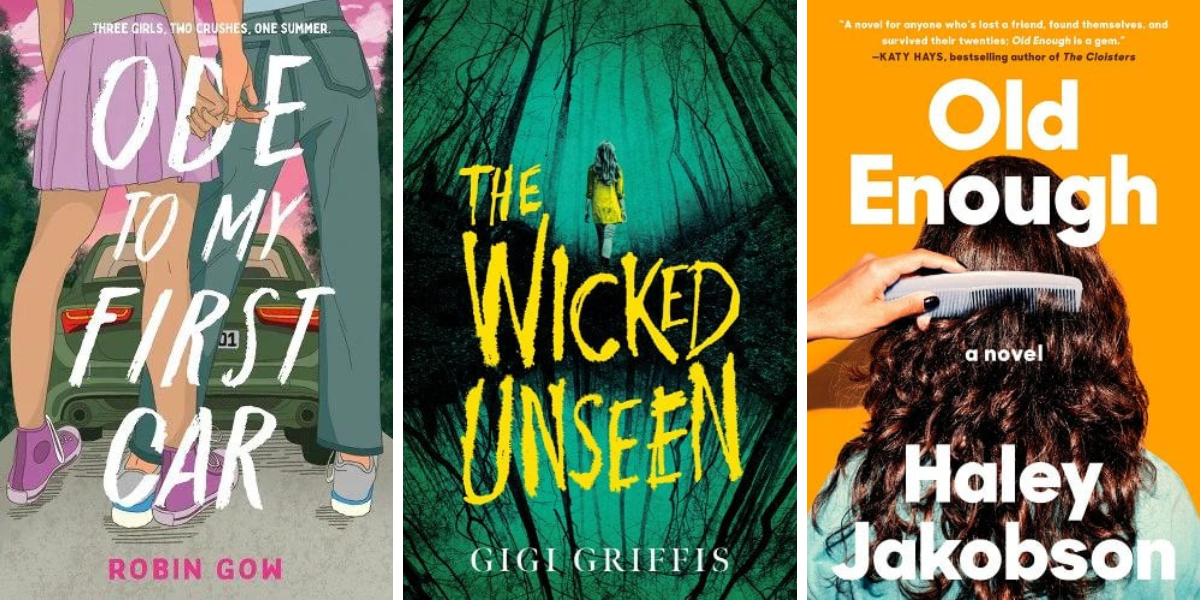 Do you remember being a bisexual teen falling in and out of love over the course of one summer while also trying to pay off the bills for your beloved car named Lars that you totalled? Don't we all! Luckily, Robin Gow has distilled this quintessential sapphic experience for us in a contemporary YA novel in verse.
This queer horror / mystery YA is for all the fans of Fear Street! Audre is a 16-year-old city kid who just moved to the country, and not only is she having a hard time fitting in in a rural place, she's also starting to suspect there's a Satanic cult practising in the woods. When her new crush goes missing, Audre has to take action.
Old Enough by Haley Jakobson (June 20)
This debut novel is about a bisexual college student named Savannah who is just starting to find her queer community and recovering from her first gay "situationship.wp_postsBut her pre-college life comes back to haunt her when her childhood best friend, Izzie, tells Sav that she's engaged. Sav and Izzie's relationship hasn't been the same since Izzie's older brother sexually assaulted her, and now Sav is realizing she has to deal with the trauma she thought she could forget.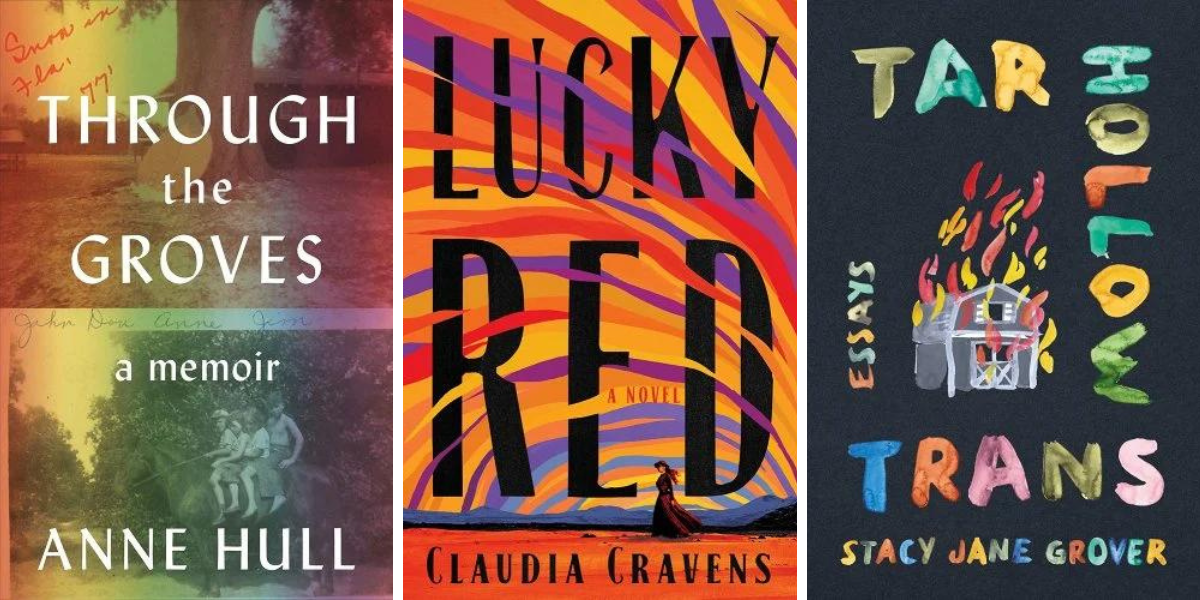 Picture this: rural central Florida orange groves in the 1960s, a queer kid is coming of age and realizing the place she loved will never love her back in the same way. Anne Hull's memoir recounts her childhood, the suffocating pressure of heteronormativity and normative gender expectations, the casual racism, and her eventual escape.
Lucky Red by Claudia Cravens (June 20)
As Yash put it in one of her latest Reading Rainbow columns: "dyke western"!! Set in the American West in 1877, this debut novel is about "a scrappy orphan who finds friendship, romance, and her true-calling as a revenge-seeking gunslinger.wp_postsAfter finding work at a whorehouse named Buffalo Queen — the only one run by women in Dodge City — Bridget discovers her sexuality, falls in love with a legendary woman gunslinger, and ends up fighting against a plot that threatens the safety and peace of Buffalo Queen.
This collection of essays investigates the challenges of identity and belonging when your experiences and sense of self don't fit into the prescribed categories. Writing from within but also critical of the labels of "transwp_postsand "Appalachianwp_postsas they are commonly understood, Grove looks at themes of memory, family history, tradition, farm life, and metaphor. The essays combine theory, history, and personal narrative.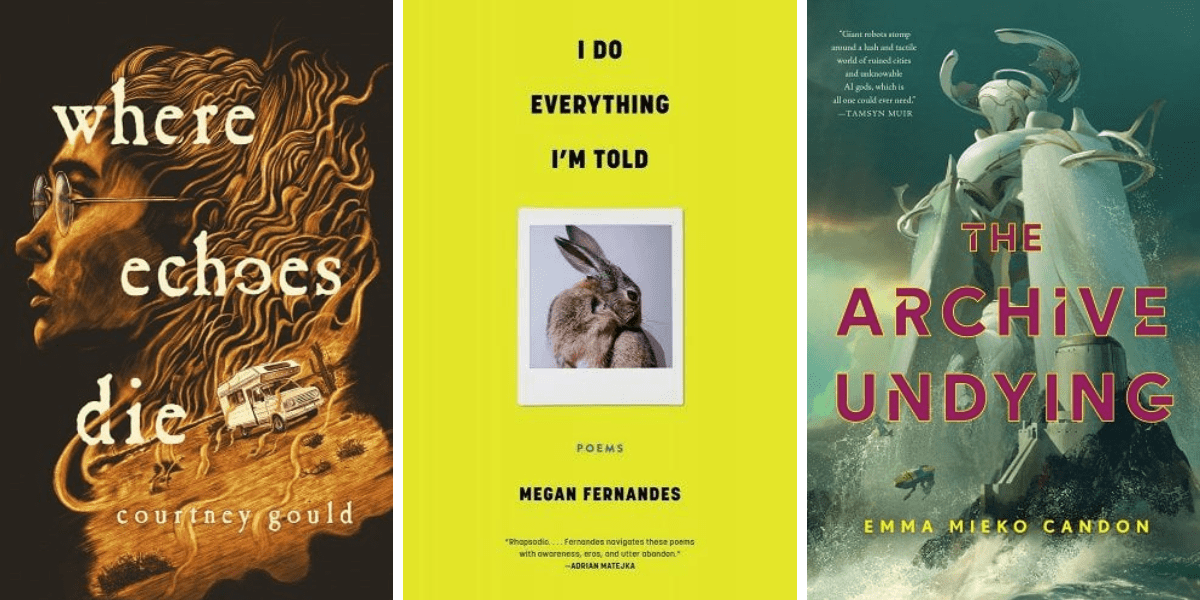 From the author of The Dead and the Dark comes another creepy sapphic YA about a teenager named Beck who receives a letter in the mail in her mother's handwriting; her mother is dead. When she and her sister go on a road trip to investigate their mother's death, they arrive at a strange, dead town in Arizona where Beck connects with the leader's daughter Avery.
Fernandes's queer poetry collection features a speaker who tells us through sonnets about solo travel through the worlds' cities: Shanghai, Lisbon, Paris, Brooklyn, L.A., Philadelphia, Palermo. Despite their grounding in real places, the poems are also surreal, strange, and illegible. But, as our speaker explains, "It's better to be illegible, sometimes. Then they can't govern you."
This experimental mecha science fiction epic features AIs who are gods, a bit of body horror, a post-apocalyptic setting, a dash of mycelium dust, and gorgeous turns of phrase from a gifted writer. Rebecca Roanhorse describes Candon's writing as "Tamsyn Muir meets Max Gladstone.wp_postsThe Archive Undying is the first book in a series about a former relic who can talk to AI deities navigating a ruined world.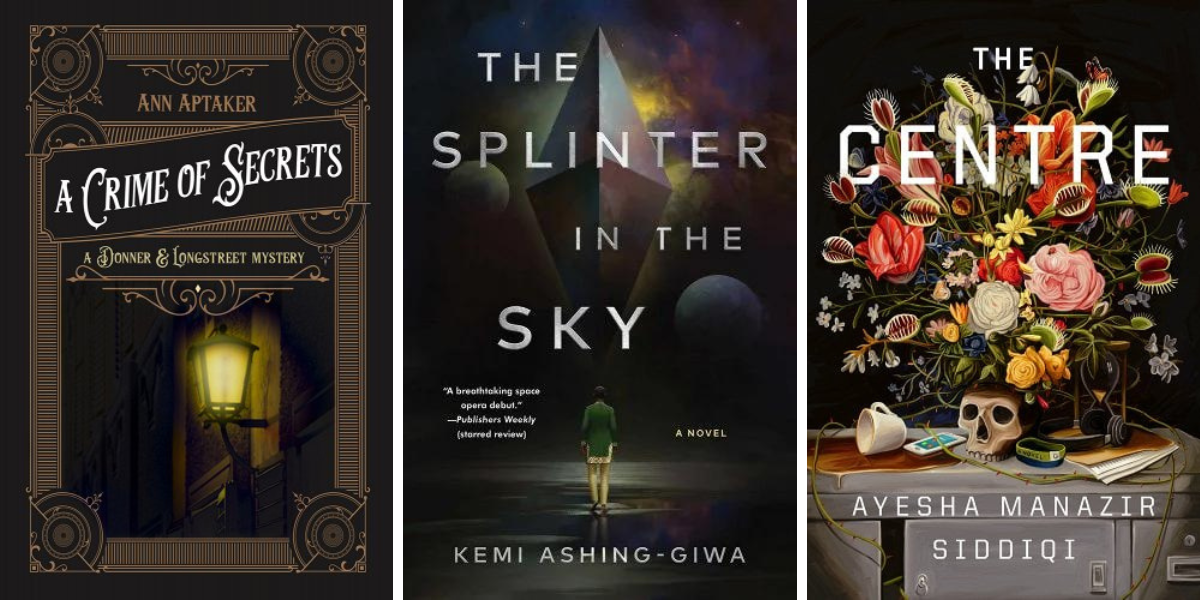 An historical mystery set in NYC in 1899, Lambda-Award-winning author Aptaker's latest book introduces readers to a duo of private investigators, Fin and Devorah. These women are an opposites-attract couple who combine the skills honed form their respective backgrounds — growing up in the dockside slums and coming of age as a socialite — to solve the murder of a young woman and unearth the corruption of the police department supposedly investigating the crime.
Heads up, fans of N.K. Jemisin and Nnedi Okorafor! This new queer space opera is at once a critique of colonialism and a thrilling spy story. The protagonist is Enitan, a young tea expert who, after being captured as a political prisoner, begins to work as a spy on the imperialist forces who kidnapped her. She is determined to avenge her sibling's abduction and her lover's assassination by the same colonial army.
The Centre by Ayesha Manazir Siddiqi (July 11)
A darkly funny queer debut of speculative fiction, The Centre is about a translator who has recently moved from Pakistan to the U.K. Anisa once dreamt of translating great works of literature, but is stuck subtitling Bollywood films until she meets another translator with enviable linguistic skills. He introduces her to "the centre,wp_postsa strange immersive program that guarantees language fluency in ten days — with a hidden, disturbing cost.
Sisterhood, drugs, sexuality, and sobriety all feature in this fever dream of a novel with "prose pulsing like a neon sign.wp_postsOur unnamed narrator has always had a toxic relationship with her sister Debbie, full of unhinged nights taking mysterious pills at new age bars. But when Debbie goes missing, the protagonist falls even deeper into the dangerous world her sister introduced her to, starting to sell pills and connecting with a Jewish refugee from Russia who claims to be a psychic.
In 1814, a noblewoman of "good breedingwp_postsand a woman rumoured to be a witch are forced to work together to ward off a curse. Sapphic historical love with magic! Of course, the lady in waiting who has always done what society has told her to do and the lady nicknamed "dukewp_postswho may be a murderer fall in love.
In this queer fantasy with bi, non-binary, and ace representation, two women from enemy countries with opposite views on dragons are brought together. When they are forced into exile into the hostile arid regions that separates their two nations, they have to put aside their differences to fight the monstrosities that lurk in the desert.
Marigold by Melissa Brayden (July 11)
This enemies-to-lovers lesbian romance features a big city food critic — Alexis — and the sister of a small town restaurant owner — Marigold — who butt heads over a negative review. After Alexis leaves a scathing review of Marigold's sister's new restaurant, Marigold goes after her reputation, leaving both women in a bad place.
Kannan's coming of age YA novel features a queer Indian American teenager named Maya who is invited to join a secret society of activists, artists, and mischief-makers. The group's leader is a wealthy white girl, with whom Maya strikes up a friendship that turns romantic. But Maya soon realizes the girl isn't who she says she is.
The Deep Sky by Yume Kitasei (July 18)
The Deep Sky is a science fiction thriller about a group of people who leave Earth in order to save humanity but find out they have to save themselves first when their spaceship is bombed, killing members of the crew and lurching them off course. All of the crew are cis women and trans/nonbinary people assigned female at birth, as part of their mission is to populate a new planet. Also, a bunch of them are in queer relationships and/or pregnant! The main character is Asuka, who is struggling with imposter syndrome as a mixed-race white and Japanese woman.
Foodie lesbian romance alert! This is a love story between childhood acting rivals set on a celebrity cooking competition TV show. As the two former child stars get to know each other anew, they discover that they might be better as lovers than enemies.
This YA fantasy features a slow-burn lesbian romance in addition to its tale of power, politics, royalty, sisterhood, and betrayal. The story's anti-heroine Elodie has poisoned her younger sister in order to secure the crown, but the apothecary — helmed by Sabine, her eventual love interest — has sold her the wrong potion, and it's more deadly than either of them intended.
Framing a Life by Roberta S. Kuriloff (July 18)
This memoir about grief and spirituality begins with the author in her late 30s surveying the property in Maine where she was in the midst of building her dream house with her partner before she unexpectedly passed away. The loss forces Kuriloff to look back at the trauma in her childhood, including her mother and aunt's early deaths, as well as her consequential placement in an orphanage.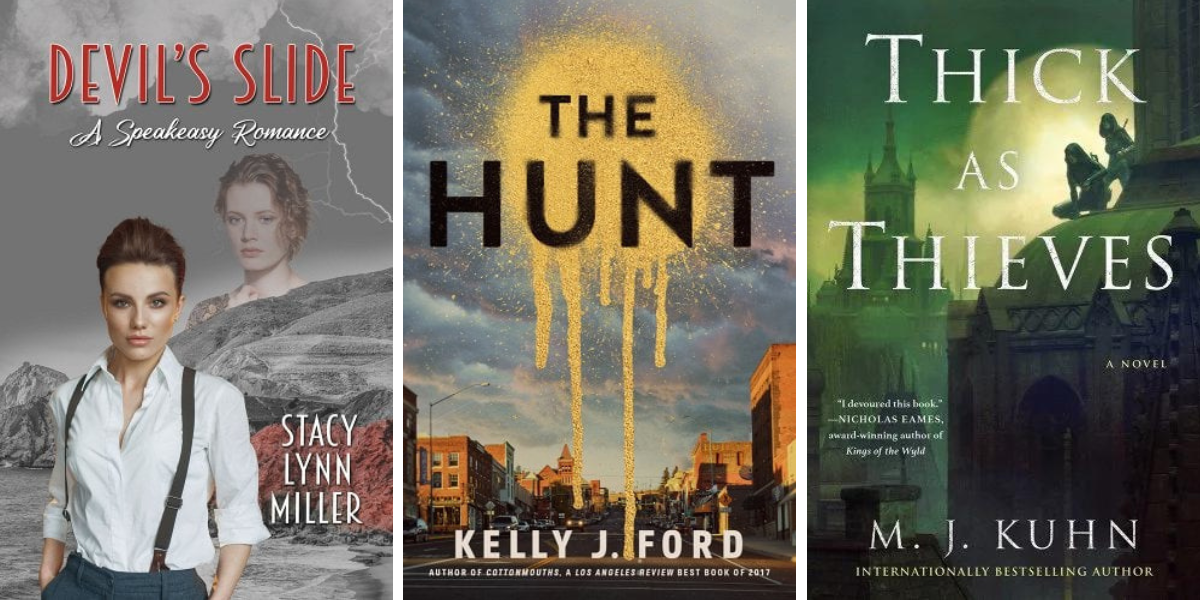 Devil's Slide by Stacy Lynn Miller (July 18)
Devil's Slide is a "speakeasy romancewp_postsset in 1920s Prohibition era California. Two high school best friends who fell in love and were taken away from each other by their families meet nine years after their separation. But can they pick up where they left off given all that's happened in the meantime?
The Hunt by Kelly J. Ford (July 25)
Scary Easter egg hunt with queer rep!! An annual tradition called the "Hunt for a Golden Eggwp_postsin an Arkansas town has been the site of 17 years of murders. Some townspeople believe the killings are by a serial killer using the game as a hunting ground. Others think the deaths are merely unfortunate accidents, especially those who are obsessed with winning the grand prize of fifty thousand dollars, like the protagonist Nell's best friend.
Book number two in the "Thieveswp_postsduology, this conclusion to a dark magical heist story has a "total gut punch of an endingwp_postsaccording to C.L. Clark. Thick as Thieves picks up after the group of thieves has succeeded in their heist, but to dire consequences: a terrifying magical weapon has ended up in the hands of an already terrible villain. Can their intrepid leader Ryia get the gang back together for the job to end all jobs?
This YA coming of age story is about an Iranian American teen girl in 1996 who is hiding some secrets: she likes girls, she loves Tupac, and she smokes weed sometimes. To honor her best friend who passed a year earlier, she enters a rap contest, even though she's terrified of public speaking. In the process, she learns a lot about herself and, maybe, how to live in the "one and only now."
A lush sapphic fantasy steeped in Venezuelan and Colombian history and folklore, The Sun and the Void is an epic story about two women, Eva and Reina. Eva has been hiding the magic that calls to her; it's a sign of the dark gods and illegal. Reina has just been saved by her estranged grandmother's dark magic that brought her back from the brink of death. Also featuring magic swordfights!
Subtitled "An Artist on the Verge of Motherhood,wp_poststhis memoir for fans of Maggie Nelson is about how Novack, as a mother-to-be, becomes obsessed with a reclusive painter to the point of upturning her whole life. Novack connects with the painter Agnes Martin not only for her dedication to her art, but for her experiences with mental illness. She recounts her impulsive journey to the desert while five months pregnant to fully immerse herself in Martin's work.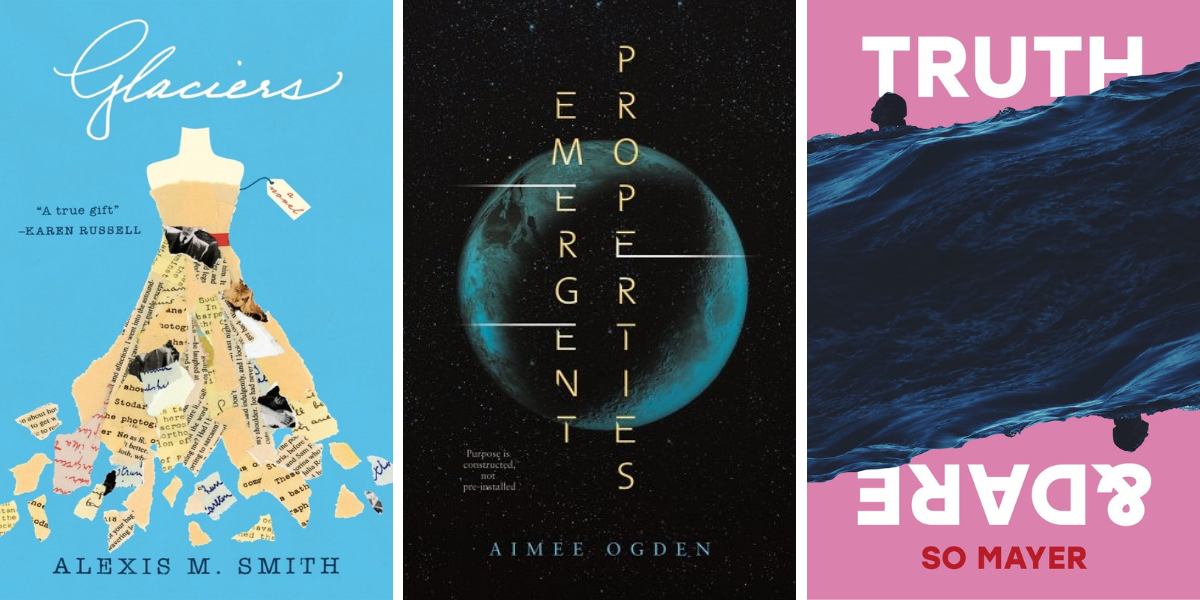 Glaciers by Alexis M. Smith (July 25)
Originally published in 2012, Glaciers is Alexis M. Smith's reissued first book, whose second novel, Marrow Island won a Lambda Literary Award. Glaciers is a quiet story that follows one day in the life of Isabel, a single twenty-something library worker living in Portland, OR. She dreams about a perfect vintage dress, despairs over the loss of glaciers she knew in her childhood in Alaska, and sits with her unrequited love for the worker who fixes her computer.
This science fiction novella is for fans of Murderbot! It features a similarly snarky robot-esque protagonist who has no desire to be more human. Ze, in fact, wants to distance zirself from zir corporate mothers and is working as an investigative reporter on the moon when ze suddenly awakes after being offline for ten days, with no memory of what might have happened while ze was unconscious.
This one is for readers in the U.K., as it's being published there by an awesome queer and trans publisher Cipher Press. Truth & Dare is a "deeply personal and fantastical ride through gender, trauma, queerness, science, history, and religion.wp_postsIt's a collection of speculative short fiction that includes stories about Cornish mermaids protesting climate change at a soccer game, trans students in Manchester accidentally warping the fabric of space time in their search for the perfect dick, and more.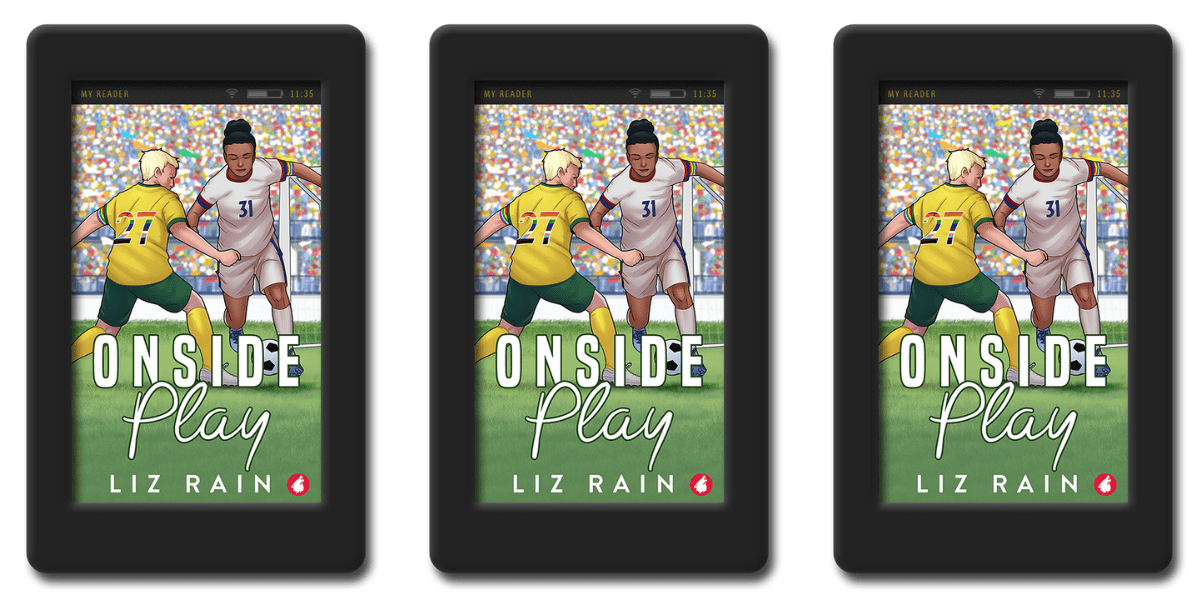 Soccer gays!! In this lesbian romance, two rival players from the U.S. and Australia who are ex-girlfriends from college meet again at the World Cup. Will they rekindle their romance and will their relationship survive the tournament, depending on which team wins?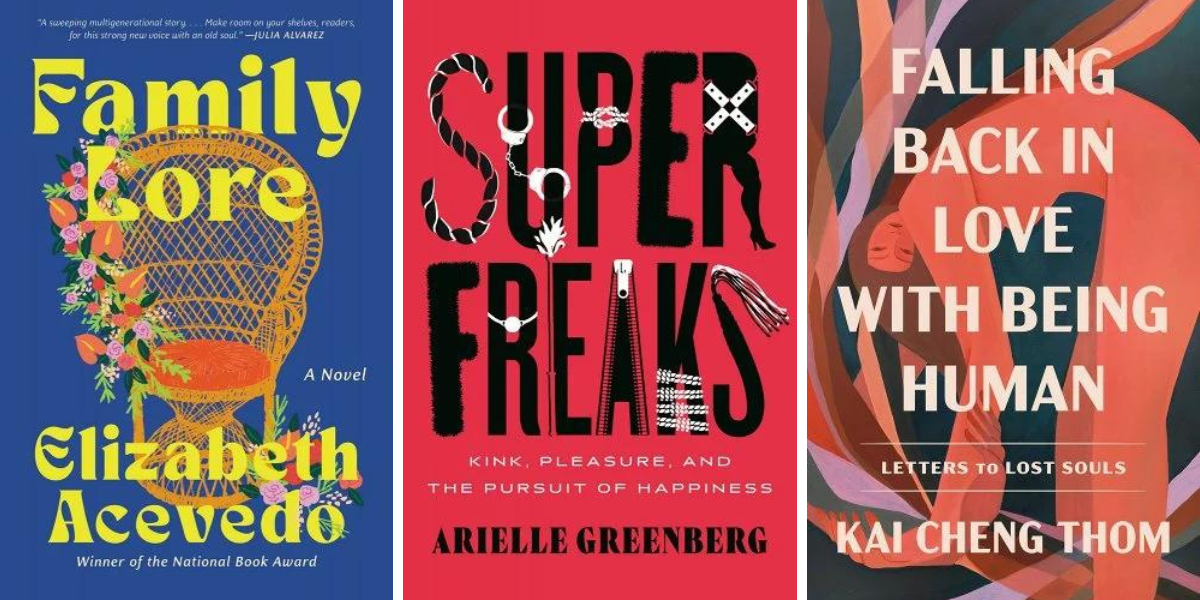 Family Lore by Elizabeth Acevedo (August 1)
From the author of the acclaimed YA novels in verse Clap When You Land and With the Fire on High comes her first novel for adults, Family Lore. The novel follows a Dominican American family as they prepare for a "living wakewp_postsgathering for Flor, who has the gift of predicting to the very day when someone will pass away. Her sisters and the next generations of women, two cousins, are all undergoing journeys of their own while they all wonder whether Flor, or one of them, is about to die.
Superfreaks by Arielle Greenberg (August 1)
Subtitled "On Kink, Perversions, and Pleasure,wp_postsGreenberg's work of nonfiction is neither erotica nor a how-to guide, but something more like an "informative celebration.wp_postsShe covers the history of kink, investigates the science of fetishes, discusses the psychology behind power exchange, provides quizzes and glossaries, and more. The book is written with people of all gender and sexual orientations in mind.
New Kai Cheng Thom, one of my favourite writers and thinkers!! In these "Letters to Lost Souls,wp_postsThom asks "What happens when we imagine loving the people — and the parts of ourselves — that we do not believe are worthy of love?wp_postsOverwhelmed by injustice, hate, and despair, she took to writing prayers, spells, and poems to channel her grief and rage. The result is this book, a roadmap for "falling back in love with being human."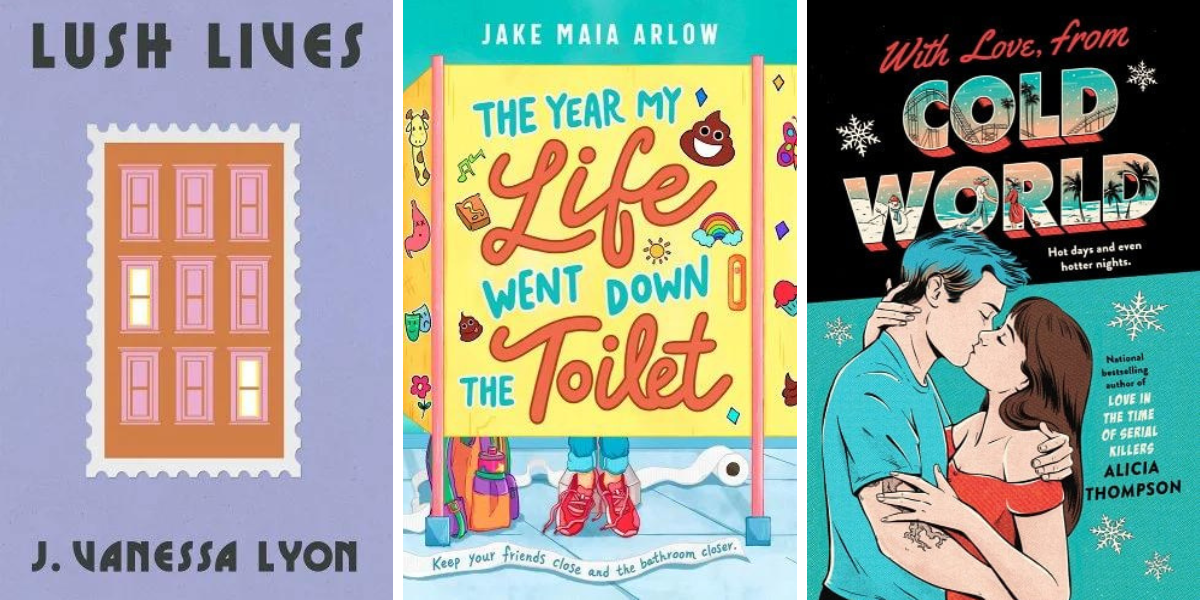 Lush Lives by J. Vanessa Lyon (August 1)
Lush Lives is the second title from Roxane Gay books, and it's a sexy love story set in NYC's high stakes elite worlds of art and auctioning. Glory is a struggling artist who inherited her aunt's Brownstone in Harlem, but she doesn't have the time or money to take care of it. Then she meets Parkie, an ambitious auction house appraiser trying to snag a big promotion. As the two women work together on the house, not only do they fall in love, but they discover a rare manuscript hidden in the old Brownstone that reveals secrets about the past.
This queer middle grade novel is about a 12-year-old named Al who finds out she has Crohn's Disease right around the same time that she figures out that she likes girls. Her diagnosis seems to create more problems than it solves, and she can't stand the fact that all the adults in her life want to talk about it endlessly.
It is rare to find thoughtful representations of bi+ men in fiction, but that's what this novel set in an unusual Florida theme park does. It's an enemies-to-lovers workplace rom com about a nerdy, shy bookkeeper raised in foster care and her outgoing, blue-haired, tattooed queer co-worker who was kicked out of his house when he came out at 18. They work at "Cold World,wp_postsa tourist attraction park where it's always a winter wonderland. Guess who's going to be heating it up in there though!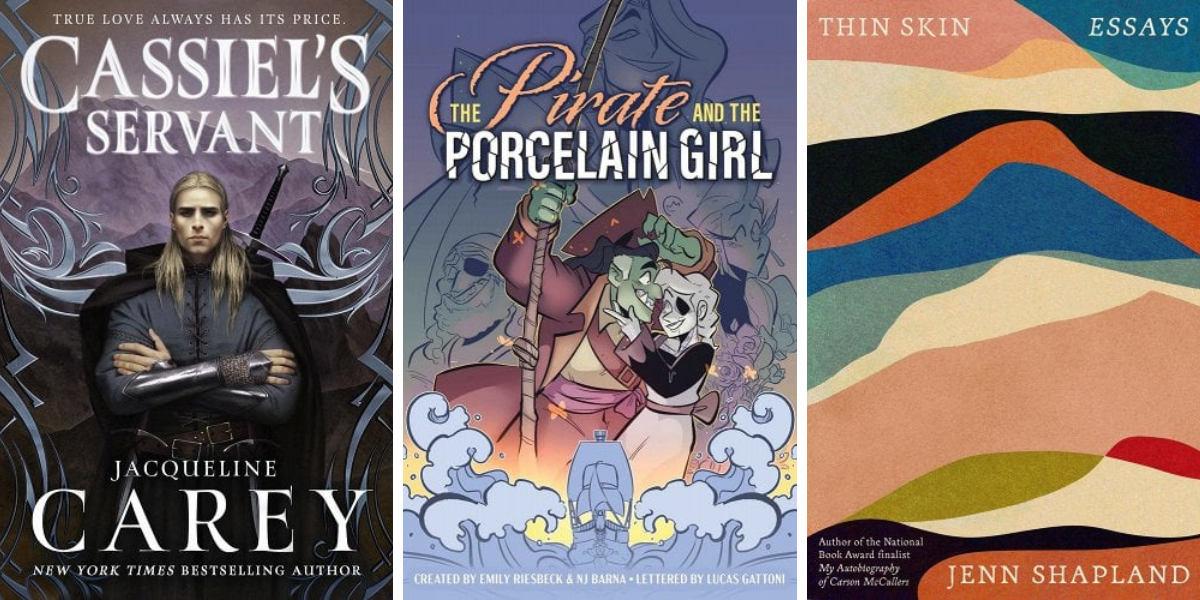 Jacqueline Carey is back to her Kushiel's Legacy / Phedre's Trilogy universe, which made many a young fantasy reader queer back when the first instalment came out in 2001. This novel is a retelling of Kushiel's Dart from the perspective of Joscelin, a warrior-priest as dedicated to the sword and celibacy as his counterpart and original protagonist Phedre, is dedicated to pleasure and pain.
Our Flag Means Death, but make it a sapphic YA graphic novel? Yes please. Ferra was turned to porcelain after her prayers to the gods left her "beautiful, … interesting, [and] … enough,wp_postsbut not in the way she imagined. She hires a disgraced Orc captain named Brig to sail her to her ex-girlfriend's home to win her back, but on the way, she realizes a certain pirate might actually be the one she wants.
Thin Skin by Jenn Shapland (August 15)
From the author of My Autobiography of Carson McCullers comes a collection of essays about vulnerability and capitalism. Combining research, her own experiences, and interviews she tackles topics such as the toxic myth of white womanhood, creative life as a queer woman, nuclear weapons development on Indigenous land, and more.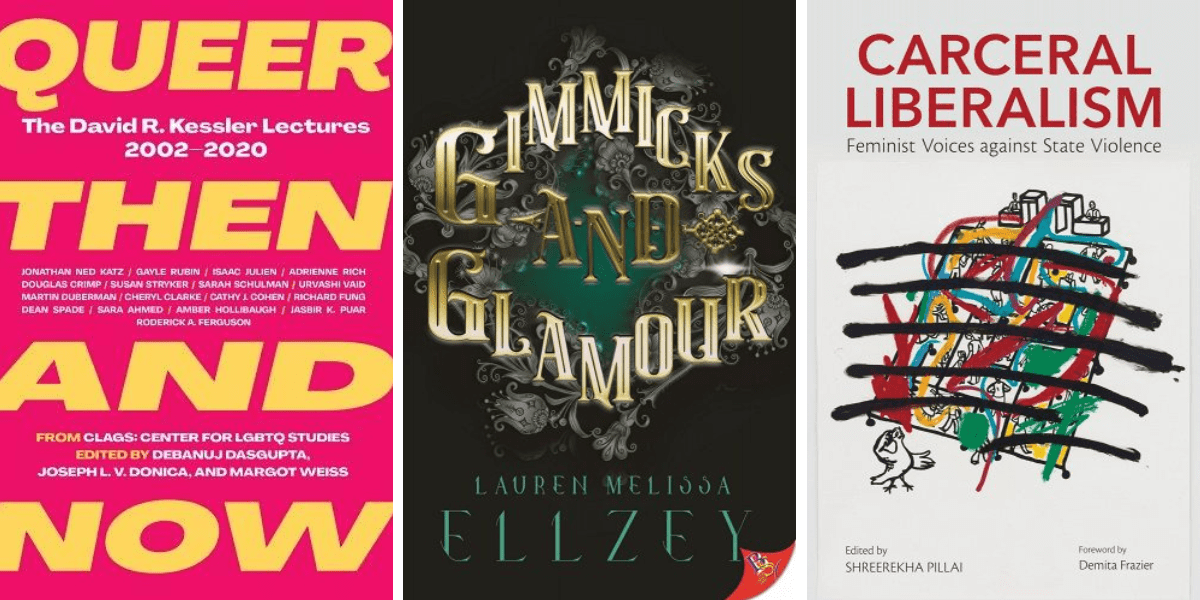 This anthology collects speeches from 2002-2020 by academics, activists, and artists who participated in this lecture series on queer studies. The book features thinkers such as Cherríe Moraga, Samuel Delaney, Barbara Smith, and Judith Butler. Themes include "the growth of trans studies, the synergy and disconnect between theory and activism, the role of LGBTQ+ art and media, the challenge of transnational and postcolonial theory,wp_postsand more.
This fantasy YA features a biracial and bisexual protagonist named Ashly who's always felt like an outsider. So the fact that there are faeries constantly swarming around her that only she can see makes things worse. But when the faeries start wreaking more than minor havoc, it's up to Ashly to put a stop to it and save the fellow students she claims to hate.
Carceral Liberalism edited by Shreerekha Pillai (August 15)
In this collection of "feminist voices against state violence," contributors continue the work of the Combahee River Collective "and the many people inspired by its vision of feminist solidarity and radical liberation." Essays focus on the concept of "carceral liberalism" as a combination of neoliberalism, patriarchy, and carcerality that falsely claims to be a form of freedom.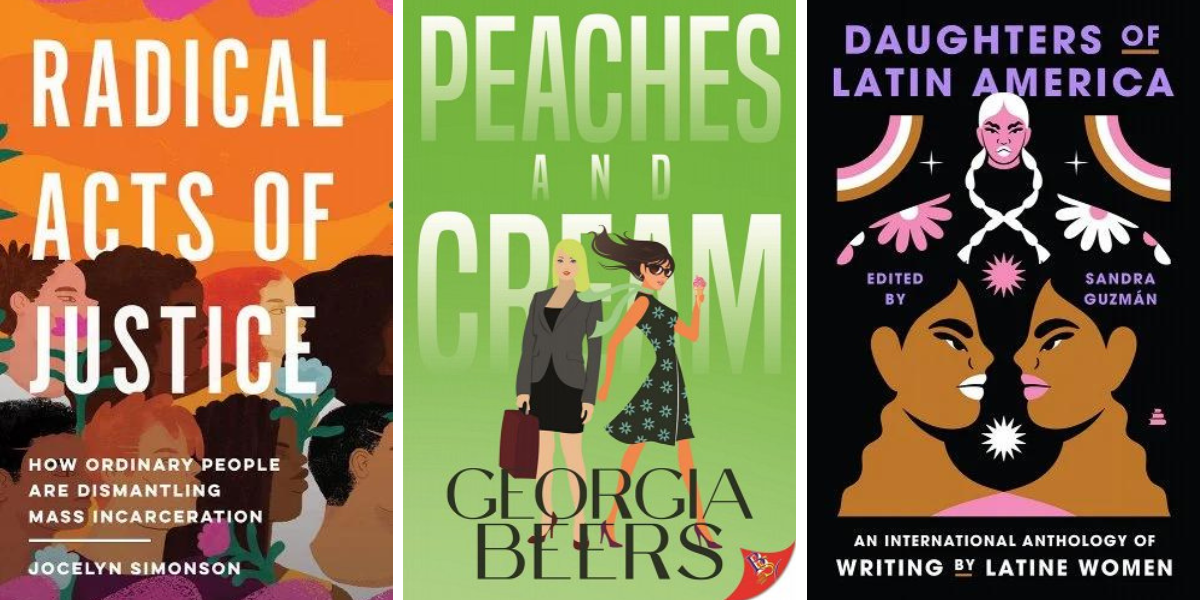 Subtitled "how ordinary people are dismantling mass incarceration," this sophisticated work of nonfiction presents an argument that the American carceral system can be resisted and broken down by regular folks, rather than experts and elites. Simonson studies actions such as one person contributing to a bail fund or speaking out at their city council meeting, viewing them in a wider context social justice possibilities.
Here's a summer appropriate lesbian foodie romance for you: two women who work at rival ice cream shops fall in love! Adley owns a cute little ice creamery called Get The Scoop, but she's not feeling great about its financial stability. When she meets a gorgeous woman at happy hour, little does she know her new flame is the manager of a new dessert chain restaurant moving in down the block that could put her out of business.
This "international anthology of writing by Latine women" collects the work of 140 writers, including 24 Indigenous women. Queer contributors you might recognize include Audre Lorde, Ada Limón, Cherríe Moraga, Achy Obejas, and Ana Castillo. The book is divided into 13 thematic sections based on the 13 Mayan moons, and features poems, essays, speeches, and more! Some of these writers are being translated into English for the first time.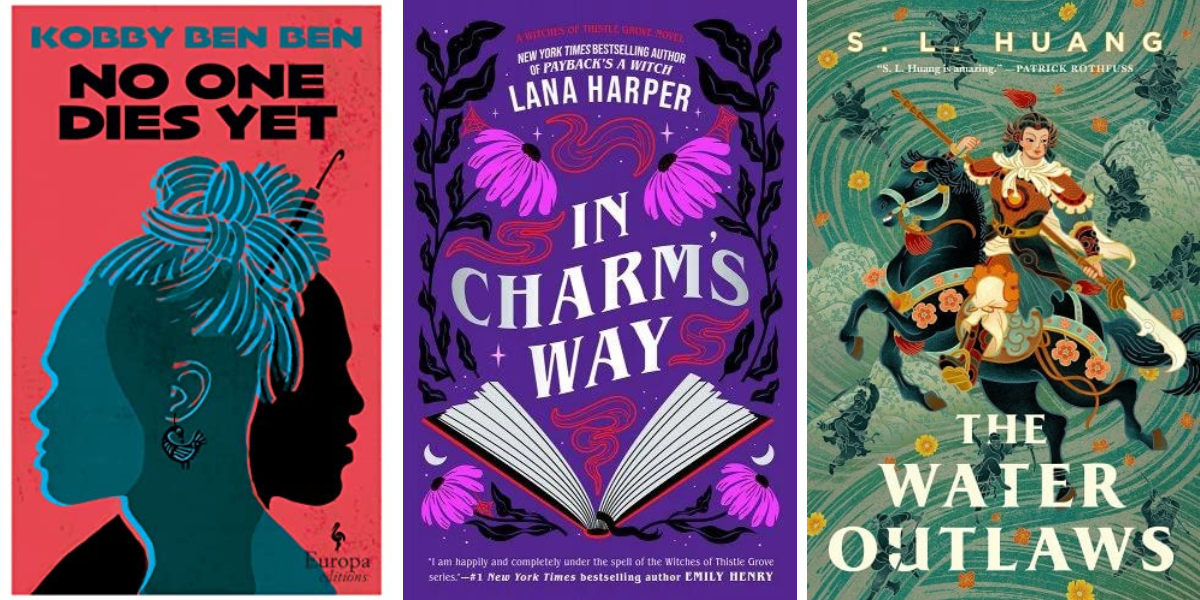 This is another book available for our U.K./Europe readers! Set in Ghana, this murder mystery and character study features three Black Americans tracing their roots back to the transatlantic slave trade. While they're there, they're also exploring Ghana's underground queer scene.
Harper's latest queer witchy rom com is the third book in her Witches of Thistle Grove series. This instalment is about Delilah, a prickly, standoffish witch who tries to restore her mind's sharpness with a dangerous spell that attracts nasty creatures to her usually sleepy town. Enter monster hunter Catriona, who is the kind of slippery, morally grey woman Delilah would normally avoid. Unfortunately she finds her strangely attractive…
Based on a classic work of martial arts, this action-packed queer feminist fantasy is about a group of criminals and thieves who espouse justice, gender equality, and progressive thinking. The Liangshan Bandits, as they're called, have just recruited a new member: Lin Chong, an arms expert and former employee of the corrupt empire against whom the bandits are fighting.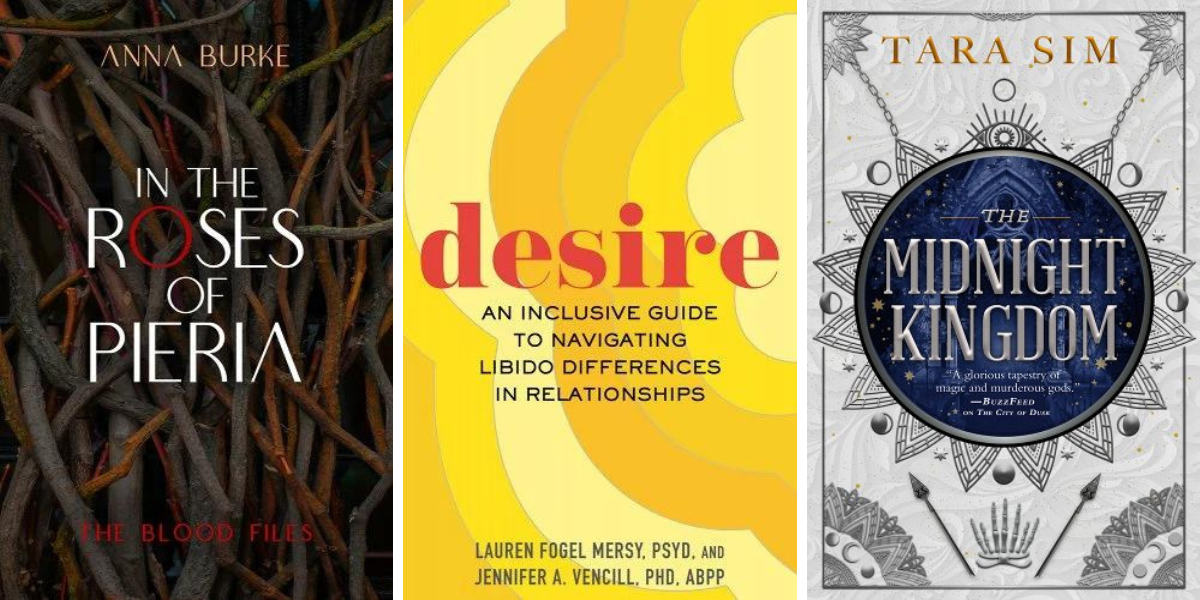 Burke's latest book, a dark queer fantasy romance, is full of "sensuous vampires, dark academia, plant horrors, and terrifying fungal fae." What more could you ask for! When protagonist Clara accepts a position as an archivist for a mysterious elderly estate owner, she's grateful for the job, and happy her money troubles have been solved. But as she emerges herself in the archives – while getting cozy with the estate owner's assistant – she develops a sneaking suspicion that something isn't right about her employer.
This "radically inclusive, sex-positive guide" authored by two licensed sex therapists is explicitly written for people of all genders, orientations, ages, and relationship styles. Fogel and Vencill discuss anxiety around sex, expanding the definitions of what sex is, structural oppressions like cisheteronormativity that can affect libido, mindfulness, and more. The book also includes journal prompts, checklists, and exercises.
In this sequel to The City of Dusk, Sim takes readers back to a queer fantasy universe where four heirs to the throne in the city of Nexus have been dispersed throughout the realms. Whether they are a necromancer, soldier, rebel, or elementalist, all the heirs will struggle to restore the universe's balance and fight the growing power of their respective gods. Not all of them will make it out of the fight alive.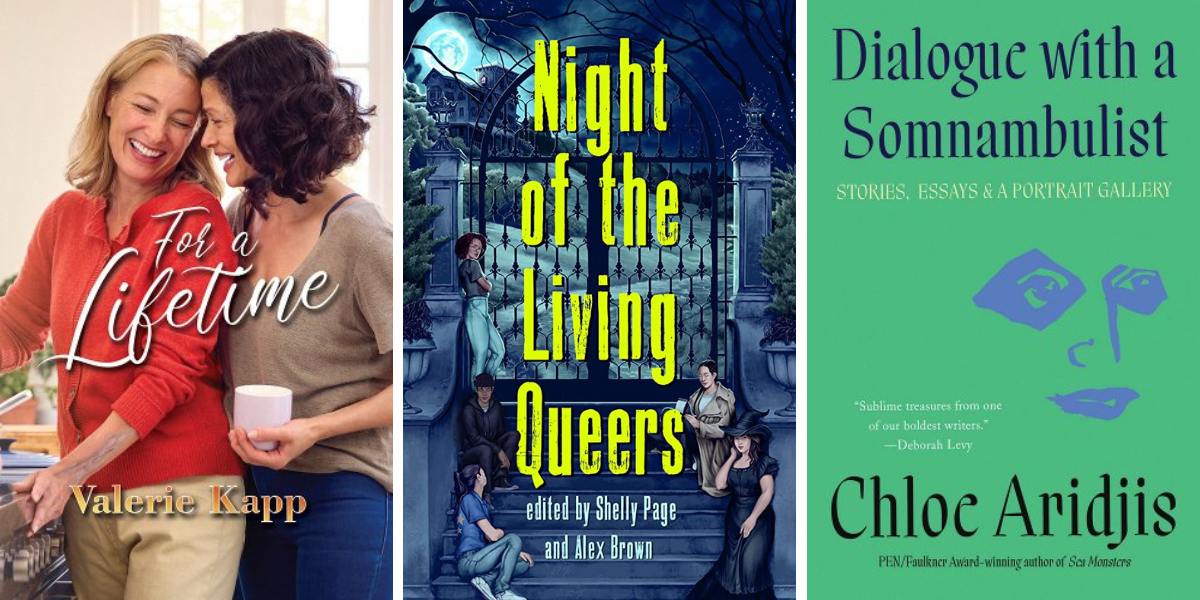 Check out this lesbian romance for disabled representation and older queer women! Renata is a high school principal who's dealing with the emotional and physical aftereffects of a serious burn accident. When she meets Brianna after hiring her VR company to provide instruction at her school, Renata wonders if she might have met the person who will make her believe in love again.
Queer YA horror anthology! Contributors include the editors Alex Brown and Shelly Page, Kalynn Bayron, Ryan Douglass, Sara Farizan, Maya Gittelman, Kosoko Jackson, Em Liu, Vanessa Montalban, Ayida Shonibar, Tara Sim, Trang Thanh Tran, and Rebecca Kim Wells. Each story is told through a unique BIPOC lens and involves a creepy tale of a life-changing Halloween night.
This book of "stories, essays, and a portrait gallery" is PEN/Faulkner Award winner Chloe Aridjis's first collection of short work. Her portraits in pen feature outsider artists and writers like Leonora Carrington, Mavis Gallant, and Beatrice Hastings. The stories include one about a woman being guided through Berlin by a plastic bag and being guided to a bar full of paper mache monsters and a glass-encased somnambulist and another about stray dogs in Mexico City.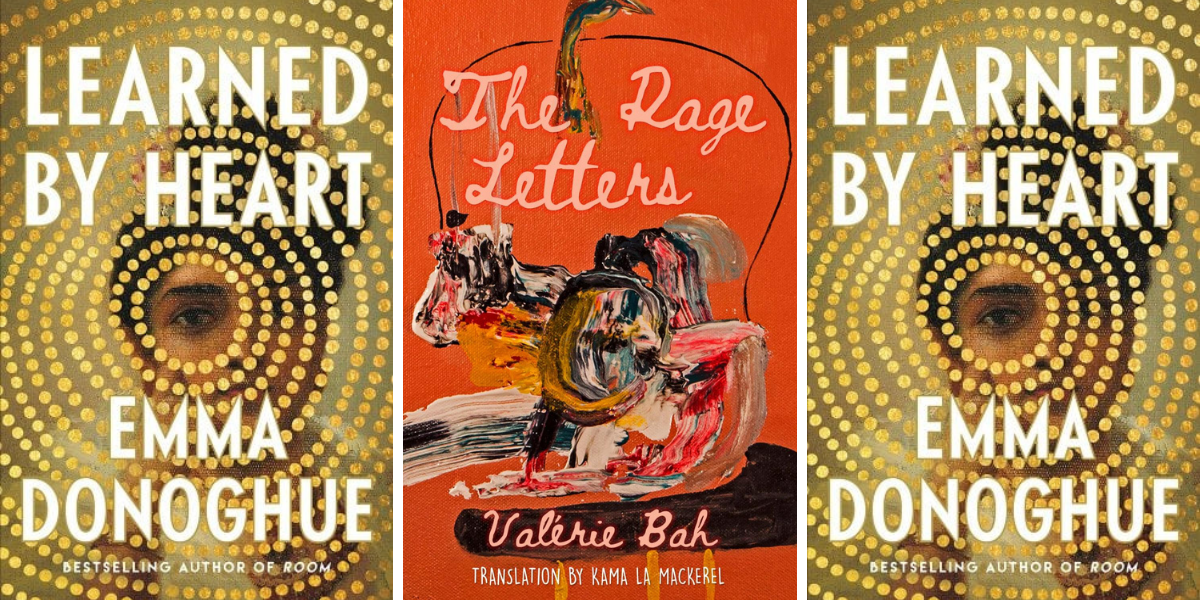 Now this is what I call ending the summer with a bang: a new historical novel by the legendary Emma Donoghue about Anne Lister! It's hard to believe Donoghue hasn't written about Anne Lister already, actually. This story focuses on a fictionalized version of Lister's life as a young woman at boarding school where she falls in love with Eliza Raine.
The Rage Letters by Valérie Bah and translated by Kama La Mackerel (Summer 2023)
One of my favorite small queer presses is publishing this "deadpan" collection originally written in French and mostly set in Montreal. The stories feature an interlinked group of Black queer and trans friends navigating life's trials and joys. In one story, a diversity workshop falls into a predictable mess; in another, two artists have sex in the shadow of wax ex-lovers in a museum; in another, a bored security guard dreams of home.
Which summer 2023 queer and feminist books are you most looking forward to? Let me know in the comments!