Just two days before marrying fellow comedian Rhea Butcher in her hometown of Chicago, Cameron Esposito invited a whole bunch of strangers to her bachelor party at Thalia Hall, the historic, expansive theater space in Pilsen. Alright, so it wasn't so much of a bachelor party as it was the taping of her very first standup special, which debuts on Seeso today. "It's just the kind of party I like: You paid to hear me talk."
For those of us there, it certainly felt like a party, especially thanks to an impromptu light show brought on by the fire alarm going off twice during Butcher's opening set. My friends and I splurged for one of Thalia Hall's opera boxes for the occasion. Two members of our group were exes—a lesbian bachelor party, indeed! You won't find those technical errors or the opener in the carefully edited final product presented by Seeso, but you will get to witness a crucial moment in Esposito's career, as she captivates the audience with more confidence than ever.
In Marriage Material, Esposito builds on some of the honest and personal comedy she put forth in her first album Same Sex Symbol last year. She returns to her stories of growing up as a little gay kid in the suburbs of Chicago, where she didn't know any out gay people. Esposito digs deep into some different sides of those stories than she did in Same Sex Symbol and is even more vulnerable in how she talks about her life, including the anxiety of high school and the radiance of her engagement.
Here are the moments Esposito proved to be marriage material in Marriage Material.
1. She understands the value of a BFF.
Esposito didn't get sexual education at the Catholic high school she attended. Instead, a priest showed the students a video of an abortion and told the gals that's why they shouldn't have sex with their boyfriends. Esposito, who was dating a football hunk at the time, was all "I don't even want to." She was holy as fuck. In addition to her "boyfriend," she also had a…"best friend." You know the kind. The kind you sometimes wrestle with and share a bed with in the name of best friendship. The kind you're on a swim team with, which completely ruins your life.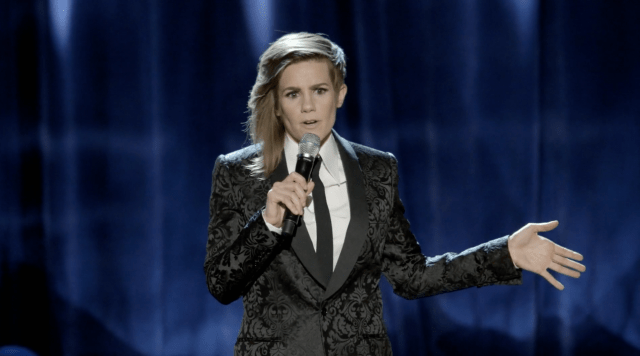 2. This jacket.
It doesn't have pockets, but that doesn't stop her from pretending it does.
3. Her pop culture references are on-point (and very gay).
Marriage Material includes shout outs to Willow, Han Solo, Tegan and Sara, Furious 7, Taylor Swift's "Wildest Dreams," Allison Williams as Peter Pan, and Linda Hamilton's arms in Terminator 2.
4. She is very prepared to not be murdered.
There's no way Esposito is going to end up like all of the fictional lesbians who fall victim to television's unfortunate Bury Your Gays trope. She's scared of everything, but especially of being murdered, as she explains in a lengthy bit that takes several twists and turns but begins with her very detailed explanation of how she prevents getting killed horror movie-style. Don't look away from mirrors. Always sleep with a knife in close proximity. These things work. Just look at her! She's alive!
5. That being said, she will never buy a gun.
Esposito is all about protecting herself from horror movie villains, but enough is enough, America. Stop with the guns.
6. She believes The Blair Witch Project was a very important cultural moment.
And she's right. The Blair Witch Project teaches us all something about ourselves and who we think we are.
7. She doesn't hesitate to talk about her period on stage.
For some reason, it's considered hack for female comedians to talk about their menstrual cycle on stage, which is ludicrous, and Esposito knows it. She refuses to be "a womb with makeup on it." So she's here to tell the world all about the crime scenes she sometimes bleeds into her own bed in the middle of the night.
8. She is proof that love is real.
Despite her crippling fear of being murdered in her own bedroom, Esposito has fallen in love with a sleep lurker. Her unfaltering love for Butcher is in and of itself an argument in favor of marriage equality. This is real, true love in all its beauty (and horror). "Love is real."