I believe we are in living in a truly incredible time for queer and feminist books. For proof, I offer you this majestic — if I do say so myself — list of queer and feminist books hitting shelves this winter. (Don't miss this list for fall 2020 queer and feminist books too). There is really something for every kind of reader here: comics, speculative fiction, thrillers, YA, poetry, memoir, and so much more! I would also like to add that the number of books on this list was entirely accidental!
December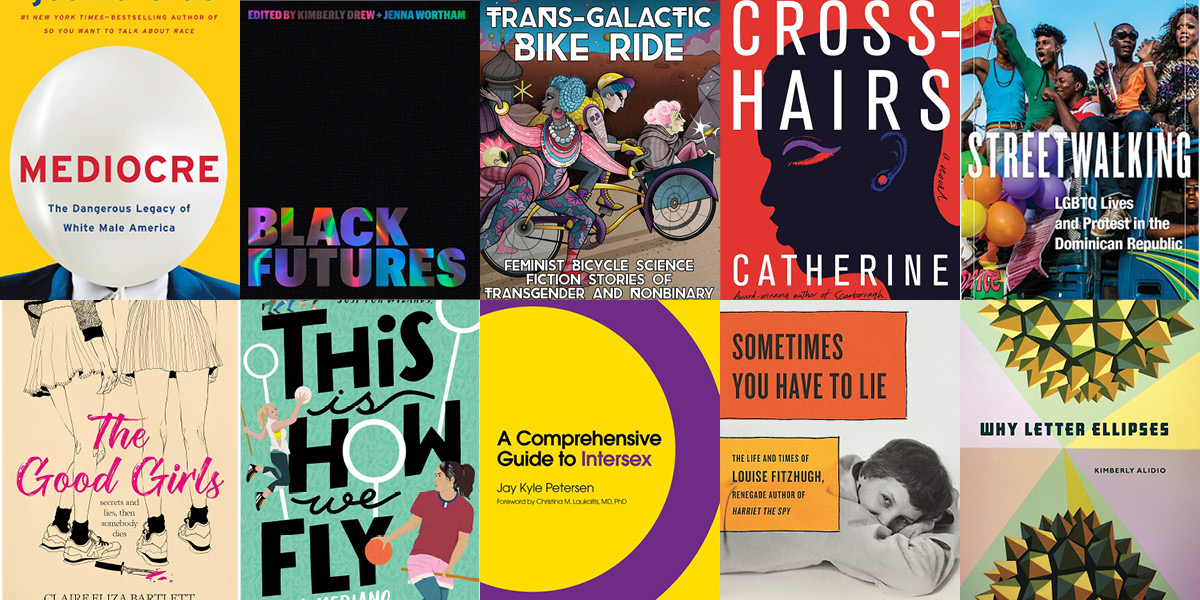 Let's start this list off with a bang, shall we? In Oluo's characteristic incisive prose — you may have read her book So You Want to Talk about Race — she details how much white men's undue influence in the US has cost the country and its people socially, economically, and politically.
In the prolific queer YA author's latest book, Talley writes about a teenage stage manager, Melody, whose unsuccessful loves have a tendency to ruin her productions. This time for Les Mis, she swears, NO falling in love. Except that girl auditioning is pretty cute.
In this new poetry collection by queer Filipinx poet Alidio, "History is really an invitation / by way of arranged language / to read the occulted / in plain sight: / a poem.wp_postsThe book brims with a preoccupation with language itself and the forms that language takes to communicate meaning through nonfiction, archives, history, and poetry.
Rivera's beloved lesbian Puerto Rican coming of age story has been adapted to graphic novel form, with Moscote's work as an illustrator. In case you're not already familiar: the story follows Juliet, who flies across the country to work for her favorite (white) feminist after disastrously coming out to her family.
What a necessary and beautiful picture book Ritu Weds Chandni is, about a young Indian girl fighting for queer rights. Ayesha is so excited for her cousin Ritu's wedding and is determined to show those not supporting the lesbian couple how wrong they are.
If You Dare by Sandy Lowe (December 1)
Any romance featuring a librarian character gets extra points in my book, let alone a lesbian romance! When down-on-her-luck Lauren plays truth or dare and ends up agreeing to seduce the next woman who walks through the doors of the bar she's drinking in, she isn't expecting it to be Emma, a so-called good girl librarian with kinky aspirations.
A biography of the lesbian author of Harriet the Spy!! I don't think this book needs anything else to sell it, but here goes: Brody dives into Fitzhugh's inspiring life, from growing up in segregated Memphis to moving to New York and discovering lesbian bars in Greenwich Village, later visiting the art world of Europe, and negotiating the difficult position of being a lesbian author of children's books.
Party Favors by Erin McLellan (December 1)
The latest in McLellan's So Over the Holidays romance series, Party Favors is set at New Years. Two online BFFS, Amanda and Wren, meet up in person for the first time to celebrate and discover how strong their spark of attraction is.
The Good Girls by Claire Eliza Bartlett (December 1)
YA needs more genre mysteries, and here's one with lesbian and bisexual characters to boot! When a girl in Jefferson-Lorne High is murdered, three of her very different classmates — the head cheerleader, the partier, and the valedictorian — are prime suspects.
Black Futures by Kimberly Drew and Jenna Wortham (December 1)
Bringing together a wide variety of artistic forms — visual art, essays, photos, memes, recipes, poems, tweets, and more — Drew and Wortham investigate what it means to be Black and alive today, with a distinct focus on queer Black lives.
Crosshairs by Catherine Hernandez (December 8)
In this eerily relevant science fiction dystopia, Hernandez imagines a Toronto where LGBTQ and disabled people and people of color are held in concentration camps. A queer Black drag performer leads a group to plan an uprising.
Black femme lesbian Nailah lives by a certain rulebook: she only dates studs, driving her Camaro is her form of therapy, and she leaves her exes where they belong: in the past. But when her one femme ex — clearly a mistake — comes back into her life unexpectedly, Nailah might have to ditch the rulebook and follow her heart.
I mean, the subtitle of this anthology basically tells you everything you need to know about why this book should be read asap. Bikes! Trans and nonbinary people! Feminism! Science Fictional Futures! Contributors include Charlie Jane Anders, Tucker Lieberman, Lane Fox, Ava Kelly, and more.
Listen, queer women deserve the book equivalents of a Hallmark Christmas movies, too okay? Two families have a long-standing tradition of spending Christmas together. Cass, from one family, has had a secret crush on Stevie, from the other family, for a while … since she was eight years old. Can she catch Stevie under the mistletoe this year?
From the Woods by Charlotte Greene (December 15)
In this creepy romantic thriller, Fiona is delighted to discover how attractive the trail guide is on the two week-long backpacking trip her friends dragged her on. Soon, though, the sexy woman Roz and Fiona are on their own in the woods, running from someone or something that is after them, trying to draw it away from Fiona's friends.
An adorable opposites-attract contemporary workplace romance, 16 Steps to Forever features Brooke (a reserved bisexual woman who likes to be in control) and Macy (a lesbian who is a bit of a mess). Despite their disastrous first encounter where Macy drops a plateful of danishes on Brooke, they keep meeting outside of work. Is there something meant to be?
A loose retelling of Cinderella based on a 17-year-old vegan feminist Latina who joins a local Quidditch team? Yes please! An ode to Harry Potter fan communities, high school friendships, and all-gender sports with a queer and feminist sensibility!
Get It Right by Skye Kilaen (December 15)
Finn — a butch lesbian parolee— and Vivi — a femme pansexual nurse — first met while Finn was in prison and Vivi was working there. When Vivi left abruptly, Finn worried but couldn't do anything. But now that they've run into each other at a medical clinic, Finn notices Vivi doesn't seem okay. Can Finn help Vivi? And is fate offering them a second chance at love?
In the ongoing all ages fantasy comic Moonstruck, spring and the annual Mermaid festival have arrived! Girlfriends Julie and Serena hit a roadblock when Julie meeting Serena's friends for the first time goes horribly wrong. Can their relationship survive?
Blue by Abigail Padgett (December 15)
This brand new edition of the first book in the classic lesbian mystery series (originally published in 1998) is an exciting addition to the contemporary queer mystery genre. It introduces unlikely sleuth Blue, a retired social psychologist who gets hired to investigate why a 72-year-old widow confessed to a murder her brother thinks she didn't commit.
Lara's academic study investigates the lives of Dominican LGBTQ people, particularly as they exercise power. Looking at specific strategies employed by LGBTQ community leaders, Lara shows how they fight for rights, recognition, and subjectivity.
Written by an intersex author, A Comprehensive Guide to Intersex is as wide-ranging as it claims but equally accessible. Peterson details what intersex is (and what it is not), discuses 40-odd variations, and historical and sociocultural aspects including medical intervention. It also includes practical tips for folks who aren't intersex on how they can support those who are.
This poetry collection is written from the intersections of (trans)gender, disability, trauma, and survival. "Some girls are not made,wp_postsshe writes, "but spring from the dirt.wp_postsGreathouse challenges standards of what deserves to be in a poem and what's called beautiful, turning her pen to the vestigial. She also challenges form, including broken essays and a sonnet made to be read in the mirror.
January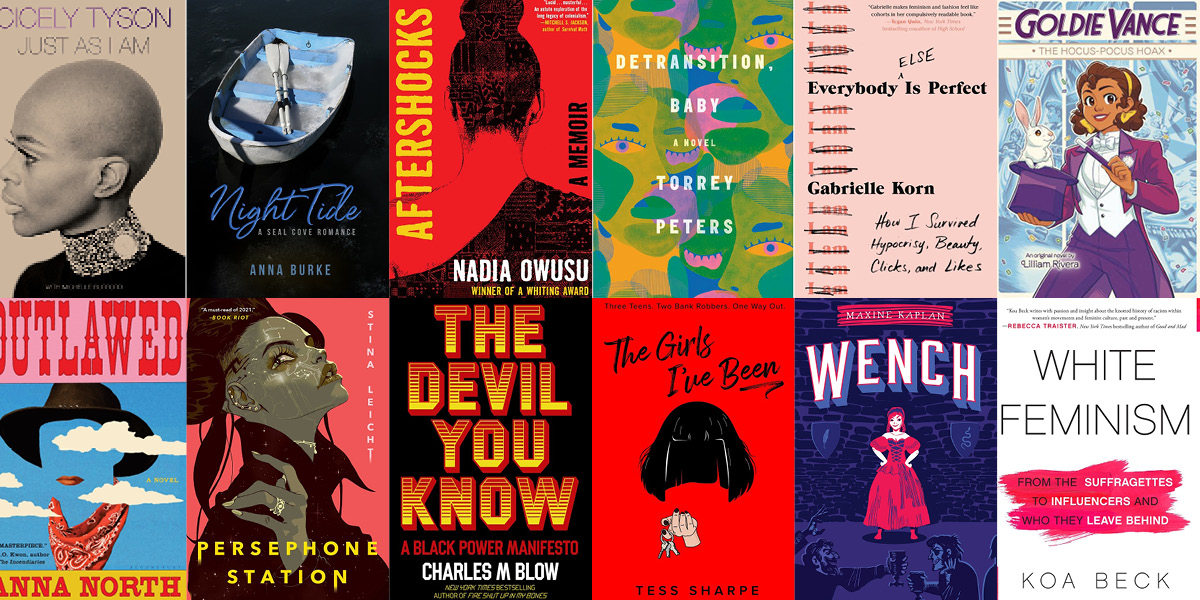 Scent by Kris Bryant (January 1)
Nico is head of a successful packaging company. Now all she needs is a girlfriend, and Sophia, whom Nico spots on the train, looks like a prime candidate. Sophia is trying to save her family's chocolate shop, and mistakes Nico for a warehouse employee of said packaging company, who she thinks can help her with her business. Nico roles with the mistaken identity, determined to win Sophia's love.
Journey to Cash by Ashley Bartlett (January 1)
I was so pleased to see Bartlett's third book in the reformed drug dealer / artist Cash Braddock mystery/thriller series was being released, as I loved the previous book. This time, Cash thinks she's finally doing okay — she's ditched the dealing, is no longer being forced to be an informant for the police, and she's opening an art gallery. Then her ex-girlfriend returns with news that Cash's ex-business partner wants to kill them both.
Single mom and vet tech Valerie doesn't have good luck in the relationship department, although she loves her small town Saskatchewan life. When a new teacher Ronnie moves to town, Val is hopeful. But Ronnie has just suffered major career and relationship blows, plus is trying to stay clean. Only a threatened stable of horses is able to bring Val and Ronnie together.
Former editor in chief of Jezebel Koa Beck pens a rousing call to action investigating how mainstream white feminism has been commodified and continues to shut out women of color. Blending historical research, pop culture analysis, and personal storytelling, she argues that racism and elitism have driven feminist discourse for far too long.
Outlawed by Anna North (January 5)
In this speculative western set in an America where women are valued only for their fertility, a young woman named Ada leaves her husband and midwife apprenticeship to join a gang of outlaws. The outlaws are determined to create a safe haven for outcast women. But their plan is wild and dangerous: will Ada risk it all to participate?
Leicht's latest novel is an action-packed space opera set at Persephone Station, a supposedly backwater planet no one is interested in. That is, until it becomes the focus of Serrao-Orlov, a corporation that wants to exploit it. Two women — bar owner Rosie and honorable mercenary Angel — find themselves fighting Serrao-Orlov.
This is the second installment in the historical middle grade series featuring lesbian tween detective Goldie Vance. Her latest mystery at the Crossed Palms resort in Florida, where Goldie lives, takes place at a magic convention. When a magician's tricks go awry and threaten to ruin the convention, Goldie's first date with her long-time crush Diane might crumble too!
Peters's highly anticipated debut novel centres around three women — two trans and one cis — as their lives come together in very unexpected ways. Reese and Amy's relationship falls apart when Amy — now Ames — makes the decision to detransition. When Ames's lover/boss gets pregnant, Ames wonders if this might be the chance to bring the three of them together, as Reese has always wanted to be a mom.
A charming historical fantasy with a queer romance at its heart, anyone? Dellaria is a hard-drinking thief down on her luck who answers an ad for a female bodyguard. Supposedly protecting a rich lady from assassins, Dellaria isn't sure the danger is real — until it is. Also, she falls in love with a fellow bodyguard.
Aftershocks by Nadia Owusu (January 12)
Owusu's genre-bending poetic memoir tackles themes of identity, home, Black womanhood, and the longstanding personal and generational effects of trauma. Abandoned by her mom as a child and left behind when her dad died in her teens, Owusu came to the US after living around the world, where she tried to contend with how many competing personas she felt she had inside herself.
Choosing Grace by Regina Jamison (January 14)
In 1986, Sky is a young Black woman from North Carolina who's tired of being boxed in by what everyone thinks she should do. So she moves to Rhode Island for college, where she falls in love with her roommate Zenobia. Years later, after leaving the South for good to live in New York City, Zenobia comes back into Sky's life. Except Sky is building a relationship with a new woman. How can she decide?
Powerhouse queer YA author Lo pivots genre-wise again with this historical YA set in 1950s San Francisco Chinatown. Two teen girls, Lily and Kathleen, risk everything for their love, as at the same time the so-called Red Scare threatens Chinese Americans like Lily and her family.
Wench by Maxine Kaplan (January 19)
In this queer feminist YA epic fantasy, Tanya is the main character who grew up in her family's tavern. But when her guardian dies and she's at risk for losing the tavern, Tanya must set out on a quest to petition the queen to let her keep the establishment in her own name.
This challenging, intimate, and darkly funny essay collection covering both personal and cultural topics comes from the former editor-in-chief of Nylon. Topics include disordered eating, fashion, young lesbian life in NYC, "commercialized body positivity,wp_postsand the pressure to have an Instagram perfect life.
Night Tide by Anna Burke (January 26)
The second installment in Burke's Seal Cove romance series, Night Tide tackles the beloved hate-to-love trope. Lillian's arch nemesis is Ivy, whom she initially met at veterinary school. But when Ivy is forced to move to be closer to family, she ends up taking a job at the same clinic as Lillian. Can they work together? Will they fall in love??
Debuting in Pammi's Bollywood Drama and Dance Society romance series, When Tara Met Farah is a new adult romance about Tara, a 19-year-old with a popular food blog who's failing college math, and Farah, the 23-year-old bi research intern of Tara's mom who's been hired to tutor Tara. Soon they're bonding over chicken biryani, dancing to Bollywood music, and … kissing.
Ten never-before-collected pieces by the iconic writer make up this new book. Written in the 60s, 70s, and 2000s, the essays cover topics such as Martha Stewart, short stories, American newspapers, visiting Nancy Reagan, Gamblers Anonymous, and a piece titled "Why I Write."
Is 2021 the year for queer YA mysteries and thrillers? I hope so! Sharpe's latest offering is about Nora, the daughter of a con artist. The morning after her ex walking in on her and her new girlfriend — they're all friends but the ex didn't know — the three girls are held hostage at bank during a robbery. These robbers have no idea who they're dealing with.
Just As I Am by Cicely Tyson (January 26)
Tyson's memoir traces her long and extraordinary career as a stage and screen actress from the vantage point of her ninetieth decade. She writes: "Just As I Am is my truth. It is me, plain and unvarnished, with the glitter and garland set aside."
From the mind of this Black bisexual journalist and author comes a powerful call to action for Black Americans coming together to amass political power to fight white supremacy. He focuses on achieving equality on Black Americans' own terms, not under the stipulations of white people.
Queer Black poet Lankford's debut collection focuses on healing from trauma. She often employs extended ocean metaphors, mixing sea imagery with that of flowers, endangered species, and pollution. Check out some examples of her poetry here.
February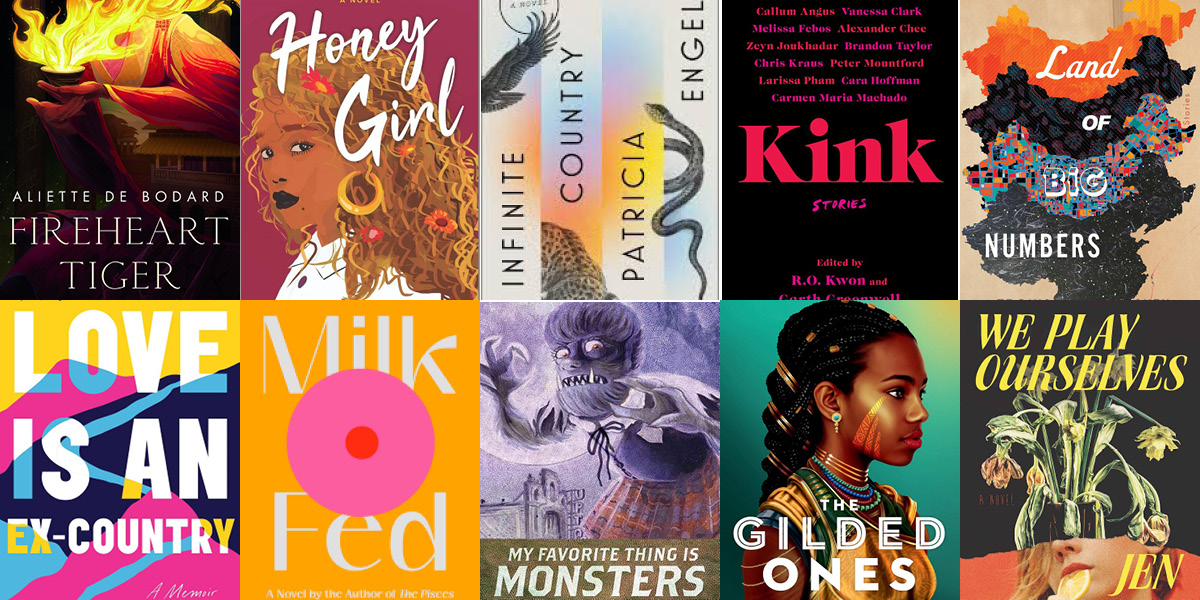 Masquerade by Anne Shade (February 1)
In 1925 Harlem, masquerade drag balls unite people from all walks of life, such as Dinah, a nightclub chorus girl trying to support her family. She finds love with Celine, a recent transplant from New Orleans who is fleeing a family scandal. But when a notorious gangster sets his sights on Celine, the two women must risk everything to save themselves and their love.
Body Language by Renee Roman (February 1)
In this contemporary romance, Mika's been seeking validation and a roof over her head between the sheets of rich women for too long. She decides to go back to college to prove herself. There she meets Jennifer, who offers Mika the help with her schoolwork in exchange for some help of the erotic variety.
The seventh installment in Vali's Cain Casey mystery series, Devil Incarnate finds Cain happier than she's ever been, surrounded by family. But enemies threatening more than her business continue to lurk, including an FBI agent turned drug dealer and the Russian Mob.
Jarrar's memoir embodies all her identities at once — queer, Arab American, fat, and Muslim — as it chronicles a cross-country American road trip inspired by an Egyptian belly dancer's similar trip in 1940. She searches for and finds joy, as unlikely as it might seem in an America hostile to everything she is.
This debut collection of literary short stories puts a spotlight on the diversity of China's people, their history, and government. Oscillating between precise realism and playful magical realism, the stories feature a woman stalked by an ex-boyfriend, citizens trapped on a train for months, and more.
Milk Fed by Melissa Broder (February 2)
Broder's first (I think?) queer book is full of dark humor, food, and religion. Rachel is a lapsed Jew who has replaced religion with calorie counting. When her therapist suggests a detox from her mother —where Rachel learnt the calorie counting — she meets Miriam, zaftig young Orthodox Jewish woman who works at a frozen yogurt shop and is eager to feed Rachel.
This young adult fantasy stars an asexual protagonist, Karis, who has been forced to serve her country's rulers, scribes whose goal is to unlock an ancient automaton army. But Karis's priorities are to find her long-lost brother. On this quest, she accidentally awakens a hidden automaton and discovers a secret her country has been hiding for centuries.
Inspired by the real-life exploits of women pirates, this YA historical graphic novel is full of swashbuckling adventures! Anne is a pirate with a fierce reputation, her own ship, and a stellar crew. But a new enemy intent on eliminating piracy is afoot. Anne must convince her crew to follow the clues she found in a dream, which are the only route to defending their way of life.
Reeling from a humiliating scandal, Cass, a formerly lauded queer feminist New York playwright, flees to California to reinvent herself. There, she finds herself drawn into the world of her neighbor documentary filmmaker and the group of teen girls who are the subject of the director's next film.
Fireheart Tiger by Aliette de Bodard (February 9)
Fireheart Tiger is a romantic fantasy novella set in a world inspired by pre-colonization Vietnam. Princess Thanh has returned to her mother's court as a diplomat. Her new role puts her in the path of her first love, the formidable and alluring Eldris of Ephteria. Can Thanh pursue love and shape her country's future for the better at the same time?
The first book in a new YA fantasy series, "Deathless,wp_postsThe Gilded Ones tells the story of Deka, whose blood ceremony shows her menstrual blood runs gold instead of red. Facing a fate worse than death, Deka is approached by a woman offering her another option: join an army of girls just like her who are the only hope of defeating the empire's greatest threat.
Kink: Stories edited by R.O Kwon and Garth Greenwell (February 9)
This collection of literary short stories on the themes of kink and BDSM includes work by queer writers such as Roxane Gay, Melissa Febos, Alexander Chee, Zeyn Joukhadar, and Carmen Maria Machado, as well as editorial work by R.O. Kwon. The stories explore intersecting themes of love, desire, and power.
Breaking Out by Lise MacTague (February 11)
In this hockey-themed romance, KJ is determined to win the league championship, which means it's a bad time to be breaking in a new defensive partner. Said new partner, Adrienne, is pretty cute though. But is Adrienne interested? And is KJ the best partner for a woman looking for a person with the stability she and her young son need?
The Echo Wife by Sarah Gailey (February 16)
A speculative thriller, The Echo Wife features a clone, Martine, who was constructed from Evelyn's research. Martine is patient, gentle, obedient: everything Evelyn has never wanted to be. She's also having an affair with Evelyn's husband. When said husband dies, the two wives have quite the mess to clean up.
Soulstar by C.L. Polk (February 16)
The third book in Polk's historical fantasy romance series, "The Kingston Cycle,wp_postsSoulstar is set in a magical neo-Edwardian England setting. This book concludes the twisty story of politics, witches, assassinations, deadly weather, and queer love. Featuring bisexual woman representation!
The publication of this book has been delayed so many times: can we please all cross our collective fingers that this is finally it? Ferris's story is set in 1960s Chicago, drawn in majestic art all done in ballpoint pen. She continues the story of Karen, baby tween dyke investigating the mystery of her Holocaust survivor neighbor's murder.
This true crime book focuses on women con artists and their outrageous scams from the 1700s through to the present day. Included are an 18th century woman who stole a diamond necklace by pretending to be BFFs with Marie Antoinette and a 20th century teen girl who scammed the whole NFL.
15-year-old Phoebe thinks falling in love is for the birds in Brueggemann's debut novel. But while volunteering at a thrift store, Phoebe meets Emma, who might just disprove all her theories. Sex-positive queer YA romantic comedies for the win!
Honey Girl by Morgan Rogers (February 23)
Honey Girl might be the most anticipated sapphic romance of 2021, for good reason. It follows Grace, an over-achieving late 20s Black woman finishing her PhD in Astronomy. In an uncharacteristic turn while on a girls' trip, she gets impulsively married in Vegas to a woman she just met. In another uncharacteristic move, Grace decides to hit pause on her controlled life and spend the summer in New York with her "wife,wp_postswhose name she only recently learned.
I firmly believe the world needs more bisexual chick lit romps, and the answer for early 2021 is It's Been a Pleasure, Noni Blake. At the end of a decade-long relationship, Noni makes a pact to focus on herself. She's been living for other people for too long. Her resolution takes her all over the world, as she realizes she might be able to have everything — and everyone — she ever wanted.
Mazie by Melanie Crowder (February 23)
In the 1950s, Mazie is an 18-year-old actress who, armed with some inheritance money, leaves rural Nebraska for a six-week trip to New York, dreaming of Broadway. But as her money dwindles, the only role she manages to snag is in an industrial musical intended to sell farm equipment. In other words: Mazie is brought right back to where she started.
Set in Toronto, this urban fantasy YA follows a whole cast of queer characters as they work together against a racing clock to stop a serial killer who might expose the world of the faeries to humans. Queer representation includes pansexuality, bisexuality, lesbianism, and gender fluidity!
Colombian American author Engel tells the story of a Colombian family ruptured by deportation in this work of searing literary fiction. Elena and Mauro make the choice to leave Bogotá for the US when their daughter is born. But their decision to overstay their visa plunges them in precariousness, eventually resulting in Mauro being sent back to Colombia. In his absence, Elena is forced to make difficult decisions to take care of herself and her growing children.
This opposites-attract contemporary lesbian romance is about Rosie, a teacher and singer, and Amber, a woman early on her journey to sobriety. When the two women meet at a community choir, sparks fly. But Amber isn't sure if she's ready for a relationship, and Rosie has a secret: she's trying to get pregnant.
Modern English by Rachel Spangler (February)
Lady Victoria returns to her family's castle to unexpectedly find drama when she was trying to avoid it: there's a Hollywood crew filming on location. Soon, sparks fly with starlet Sophia, who has had more than a lifetime's worth of dealing with rich entitled men in her way. Although Victoria is a woman, Sophia is initially inclined to put her in the same category, until she realizes how much they have in common.
---
Which winter 2020 / 2021 queer and feminist books are you most excited about? Did I miss anything? Let everyone know in the comments!