The website Lost Womyn's Space is devoted to honoring both ancient and modern womyn's spaces that have been lost — "anything from lost women's colleges and schools, to lesbian bars and clubs. And everything sacred and profane in between" — and it's a website I'd recommend becoming obsessed with, as I am. Silverside, the captain of Lost Womyn's Space, has done serious research to unearth the stories of more lesbian bars than probably currently exist in the world. All the information in this post, unless otherwise noted, was garnered from that blog.
15 Awesomely Named Yet Totally Closed Lesbian Bars Of America
+
1. Ain't Nobody's Bizness (2900 E.Broadway Blvd, Tucson, AZ) 1994-2011
I feel like the idea here is that if your homophobic mother asks you where you're going, you can say "ain't nobody's bizness."
This hotspot, located in a shopping plaza, began as a lesbian bar and eventually evolved to attract a "mixed-gender" crowd and closed shortly thereafter because MEN RUIN EVERYTHING. Just kidding (kinda), I don't know why it closed, do you?
When it snagged the 1999 Best Lesbian Bar Award from The Tucson Weekly, the Weekly professed: "The Biz is Tucson's lesbian Cheers, but with hip music, a good dance floor and an Amazon attitude."
+
2. Volli-Bal (2124 North Clark St, Chicago, IL) 1950s-60s
This bar had a very strict butch/femme culture and often found itself subject to random police raids — both common situations at the time. More importantly, the creators of this bar discovered a new way to spell "volleyball," a sport beloved by lesbians because volleyball players tend to wear tiny outfits and have strong fists!
+
3. Our Hideaway (Chicopee, MA) 1949 -1999
I like to imagine this name came from the secret name for a private tree fort where the bar's owner used to meet her romantic friend for cuddling after school. Yannow?
Anyhow, Our Hideaway was once the oldest women's bar on the east coast, frequented both by college kids new to the area and locals who'd been partrons for 25 years!
+
4. Kooky's Cocktail Lounge (W. 14th Street, New York, NY) 1960s to early 1970s
One of only two lesbian bars in the city at that time, it seems like everybody who went to Kooky's mostly hated it. Karla Jay, in her book The Lavender Menace: A Memoir of Liberation, tells tales of a hostile owner dressed in complicated pastel prom gowns who would harass clientele into buying more drinks (eventually turning everybody into an alcoholic), a bathroom guard who parceled out three squares of toilet paper to each guest while ensuring no couples snuck in and an intimidating entrance/carding procedure administered by male doormen. (The toilet paper situation wasn't unique to this bar, however, this was a common strategy.)
"The bar lesbians were in no position to rebel against Kooky's dictatorship," Jay writes. "Instead, they put their energy into creating a network of friends and allies within the bar."
+
5. Never Never Land (1920 Market Street, Shreveport, Louisiana) 2005 to 2010
Inspired, undoubtedly, by how cute Mary Martin was when she played Peter Pan in the 1956 live action film "Peter Pan," this girlbar dive with noted karaoke promised its customers: "Come with me now to a far off land across a briny sea, to a place where you can laugh and play and fly your heart so free."
+
6. Meow Mix (269 East Houston, New York, NY) 1996 to 2004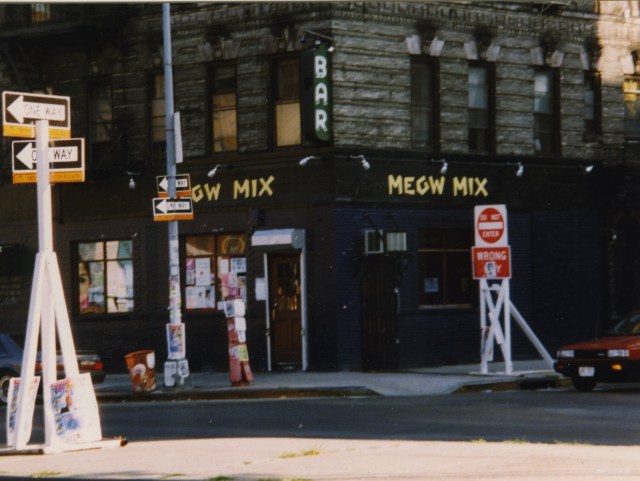 "Meow Mix with its never-got-over-riot-grrrl-grunge is hot nearly every night of the week. Lipstick lesbians and butch drag queens swarm the dance floor or rock as live acts perform."
Firstly, this name sounds like cat food. Secondly, perhaps the saddest introduction to my budding bisexual lifestyle came on a warm Pride Sunday in 2004, when I nervously tagged along to Meow Mix with a group of lesbians I'd met up with earlier 'cause one of them had been my roommate in boarding school. I was debating the whole way if I would actually go into the bar or not, but alas, my debating was all for naught — the place was closed like a book. Everyone was so confused and sad. Little did I know that later in life, as a lesbian, the experience of walking 16 blocks to a gay bar that turned out to be closed was par for the course. Apparently there were problems with "flooding, city harassment, and a shift in the neighborhood demographics." The bar also played a cameo in Chasing Amy.
+
7. Tink's Pub (22 South Preston Street, Louisville, KY) 2001- 2012
I imagine some of you have visited Tink's Pub and can verify whether or not it's owned by my pet dog, Tinkerbell, who has always dreamed of starting her very own Pub. Regardless, Tink's boasted karaoke, drag shows, pool, video poker, darts and a jukebox, and had its closing night party on New Year's Eve 2011.
+
8. Hot Legs (814 South Second Street, Milwaukee, WI) 1984-1987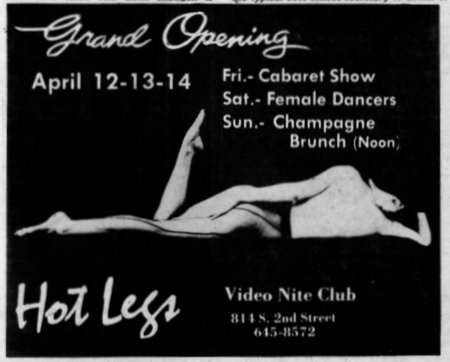 I imagine the name "Hot Legs" was inspired by a naked girl with nice legs. "For a time Hot Legs was THE lesbian bar in Milwaukee," says the Wisconsin GLBT History Project. Indeed, Hot Legs was well ahead of its time when it began offering those always-tantalizing wet t-shirt contests!
+
10. Huddle Tavern (219 Cumberland Ave, Knoxville, TN) 1940-1981
1. Rhymes with CUDDLE!
2. Cormac McCarthy "immortalized" this bar, which was located in a basement, by writing about it in his novel Sutree. He cited patrons coming "down the street and turning in two by two" and spotting "a group of dubious gender" drinking in a corner. The place served beer in a fishbowl and whiskey in a jelly jar! Neat-o!
+
11. The Kitty Kat Club (St.Louis, MO) 1960s-1970s
This bar name is genius for marrying the memory of Kit Porter to the sexiness of the Kit-Kat Girls from "Cabaret" to the cuteness of actual kittens (lesbians love cats: fact). That's just about all we know, and I just made that up, so.
+
12. Plush Pony (Los Angeles, CA) 1960s–> 2009
A hotspot for "Chicana dykes" and "lesbian Latinas" is cited in Gay L.A. as one of many "working class gay girl beer-and-pool-table bars" that popped up around the city in 1960s. The amazing lesbian photographer Laura Aguilar did a series in back of the bar, creating "an amazing document of working-class Chicana lesbian culture, a group whose existence is relegated to the margins of both Chicana and lesbian social formations." The photo above is from that series. Seriously I love Laura Aguilar so much.
+
13. Howdy Club (47 West Third Street, New York, NY) – 1930s -1940s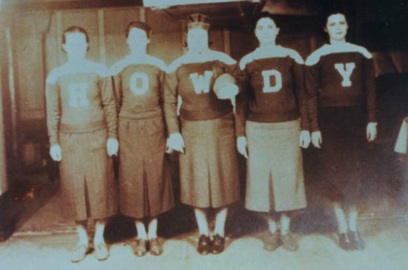 Lisa E. Davis says: "The Howdy Club is the earliest club we know about that hired lesbians as entertainers — strippers, singers like Blackie Dennis, and chorus boys who might serve the first round of drinks, then join the floorshow." The Howdy Club closed because of "morals changes," a/k/a excessive police harassment in the mid-to-late 40's.  They also had a football team (pictured, above).
+
14. The Sea Colony (52 West 8th, New York, NY) 1950s-1960s
I feel like this'd also be a good name for a restaurant in Disneyworld with singing little mermaids. But it's not a restaurant in Disneyworld, it was a mega-popular often-working-class lesbian bar patronized by ladies like Joan Nestle and even Audre Lorde. Patrons could dance in the back room, where a red light started flashing to indicate a police raid in the works.
+
15. Mother's Brew (Louisville, KY) 1975-1976
Honestly when I go to gay bars the last thing I want to think about is my mother, especially since she started going to gay bars before I did, but this lesbian separatist hangout rocked the hell out of that brew, just like your mom does. Started by the Lesbian Feminist Union collective, Mother's Brew was a bar but also a meeting space AND a venue for lectures and women's music AND a shelter for battered women AND a feminist library AND an art gallery. Alix Dobkin, Holly Near and Cris Williamson performed here, amongst others. The no-men-allowed thing was very serious here.
Amazing Defunct Lesbian Bar Names Honorable Mentions:
MoDiggity's Pub (Salt Lake City, Utah) – 2000s
Cowgirl's Oasis (Fort Worth, Texas) – 1995-96
Billie Jean's (Kansas City, MO) – 1980s
Tiny & Ruby's Gay Spot (Chicago, IL) – 1950s
Bonnie & Clyde's (New York, NY) – 1970s/80s
Attitudes (St.Louis, MO) – 1988-2012
Pandora's Box (Detroit, MI) – 2005-2008
Bad Dolly's (Reno, NV) – 1990s
Madison Flame (Memphis, TN) -1990s – 2007
 What are your favorite lesbian bar names?