Hello and welcome to the Yellowjackets 208 recap, which is somehow the penultimate recap of the season ahhhhhh!!!! Yes, in case you didn't get the memo, this second season is only nine episodes long, which means next week is the FINALE. I am simultaneously read and NOT READY. How are we doing folks? This was another very intense episode! Revisit past recaps if you need a refresher! Also, my brilliant friend Caroline wrote about how television quality was in a steep decline well before the writers strike began (and for reasons that are precisely why writers are striking!) and how truly original shows like Yellowjackets stand out in an ocean of spinoffs, sequels, prequels, and IP grabs. "It Chooses" was written by Sarah L. Thompson and Liz Phang and directed by Daisy von Scherler Mayer (a fav, who also directed "Doomcoming" and ""Friends, Romans, Countrymen"). Let's bite into it.
---
Ever since Shauna's first primal scream as she began going into labor at the end of "Two Truths and a Lie", Yellowjackets hasn't turned the volume down at all, ratcheting it up with little by way of reprieve. The season started with a simmer, and even though early on we did cross that cannibalism line, things brewed in relatively incremental fashion. But then the season came to a boil with "Qui" and just…kept going! And not in a way that pushes credibility or becomes exhausting; its wild screams remain immersive, penetrating, thrilling. I can only describe the pacing of this back half of the season as intensely feral. I don't think I've ever seen such a comprehensive and full sensory depiction of starvation on screen. Reality isn't just unraveling for the young Yellowjackets; it's bleeding out.
We open on the direct aftermath of Shauna brutalizing Lottie. Misty and Mari help her up to the attic to convalesce. Her face is swollen and misshapen, her eyes barely able to open. She can't walk or stand on her own. When she pees into a dish with Misty and Mari's help, it comes out bloody. Mari makes a typical Mari comment about the pee making her eyes water, and Misty snaps back that she needs to stop being a brat, that Lottie needs them, that she should make herself useful and go empty the pee dish. Mari shuts up quickly, her submissive reaction to Misty almost unnerving in its unfamiliarity. No mean girl retort, no eyeroll or scoff. She descends the ladder, and then things get even more upsetting. She drops the pee dish, and it spills onto the floor. Mari weeps on the ladder. It's a small but evocative shift in a character we're used to seeing as tough, mean, direct. It's just a small glimpse of what's to come: a deterioration of the physical and mental states of the young Yellowjackets that is so much more acute than we've ever seen it before.
In the attic, Lottie's vision blurs — a visual device used throughout the episode and from multiple characters' points of view, including Travis and Tai, implying that everyone is experiencing physical symptoms of starvation — and she repeats the words from last episode about needing Shauna to let out her pain on her. The Lottie/Shauna dynamic is fascinating, because it almost functions on two opposing levels: Lottie cannibalizes Shauna's trauma by becoming her punching bag, but she also offers herself up to be cannibalized, sacrificing her body as fuel for Shauna. They are tethered in this undeniable way, which is particularly potent because of their relatively casual relationship leading up to this point. Shauna and Lottie were never all that close; now their fates feel entwined. Lottie's blurred vision gives way to actual visions, little imagery pops like we see often throughout the series as characters recall fraught, painful, violent moments chaotically, their minds operating like a retro View-Master — from hell. I'll return to Lottie's memory/vision burst here at the end of the recap.
The more striking departure from reality comes next when Akilah talks to her pocket mouse. Talking to a pocket mouse is already somewhat of a cry for help, but things take a much more morbid turn than I anticipated. No, she doesn't eat the mouse. It's worse. Tai approaches Akilah while she's having an animated conversation with the little guy, and Akilah snaps at her that she can't touch him. "He's mine," she shouts. We see Tai's face morph. Again, Yellowjackets does something I love in horror, which is show us the character reacting to something terrifying before showing us the actual terrifying thing. It's that moment of us seeing them see something — and how well the actor sells it — that disturbs far more than the frightening thing itself. To gaze at another person's fear is such an intimate and destabilizing experience. (For me, it's not unlike seeing how a lover looks at you, but we cannot devolve into my personal associations between that which is horny and that which is horror in this recap — there isn't time!)
"That thing is dead, Akilah," Tai says. And sure enough, Akilah looks and sees she's holding not a cute little fluffy mouse but a wretched old corpse of one. Nia Sondaya has been having a great season after replacing season one's Keeya King as Akilah, but this is her true standout moment. In just a quick moment in which she's completely at loss for words, she completely and incisively conveys Akilah's shock, disturbance, and confusion about what has just transpired. There's so much heartbreak sutured to the horror in this episode.
Over at Camp Lottie — I know the compound has a real name, but just be happy I'm not calling it Camp Mommi or Camp Lottie Can Cult Lead Me To Hell Any Day — Shauna rejoins the group and tells them what Jeff has just told her on the phone. She couches it slightly, as Van and Lottie don't know who Adam Martin is or what she, Tai, Nat, and Misty did as a little bonding activity last season (hacking up a dead man and burying him in a park).
I love how Van clocks almost immediately that Tai is lying to her, right after she asks who Adam is and Tai says just some guy Shauna knew. The group goes outside, Shauna determined to return home to fix the problems of her own making, and Van pushes Tai, asks why they're panicking. "You're lying to me," she accuses Tai, "and I wanna know why." When she doesn't get the answers she seeks, Van snatches Shauna's minivan keys and throws them into the darkness. Throughout this episode, we see little glimpses of their teen selves, impulsive and moody. It's effective! There's a sense they're all constantly at odds with the ways their youths were interrupted, paradoxically requiring them to grow up too quickly as kids and then become stunted as adults. Sometimes they're such teens as adults. Shauna, for example, responds to Lottie saying that they must all meet at the sharing shack post haste to discuss these sensitive matters — including the fact that Shauna told Jeff about Adam — with a whiny "noooooo" and a churlish "do we have to?"
This scene excellently transitions from Adult Van walking in the dark to Teen Van in the cabin. We're getting more and more of these 1:1 transitions between different versions of the characters, a device used sparingly in season one and now more frequently, which lets the timelines bleed together with an almost dreamlike quality rather than punchy flashback beats. It makes sense: The more time the adult Yellowjackets spend together as a group, the more they're drawn to the past themselves, the narratives overlapping more amorphously. It's confusing for them, riveting for us. Teen Van is watching Teen Tai, who is attempting to do dishes, her vision blurring until she looks up and sees Other Tai in the reflection of the windowpane, her two selves bifurcated, one smiling, one scared. She turns and sees Other Tai standing in front of her, still smiling that twisted smile. Van helps her snap out of it.
This implies that Lottie being out of commission has caused Taissa's dissociative possession to return. I think this, among other things, is why we see Tai eager to participate in the episode's ending ritual (we'll get there, but now is too soon!) to save Lottie. She has already been starting to buy into some of the more mystic beliefs certain members of the group — her girlfriend included — share. This might have pushed her over the edge. When she was participating in Lottie's rituals, Other Tai went away. Now Lottie's fighting for her life, and Other Tai has returned. Even though I don't think there's an actual mystical connection to be made here, I do believe in the power of, well, belief. Taissa's extreme hunger and her feelings of not wanting to lose Lottie have brought back Other Tai. Has she slept since Shauna went into labor? If Tai strongly believes Lottie is the reason Other Tai has gone away, it tracks that Other Tai would appear the second Tai feels she can't depend on Lottie.
Van finds a belt in Jackie's luggage and brings it to Stew Chef Mari, suggesting that perhaps because it's leather it could provide some protein. "Belt soup," Mari jokes, her old self briefly returning but albeit with considerably less spunk. Shauna grabs a blanket for Lottie, and JV Gen snarks at her. Melissa also wants to know why Shauna suddenly cares about Lottie, but Van nips this in the bud and suggests Shauna and Lottie were both just doing what had to be done. Van has fully bought into the myth of the wilderness and of Lottie, but she does so with an austerity that isn't as present in some of the other characters, like Mari and the JV players' devotion, which almost has a stubborn girlishness to it.
Nat and Ben, a pairing I always enjoy, are off to the side for all this, and Nat tells him that perhaps it wouldn't be the worst thing if Lottie died. If she's in a lot of pain, Ben says, then yeah it would probably be for the best. But this doesn't really seem like what Nat meant, and I also don't think she means Lottie could become a meal if she dies. Nat seems largely concerned with Lottie's hold over the group and its growing implications. She tells Ben she feels as if Lottie has some weird control over everyone, and he says she sounds jealous, which…is a weird thing to say! It seems out-of-character for Ben and also just doesn't really make sense. (Though I do think a potential Lottie/Nat/Travis love triangle is being spun, so if the line is merely in service of that…it's a stretch!) Nat dismisses his weird assertion and says even Javi has "gone to the dark side." Ben scoffs at this and says Javi doesn't even talk, which in my humble opinion only further proves Nat's theory but whatever, Ben is clearly checked out at this point. Nat mentions she saw Javi praying in front of one of the symbol trees, and Ben is intrigued. He goes rifling through a suitcase where Javi has been stuffing his art and finds a bunch of animal sketches as well as an intricate tree. Could these hold the answer to where Javi has been? Ben's on the case.
Akilah, still reeling from the discovery her pet is a clump of bones, contemplates eating him, which unfortunately for me conjures the KFC ad campaign for boneless wings ("YOU ATE THE BONES?!"). She can't bring herself to do it. Mari, tending to her belt soup, hears the phantom dripping sound she has been hearing all season. This time, Tai hears it, perhaps more in tune with certain things as a result of Other Tai resurfacing. I think it has been incredibly effective that there has not been a drip sound effect any time this comes up. We're not let into Mari's (or Tai's) POV here, and it makes it way more frightening that we can't hear what they supposedly can, especially when it comes to the payoff of Mari walking toward the far cabin wall and suddenly seeing it oozing blood. It's such a quick and simple horror image, but it's instantly arresting.
She stumbles backward screaming, and Van steadies her. "It's the hunger, Mari," Van says. "It's just the hunger." Even Van, a strong believer in The Wilderness, has a rational explanation for Mari seeing bleeding walls. This episode really drives home just how starving the characters are and just how much it's affecting them on a cellular level. Blurred vision, hallucinations, delirium, paranoia, the low but constant hum of dread and fear. Often characters speak of an ambiguous "it" on this show. The episode itself is called "It Chooses." A lot of times, "it" is used by characters to refer to the wilderness, and indeed when Adult Lottie speaks the titular line in this episode, I think that's what she means. But substitute "the hunger" for "it" pretty much any time, and it works. Hell, substitute "the hunger" for "the wilderness" and it works. Hunger has undeniably become the central force on the series. I think the characters are mythologizing their own hunger into something greater because it helps them have a sense of control — and denial! Their hunger is quite literally eating away at their grasp on reality.
The cops show up with a search warrant at the Sadecki household, Saracusa sadistically eager to start tossing things around. He taunts Callie, who still thinks she has the upperhand with her lie about him seducing her. But Saracusa needles at her number one insecurity, saying a jury will take one look at Shauna and determine "the psychopathic apple doesn't fall far from the maneating tree." Saracusa calling Shauna a maneater is just so indicative of exactly the kind of idiotic cop he is. Like, sure, Shauna is a murderr, but maneater?! Lmao. I have to laugh.
Jeff, meanwhile, asks Kevyn if he needs a lawyer, and Kevyn says the Sadeckis always asking for a lawyer makes them seem guilty. Saracusa joins and shows Jeff a bunch of photos of Adam's dismembered body. The cuts are precise, surgical, would be difficult to achieve with an electric kitchen knife. But we know that's exactly what Shauna used. Jeff says Shauna's no doctor, but Saracusa says she has certain survival skills that could potentially explain how she'd be capable of this. Viewers have been speculating that Adam would eventually be identified by his back tattoo, but we finally get some clarification here. Of course Misty had that covered. His back tattoo was removed, Saracusa explains, by what appears to have been a cheese grater. What Misty couldn't have accounted for was the fact that Adam had been a bone marrow donor for a friend who had cancer. I like this detail, because it only underscores that Adam was just a guy — and a nice one at that! Shauna's paranoia and the Yellowjacket's ongoing trust issues with uhhhh everyone they encounter were the real causes of his death, not anything he did.
Speaking of trust issues! Shortly after their Florence-scored, alcohol-fueled, heady with nostalgia reunion, the adult Yellowjackets start to clash. Van is very disturbed that apparently the others have been getting up to things like chasing blackmailers and murdering lovers. We're hit with a cavalcade of information as the Yellowjackets bring each other up to speed — sometimes intentionally divulging information, other times letting things slip out. Tai and Nat are mad at Shauna for telling Jeff things. Misty exposes that Tai was the one who hired Jessica Roberts and also calmly confesses to "taking care" of her. Tai says she needed to figure out if anyone would talk about their past for the right amount of money and rudely points out Shauna could probably use the money, getting a swift "oh fuck you" from Shauna. "You're welcome," Misty says, though no one has said thank you to her for killing Jessica Roberts.
We dip back into the cabin then, but I want to stay here a little longer. When we come back to the adult Yellowjackets again, they're still arguing and revealing each other's secrets. Shauna says the FBI is asking about Nat, and Misty confesses that actually that was her and her "boyfriend." As she's talking, she pieces some things together. Randy was scared…too scared for an innocent man. And he mentioned Jeff. She ends up pulling a confession out of Shauna, who reveals he was the real blackmailer, which only deepens the distrust among everyone. These scenes are interesting, because even though they're just kind of recaps of everything that has happened on the series for the adult Yellowjackets so far going back to season one, a lot of the information is new for the characters. And it drastically impacts their relationship dynamics in ways we see accelerating in real-time. It shouldn't be that interesting to hear characters reveal things we all already know as viewers, and yet it's made so through great characterization and vivid performances from the cast. It helps the episode's ending in the adults timeline feel earned. Even when the Yellowjackets thought they were helping each other out, they weren't. They're still deferring back to old survival skills, lying to and manipulating each other.
We'll come back to these dysfunctional babes, but let's revisit the cabin, where Misty sees Ben using a sharp knife and asks if she needs to be worried. Ben says he's merely making his crutches more snow friendly, and why would he be putting in the effort to do so if he were just planning on killing himself? This seems to placate Misty. Ben is, again, up to something re:Javi's drawings, which he's now using alongside the maps constructed by Nat to track something. He heads off in the night, but we won't know what he's going to find until the episode's final moments. Travis, whose vision is blurring, approaches Nat after she gives Javi a pair of new homemade gloves. He tells her she's a good person and he's sorry for ever making her feel otherwise. I think a lot of this character development between the two has taken place off-screen, but I'll take it, because Travis is right at least.
Upstairs, Lottie is restless. She's covered in blood and sweat, and Misty is trying to get her to take deep breaths the way she instructs the rest of them to do in their wilderness circles. Lottie tells Misty that if she dies, she doesn't want them to waste her body. She wants her to promise it.
Walter reappears in this episode, and he's in his sprawling open concept home with a giant pool working on a nautical puzzle while listening to "Not While I'm Around" from Sweeney Todd. Listen, I just really think Walter might be a cannibal who wants to eat another cannibal (Misty)! His cat obsession continues, this time in the form of a kitten laptop background that is almost upsetting in how innocuously goofy it is. But the most disturbing detail of this scene is that I'm pretty sure he's drink MILK out of a SNIFTER? Serial killer vibes for sure. Walter receives a notification from the Citizen Detective forums and learns the police have discovered Adam Martin's body. He sends an email to the Wiskayok Police Department claiming to have relevant information. I don't think he's about to sellout Misty this quickly — not because I think he's actually on her side but because I think he's playing the long game with her.
Back at the Sadecki household, Jeff wakes up in the middle of the night to Shauna returning home — or so we think. It quickly becomes evident that this is actually a nightmare of Jeff's, and it's tonally much campier than the show tends to be, but it works since it's from Jeff's POV. A kiss takes a violent turn when Nightmare Shauna stabs him in the side and then reveals she has electric kitchen knives for hands. Melanie Lynskey sells the hell out of this, and it allows her to give a completely different type of performance than she usually gives on this show. It has me ready to start a campaign for Melanie Lynskey to be the next Ghostface. "These are a part of me," Nightmare Shauna says about her knives hands. "I thought you loved all of me the way I love all of you." Her best line reading comes when she says "skin grated off like a rind of pecorino" in relation to Adam. Here, Jeff's fears of Shauna's conflation of desire and danger become on-the-nose manifestations. But the most telling part of the nightmare to me is actually the beginning of it, before the knives hands reveal. "I just needed us to be together, Jeff. You're the only one who really understands me," Nightmare Shauna says.
This sentiment in Jeff's subconscious is a fantasy and a poison. I do think Jeff wants to be the person Shauna needs. He wants these words to be true, to be her one true confidante and co-conspirator. I also think it's incredibly toxic thinking. He can never fully understand her — no one can. It would be better for their relationship if he accepted that, if he were there for her in ways that weren't attempts to solve her like a puzzlebox. I often have a lot of sympathy for Jeff, but it's absolutely a violation that he ever read Shauna's journals in the first place, even if they came from this place of wanting to understand her. Sometimes the way Jeff talks about Shauna and their relationship obscures the role he played in the betrayal of Jackie. This, I think, is how Jeff's guilt over the past manifests. He projects a lot of things onto Shauna and onto their relationship, performing the role of dutiful husband because then maybe it absolves them for getting together in the first place.
Jeff wakes up from this comically terrifying nightmare and goes out to the living room to find Callie's not sleeping either. She's drinking a beer, and he doesn't reprimand her for it, just plucks it out of her hands and takes a swig for himself. Callie asks him if she's like mom, Saracusa's words clearly burrowing into her skin. "Sure, yeah," Jeff says. "You're smart and you're good at stuff and you don't take any shit." See, this is why I do often have sympathy for Jeff. He says shit like this, and I really think he means it! He does see the good in Shauna; he likes these things about her.
But that is, of course, not what Callie means. "Mom is like seriously fucked up," she says. Jeff takes this opportunity to divulge the answer another question that has come up in the comments quite a bit. It turns out Jeff did know about the wilderness baby. I figured as much. If Jackie found out about the pregnancy from the journals, it would follow that Jeff would, too. But Shauna indeed also put down details beyond that. She wrote about the stillbirth. And now Jeff tells Callie about it. Not all the gory details. But enough. Jeff tells her all "that stuff" — which I think is his straight white dude way of saying TRAUMA — is her mom's burden to bear, and his too. It doesn't have to be hers. He's technically right, but this is also easier said than done. Whether Shauna or Jeff want it or not doesn't matter; Callie has inherited their trauma. It just isn't always possible to compartmentalize or inoculate against such things in a household. Even when it's not talked about — sometimes especially when it's not talked about — it crops up one way or another.
Back in the cabin, Misty sponge bathes Lottie, who is not looking good. When Misty joins the others downstairs, she tells them what Lottie requested. That her body not be wasted. "I can't imagine being here without her," Van says. Shauna, despite long being a nonbeliever in Lottie's mysticism, says "me either." Tai sits up and says they need to find a way to stay alive, and it can't be her. Something about the physicality Jasmin Savoy Brown embodies in this moment makes me wonder if this could be Other Tai speaking.
In the present timeline, Tai is still reeling from the discovery Shauna lied to her about Jeff being the real blackmailer. The tension escalates steadily. Melanie Lynskey gives another great monologue, this one more frenzied and vibrating than the even keeled yet wild one from "Digestif." She talks about how this all started just from a place of wanting to shake things up, how it spiraled out of control, how she has been trying her hardest to fix it, but also not really, not at all actually, she has truly been making it worse. Her line reading of "I almost killed two just random people" is so good.
And then Shauna makes her truest confession: She says she didn't tell them Jeff was the blackmailer, because she knows that if any of them had admitted their partner were the blackmailer, she probably would have killed them. Nat thanks her for her honesty and isn't being sarcastic for once. She thinks they should all finally talk about it, what it is they really feel, what it is they remember about back then.
Lottie chimes in now and says they're not going to solve shit by talking. Suddenly, her Trust The Process and Healing Journey vibes are out the fucking door. She says something guided them all here and that she tried to ignore it, tried to bargain with it. "Now we have to give it what it wants," she says. Sure, she's talking about the wilderness, but I think the wilderness is still a stand-in for hunger. They're not hungry anymore, but does the body ever forget that level of starvation? Does it ever recover completely?
In the cabin, Lottie writhes in pain upstairs. The rest of them are downstairs, constructing an altar from the bear skull and candles. Van has the deck of cards in her hands, and she takes out the eyeless queen, shows it to them all. The antlers above the fireplace are positioned squarely behind her, evoking images of the Antler Queen. She shuffles the cards and holds the deck out. Misty draws first, and she's safe. Van draws next, and she's safe. Misty continues with the deck around the circle. Shauna is safe. Travis is safe. Tai is safe. Javi draws the king; he's safe, too. He immediately goes to Travis and hugs him.
Nat pulls the eyeless queen.
Everyone looks shocked, even though this is the result of a game of their own making. Someone had to pull it. Shauna asks Nat to turn around, and she puts Jackie's heart necklace on her, flashing back to when she put it on Jackie, the necklace a death knell. Shauna grabs a knife, and Nat turns to her and says she's going to have to look her in the eye when she does it, when she slaughters her, because by now, we all know what's happening here. The antlers are positioned behind Shauna's head now. She has the knife against Nat's throat, and Nat is shaking, her nose is running, Sophie Thatcher is putting so much into this quiet, disquieting moment.
On a soapier show, Travis would perhaps volunteer to be slaughtered in her stead. But instead, he lurches toward Shauna and takes her out, tells Nat to run. She does, and the others follow, some staying behind to hold the knife to Travis' throat so he won't interfere again.
Adult Shauna tells Adult Lottie that none of that was real, and it's unclear if she's talking about something specific they've been discussing or just about the wilderness in general. "The only way to get ourselves out of this is to give ourselves fully to it," Lottie says. She says they must give the wilderness what it always wants: "one of us." She fills six cups with tea, but one of them contains a quick and painless poison used to euthanize animals. It's the stuff the Heaven's Gate cult used, as Misty is quick to point out.
This is a leap. The others indeed think it's a leap. They're having problems, sure, but killing one of themselves? Sacrificing one of themselves? Lottie suggests it so casually, and the others react believably. They're confounded and yet also…not necessarily shocked. This does, in some way, feel familiar to them. A ritual they recognize. Shauna says their lives aren't that bad. Lottie runs down a list of precisely how fucked up they all are. Tai killed her dog, almost killed her wife. Shauna might lose her family because of what she did. Misty actually killed someone. Nat tried to kill herself already. And Van has something broken inside her, says Lottie, doesn't brim with the same life as she previously did, and this is the only one that seems a bit of a stretch. I'm not as critical of the cancer storyline as some viewers, but I do think some of the criticisms of the general trope of cancer as a twist are valid. And I do think it's just sort of an "easy" conflict to inject for a character we've only just recently met technically. Also characterizing cancer as something broken inside someone almost stigmatizes having cancer in a bizarre way. But anyway!
Misty says it's convenient Lottie knows which cup is poisoned, and Lottie insists they can shuffle them. She's all in on this. "It helped us survive then. It'll help us survive now. If we give it what it wants."
Ben finds what he has been looking for in the woods while the others are distracted by trying to chase down Nat and kill her for supper. He finds the tree from Javi's drawings, and he descends into a spacious cave, likely the place where Javi hid out for months. There are animal bones, and there's a place for a fire. While the others run after Nat making animal calls and brandishing weapons, Javi finds Nat hiding behind a tree and finally speaks, tells her he knows where she can go, there's a place the others don't know about. He's likely talking about this hidden cave.
"I don't hear her," someone in the pack says, and they all stop. They close their eyes, become quiet, and try to listen. Turns out Lottie's mindfulness exercises come in handy when it comes to a hunt!
Javi leads Nat across the frozen lake, and the others are hot on their heels. Then the ice cracks. Javi falls through. Nat tries to pull him out, but Misty runs to her and tells her to stop. "If you save him, the others will get you," she says. I do wonder if this is why Misty thinks she and Nat have a closer friendship than they really do as adults. She likely thinks of herself as Nat's savior. And I wonder if Nat as an adult has walls up with Misty because she blames her for Javi's death.
Because Javi indeed dies. Shauna tells them all to wait instead of saving him. Tai is the one who says to grab him once his arms finally stop moving as much. Van has a look of determination, of hunger on her face as this all happens. They're all complicit in his death. "The wilderness chose," Van declares.
Now, go back to the beginning of the episode — if you haven't already — and rewatch the opening scene. When Lottie starts muttering and flashes on a few images, one of them seems to be of someone falling through water. It looks an awful lot like Javi's death scene. Take a look: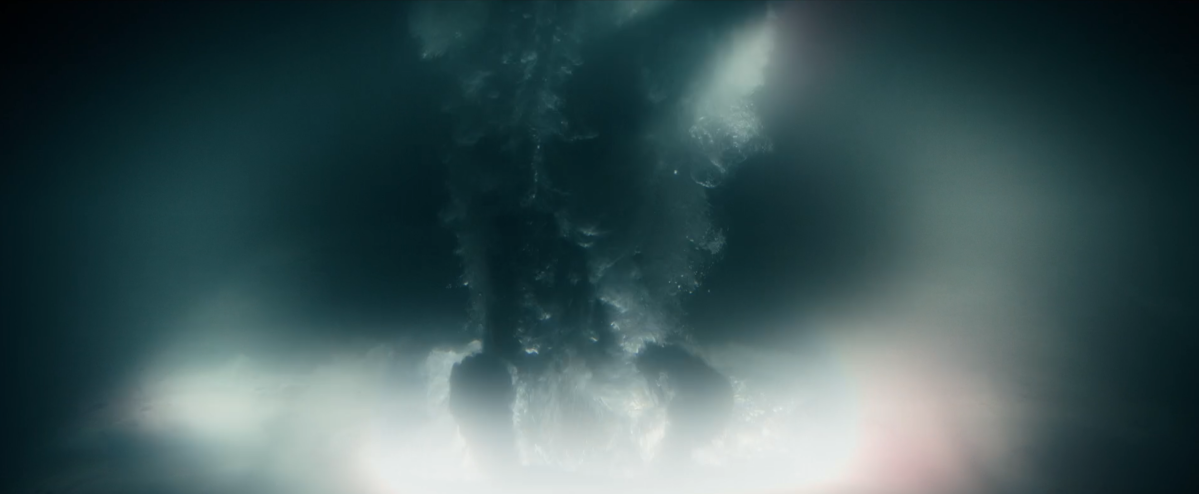 The implication here would be that Lottie has had another vision of death, this one coming to fruition much like her vision of Laura Lee's death (Van and Tai evaded one of Lottie's lethal premonitions, but only narrowly in Van's case). Lottie has long been the show's Cassandra, and her prescience remains, to me, the strongest argument in favor of something supernatural happening on Yellowjackets, even though I still tend toward being a so-called nonbeliever. I believe in coincidence, in intuition, and in everyday strangeness, everyday magic. Lottie is attuned to something, but I don't necessarily think of it as literal foresight. I don't think she literally knows Javi is going to die. But it's still interesting to consider what these image bursts mean, how they fit into the fabric of Yellowjackets. I do think their hunger, their pain, fractures their realities, collapses the space-time continuum in a way. Lottie is so close to death in this episode. That she sees another's death in this moment evokes the same otherworldly tension of Shauna's extended baby nightmare and Jackie's hallucination on the brink of her death.
As an adult, Lottie has adopted a mentality a lot of cult leaders have: that there is knowledge and salvation in death. Here, we see exactly where that stems from, the beginning of a dangerous belief system that simultaneously harmed and helped. Javi shouldn't have died; Javi had to die. The Yellowjackets have reached a point of survival mode where sacrifices have to be made. As adults, it seems like a huge leap to come to that same conclusion, and yet it also doesn't. They haven't traveled as far from the wilderness as they think they have. They're reverting to old patterns, their betrayals of one another kicking up old shit in dizzying ways. It was once easy, almost natural for them to descend into a brutal hunting game, because the seams of their realities were unraveling at such a wild pace it was impossible to stay ahead. The hunger made them do it then, and then the hunger never left. But at the same time, "it" chooses isn't really accurate. They chose; together, they chose to let Javi die. Even Nat stops trying once Misty tells her to. They made impossible choices in impossible situations. They've all been close to death, and I think there's parts of each of them that are almost chasing that feeling. They balk at Lottie for bringing out the cups, but also, none of them leave.
---
Last Buzz:
What was that purple coat Walter pulled out of his closet? I didn't quite catch what that was supposed to mean.
Idk if anyone is interested in mundane personal behind-the-scenes recaps tidbits, but today's recap was largely written on an airplane, which thankfully did not crash in the Canadian wilderness.
"Jeff did not come through on the phone sex thing," Van muses initially when Shauna returns from her phone call. Part of why I don't entirely buy into Lottie's assessment that something "is broken" in Van is because Adult Van seems a lot like Teen Van actually! Sure, prone to some sulking from time to time, but really in a generalized queer angst kind of way and never without working in a goofy, jokey moment from time to time! She's still cracking jokes as an adult, even if she doesn't believe in love or whatever!
Melissa was definitely reading Sassy magazine, right? Did she bring that with her? I don't remember seeing it before, and the cabin only had old porn mags in it.
After watching this episode, I rewatched the episode where Jeff reveals to Shauna in season one that he read the journals, and there's definitely an extra layer to the subtext there once you know they're probably talking about the stillbirth moreso than anything else that happened out there.
According to Wikipedia, Karyn Kusama directs next week's season finale and I CANNOT WAIT.
I'm a little perplexed by the narrative decision to mysteriously send Javi away and then bring him back only for him to suddenly die, but perhaps there will be some semblance of context/explanation in the finale?