By Kate & Carolyn
Welcome to Movie Night, where we choose a movie based on any number of variables and feelings, create a themed menu to match, then spend hours eating these foods and watching these movies!
This edition is a little wet, since The Four-Faced Liar is named after a real bar in the West Village, and the characters drink a lot more than they eat. Granted they're seniors in college, which means they're probably eating a lot of junk food and microwavable dinners and throwing together whatever shit they've got left in the fridge at the end of the week. And, of course, washing all that down with booze and tea. Our recipes are a little more appetizing, we promise.
I can be both. I can be! I can be the unreliable douchnozzle who grabs her ass in public and wears work boots but I could also be the one who holds doors for her and tucks her in at night and buys her fucking gerber daisies for no goddamned reason! – Bridget

---
The Movie
THE FOUR-FACED LIAR

[Buy Me]
Synopses:
A story of love and lies for four twenty-somethings looking to find themselves in New York City. A pair of best friends and a seemingly perfect couple meet at a local Irish pub tucked in the winding streets of the West Village. Through their chance meeting, the four bond and over time all of their relationships with one another morph into love, betrayal and heartbreak for all.
I don't know what it is about this movie. According to my calculations, I've seen Four-Faced Liar 16 times. Sixteen times! I don't think I've even seen the The Lord of the Rings trilogy that many times, and pedin i phith in aníron, a nin ú-cheniathagir. At first I didn't actually know there were lesbians in the plot. You can imagine my glee when lo and behold the main character Bridget is a womanizing lady who lives in a shitty apartment with her best guy friend, and falls for the new straight girl, Molly, who has already shacked up with the man she imagines she'll marry. Complications ensue, and the complications are familiar to anyone who has ever been a twenty-something who thinks they can chainsmoke their emotions away.
Okay, uh, look at modern literature. All of the greatest female characters were written by a woman because no man could ever write from a female's perspective. Women have this compassionate chemistry that allows them to listen with an unbiased ear. All women, even you. – Molly
You can rent Four-Faced Liar directly from Wolfe Video — our favorite lesbian-owned distributer of LGBT films — right now! When you rent through this embedded player, you're supporting both Wolfe Video and AND Autostraddle, your favorite queer-owned distributor of everything that kicks ass.
There are so many things about this movie that speak to the experiences of all us quarter-life crises tripping through relationships, finding love crumpled in our back pockets and stuck to old receipts with gum. There's one scene in particular where Molly is staying at Bridget's place, and while they're not sleeping together yet, the little moments that reveal the palpable tension were so achingly familiar to me that it felt like someone had brought a camera into my life. Some of the dialogue feels like things my friends and I have said time and time again, and fun fact, Marja Lewis Ryan, who plays Bridget, also wrote the screenplay, based on her earlier play.
---
THE MENU
Breaded Tilapia




Sweet Potato Fries




Chilli Aioli




Grand Marnier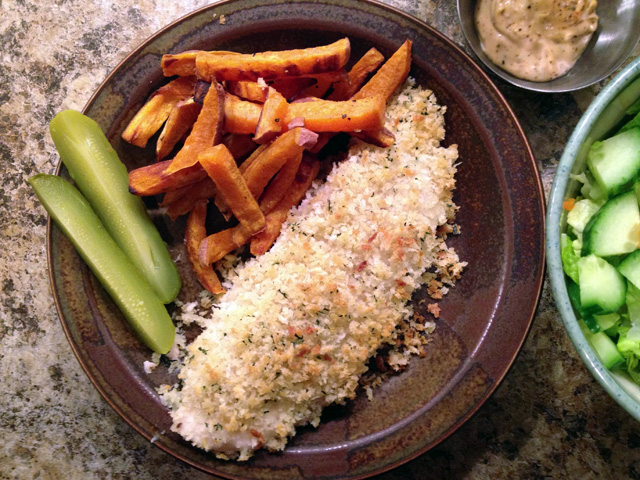 Fish and chips are totally appropriate for Four-Faced Liar because the movie is mostly about a bar and they drink a ton. Baking everything in the oven instead of frying it in oil keeps this menu simple and far healthier and tastier than (most) real pub food. Also like most real pub food, everything here goes well with beer.
Breaded Tilapia
Ingredients
2 fish fillets, skin removed (I used tilapia, but any white-fleshed fish will do)
1 cup panko breadcrumbs
2 tbsp. olive oil
1 tbsp. thyme
salt and pepper to taste
Directions
1. Pat the fillets dry and arrange on a parchment-paper-lined baking sheet.
2. In a bowl, combine breadcrumbs, olive oil, thyme and salt and pepper.
3. Spread mixture evenly on top of fish and pat gently to adhere.
4. Bake at 425 degrees for 10 to 12 minutes, depending on the size of the fillets. (Ideally, you want to preheat the oven, make the fries and start to bake them, then make the fish and put it in after about 35 minutes, then make the aioli while you wait and finish everything at the same time.)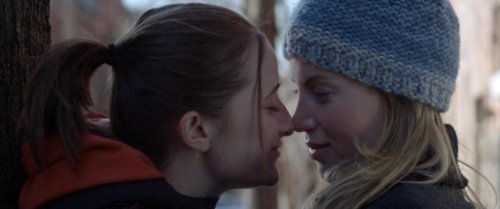 Sweet Potato Fries
Ingredients
2 sweet potatoes
1 tbsp. olive oil
1 tsp. chopped fresh thyme
salt and pepper to taste
Directions
1. Preheat the oven to 425 degrees F. Scrub the potatoes and cut in a French-fry like manner. Pat dry with paper towel.
2. Toss fries with olive oil, thyme, and salt and pepper to taste. Spread in a single layer on a parchment-paper-lined or greased baking sheet. Bake until crispy and browned, about 45 minutes, stirring part way through.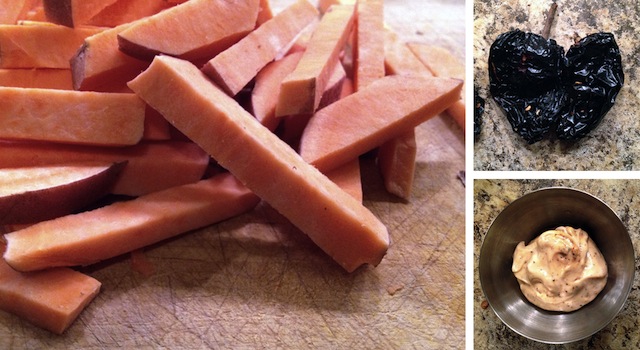 Chilli Aioli
Ingredients
Mayonnaise or veganniase
1 small clove garlic, minced
Squeeze of fresh lemon juice
Ground ancho chilli, to taste
Directions
Combine all ingredients to taste in a small bowl.
Grand Marnier
Serve neat, over ice or with 1 1/2 oz liqueur to 1 oz freshly squeezed lemon (shaken with ice and strained) and garnished with a slice of orange as dessert.
Share your recipes for broke twenty-something fare/feelings about complicated lesbian feelings in the comments.