"Immortality, my darlings." 
These were the words spoken by bisexual TV character Alison DiLaurentis before being buried alive by her own mother in her backyard and getting pulled out of her grave by a witch from a neighboring town and going on the run while her friends mourned her death and various people from her hometown lurked in the shadows wearing a mask of her face. She ultimately returned home, alive and triumphant (before being tricked into marrying a psychiatrist who drugged her into a coma and walked around town with a bone saw in his messenger bag). (Which was before her friends kidnapped her from a fake hospital and accidentally murdered her husband by running under him with a car.) So, again: ultimately triumphant!
Most queer women on TV are not so lucky. They die and they stay dead. They die of gunshot wounds, stray arrows, poison darts, heart attacks, zombie attacks, vampire attacks, werewolf attacks. They are betrayed by their lovers, by their friends, by their parents and their siblings. Cars smash them. Aliens possess them. Demons stab them. Nuclear weapons blast them. Their banks get robbed, their shopping centers explode, their cancer spreads at the rate of a medieval plague. Straight showrunners kill them. Gay men kill them. Other queer women kill them. They have sex and they die. They get married and they die. They jump off buildings and stab their own selves and sometimes they are even stalked and murdered by their partners who then pretend to be their cousins who then stalk and try to murder their ex-girlfriend's girlfriends.
We have no real control over how TV writers treat queer characters — but shouldn't we have control over the way those characters are remembered? Of course we should! That's why Autostraddle is pleased to announce the formation of the Dead Lesbian Society.

We had a trial run of the Dead Lesbian Society this year at A-Camp where we named our buildings things like The Dana, The Maya, The Lexa and presented a haunted hayride through the Ghosts of Lesbian and Bisexual TV Characters Past, led by the Ghostbusters.
But now the Dead Lesbian Society is out of its beta phase and membership is open to the homosexual and bisexual and pansexual public! All you need to do is purchase our first ever set of DEAD LESBIAN ENAMEL PINS, illustrated by Cameron Glavin.
---
Tara Maclay, Buffy the Vampire Slayer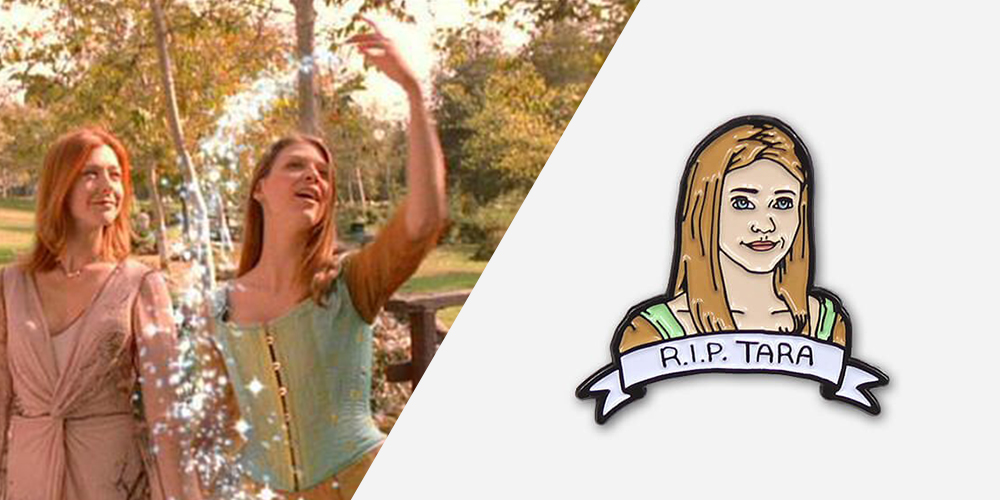 First up, we have Tara Maclay, the girl who started it all! She was the eleventh lesbian to die on American TV when she got shot in 2002, and half of the most well-known lesbian TV couple in history at the time. Fourteen years later 166 lesbian and bisexual women have been murdered on television. (Tara also initiated the ceaseless trend of lesbians getting murdered by stray bullets.)
Maya St. Germain, Pretty Little Liars
Next up, we have Maya St. Germain, the girl whose death ushered in the modern day mutilation of lesbian and bisexual TV characters. Unlike Alison DiLaurentis, Maya's death on Pretty Little Liars (and the half a dozen queer deaths that followed it) stuck. In a world where teens commit multiple felonies before lunch and never face charges, Maya went to drug camp for having half a joint stashed away in an Altoids canister. She died at the hands of a dude at camp who ultimately met his end on top of a lighthouse in the woods when Emily stabbed him in the guts to avenge her beloved.
Lexa, The 100
Finally, we have Lexa, the Commander whose death sparked a revolution! The movement that greeted her murder raised hundreds of thousands of dollars for LGBT charities; forced the Bury Your Gays conversation into the mainstream, where it received attention from every major national newspaper and entertainment magazine; and even started its own fan convention.
Wear these pins with pride and make sure these women we love remain truly immortal, my darlings.
---