The whole family, including the still-bickering Sarah and husband, are showing up for mom time. Sarah starts getting slightly weepy, and her husband says "Really? This is what the forecast calls for today?" Because that is definitely the #1 best reaction if someone is crying: expressing sarcastic exasperation with them. Len should probably be a marriage counselor, he seems really good at this. Probably Sarah is crying because she's thinking about her shell of a marriage and how the most authentic source of joy in her life is banging her ex in the backseat of the family car, and for a second it seems like she might tell him this, but she cleverly diverts attention away from these issues by outing Maura to Len and letting him assume that that's the reason she's feeling emotional. Nice one, Sarah! Good moves all around.
Inside Mom's house, health problems abound for both Mom and her partner. Mom suggests writing a song called "What Does the Doctor Say?" because she's getting asked it so often, and then Sarah's kids sing that song for her and it's actually adorable. It's not to the tune of "What Does The Fox Say" which is an obvious oversight but a forgivable one.
Starsweep to Davina's apartment, where Maura is chatting with her over a glass of wine and giving us some exposition. She describes her kids for Davina while wandering around her place and looking at all of her things. We learn that Ali is crazy booksmart but, as Maura says, "doesn't seem to be able to land." Maura explores Davina's bedroom and sits at her little vanity, looking at herself in the mirror — it seems like she's trying on the idea of Davina's life for herself, looking ahead a few years to try to imagine what her home and life might look like when she's been transitioned for as long as Davina has.
Davina is being super maternal, and very gently tells Maura that when she started transitioning, a good friend of hers told her "in five years, you're going to look up and not one of your family members is still going to be there for you."
"Was your friend right?" Maura asks.
"Yup."
"That's so sad." Maura says it without seeming to think much about it. The scene seems to suggest she thinks of this as a terrible thing that's happened to Davina, but not something that could ever happen to her. Hopefully that's true! But then again her kids couldn't even pay attention to her for five minutes when they thought she had potentially terminal cancer, so as an audience we don't have a reason to put a lot of faith in them as a support system. Maybe we're wrong?
These thoughts are interrupted by sirens approaching the condo complex that Davina lives in. Whatever could it be? I really wish we spent more time in this scene and got to see Maura and Davina have a more complex conversation — even when we're following Maura alone, most of the information we're getting is still about her kids, not about her as a separate individual.
Back at Mom's, Ali toys with a pearl ring and asks her mom if the family story about it formerly belonging to a great-aunt who was killed in the Holocaust is true. Mom doesn't really answer that question but does reveal that Maura proposed to her with that ring, but she rebuffed it and wanted a real diamond. Ali puts the ring away again, but Josh is EYEING IT. What are you thinking, Josh. What's going on in that tiny little head of yours besides ideas for launching an Urban Outfitters for pets called Furban Outfitters.
Sarah and Len are still processing her feelings about Maura's transition, and Len's input is "Well, your dad's always been creepy," because Len is:
At least Sarah pushes back on that, even if she doesn't articulate very well why that's a fucked up thing to say and is still using "he" pronouns for Maura — she's trying to repeat what Maura told her about having dressed up as a man her whole life, but isn't doing a great job with it. Into this scene of domestic bliss enters Ali, delivering them bagels.
Suddenly a dude in a uniform appears to warn Ali about the geese in the area. Don't you have shots to give out, Officer O'Neill?
Sarah takes a bite of bagel and is horrified by the tofu schmear, which is totally fair because tofu cream cheese is a cruel joke (except for the one at Bagel Rising in Allston, which is amazing, if you're in Boston you should close your laptop right now and go get a bagel there). Ali has to retrace her steps through the geese's territory in order to relieve Sarah of her bagel, and the geese are NOT INTO IT. The geese start rushing her, Sarah and Len are yelling at her to drop the bagel and run, and O'Neill runs towards her with a long net shouting "Ma'am, what you're looking at is a posturing goose! It will rip your arm off or worse!" Everyone inside has run to their windows to watch this. This is amazing; it's probably my favorite thing that's happened in this whole episode. Less whiny man-feelings, more angry goose hijinks, please.
Josh is putting Sarah and Len's kid to bed, and turns on her light-up toy while tenderly stroking her forehead. Sure hope he isn't developing ambivalent feelings about the idea of having kids! That would be a wacky wrench in his girlfriend's plans to terminate her pregnancy!
Back at Davina's apartment, the denizens of the complex watch a body bag be carried down the stairs; Davina says it contains Maury, who was a "sweet old queen." I think another Jim Croce song is playing. Maura and Davina go inside Maury's apartment, which Davina assures us is a totally normal and not weird thing to do. She also helpfully mentions the pricing range of the apartment, and Maura says she thinks it's affordable. It seems like maybe she's thinking of moving in!
We're doing another montage set to Jim Croce music: Sarah and Len get seated at a restaurant for what's presumably date night; Ali takes a giant bong rip and goes to sit between Derek and his roommate on the couch. Elsewhere, Josh is helpfully throwing out there that hey, have you thought about what would happen if you didn't get an abortion? (Yes, Josh, she has. That's why you get abortions, is because you're extremely aware of what would happen if you didn't.) Every time I see Josh's face on screen I imagine him saying "Hi, I'm an insufferable fucknut here to make your life worse" in a Troy McClure voice. Girlfriend has many excellent reasons for why going ahead with this termination is the right choice, and Josh keeps responding with "Okay, that's true, but also, what if we didn't?" Then he drags her onto the couch to do a really shitty job proposing with the same ring from the failed proposal of his divorced parents and that may or may not have belonged to a Holocaust victim. He tries to put the ring on her finger and she sort of jerks it away. Yes, very good, you definitely have this human relationship thing figured all the way out, Josh, nice work.
Back in 1989, Maura comes home from her office hours and dumps the secret outfit she had picked out into the trash. Back in 2014, Maura pulls into the driveway of the house, and thinks about her 1989 self and what it was like when her family was all living under this roof together. It's nostalgic, but maybe not all that sad.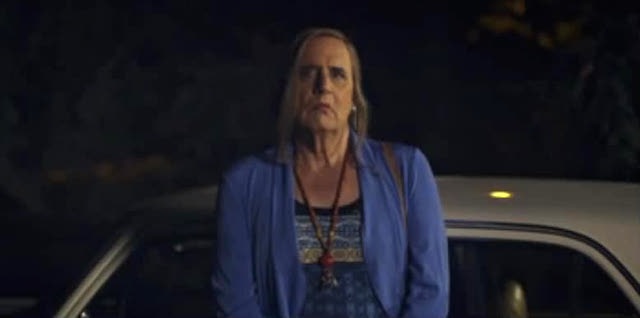 Join us next time for more feelings but probably fewer geese!
Pages: 1 2See entire article on one page