Previously on The Fosters, Stef had a double mastectomy, but that did not cause her children to slow their rolls. They splayed their drama all over the place, same as always. Jesus especially, because he's got a new best friend who has even less impulse control than him and also a lot of money and a fast car. Callie got into a snarffle with Rita about this foster care bill that's making its way through the ranks and which her new benefactor is sponsoring. Brandon wooed his new girlfriend with a little jingle he wrote about a surfer girl. And, at some point — about a hundred million years ago, it feels like — Stef and Lena went skinny-dipping.
Oh man, Stef is teaching an emotional intelligence class. She's sidelined from active duty until she's fully recovered from her surgery, so she's teaching EQ to teenagers who either have to sit through her sessions or go to juvie. It's an interesting match-up, Stef and that class. Like a matchbook teaching fire safety. Like a hurricane teaching you how to swim. Which is weird because talking about how to talk about feelings is like half of the entire experience of being a lesbian.
Other things going on this morning include: Mat designed a poster for Brandon's Romeo and Juliet rock opera, which they are not just calling "R and J." Callie confesses that she and AJ are kind of dating, because he's coming to stay with them this week while Mike is out of town, and so no closed doors and please expand your dating pool! Jude is still missing, or else hiding under an invisibility cloak. And Jesus says he doesn't have a first period so that he can stay behind and steal his moms' booze when everyone scatters. He dumps practically a whole bottle of vodka into some orange juice (so real! I don't know a single adult human who can stomach even being in the same room with vodka and orange juice because of the memories! It's every teenage idiot's go-to!), and fills the bottle back up with water.
As always, the only place more theatrical than the Adams Foster kitchen is Anchor Beach High. Today we've got Sally protesting "R and J" because she thinks it promotes teen suicide, and her best friend's sister committed suicide last year, so this issue feels very close to her. Brandon goes ballistic because this is his senior project and he's put so much work into it and no one has ever told him no, etc. He does not handle the situation with very much EQ, which lands him in Lena and Monty's office. Monty says the student council will have to vote on whether or not he should be able to put on his play in the gym.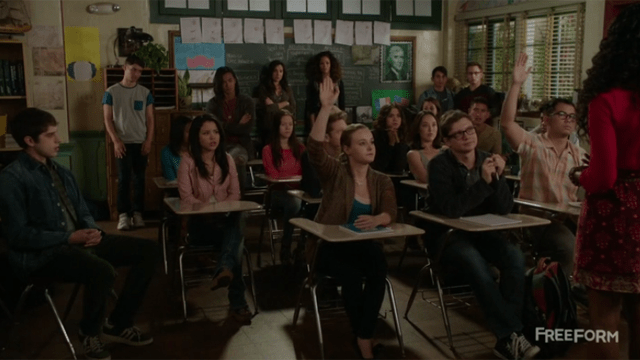 Sally's argument is Romeo and Juliet is held up as the gold standard of what love us, which means it's glorifying suicide. The most romantic gesture being a murder pact and all that. Taylor Swift's over here singing about it how it's the story of picking out a white dress, and baby just saying yes. No one understands how bloody that dress is gonna get! Brandon's argument is that Romeo and Juliet were some teenage idiots. Their brains weren't even finished growing yet and they got so hopped up on lust and promises, and with absolutely no life experiences to temper their hormones, and that's why it's called a tragedy. He's right*, but the student council votes him down anyway.
*Did you need to go to your fainting couch when I said that?
Luckily, Mariana's suitor, Nick, has a rich dad who owns a warehouse and so he offers that space for the rock opera. This seals the deal for Mariana. She was furious as balls at him for the stunt he pulled with the drag racing last week, but he read about EQ and also took her hoverboarding and also made her interests his interests. So she smooches him.
Hey, speaking of suicide, Rita's daughter calls Callie and leaves this message about, "Tell my mom I said goodbye and I forgive her and I love her" so Callie goes zipping over to Rita's house to try to convince her to reach out to Chloe. Rita explains to Callie about enabling, but Callie can't hear her (and probably, honestly, unless you have a family member like Chloe — and oh I do — you can never really understand why cutting them off is the best thing for you and for them). Callie thinks Rita's callousness is just further proof that she doesn't care what's best for kids, and that's why she's opposed to the foster care bill Callie is now all about.
Callie's next step is to track down Chloe. She's living in a shady hotel but she doesn't even know how long she'll be able to stay here because she got fired from work (for no reason, by the way, probably it's because her boss was jealous of her) and it's not like Rita's going to come through for her. All she needs is first and last month's rent and she can get a room at her friend's place. Does Callie have $600 she can borrow? She'll pay her back, she promises. Callie knows enough at least not to give Chloe any money.
That night, Chloe downs a bottle of pills in one go and leaves another message for Callie explaining what she did. Callie calls 911 and the paramedics get to her just in time. She goes with Rita to collect Chloe's things from her hotel room, and Rita says she really believed Chloe this time when she asked for help. This story is way too close to my own life experiences for me to really joke about it in a recap, so I just want to say explicitly what this show did not: You are not responsible for the actions of a manipulative and emotionally abusive person. Anything they chose to do after you decide to stop enabling them and to save yourself is not your fault. To suggest that it is is your fault is just another layer of abuse.
Jesus isn't doing so good. He gets blitzed on the vodka and orange juice in his lunchbox thermos and Nick has to drag him home. Then he gets trolleyed again the next day and stumbles down to the construction site where Gabe is working and Gabe has to drag him home. Gabe begs Stef and Lena to keep Jesus away from him. He made some huge mistakes, did his time, and now he just wants to keep this job that was so hard for him to get. They promise they will rein in Jesus, but on his way out the door, he bumps right into Mariana. It's heartbreaking. She knows exactly who he is.
Stef clomps up to Jesus' bedroom and lights into him very meanly. And then the next day she yells at him again and says she's gonna kick his ass. (I have a lot of problems with this episode, and one of the main ones is: Stef would never threaten physical violence against her children; give me a break.) Lena swoops in and tells Stef she needs to dial it back to an eleven, at most.
Stef heeds Lena's advice and brings Jesus with her to EQ class. She kicked out a kid in the first class for saying "tits" when she listing her attributes, and then made fun of hummus. But now she tells him why she was so upset: She had a double mastectomy and she's feeling very self-conscious and also she's angry and she's in physical pain and she's just not handling it well. She asks the class how they think she could have handled it differently, and they say she could have made a joke, or just straight up told that kid he hurt her feelings. All true things. She agrees with them and apologizes and Jesus feels, quite rightly, like a jerk.
At the end of the day, Lena is at school doing school things when Sally comes and says that Monty kissed her. Sally cries and Lena makes a, "WHAT" face. And so do I. Because we've either got a lesbian teacher predator storyline going on here, or a teenage girl lying about sexual assault storyline. Either way, it's a really irresponsible thing to put into the world and out of character for both of these women and I hates it, Precious, I hates it.
I am so tired of explaining to the people who make TV that what happens on TV has enormous, far-reaching real world ramifications. TV shapes public perception more than literally anything else in America. When there are a bazillion story possibilities at your fingertips, why on earth would choose to tell one that will make life harder for a historically oppressed and scapegoated minority group? I just do not understand. I really, truly do not understand. I expected so much more from this show.
Next week: I hope Stef remembers the donuts.