It's Sunday, y'all! I'm about to have debatably the best week of my life.
Welcome Back, Legislation!
A long-standing piece of pro-LGBT legislation is under review and may be redrafted prior to its expected introduction in the U.S. House next month.

In an interview with the Washington Blade on Wednesday, Rep. Jared Polis (D-Colo.), the senior openly gay member of the U.S. House, announced that he plans to introduce in April the Employment Non-Discrimination Act, a measure that would bar workplace discrimination against LGBT people.

"I'll be the lead author of ENDA, which we are at least planning to reintroduce in April,wp_postsPolis said.
And non-discrimination becomes the way of the land in Canada!!
Sarah Palin Speaks on Marriage
http://youtu.be/5H_KTyKUSG4
Celebrating ~*~Marriage~*~
+ New Hampshire got gay marriage three years ago. It still matters.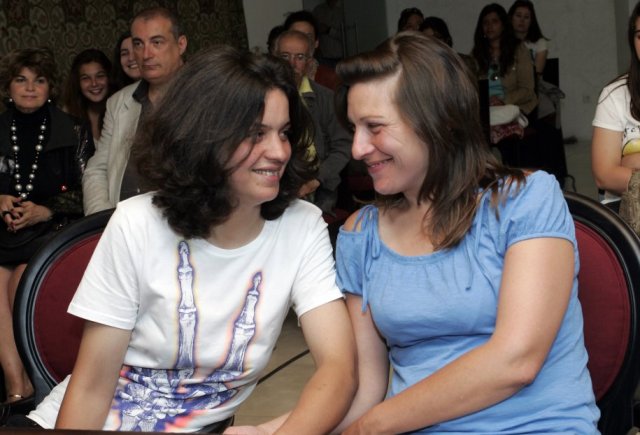 + What can legalized gay marriage pay for? (A ton of shit.)
Gay-Friendly Countries
How many countries are more gay-friendly than the United States? Spoiler Alert: thirteen.
Starbucks and Sony: Fuck You, Homophobes
Starbucks doesn't need your dirty money.
The conversation itself stemmed from the National Organization for Marriage organization's boycott on Starbucks after the company endorsed Washington state's bill to legalize gay marriage. At the meeting, Starbucks shareholder Tom Strobhar — who is the founder of the anti-gay marriage, anti-abortion organization Corporate Morality Action Center—had said, "In the first full quarter after this boycott was announced, our sales and our earnings — shall we say politely —were a bit disappointing."

Schultz, however, maintained that the company's decision to endorse gay marriage and show support for equal rights was not vested in profits, but rather the principle of acceptance and diversity.

"If you feel, respectfully, that you can get a higher return than the 38% you got last year, it's a free country. You can sell your shares of Starbucks and buy shares in another company. Thank you very much," he told Strobhar in front of an applauding crowd.
A Sony Pictures Co-Chair wants to do better.
Brokeback Mountain, Milk, Boys Don't Cry, Philadelphia, The Hours, Gods and Monsters, The Talented Mr. Ripley, A Single Man, My Own Private Idaho, Cloud Atlas – in all these movies, the main character is murdered or martyred or commits suicide or just dies unhappily. And there are far more pernicious and dangerous images that confront gay kids and their parents: the "lesbian murderer", the "psychotic transvestite", the queen who is humiliated and sometimes tossed off a ship or a ledge. It's a big joke. It still happens.

How many times have you heard a character imply to another that the worst thing about going to prison isn't being locked up for the rest of your life, it's the homosexuality? And old stereotypes still exist. The most benign stereotypes would have a gay kid believe that they will end up being the asexual, witty best friend of the pretty girl, or a drag queen, or a swishy hairdresser. The list goes on…

…Not every gay character needs to be defined by his or her sexuality. Can't being gay just be one stitch in the fabric of someone's life? Can't we depict men and women who just so happen to be gay – perhaps a lawyer or soldier or business executive or scientist or engineer…
Westboro's Neighbors Suck Less
Wave hello to us, Phelps clan! We in here, motherfuckers.
The project — which the nonprofit is calling the "Equality House" — is the first in a new campaign Planting Peace plans to wage against the group. Westboro is known for its intimidating tactics of protesting (or threatening to protest) what they refer to as America's pro-gay, anti-God agenda, in close proximity to pride parades, soldier funerals and other events like the Sandy Hook memorial services.

"I read a story about Josef Miles, a 10-year-old kid who counter-protested the Westboro Baptist Church by holding the sign that says 'God Hates No One,'" Jackson told The Huffington Post.

"I didn't know anything about the church or where they were located, but that story kept popping up. And one night I wondered, Where is this church? I got on Google Earth, and I was 'walking down the road,' and I did a 360 view. And I saw a 'For Sale' sign sitting in the front yard of a house. Right away it hit me, Oh my gosh, I could buy a house in front of the WBC! And immediately I thought: And I'm going to paint that thing the color of the pride flag."
Cats Like You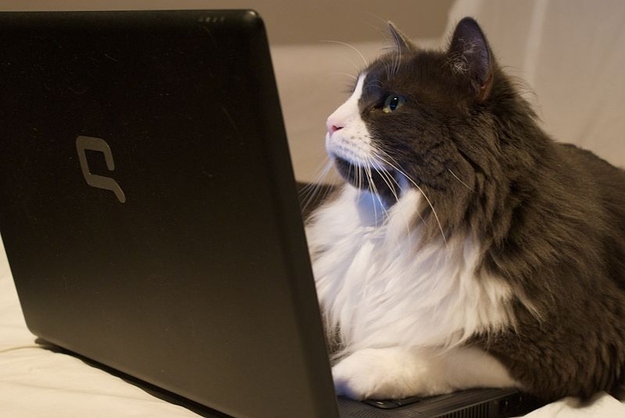 Hot cats in tech. I'm serious.