Good morning Sunday pals! How the hell are you? My apartment has ants and every single meal in my Blue Apron box this week has nightshades (I am allergic), so I'm feeling all over the place! I hope you totally love and enjoy this week's links. If you have spare energy, please send up some vibes that the tape I put on my door will be enough to keep the ants out until I get home from church/brunch! Also, it's already 90º F in Austin, and I'm writing this at 8:42 am! Take care of yourselves, it's hot out there.
---
Advocate asked some folks if they thought "dyke" was still a relevant word. Survey says, yes.
Black beekeepers in Detroit are saving the day and looking SO CUTE.
🐝 WORK HARD STAY BUMBLE 🐝 Black beekeepers are transforming Detroit's vacant lots into bee farms https://t.co/lW2SYihty4 via @blackvoices @Phil_Lewis_ 👉🏾 Please RT pic.twitter.com/B5a0vgRJUv

— soulPhoodie (@soulphoodie) June 1, 2018
For the first time ever, the majority of commencement speakers at so-called prestigious universities were women! Jessica Bennet writes about it in this week's Gender Letter for the Times, and also includes some past women's commencement speeches, including this one by Joan Didion:
I'm not telling you to make the world better, because I don't think that progress is necessarily part of the package. I'm just telling you to live in it. Not just to endure it, not just to suffer it, not just to pass through it, but to live in it. To look at it. To try to get the picture.

To live recklessly. To take chances. To make your own work and take pride in it. To seize the moment.

And if you ask me why you should bother to do that, I could tell you that the grave's a fine and private place, but none I think do there embrace. Nor do they sing there, or write, or argue, or see the tidal bore on the Amazon, or touch their children. And that's what there is to do and get it while you can and good luck at it.
I love this time of year because not only do we get pictures of queer couples at regular prom, it's also queer prom season! Buzzfeed teamed up with Samsung to host their second annual queer prom for LGBTQ teens!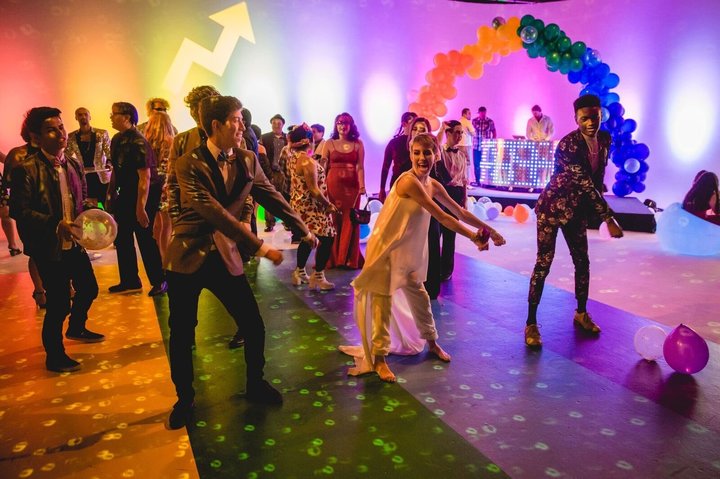 It's time for you to learn some queer ASL!!!
Teen Vogue really cares about making sure you don't get sand in your vagina this summer. If you've got a vagina, maybe check it out if you keep inexplicably finding sand inside of yours!
---
Alright buddies, have a great week. And happy Sunday!! Especially to Hayley Kiyoko, Kehlani, and this video: